June 1, 2018
Always one of the great days of the month!
This month, in honor of heat (in the Northern Hemisphere) and the easing-up of many schedules, let's add a casual dress to these wardrobes!
Additionally, I'm going to find a tote bag for each of these heroines, some footwear to wear with their new dress, and a couple of pieces of jewelry. This wouldn't be a horrid shopping trip; once you find the dress, the accessory shopping should be fun…
Dresses can be an opportunity to really exploit your color scheme; because you don't have to coordinate a lot of different garments to wear with a dress, you can find a classic, summery linen shirtdress in a bright color and add it to your wardrobe without worrying that you don't have the right socks. You don't need to worry too much about what coat to wear this time of year, either!
This wardrobe really benefits from this injection of brightness, I think. And a shirtdress that opens all the way down the front can be worn as a duster over another dress, or over a tee shirt and trousers…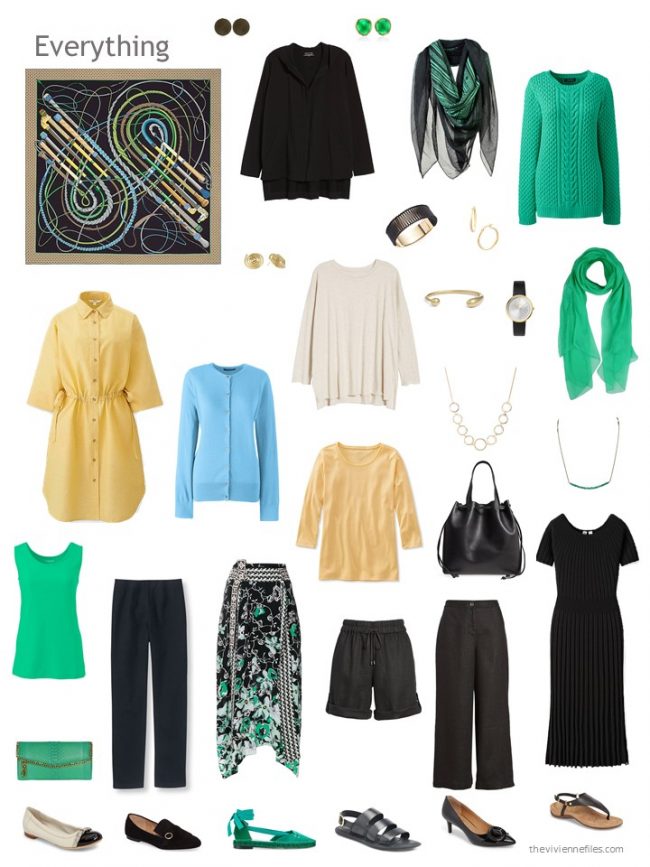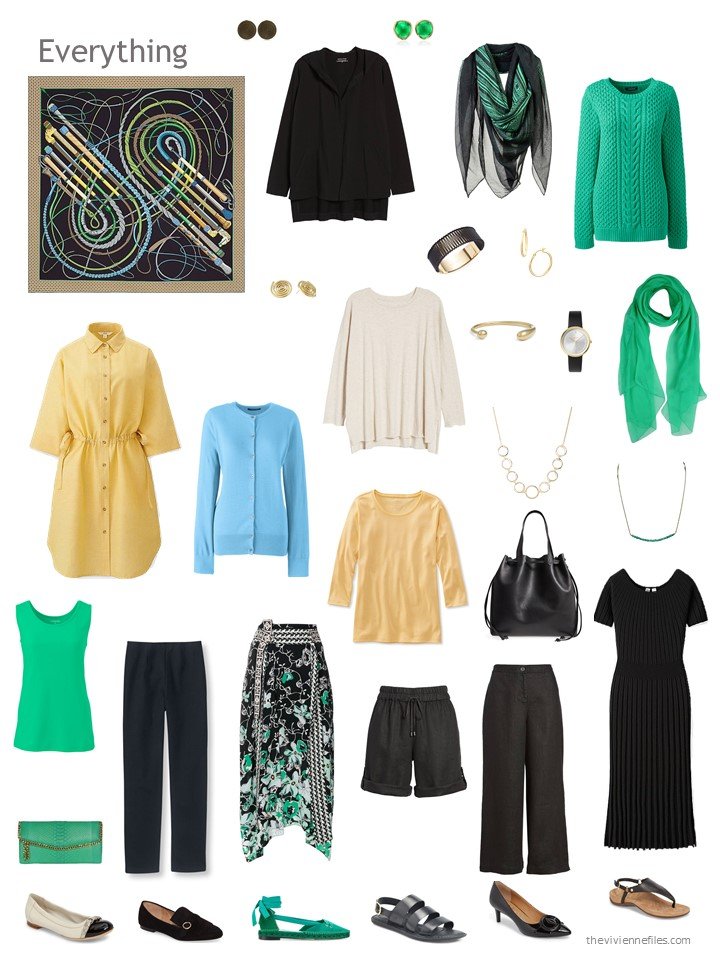 I love beige linen for warm weather – it looks… natural? Certainly cool, and in this case VERY relaxed…
Women all over Paris were wearing athletic shoes with dresses (more on that next week!) so a pair of Keds might be just the ticket here!
This wardrobe is certainly faithfully beige, isn't it? I still wonder if this heroine doesn't have greying blonde hair? Fair skin with a soft blush high on her cheekbones?
I'm liking all of this beige, frankly!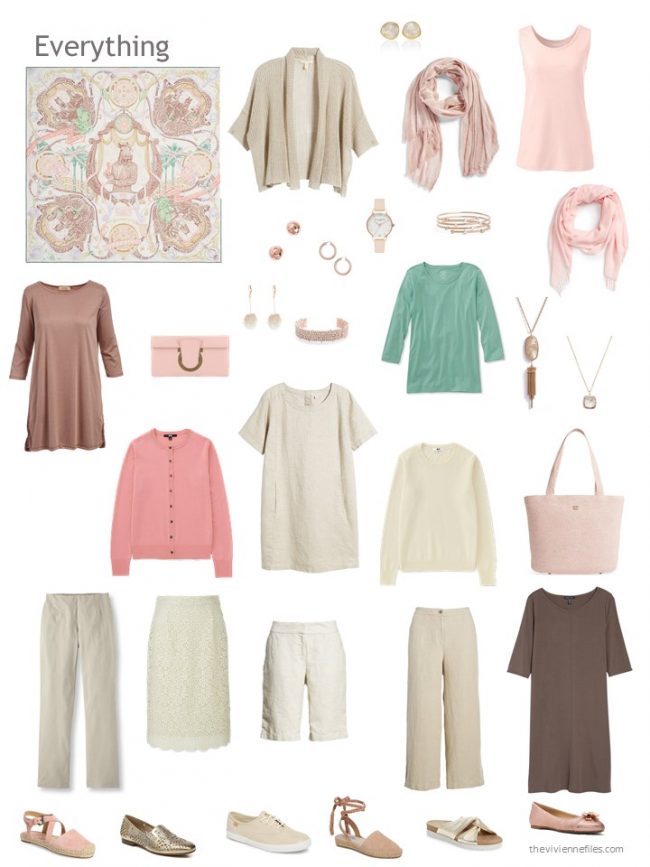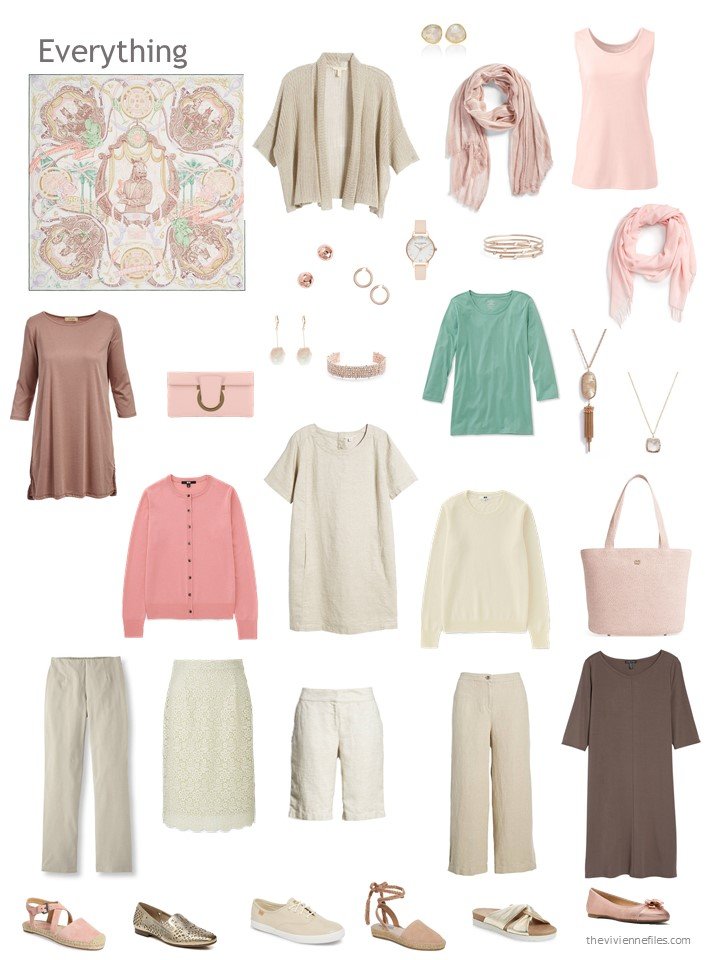 This is another example of taking one of the smaller accent colors from the scarf and bringing it into the wardrobe as a dress. This is a real break from the more somber navy and grey that's dominated this wardrobe up until now.
I considered buying navy sandals for this heroine, but I thought that the silver felt lighter and… zippier?
And while I didn't get exactly matching jewelry, they ARE the same stone, and the same shape, so that they play nicely together without being too matchy matchy.
Here's the complete wardrobe, so far, for this color scheme and scarf. I could see this, if I was starting from absolute stark naked point zero: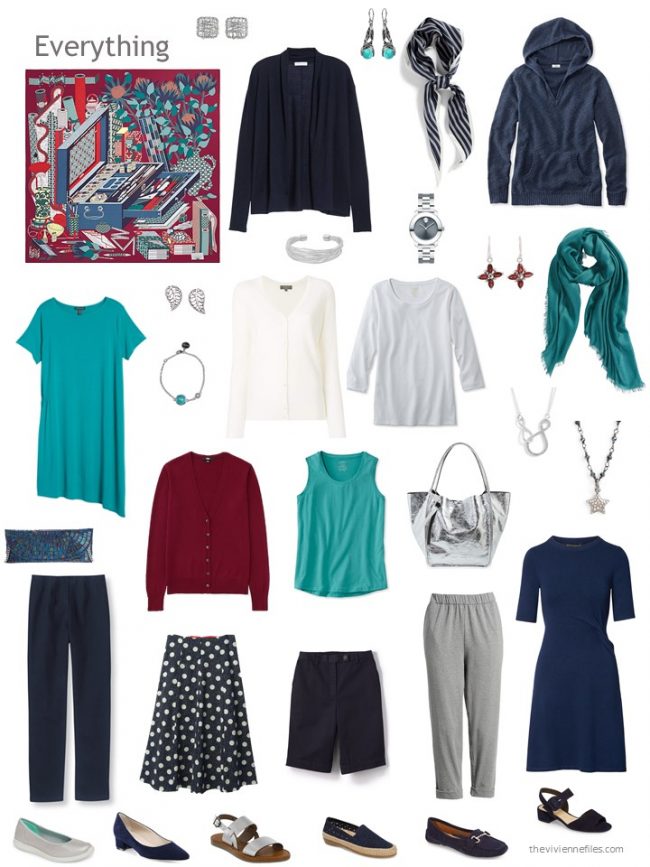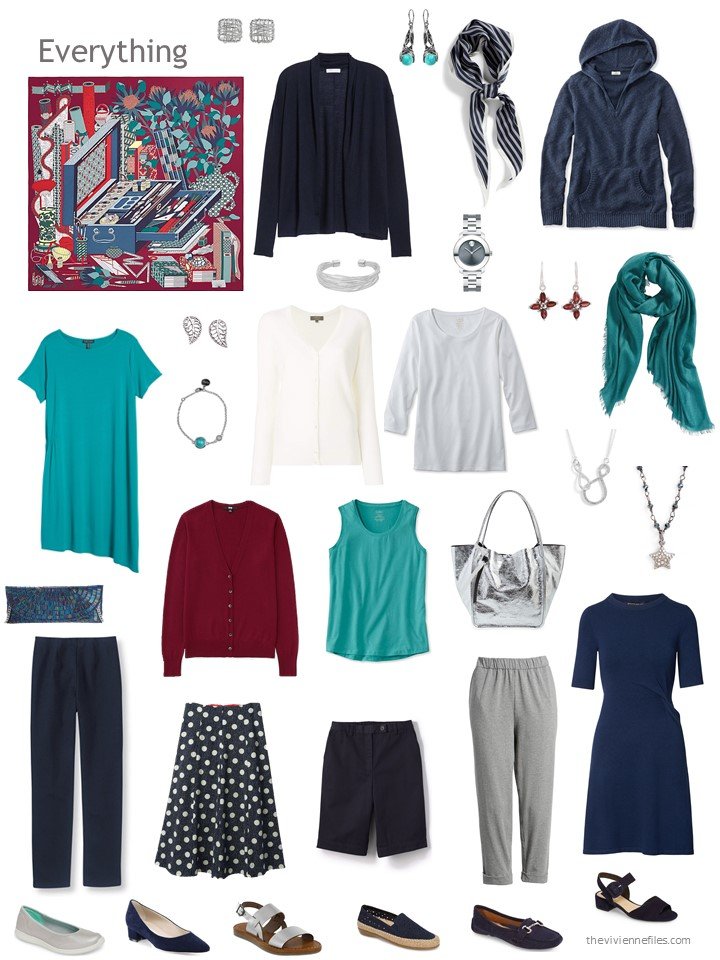 Now to the absolute most difficult wardrobe! I had good luck finding dresses, and I particularly like this one. The warm pinkish-gold accessories pick up the rose tones in the scarf, and compliment the green perfectly.
As unexpected as these colors are together, the wardrobe overall is still maintaining a feeling of coherence and a statement of personal style. It just takes patience sometimes!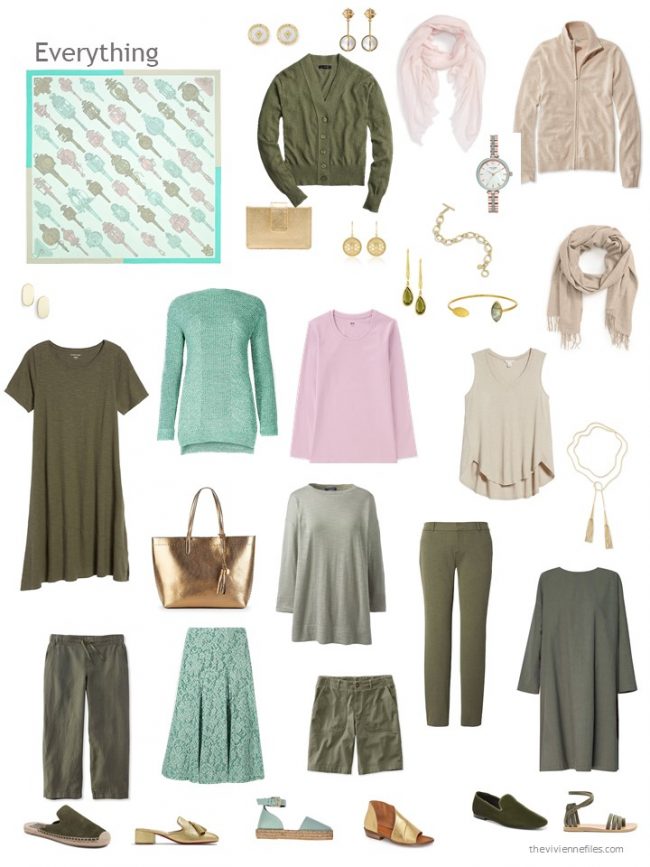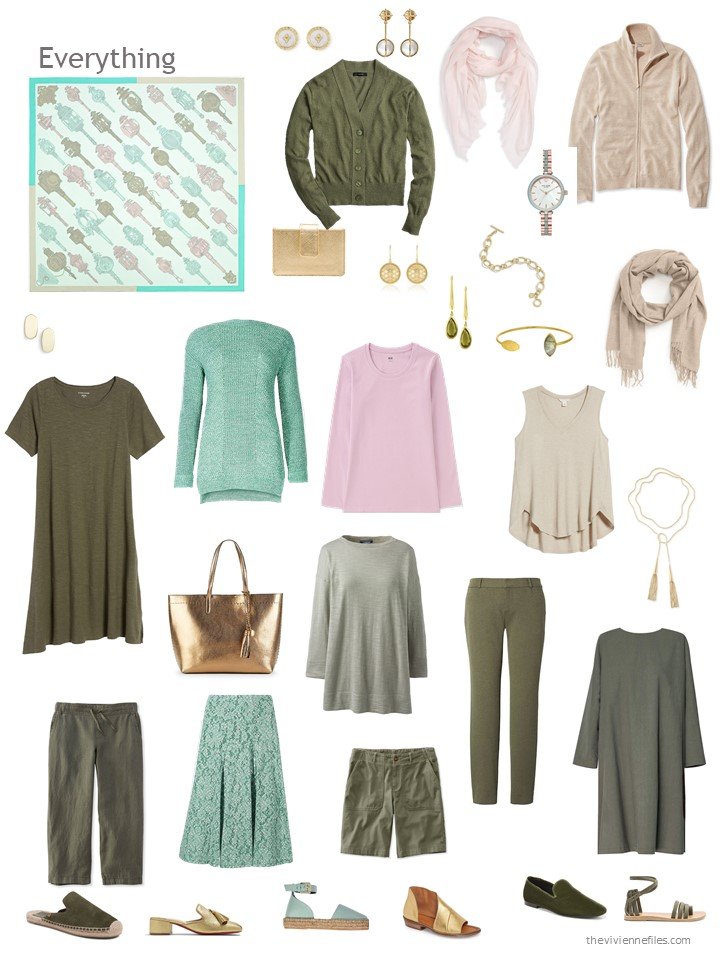 A charcoal grey silk dress is SO unexpected for summer! But this would be so comfortable – loose and swishy…
Maybe it's because the colors have been consistently easy to find, but I feel like this wardrobe might be the most versatile and coherent of them all, so far…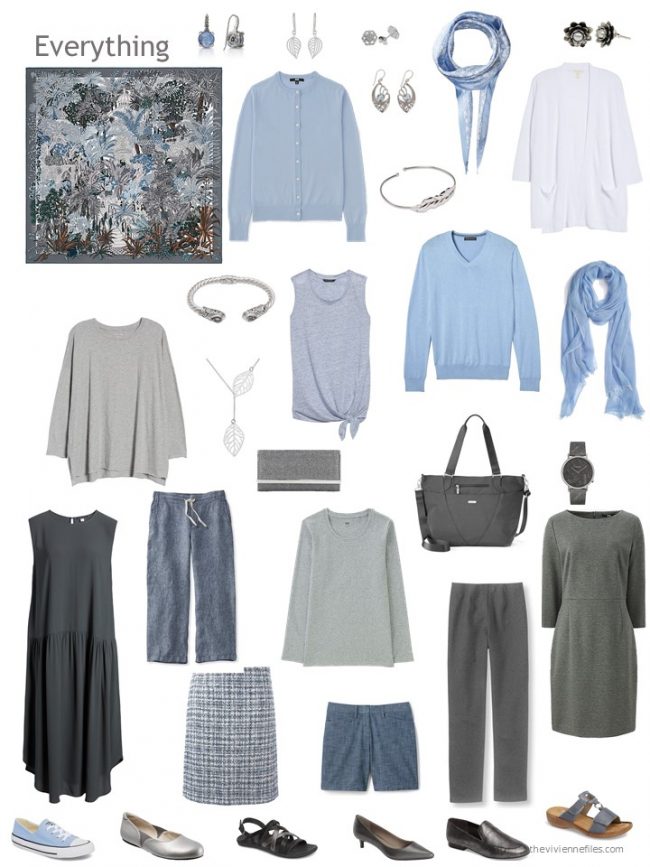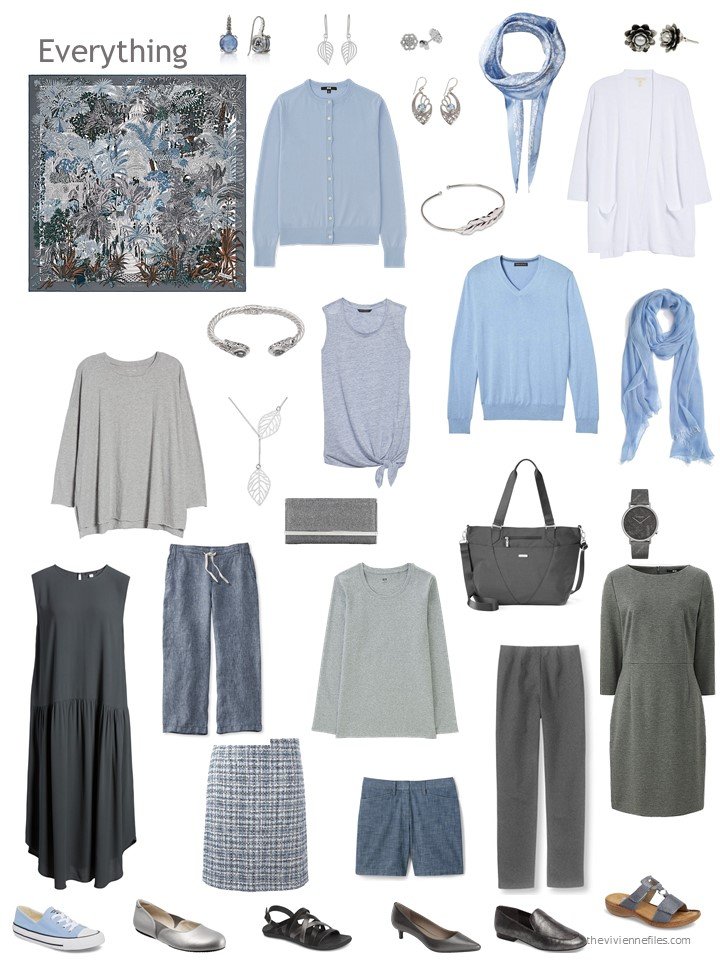 I feel like this last scarf benefits so much from those little touches of green, and in the same way I feel like the green makes so much difference in the overall wardrobe. All of the accessories here would be appropriate with everything else in this wardrobe – this is the benefit of shopping with a plan!
This is another wardrobe with some unexpected color combinations, but I feel like these pieces give our heroine a lot of options, while remaining consistently focused on the colors and motifs of the scarf.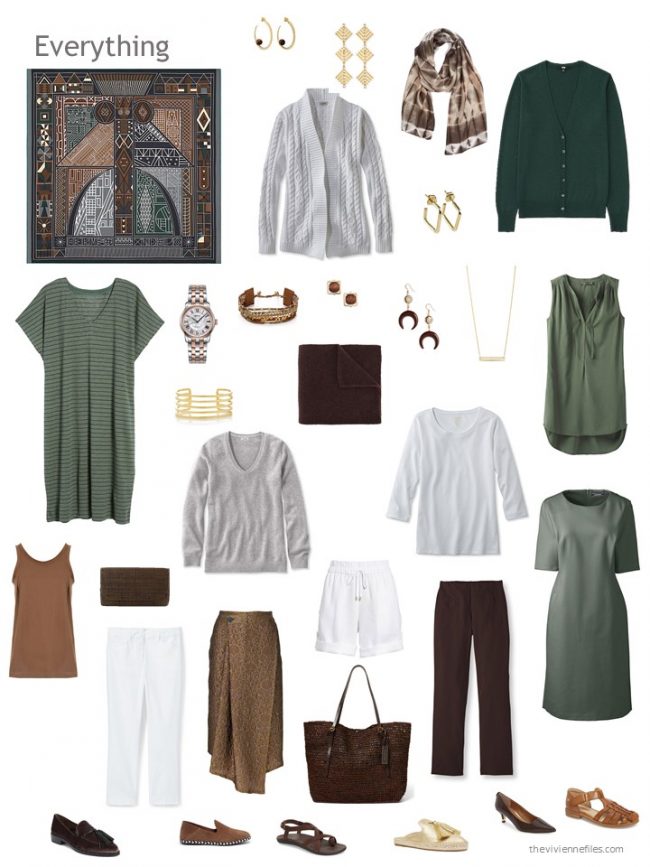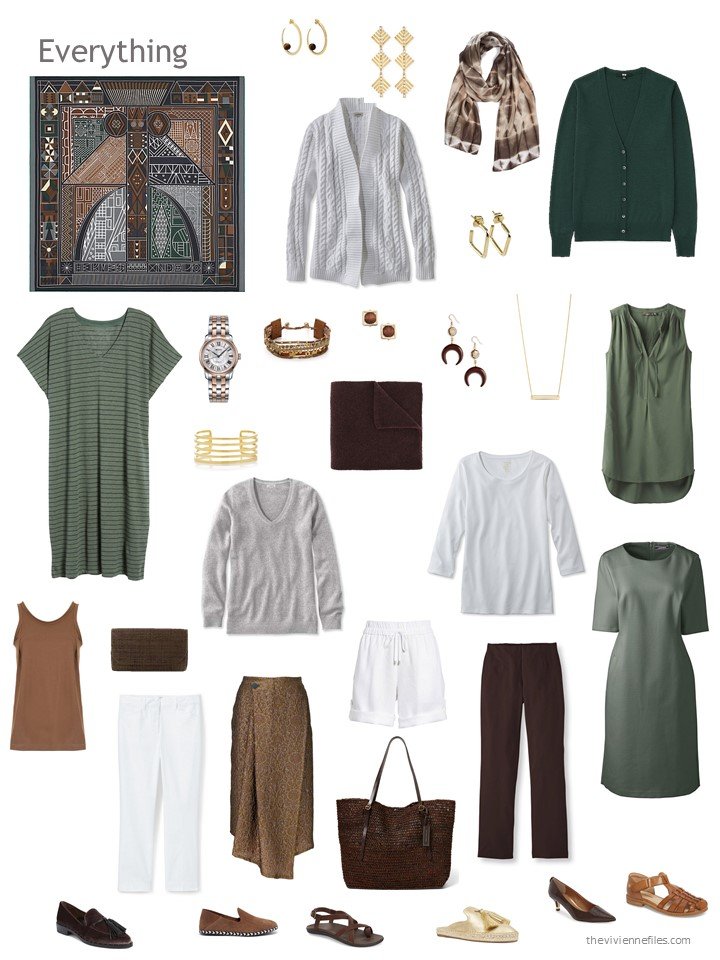 I still find myself changing my favorites every month… I'm thinking that this last wardrobe might be fetching with my brown eyes and greying hair…
and you? Loyal to an early choice, or feeling fickle?
love,
Janice