May 30, 2018
The vacation was beautiful. Except for an unpleasant, but very brief, encounter with my fibromyalgia, this trip could not have been more perfect…
But I packed… not ALL wrong, but largely wrong. And I blame Lake Michigan!
Hear me out – in Chicago, if you live near the lake (and I live literally 100 meters from it), the weather is always colder than advertised. So when someone tells you that your forecast is… say 75 degrees… you draw a mental picture of what that means. In this neighborhood, it means coolish – a cardigan or light sweater is appropriate.
Which, if course, is NOT how that temperature feels when you're away from a very large body of water that keeps the heat suppressed for much of the summer!
Let's specifically look at what I packed, what I "had" to buy (ahem…), and how it all worked out! (yes, this is somewhat changed from my original plan…)
I didn't need the black cardigan… Just plain and simply didn't. I lived in tee shirts, so this one was in heavy rotation… and the pants are my favorites, lovely and travel beautifully, but they felt dressy and heavy…
2 points to address – we have laundry done on vacation. In Paris, there is a chain of "same-day" laundries called "5 a Sec;" you take your goodies in, and pay for the service, then pick things up after 5 or the next day, depending on your drop-off time. They cost a lot, but a fraction of what you'd pay to have your laundry done at your hotel!
Secondly, Paris – especially the neighborhoods where we hung out, like the Marais – is not nearly as dressy as it once was. If you stay over near the expensive designer stores, you'll see plenty of elegantly-dressed women, but many of them aren't actually FROM Paris – they're in town shopping… If you're around on Saturday night or Sunday morning in the very high-rent districts, you will see women dressed beautifully, but it's more and more the exception.
And our hotel this trip was near the University, so we saw lots of students and academic staff. They're not the first tier of the expensively elegant…
This dress was AMAZING. I could wear it on its own, with a shirt or a cardigan over it… it wasn't too warm, it was never too dressy nor too casual, and I wore it a lot…
Sweaters were fine, in the evening, but what I completely never saw coming were the really warms days, for which I wasn't prepared… I could easily have packed just 1 cardigan, and 1 sweater, and added a ton more tee shirts…
With this next cluster, I was trying to create a way to dress-up somewhat for dinner (which turned out to be unnecessary…)
The summery tops were handy as heck, but I could never bring myself to wear the pants nor the sweater – they both felt really dressy, and… warm? after being out for a long time during the day. For a woman who doesn't get as warm as I do, or for someone who was dining at dressier destinations, these pieces would have been excellent. But our vacation just didn't turn out to be that fancy, this time…
And this was a pity, because these dotted pants, and that ornamented sweater, are both really lovely… sigh…
But I wasn't willing to get overly dressy for dinner just because I had pretty clothes with me. First thing, I don't want to be more dressed up than Belovedest – that wouldn't be kind. And I admit that I don't want to be the peacock in the hen house of a bistrot…
At the last minute, I started monkeying around (a LOT) with what I was packing, and in my silly fussing, I left out 2 really useful summer tops! You would think that after spending years of my life studying the travel capsule wardrobe in all of its variations, I would know better than to start messing around with things after I've carefully planned what to pack. But NOOOOO…. I had to change my mind on a bunch of things!
But I DID have sufficient delusions to pack this very wonderful, but insanely useless, sweater…
So after a couple of days, I was using the laundry diligently, but still scrambling to dress appropriately for the very warm days… Happily, I had the good sense to pack cropped leggings, and a pair of sandals, which might have saved my style bacon on this trip!
So what's a woman to do? I could easily have managed with the clothes that I had with me – it's foolish to think that I couldn't have. The world is full of people who don't have wardrobes any bigger than the contents of my suitcase…
But Belovedest and I chose to buy a few things… Both of us had a few gaps in our summer wardrobes that could stand to be filled (like I didn't have white tee shirt fit for anything better than a dust rag…). We knew that if we were smart, and careful, we could find things that we would be able to wear a lot through the next 5 months, and that we would always be able to point to as "Paris purchases!"
I actually bought all four pieces at Uniqlo, but 2 of them aren't available on the internet, so I'm showing very close substitutes…
For what it's worth, the minute the weather warms up, half of Paris turns out in wrinkled linen pants, wrinkled linen shirts, and the always natty wrinkled linen blazer… LOTS of linen…
The shorts turned out to be adorably cute, comfortable, and they're going to be absolute work-horses for the rest of the summer. The fabric is a bit like an oxford shirt, in that it's a weave of white threads going 1 way and black going the other. Perfect for me…
The white tee shirt was an easy choice, knowing that I didn't have a decent one at home… The linen shirt was a gesture toward avoiding sunburn (I should have worn it over my head – my nose didn't fare well!), as well as sort of fitting in with the rest of the city. I would have loved a black and white striped or patterned shirt, but I thought that pink was a fun addition to my monochromatic world.
The tunic was a nod toward knowing that I had tights and sandals. I will NEVER wear leggings without something over them that comes to the tops of my thighs, and this tunic is perfect to combine modesty with coolness!
So my complete "wardrobe" for Paris looks like this, after the shopping: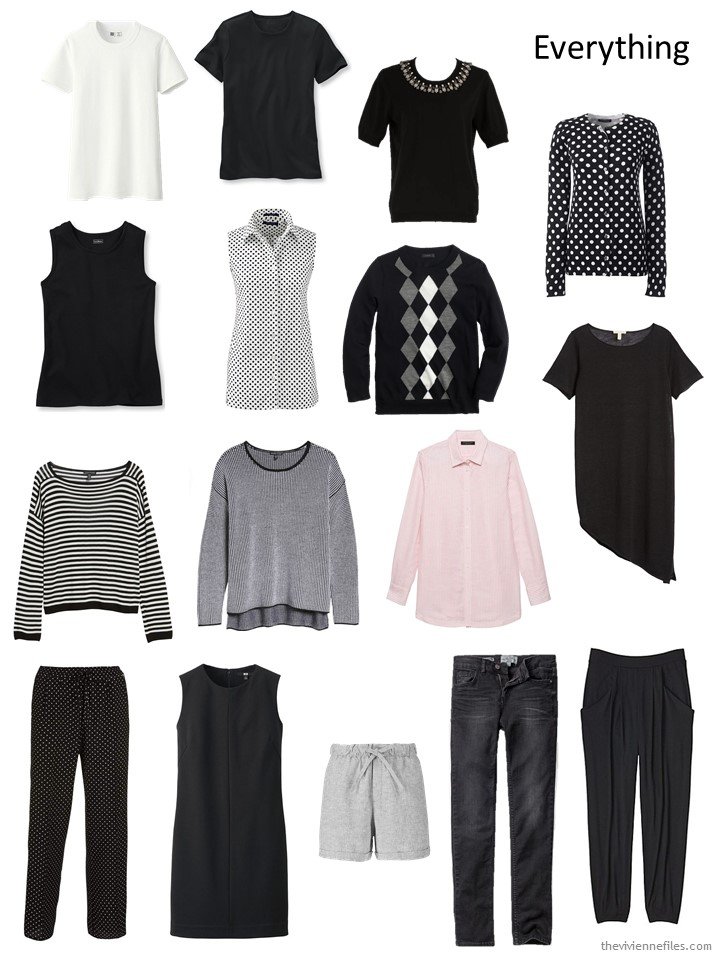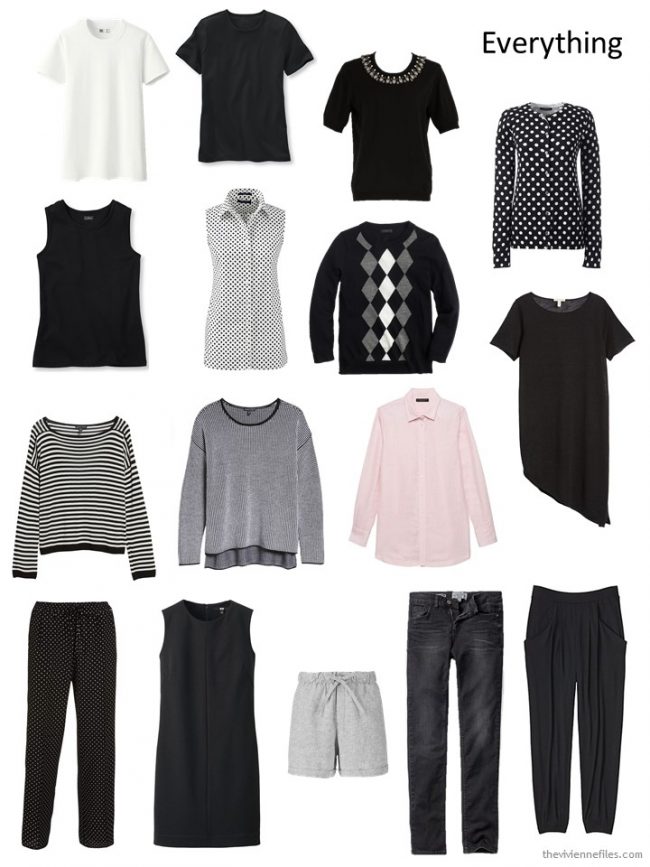 Note that a pair of jeans DID make it into my suitcase, and it was a good thing. Saturday the 26th was a big sports championship days in Europe – the English rugby finals, the Pro 14 (former Celtic League) rugby finals, AND the Champions League Soccer final were ALL the same day. Much pub hanging, in less than delightfully sterile conditions…
I dressed like this: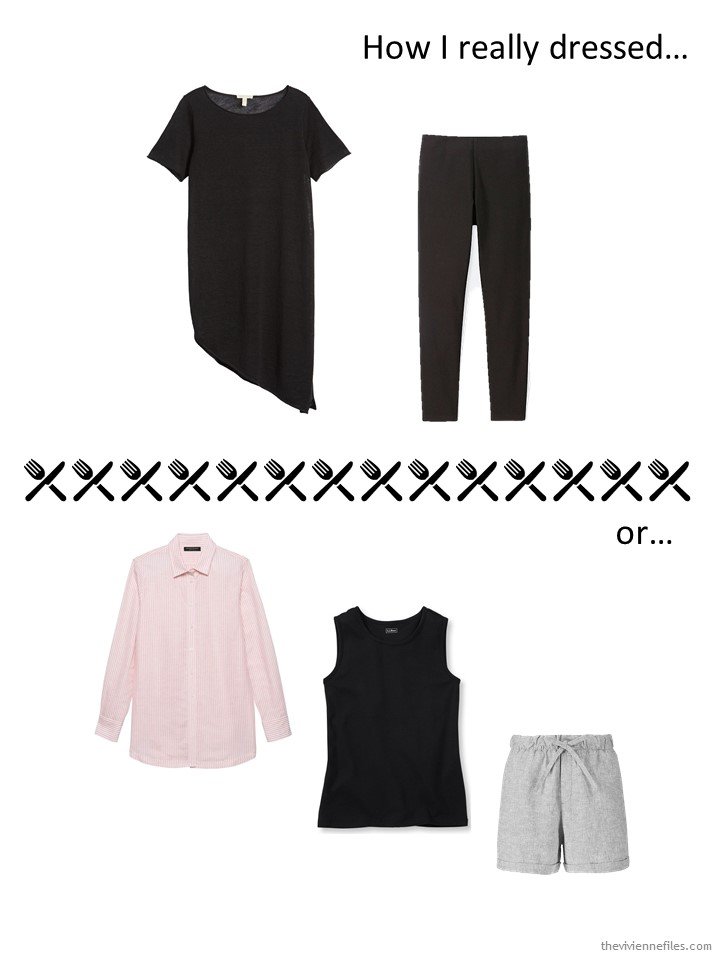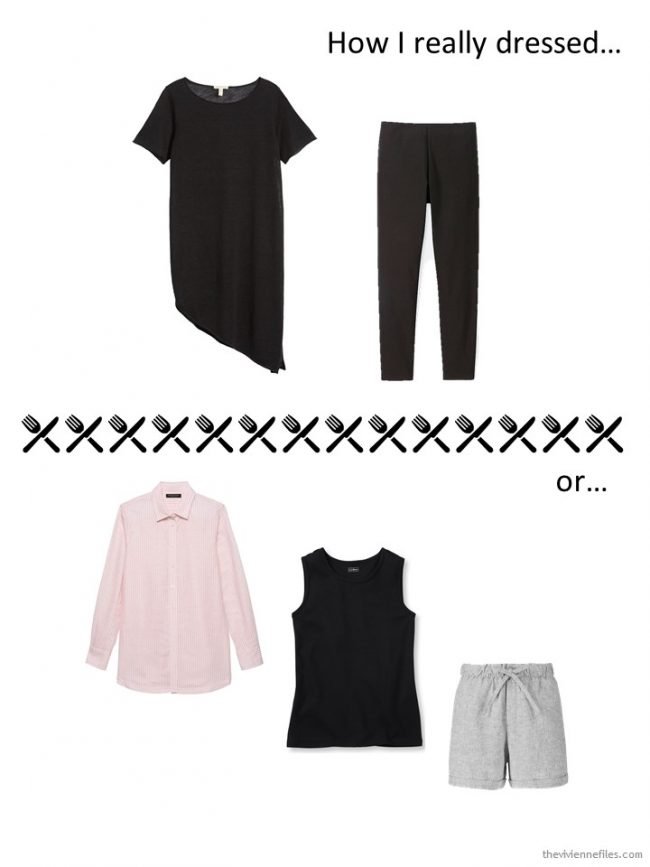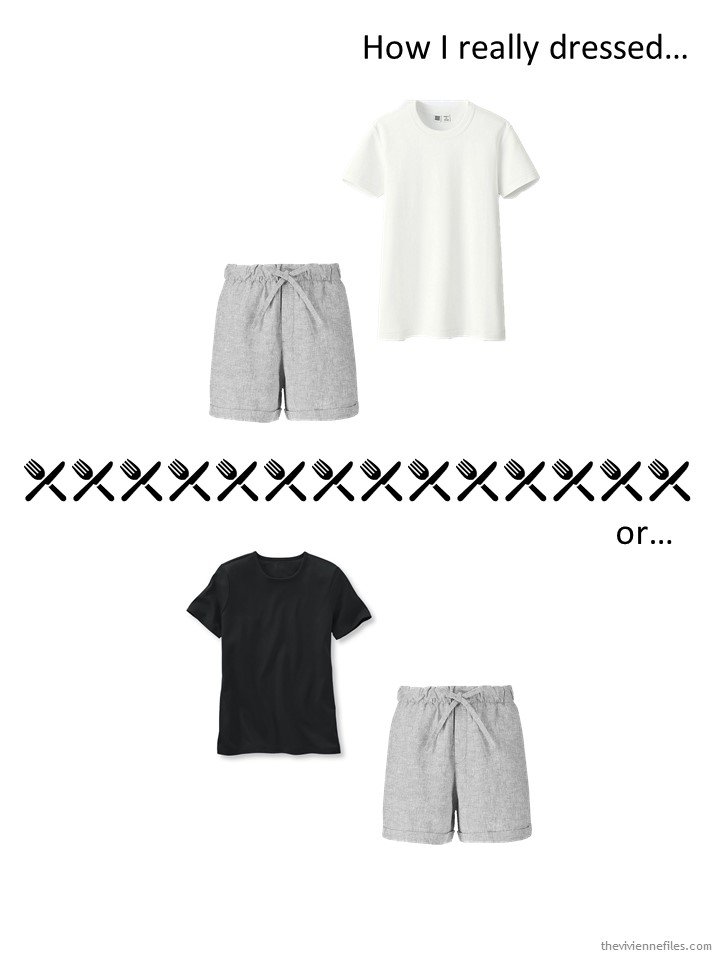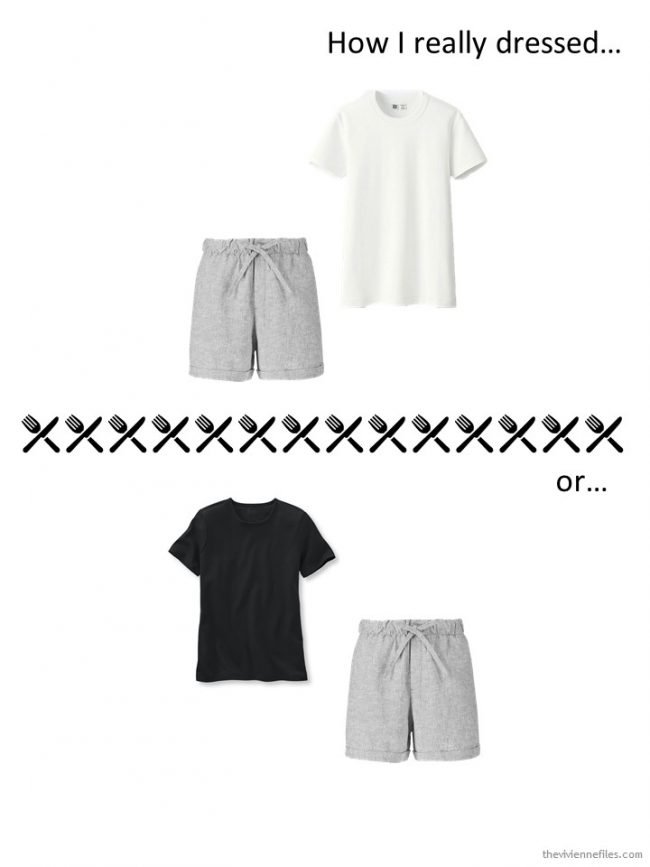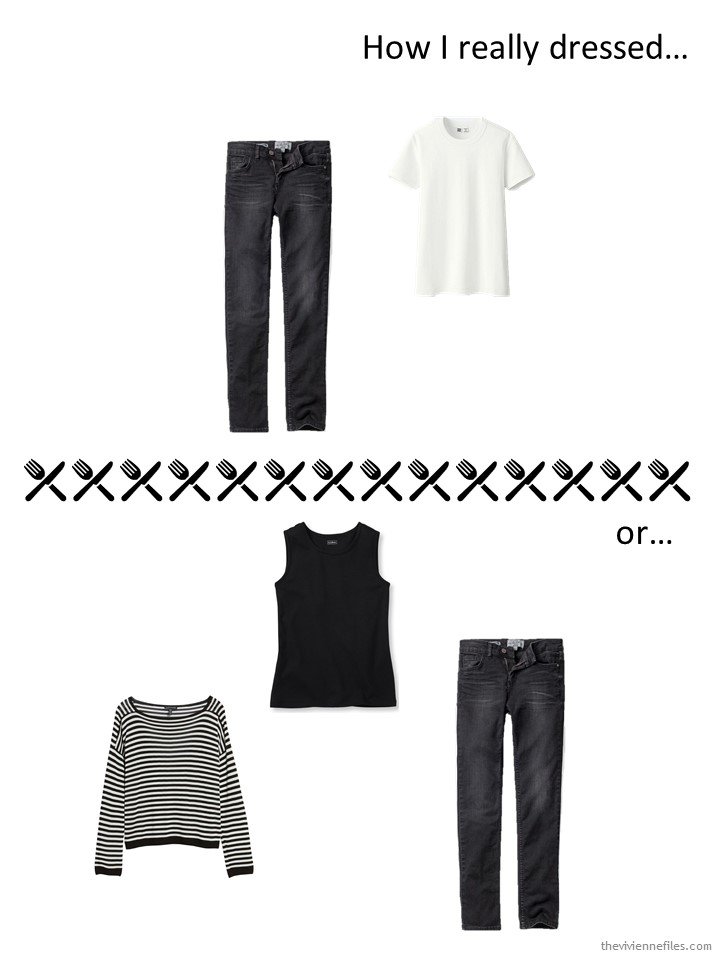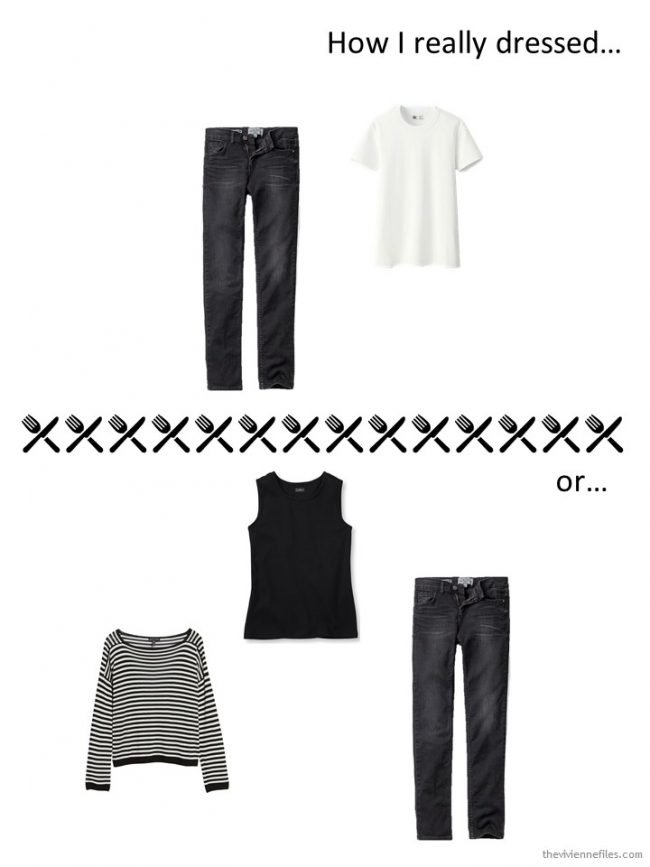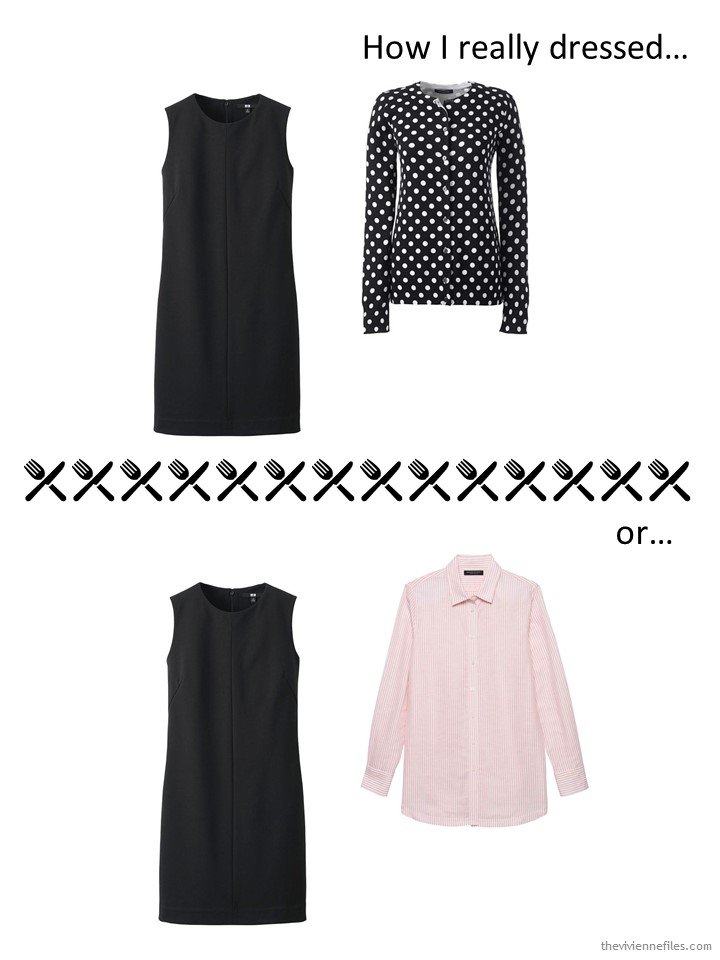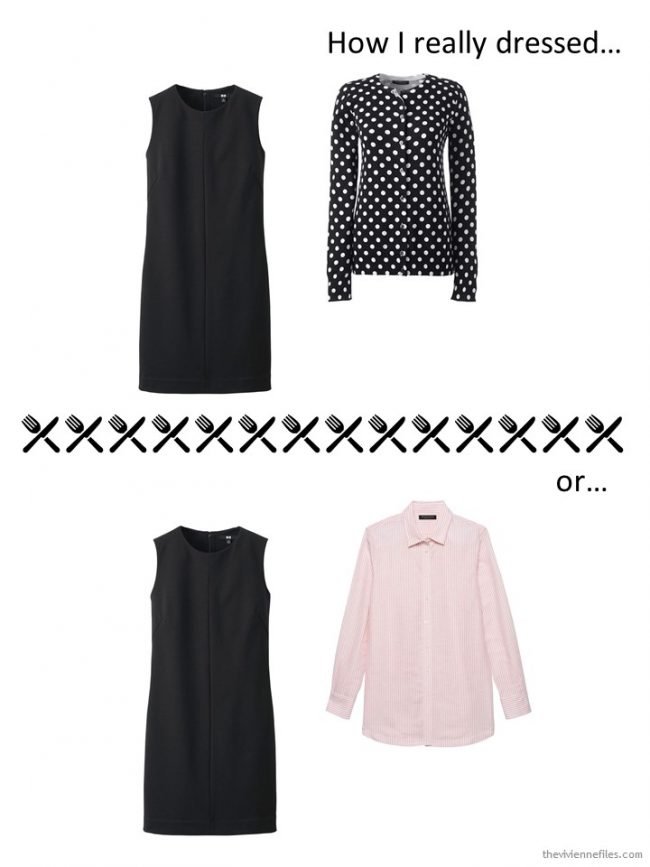 So there's a lesson here, isn't there? Probably a couple of them…
READ and BELIEVE the weather forecasts. Given that it's an inexact science, it's still a heck of a lot better than just assuming you know what the weather will be…
Pack with versatility in mind. I really messed up this – I don't have any logically planned "Triple Top Secrets" packed, nor was I thinking that temperatures might be unexpected warm or cold.
Extra tee shirts! They're small, they can be worn alone or layered, and if the weather warms up, you'll live in them.
Know what you have at home, so that if you do choose to shop, you can do it intelligently.
Be prepared for laundry, and give up any stigma you might still harbor about wearing the same clothes repeatedly.
I have THREE more trips this summer, at least… I'll keep trying to get better at this!
Friday I'll share with you some of the fashion ideas and personal style statements that I saw in Paris. I struggled to take good photographs of window displays, because it was so bright and sunny (when it wasn't pouring rain). But I made up for it by people-watching for hours and taking tons of notes!
love,
Janice