May 26, 2020
It's an occupational hazard – I read French personal style books. Well, "read" is charitable because I don't fully grasp every last single solitary word that's there, but I manage okay…
And I find some of their advice to be interesting and possibly useful for us! All of these books have some sort of "must-have garments" list (which I of course think is errant nonsense, and should never exist…); my current book strongly promotes the idea of having a dress in a floral print that could be worn all year… hmm…
This is the book in question:
Seriously, ladies, a book will NOT give someone style. It's a fun book, nonetheless!
In response to this suggestion, I found a couple of dresses that I thought were both appealing on their own merits, and potentially versatile enough to wear throughout the year. I noticed a few things, as I worked on showing these dresses in a range of possible ensembles: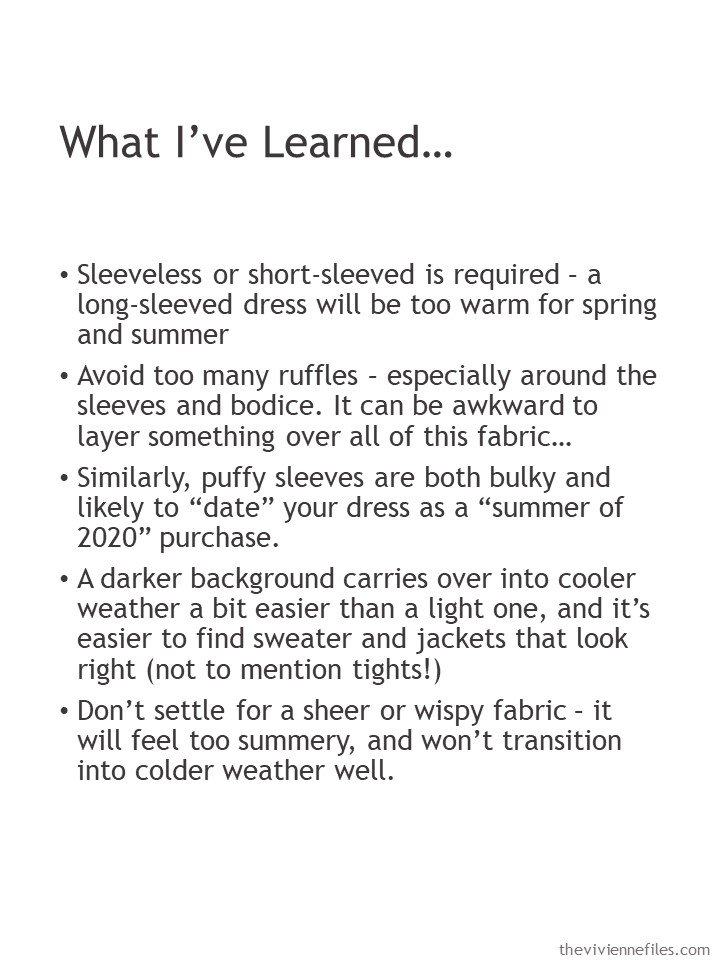 Let's see if this works out…
First, I found a pretty, very simple navy floral dress. It has a bit of ruffle at the bottom, but nothing above the waist that would bunch up or pull under a sweater or jacket. And then I thought about how I would wear it (and how the authors of my books suggested…).
Spring is a season of endless weather mystery, so our heroine might be able to go bare-legged with ballet flats, or she might still be wearing her winter ensemble!
For summer, choices were easy:
My book suggests a blazer over your dress, for autumn. This might work well, or it might be better to opt for a blazer-styled cardigan. It's all a question of how everything feels when you get it on! The only blazer I own is very square in cut, and can be worn over just about anything…
I can actually picture this next outfit working pretty well – the sweater and scarf will fit easily over the top of the dress, and it will look as if you're wearing a cute little skirt under an oversized sweater. This is a really popular look in Paris, and I'm always attracted to it:
Just to give this another try, I found this print dress, in colors that are seasonless! Picking up the white in the print makes this seem very "springy."
In truly warm weather, a mask is the main essential accessory! Add in some silver and onyx and you're good to go…
Because this dress has a tie on the front, I didn't want to add on another really structured garment, like a blazer. I can't quite explain why I feel like it wouldn't work, but I'm more comfortable with this cardigan in this outfit!
When you see these various outfits come together, you can clearly see the merits of choosing a favorite accent color or 2, and then having a bag, and a scarf, and maybe earrings in that color! Once you have these pieces in hand, any garment that you buy that is part of your palette will be easy to accessorize:
For me, I could do this with my most excellent Eileen Fisher v-neck sleeveless dress – it can be worn as a jumper (as we say in the US, which is to say a sleeveless dress worn over a blouse, tee shirt or sweater), all alone, or with something over it.
If we're all going to try to be a bit more efficient with our money, and with our wardrobes, being able to wear anything for 12 months is an accomplishment!
Do you have any "all-year" clothes?
love,
Janice
p.s. Seven years ago, accessories for a khaki and green wardrobe were the order of the day!
p.p.s. If you're looking online for masks, be careful; everybody and their grandmother seems to be banging out masks for sale. I suspect that many of the masks "available" either don't exist at all, or aren't going to get to you for weeks and weeks, or are going to be icky pieces of trash when they arrive. Bandwagons should be avoided…