May 27, 2020
It wasn't a sad email, but it definitely was a cry for help! She loves the skirt, but so far has only worn it with a white tee shirt or white tank top. She owns lots of other clothes, so there MUST be more possibilities…
Note that this skirt does NOT have a bunch of gathers at the waist – thus untucked tops will not look awkward when they extend below the waist. Of such small details is a versatile garment made!
So, as I've done before, I tried to think of how this skirt could be worn each of the next 4 months, in 2 different ways.
First, for June, a pretty blouse is 1 option, or a linen tee shirt. I'm still smitten with these ruffled espadrilles; espadrilles aren't always terribly pretty, but a ruffle seems to make a lot of difference!
And the bracelet… oh my…
For July, sleeveless seems like a good idea! Of course, those who eschew sleeveless can just skip these, or find similar items with sleeves. You understand the possibilities, I'm sure!
Sleeveless again! Or a simple tunic – every day in August will not necessarily be a scorcher…
September could be hot. September could be cool. If you have any way of knowing in advance, you're smarter than just about everybody else in the world! But a white linen tunic sweater will be lovely on all but the warmest days, and a navy cotton sweater will be ideal for those cool mornings that turn into perfect fall afternoons…
When all of these garments are assembled together, it's clear that there are a lot of different ways to wear this skirt. I didn't even LOOK at a white cardigan, or a navy twinset…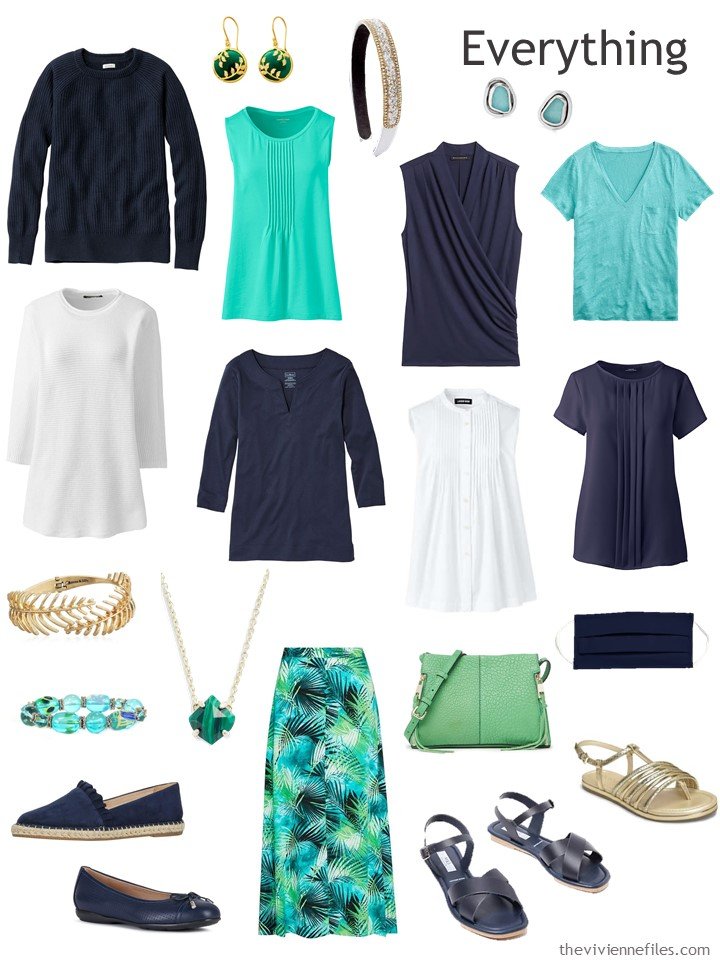 Just for fun, let's say that you wanted to start with the 9 garments above, and build a wee capsule wardrobe around this. Clearly, you're going to need some shorts, or a pair of pants, or SOMETHING in addition to the skirt to wear below the waist!
I'd think seriously about these:
In addition to all of the outfits above, our heroine now has at least six more ways to get dressed: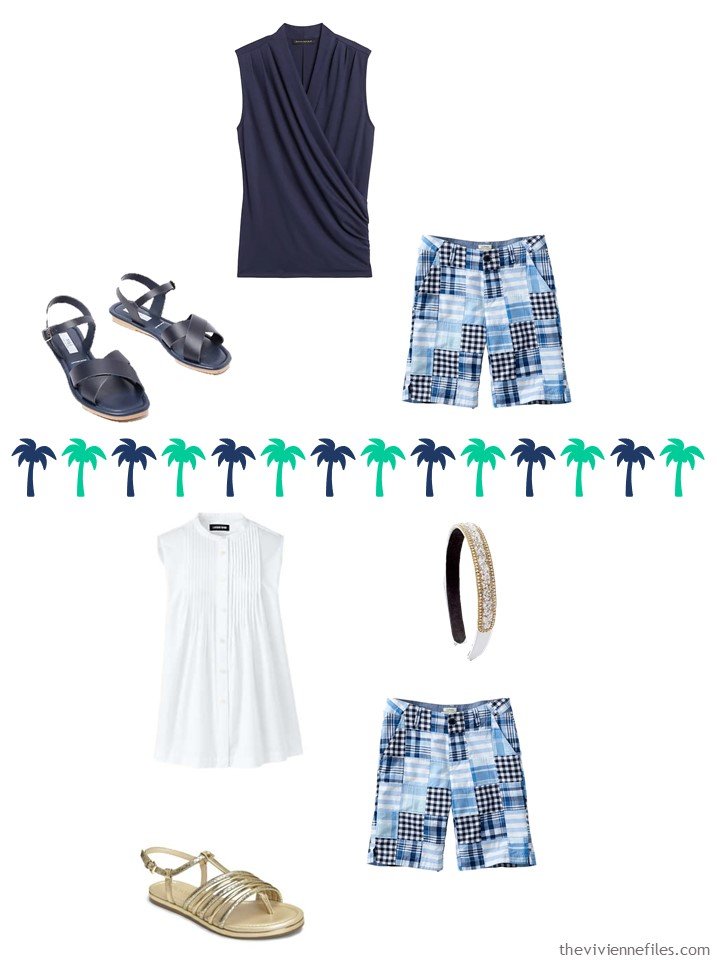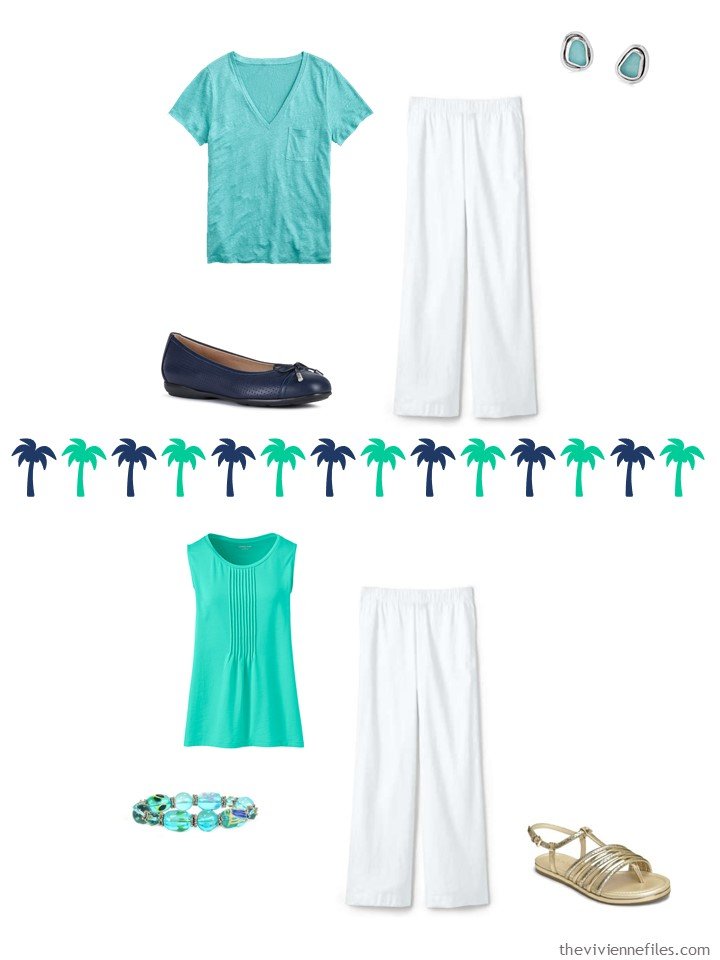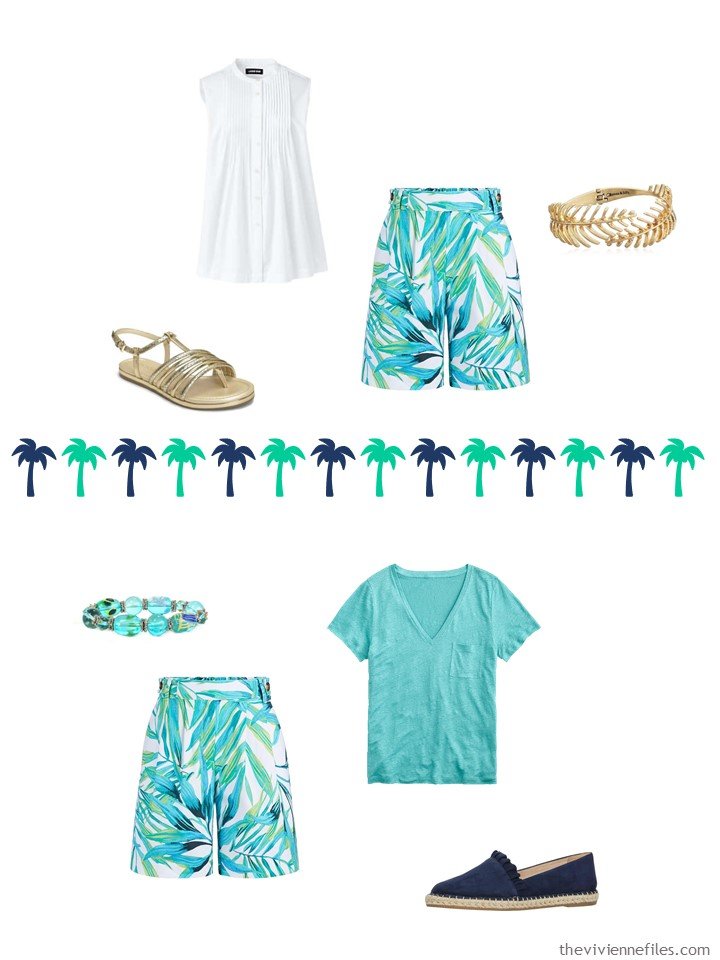 I've never personally chosen a travel capsule wardrobe by starting with 1 garment… but I could! That excellent Eileen Fisher dress that has me obsessed right now would be a good candidate…
love,
Janice
p.s. 2 years ago I was drooling over rose-themed accessories for the upcoming June birthdays. I'll be 60 on the 29th of June – should I indulge?