May 8 2020
I couldn't resist coming back to this painting, and to the wardrobe based on these colors!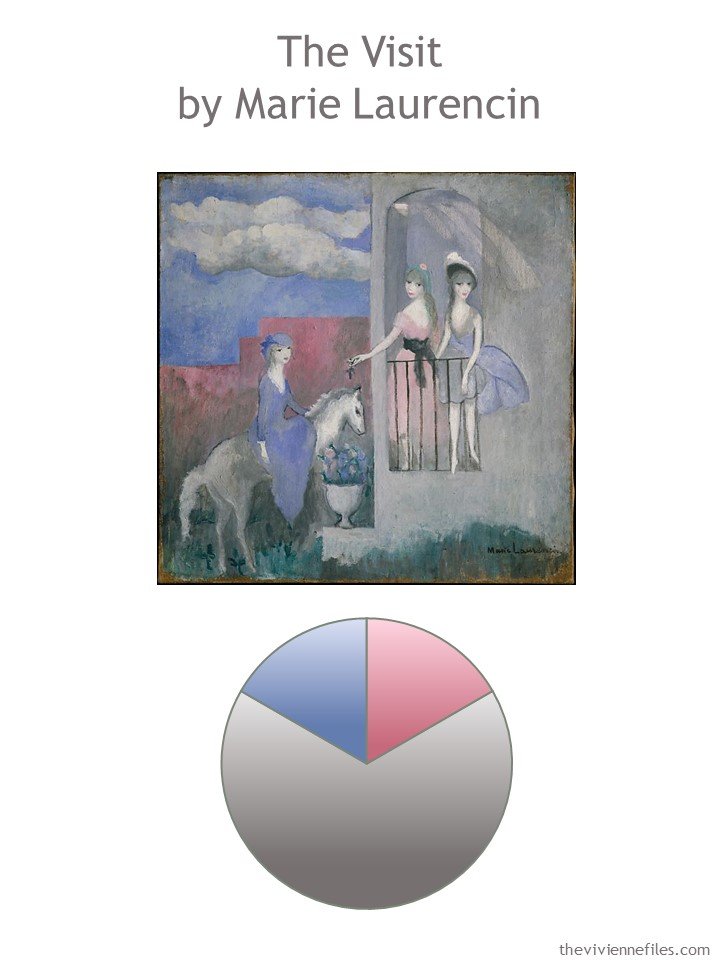 First, let's look back at the spring wardrobe with a core of grey and white garments, and then a few accents in blue and pink (including that blue cardigan that keeps catching my eye!):
I'm looking for accessories that are somewhat "soft" in feel, to compliment the softness of the colors here, and also for things that will look good with more than one outfit…
For our blue dress, I wanted a scarf that our heroine could wear around her shoulders (although of course she has her white cardigan that will be perfect for that!), and some earrings that also were organic in theme. Silver sandals will be useful with pretty much every outfit in this wardrobe:
Although this is a spring wardrobe, we all know that our heroine will be wearing her sweater and jeans at least once! So she will want some loafers, as well as a wee something to dress-up the neckline of her sweater. More flower and leaf-themed earrings…
Our heroine's silver sandals would of course be great with this outfit, but I love the idea of finding sandals that echo the blue in her shirt. A touch of a blue topaz in her bracelet, and white sunglasses with a bit of blue too!
Pink and white with some pink accents, and a silver handbag – why not?
Every heroine with brains is going to want a sunhat, a watch, and some comfy tennies…
I went a little bit off the rails here – I just love this scarf so much that I wanted to include it. Koi earrings are a subtle touch of wit, and the pink ruffled sneakers are completely superfluous, but fun!
Given that I cut my own hair yesterday (dear oh dear…), I thought that our heroine might be happy to have a lovely headband in her wardrobe right now:
In warm weather, many of us like to have a larger handbag available, and nothing goes better with espadrilles than a straw bag that echoes the rope soles of the shoes…
With a "mostly grey" outfit, grey pearl earrings look perfect! And a touch of blue in a scarf harmonizes well with the blue cardigan… Blue suede shoes? Well, sandals… (everybody sing!)
Our very simple, timeless grey dress could benefit from a light linen wrap – maybe never actually used AS a wrap, but still pretty draped over an arm, or over a shoulder at dinner. Our heroine's silver clutch and silver sandals are just right here:
Imagine having the clothes up at the top of this post in your closet, and then having THIS there with them: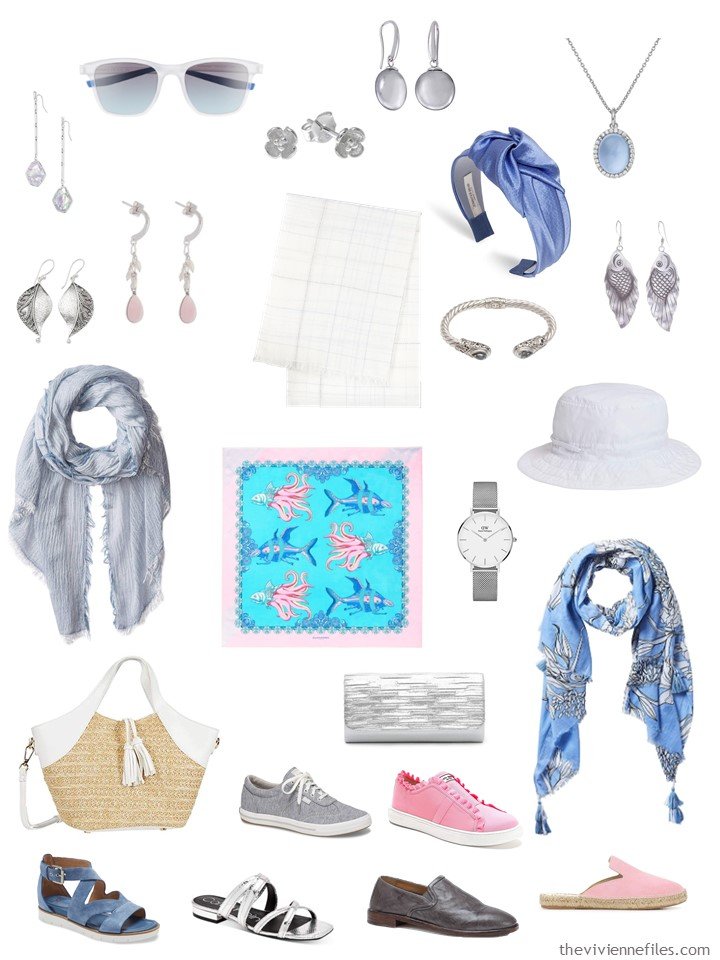 Accessories don't have to be outlandish, daring, or otherwise conspicuous to make a lot of difference in the overall look and feel of an outfit!
Is there an accessory that you wear all of the time? Right now, I'm wearing a black bracelet that has an airplane on one end of the cuff, and a wee globe on the other end. It painfully reminds me that I'm not traveling. Sigh…
love,
Janice
p.s. Just 2 years ago, we looked at the possibilities for accessories to go with a wardrobe based on a photograph of an owl! Shades of lilac with black and white…
p.p.s. Please note, when you're shopping online for earrings, make absolutely CERTAIN that you're getting TWO earrings, if that's what you want; a lot of earrings are now being sold as singles. It's quite the moment when you open the package and just find the ONE earring…