May 11, 2020
Well, a dear friend of mine is currently moving her plants indoors, because the weekend is supposed to bring freezing temperatures, and I'm writing about summer clothes! (I'm writing this on Friday afternoon May 8th)
Getting the best clothes often requires planning ahead; you can't imagine how often I will see something that I think is perfect to share with you, only to find that there are only 2 sizes still available…
So let's plunge into the possibilities of a simple, dark tank top or other sleeveless top!
For those who are following along with the "6 Scarves, 12 Months" series of posts, these are the tops that I would suggest for a wardrobe based on each of the scarves:
As always, I've got thoughts! The best part of these dark tops is the ability to pull together that "dark inner column" of clothes over which you wear anything that comes to hand; there's possibly no easier way to get dressed!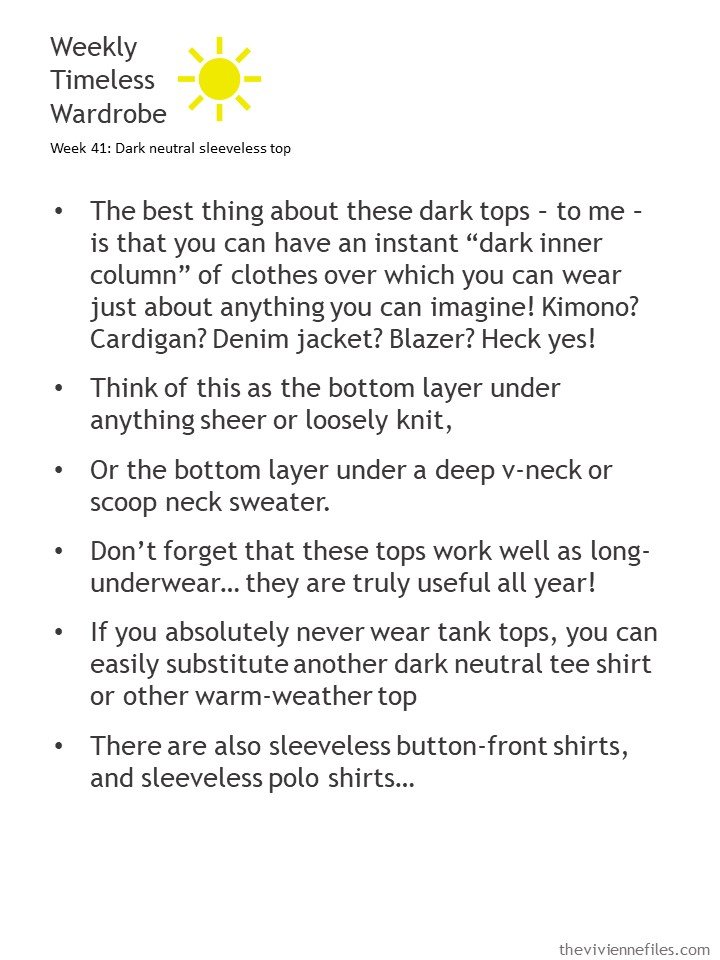 This first outfit is very much like the first outfit from last week – except I've swapped the tank top and shorts to navy, and replaced the blue linen shirt with a neutral beige. If you had BOTH of these outfits in your wardrobe, you would theoretically have 8 outfits from 6 garments…
If I wanted to base my wardrobe on olive green, or any shade of brown, I would learn to sew. Seriously! These colors are absurdly difficult to find in the retail world; I wanted to share an outfit with a matching brown top and shorts, but it would be easier to find a unicorn wearing matching earrings and sandals…
These tank tops are quite useful for active wear, as well as just normal life. And I own these shorts, shown below, and I love them. They're not revealing or too tight, which begins to matter as we move into our 7th decade of life…
When I started this next navy-centered outfit, I thought that I might replace this linen shirt and scarf – but I didn't have the heart to. It's rare that I run into 2 really nice, classic things that go together as well as this shirt and scarf… So you're going to have to look at them again!
But this is a perfect example of how coordinating things around a palette of colors makes life so much easier. Say that you were out and about during the day in last week's outfit, with the white tank top. You splashed ketchup on your white tank at the baseball game (dreaming…), but don't want to change EVERYTHING before you go out for dinner with your tribe. Your navy tank top saves the day, so to speak…
I know that there's a world full of grey tank tops somewhere, but I'll be gobsmacked if I can find them! Grey is a tricky color to match, so it's always wise to see if you can find (at least) your shorts and top to match from the same place. The more you can get that looks good together, the more options you have. And I love wardrobe options…
This is an outfit I would wear in a heartbeat – I suspect that if I get all of my summer clothes out of the plastic bins, I have all of these garments! (now, some appropriate weather, please)
I can heartily endorse the overwhelming loveliness of Julie Vos jewelry… My new pink earrings are from there, and they are substantial and well-made. Black ones might have to be considered, for my birthday next month, eh?
The ever-evolving 13-piece wardrobe still bears the same overall feel, bust a bit lighter because of the sleeveless tops. One could still live for weeks, or travel for AGES with these 13 pieces:
For reference, as always, I'm including the 52-garment list for you!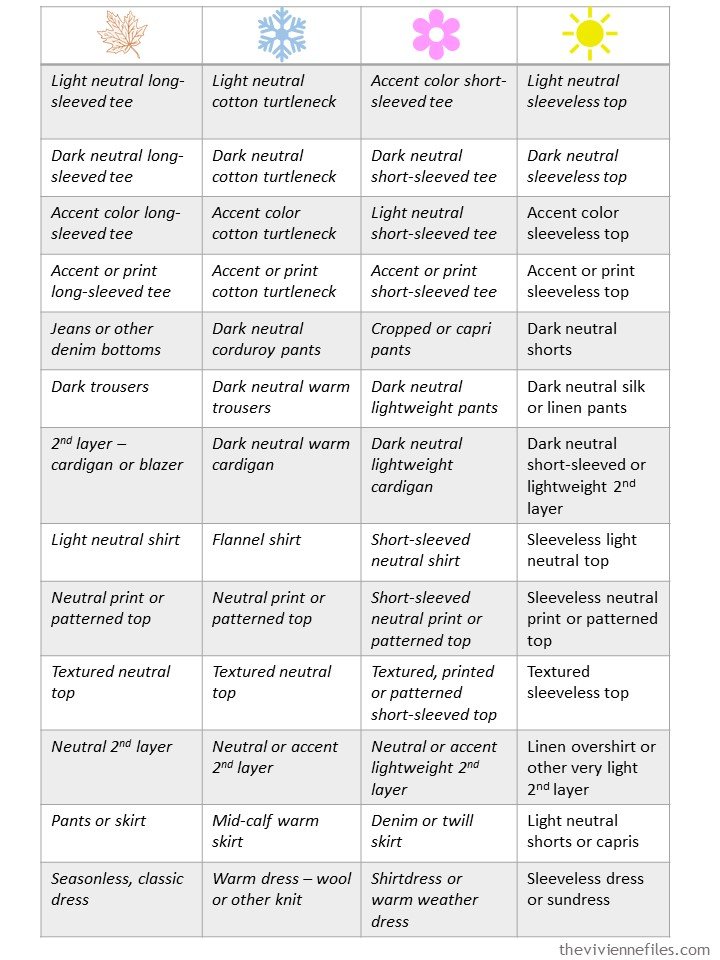 I'm very hopeful that by the time you read this on Monday, the weather will have turned from nearly snowing to a beautiful late spring warmth and light…
How is everyone? Bear in mind that if, in your area, your governor, or other leader, has NOT opened their home back up for tours (if that's a thing where you live!), then THEY don't think it's safe to be hanging out with lots of people. If it's not good enough for them, it's not time for you to be out and about either…
love,
Janice
p.s. Eight years ago, we started with a beautiful Hermes scarf (that belongs to one of you!), and then assembled 8 outfits that could be worn with the scarf. Blue, shades of orange and coral, and a bit of orange – it's lovely…
p.p.s. I've just learned that everybody doesn't know this: if you click on the description of a garment at the bottom of an image, it will take you to the website where the item is available – right to the exact page! And yes, I get a wee pittance of a commission of you buy something…