May 7, 2020
The capitalization of the painting is the artist's; artists see things in ways we hope to learn, some day…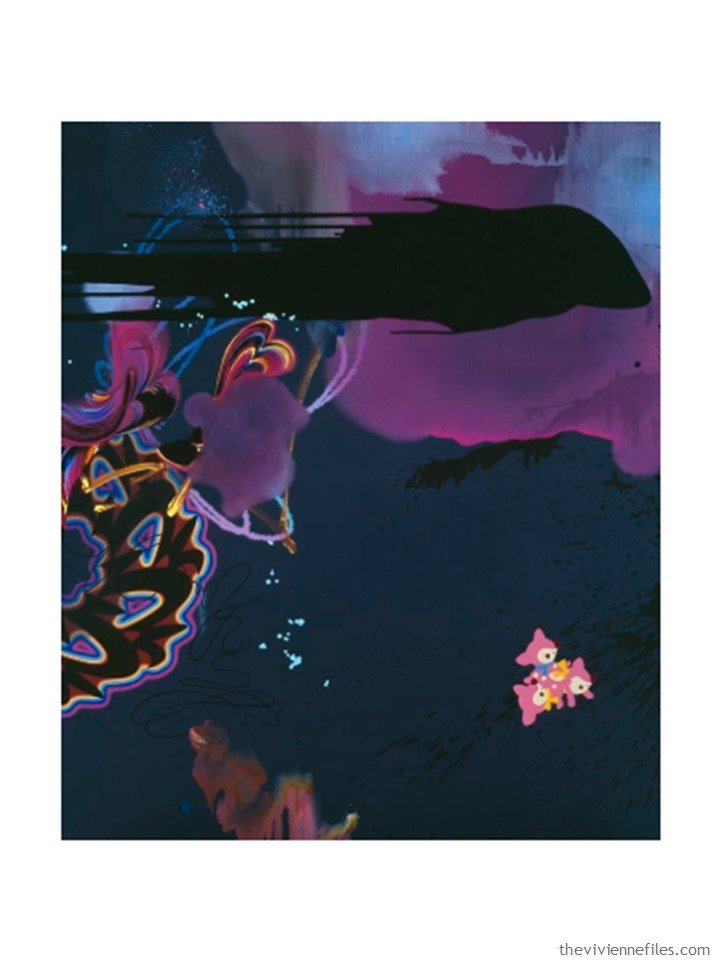 While there are quite a few really fun colors in this painting, any heroine worth her salt knows that you've got to limit yourself a bit, at least at the start of a wardrobe "build."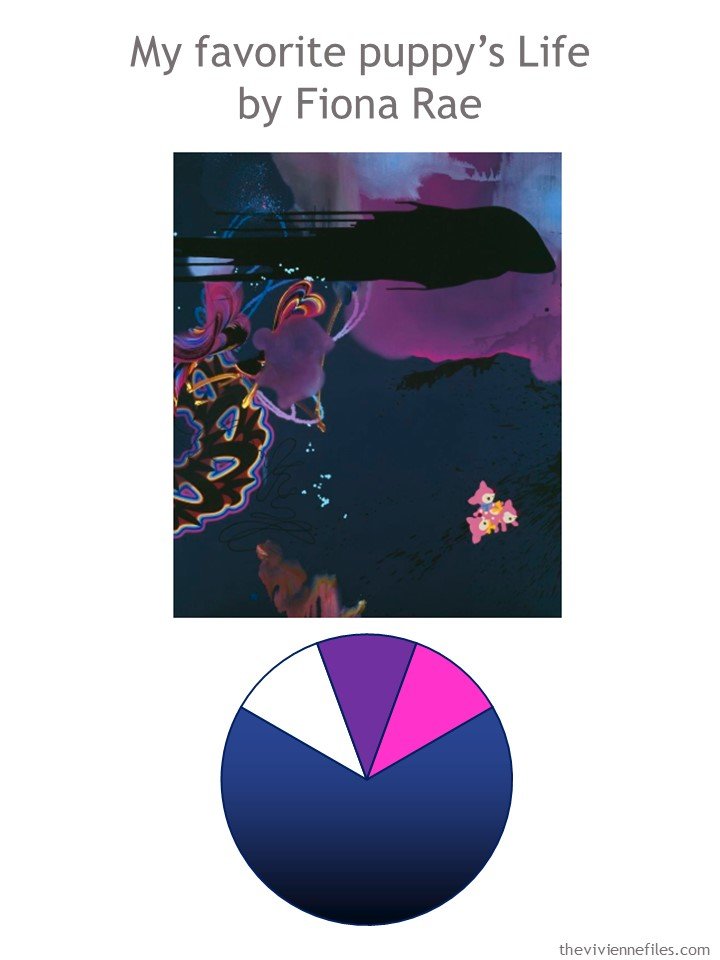 First up, our wise heroine decides to make certain that she has a solid base for her wardrobe in navy and white:
Her heart was SET on hot pink and purple… but the marketplace of clothing didn't really help her out much!
This is one of the hardest parts of putting together any wardrobe – deciding that you KNOW what you want, but then finding that your lovely dreams are not readily available in the retail apparel market!
She had fantasized about a great print or floral skirt with a navy background and bold colors in the print… Maybe even a blouse or top that matched. It was not to be – at least not this week!
And she's decided that she might teach herself to knit, just so she can have a wonderful cardigan in some sort of marl, or tweed, or intarsia pattern in hot pink and purple. It might take a while, but it would be worth the effort to have a one of a kind sweater in her favorite colors, right?
Finally, she finds purple, and hot pink, at least in solid colors. Cuts that she can wear, prices that she can afford…
And then she realizes that she might as well "flesh out" her navy and white with some stripes, and some florals. If she can't find things in her accent colors, she might as well enjoy the prints in her neutral colors…
When she cleans out her closet and hangs her spring wardrobe there, she feels a bit of a tug toward more accent garments – but overall she can see that she won't struggle to get dressed! Some days neutral, some days brights: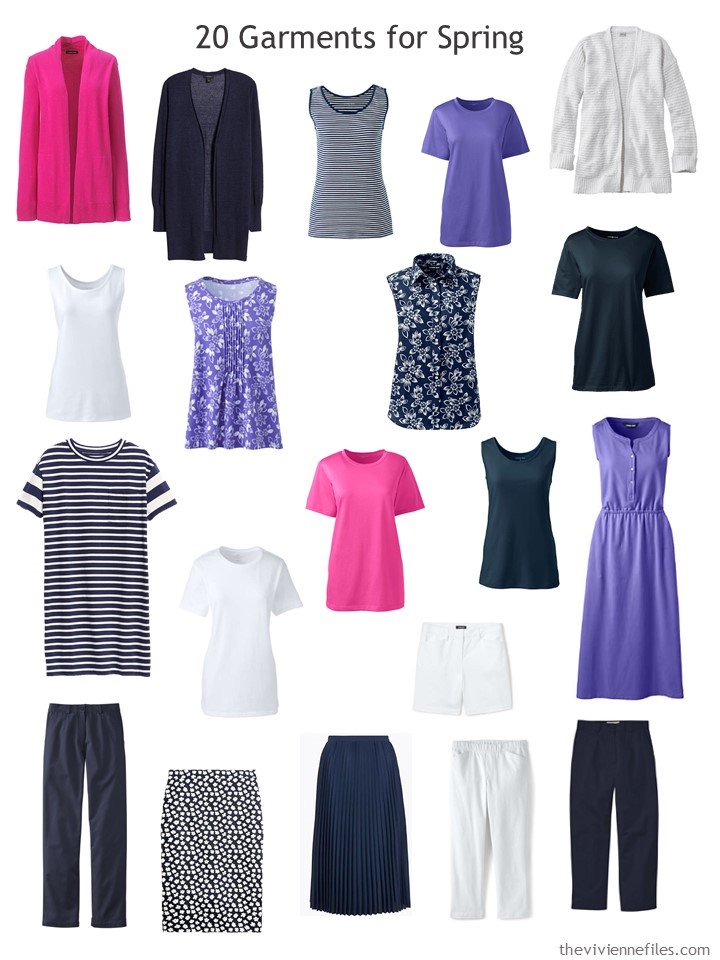 In her mind, she imagines a nice neutral outfit that she might wear any day, and then she substitutes one of her accent garments, to see how simple the switch really is. The difference can be amazing: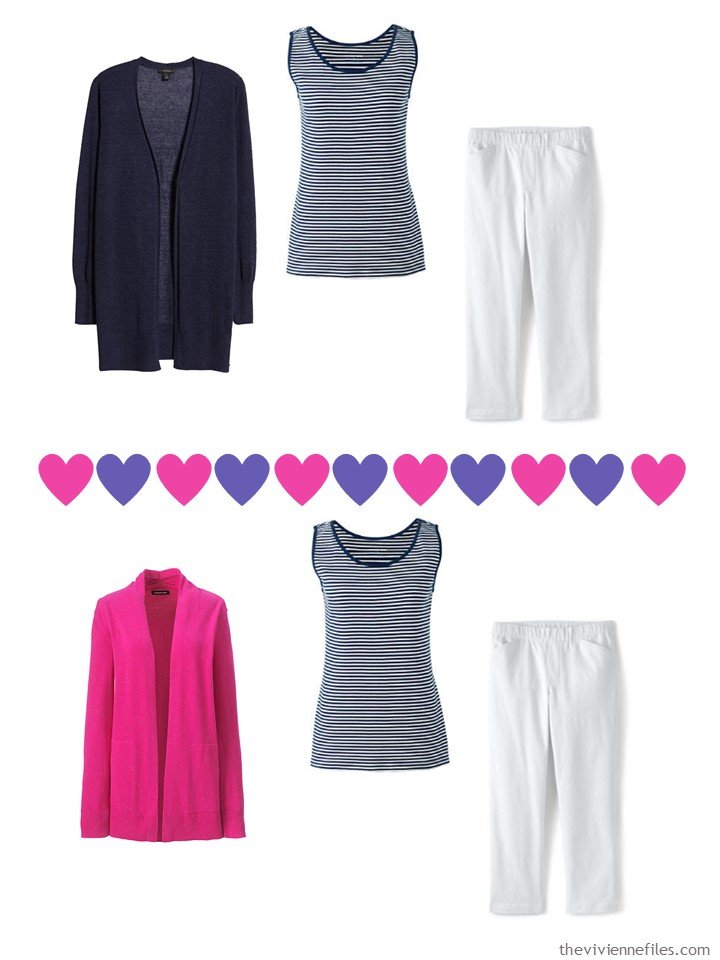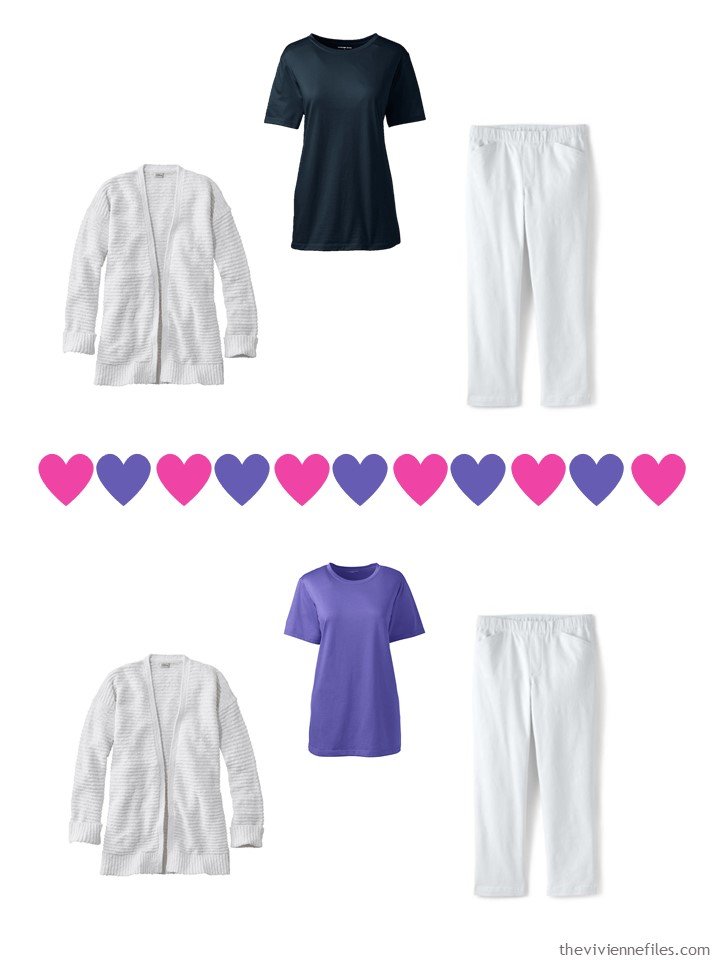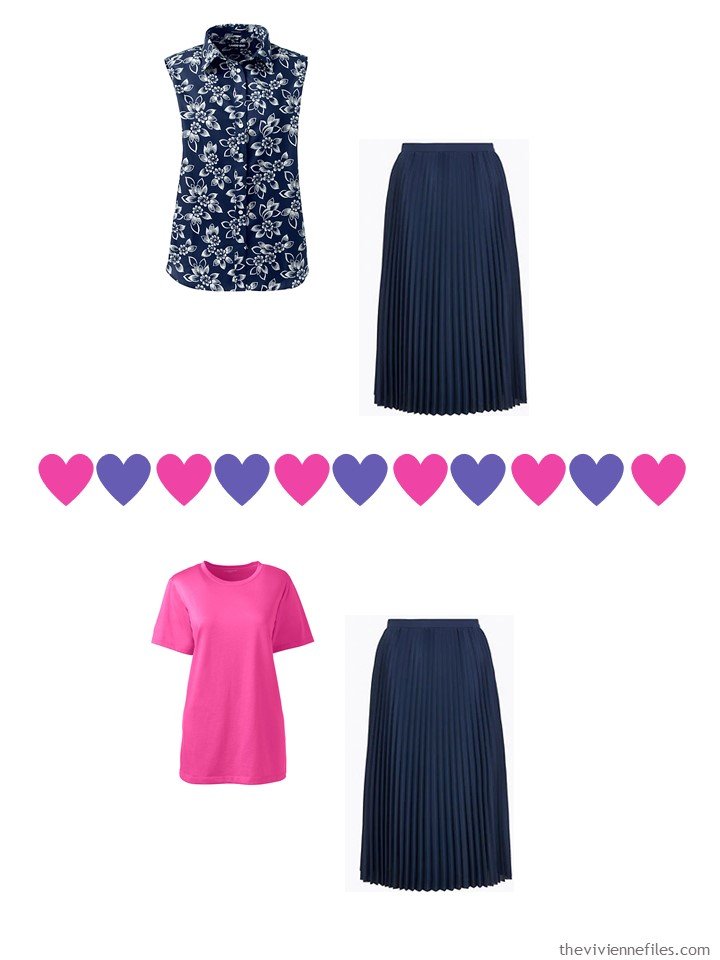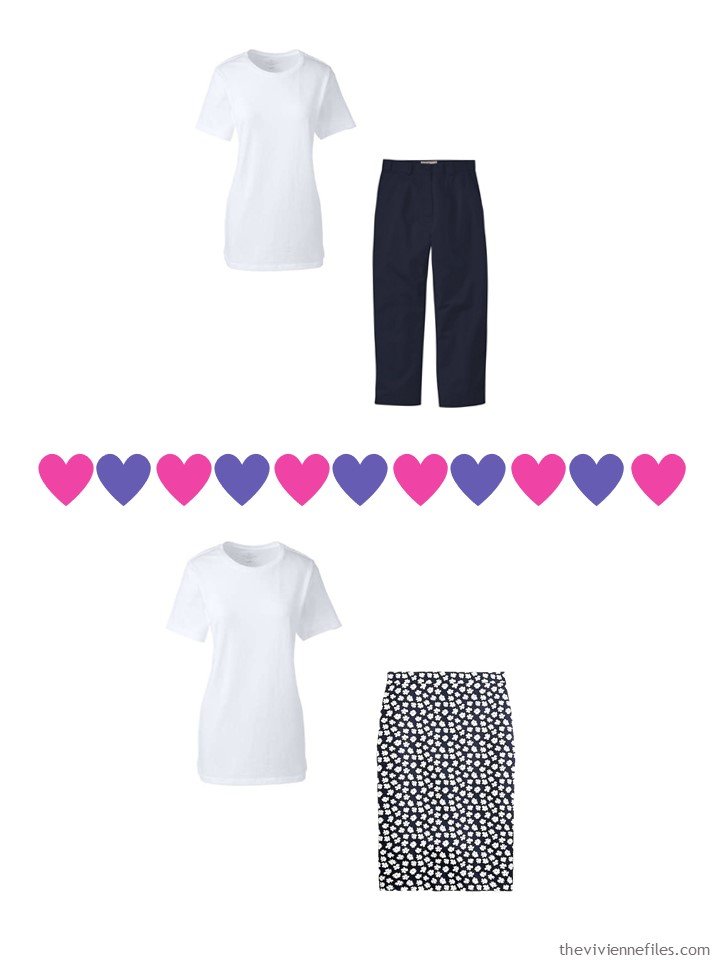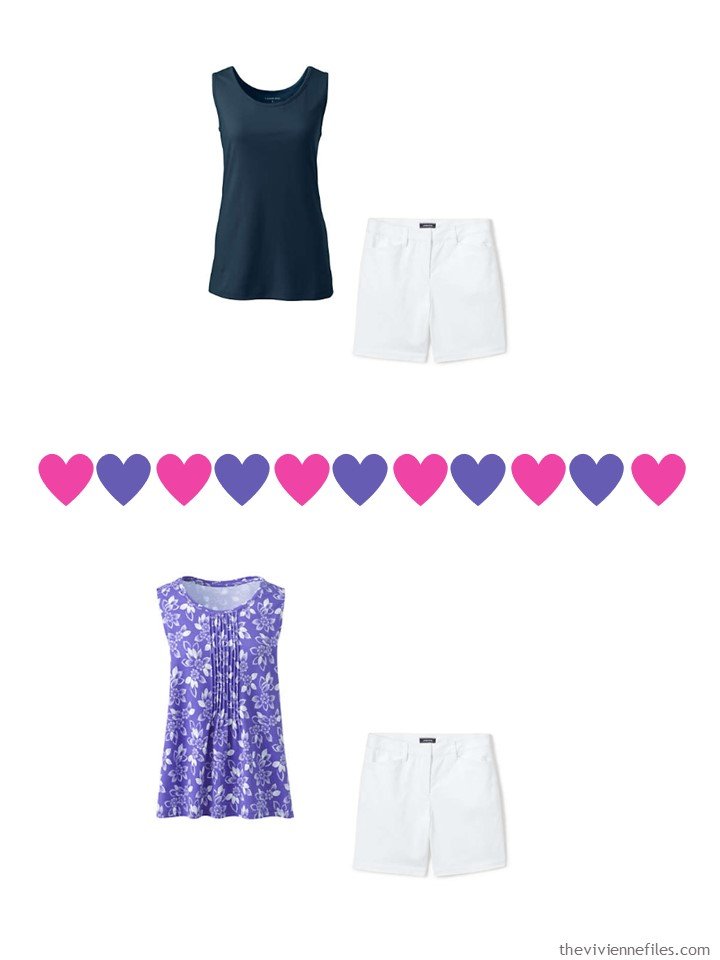 And the easiest way of all to get dressed – a dress! Once she discovered Skimmies to wear under skirts and dresses, her feelings about dressing "up" changed a lot!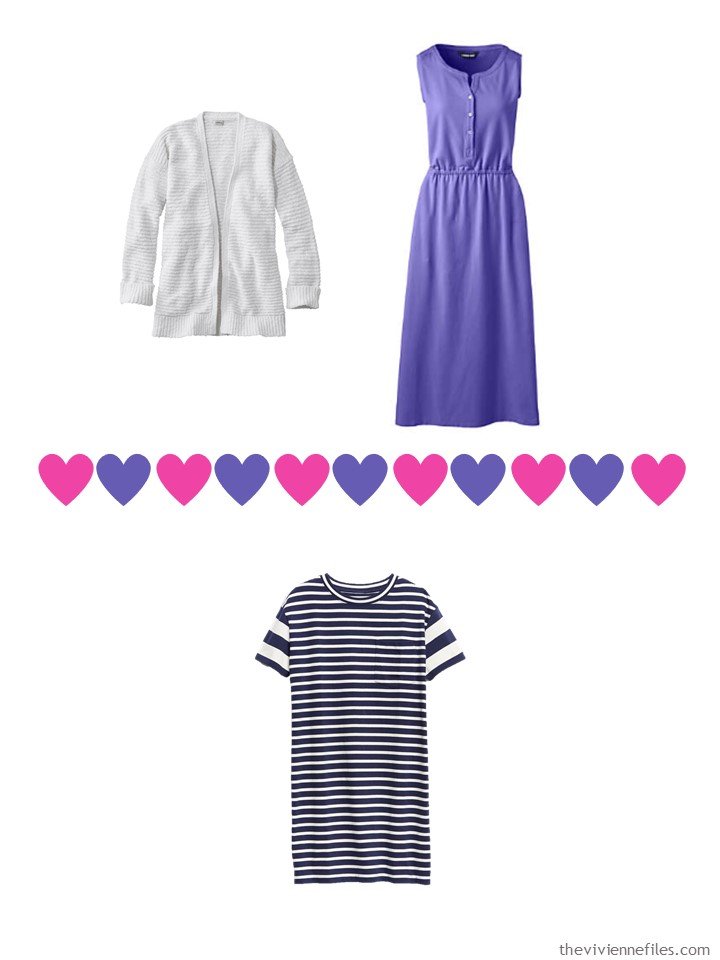 Every time I think that it's going to be warm enough here in Chicago to start wearing spring clothes, we have a solid week of temperatures in the 50's! I'm ready, any day that nature decides to cooperate!
how are you all doing?
love,
Janice
p.s. Five years ago, I started with a scarf to assemble a 4 by 4 Wardrobe in soft brown, with ivory and shades of blue and green. It's still lovely…
p.p.s. Is it my imagination, or am I seeing lots of INSANELY expensive clothes available? And some retailers are ALREADY bringing cashmere sweater back into inventory; I feel like I've lost touch with reality…