April 21, 2020
A couple of weeks ago, I shared with you one of my favorite blog posts from a few years ago, and then my revision of it in my current favorite colors. I think this an exercise that a lot of you engage in frequent, since there's no way that the wardrobes that I post here will ALWAYS be your favorite colors!
But I didn't include many accessories – I just accessorized the initial travel outfit, but nothing else. THAT won't do…
We started here, with a travel outfit in which I could live for quite a while:
And these are the 10 garments that I chose to pack; at the time I said that I wasn't sure if I was packing for Paris or Dublin (or maybe New York?)…
My best plan (so far) for making certain that I pack the right accessories is to plan out outfits, and then to accessorize these outfits. I try to include every garment, so that I don't do something silly like forget shoes to wear with my dress out to a nice dinner. (it's happened…)
So a half dozen outfit, with accessories:
First, I love a brooch:
I always pack my sunglasses – EVERYBODY should!
And maybe it's because I haven't had a haircut in at least 7 weeks, but a headband seemed like a good addition. If I'm traveling to any place where I might run into wet weather, I make certain to bring my waterproof boots. These are great – highly recommended!
Yes! Dressy sandals, and an evening bag. (I always pack my jewelry in my evening bag…) This outfit would certainly include a scarf too:
A solid neutral outfit doesn't need to be boring; just a couple of accessories can make ALL the difference. And yes, I'm a sucker for flower earrings with a floral scarf:
Classic gold jewelry, and PINK LOAFERS! Why in the world not? I wouldn't go out into drifts of snow in these shoes, but otherwise why would you even try to resist?
Our last outfit is just a variation on the travel outfit – no "new" accessories here, but it's always fun to have a bottle of matching nail polish…
After working my way through a half-dozen outfits, I suspect I've included more than enough accessories for this (as yet mythical) trip. This is the contents of my closet at my hotel or apartment at my destination: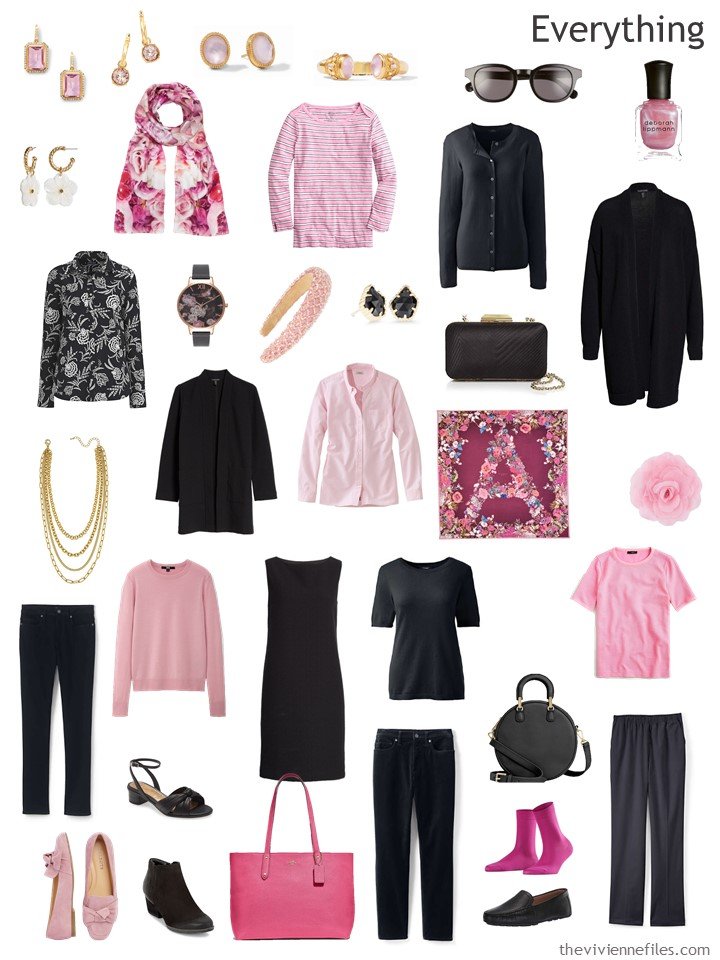 The nice thing about accessories is that (except for shoes) they don't take up all that much space in your luggage, and they make a lot of difference in your appearance from day to day.
What accessory is your absolute travel essential? For me, scarves. Lots and lots of scarves…
love,
Janice
p.s. Eight years ago someone asked me about what she might be able to wear with a bright green scarf. I was able to dream up 8 different ways in which it could be worn!