April 8, 2020
I'm very infatuated with this scarf; it it were in my colors, it would be in my closet!
These colors feel like autumn, but in lovely linen this is a great palette for warmer weather: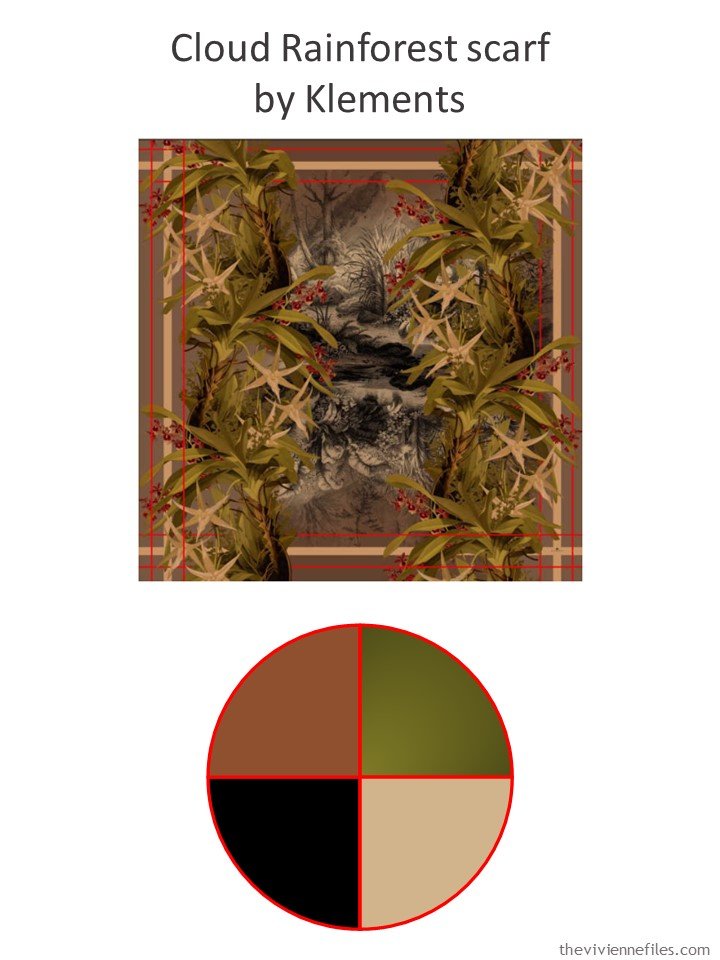 You may remember back on the last day of March (which seems like it was about a year and a half ago!) our heroine was hopping on trains to visit new cities and towns, and was using these colors as the basis for her wardrobe. These were the clothes that she was packing:
Our heroine has decided to go on a longer vacation – there's no reason to hoard vacation time… She's been so happy with her tiny travel wardrobe that she chooses to use it as the base for her larger wardrobe. How can she make this work?
First, she arranges her 9 garments into outfits, of a sort…
She compares her existing wardrobe to some Whatever's Clean wardrobes, as well as looking at the list of Weekly Timeless Wardrobe garments to see if she's missing anything obvious…
And then makes some carefully-chosen additions to her suitcase:
First, she finds a dress that she loves, that will be excellent for hot weather. She knows that either of her cardigans will be perfect with her dress, so she has an option for when the evenings are cooler. And she wants a bit more olive green in this wardrobe! She just loves it…
She then spent a LOT of time trying to find a perfect linen or cotton button-front shirt – maybe an olive, black and bone plaid? Or a black and olive stripe? But she comes up empty-handed for that…
Deep breath. She looks back at her original garments and realizes that a pair of olive pants might be madly useful. And then she realizes that even in warm weather, she will need sweaters on a lot of days, and definitely in the evening. Not another cardigan – something neutral, and summery!
She had almost forgotten that she wanted a printed top when she stumbled across the striped tee shirt! And then, just to have a light neutral top for those days when she feels that her overall look needs to be brighter, she finds a lovely neutral tee shirt…
Now, with a bigger suitcase, she has a wonderfully harmonious and coherent warm-weather travel capsule wardrobe, in her favorite colors: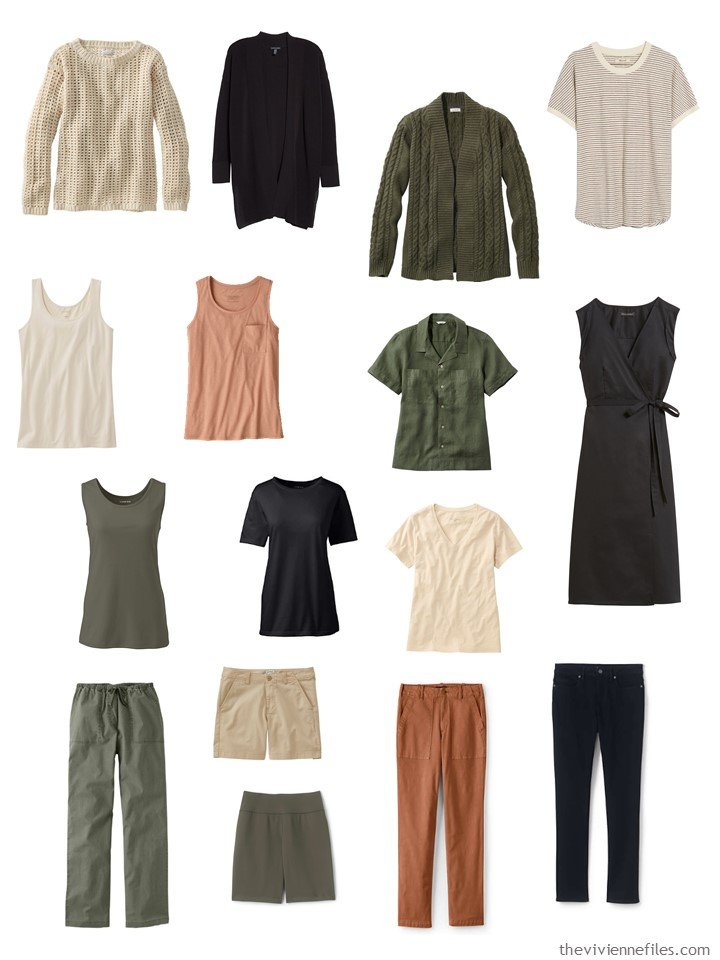 She learned early on when she was taking long weekends on the train – it does NOT matter if you wear the same garments more than once, or even if you wear AN ENTIRE OUTFIT more than once. Most people don't notice, and the ones that do notice will have something absolutely meaningless to gossip about…
But when you don't know about weather, nor about laundry, nor about what your activities might be, having a range of possible outfit combinations is just practical!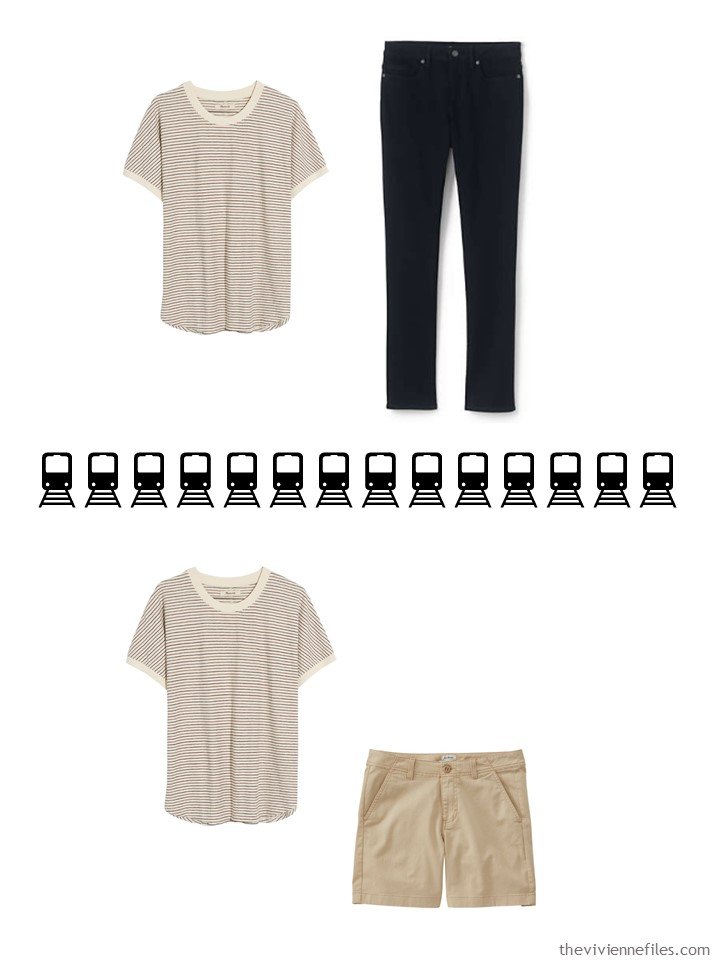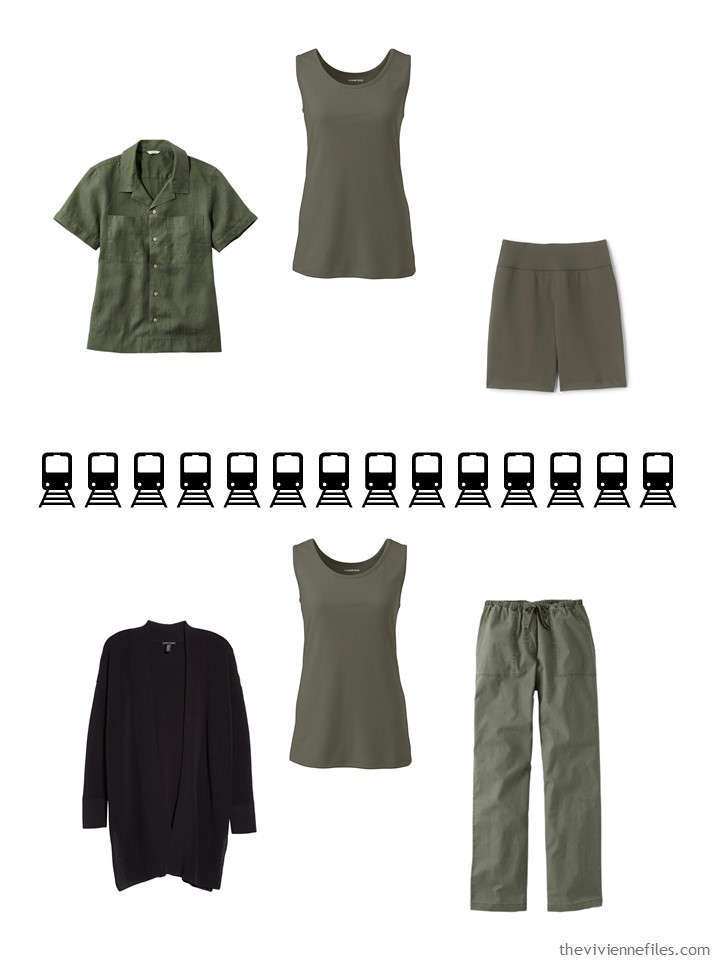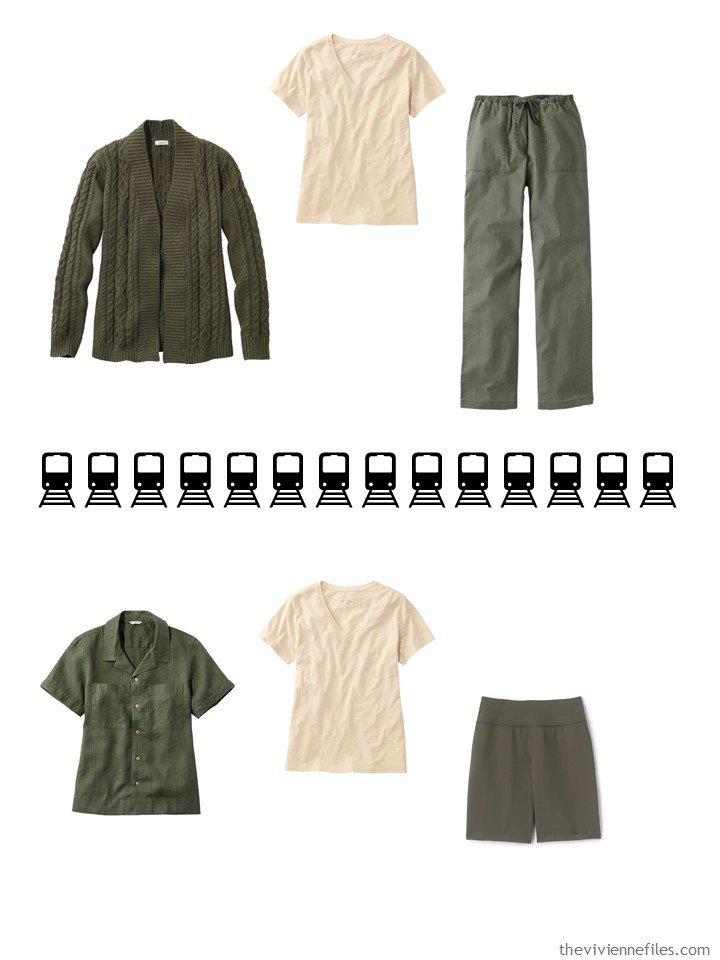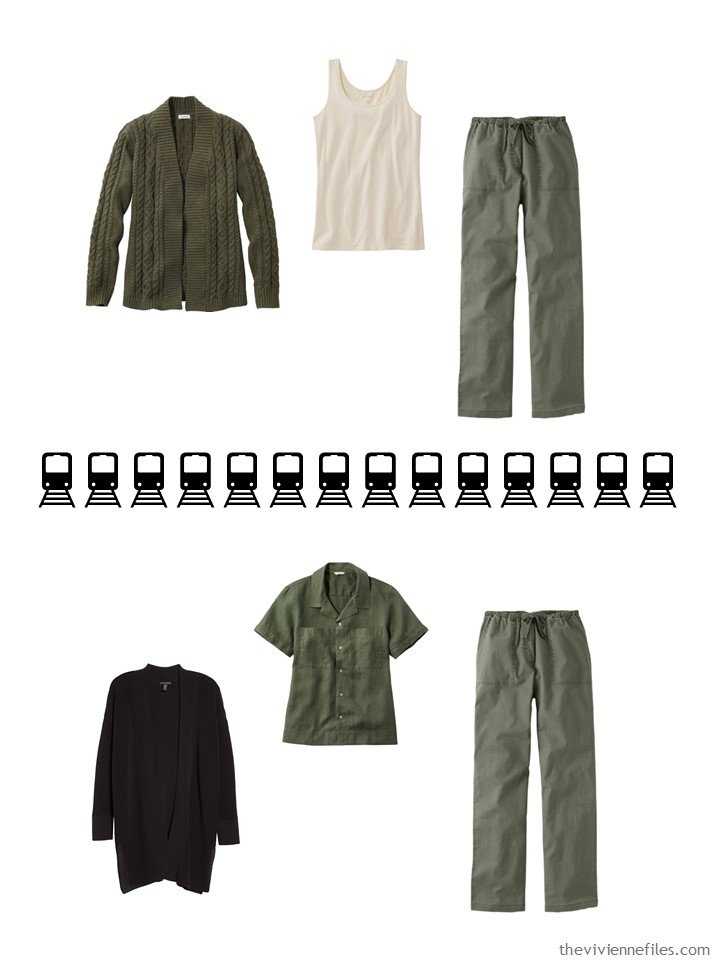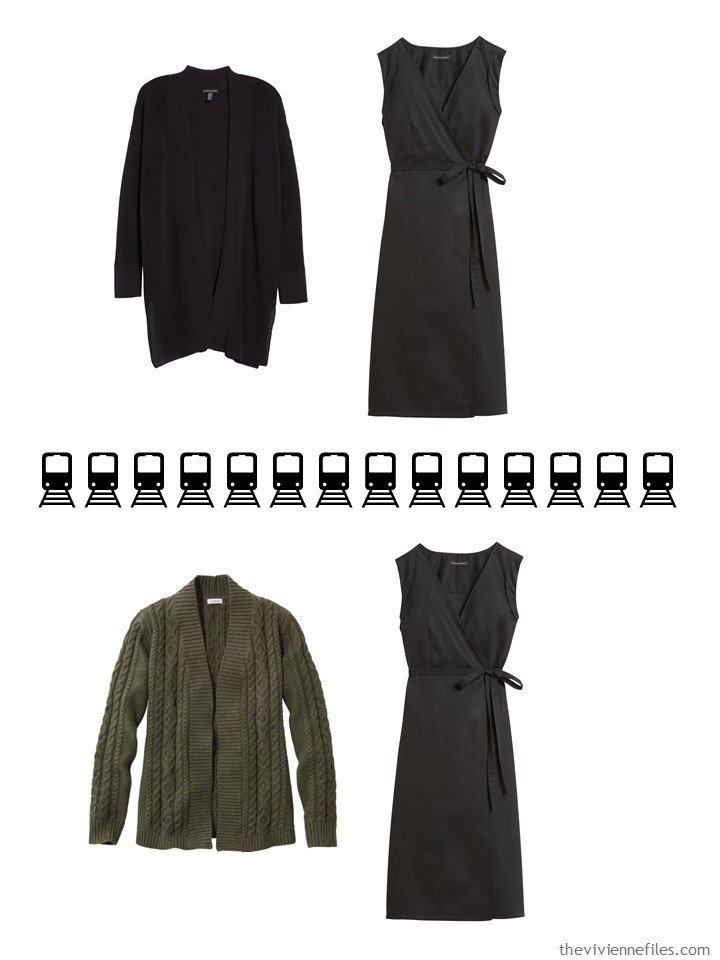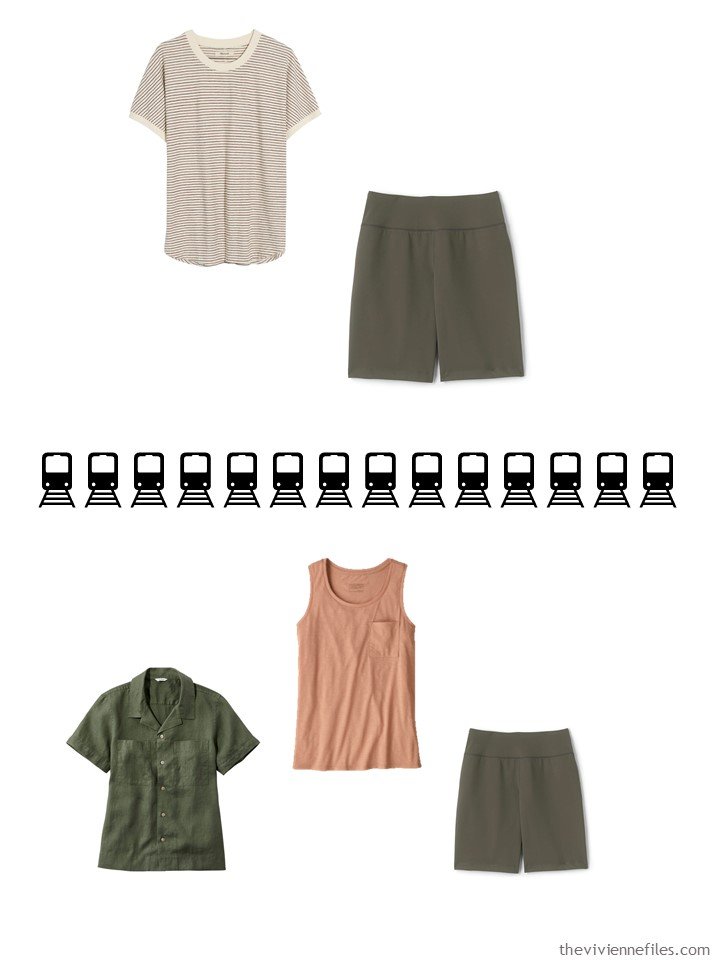 She can't decide if she wants to visit yet another town, or if she's in the mood to spend a week at the shore…
I wouldn't know what to choose either!
love,
Janice
p.s. Six years ago, I traveled for an emergency, and underpacked to a shocking degree….
p.p.s. Should I do accessories for this expanded travel wardrobe? You know how much I like accessories…