April 9, 2020
Bright colors tomorrow, I promise! But I've got this scarf and it's colors on the brain right now, so I wanted to think about how I would accessorize this heroine's wardrobe for a longer trip…
First up, let's remember that she's starting with this scarf. It's SO intriguing…
Packing isn't easy – you want to be prepared for everything possible, while at the same time not lugging your entire home with you in 37 suitcases! You can't "get away from it all" if you take it all with you…
I've tried to think of a relatively logical, methodical way to look at what accessories to pack: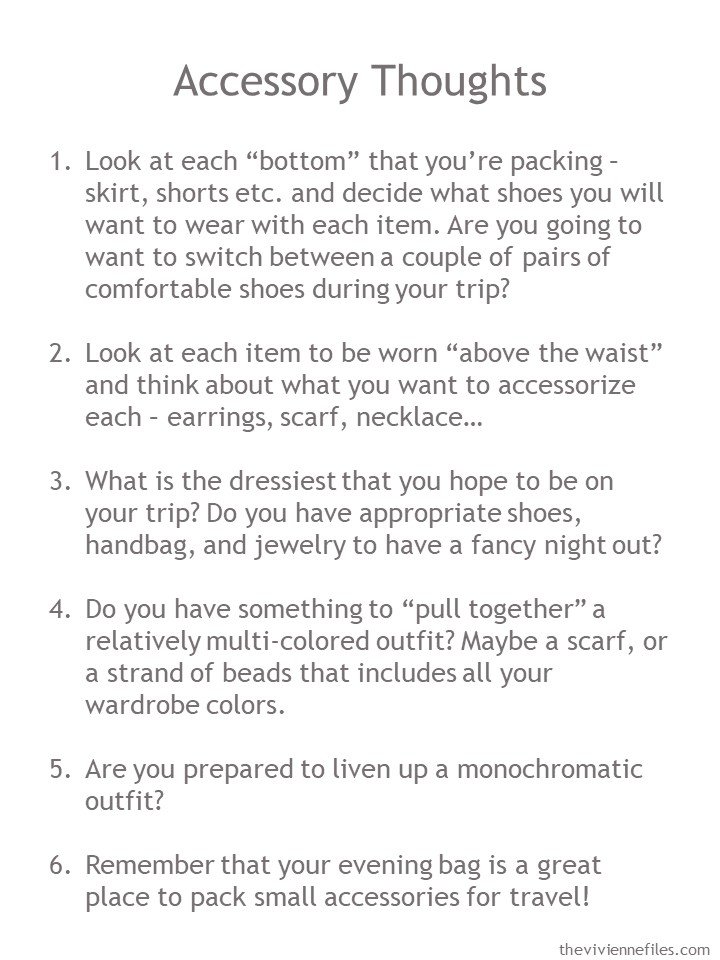 Let's start with the accessories that our heroine is already accustomed to packing for her long weekend trips; I'm assuming that she will want to include all of these in her larger travel wardrobe:
Looking at these accessories, arranged by category, gives me a few ideas:
We're going to have to look back at the clothes that our heroine is packing, so that we can choose appropriate accessories.
Our heroine decides to think about how she would like to get dressed each morning, choosing outfits from her travel capsule wardrobe that she knows that she will want to wear. Then, she thinks about what will need (or want!) to accessorize her outfit. Knowing that most jewelry is light and doesn't take up much space frees to her include more pieces that she might have expected…
The texture of this sweater doesn't need much to look great:
She already has her sandals, sun hat and sunglasses packed, but she tucks a necklace into a wee fabric pouch, and then into her evening bag, for days when she wants just a bit of sparkle on a simple outfit:
Why NOT bring her favorite earrings? Carefully wrapped, and tucked into her bag, they will travel well! And her sandals are simple enough that she can wear them day or night:
She's starting to realize that she's in pretty good shape for accessories, at least for outfits for being outside in the warm weather:
Cooler days, or days that she plans to spend in a museum or other indoor adventure, are also not tough to accessorize:
She's been looking for a necklace in olive and black for a while, but she's happy with her gold and black necklace right now…
Someone else might think that the need to pack olive sandals, or maybe even rust sandals, but she feels pretty comfortable wearing beige. They're neutral, they're comfortable, they'll be great!
It seems like a lot when it's all spread out like this, and it IS quite a few pairs of shoes. But they're all flat, and most of them will pack down pretty compactly. The jewelry will all fit into her evening bag, and the scarves take up very little space. She will wear her sunglasses, and probably fold her sunhat into her tote bag, so all of this adds relatively little bulk to her suitcase!
I love planning travel wardrobes – right now, when I can't even easily or safely leave my apartment, the dream of unpacking a perfect travel wardrobe into some distant hotel closet makes me smile…
love,
Janice
p.s. Back in 2011, when I first started The Vivienne Files, I wrote a post about having strawberry shortcake for dinner – I even included my biscuit recipe! So in honor of my older sister, who fed her grandchildren strawberry shortcake last night, I'm linking to that post….