February 5, 2020
A new month!
I'm still quite smitten with this color palette; it's pretty classic, with the navy and camel, but the accent colors keep it from being too predictable:
I'm making a big change this year from the outfits that I included in previous years in February. I used to feel that this was a good time to include a dress – mostly because I'm a total Valentine's Day sap. But I'm going to try to be a LOT more strategic in my choices this year, and to me that means another sweater, another pair of pants, and another shirt. It makes a lot of sense when you see the January and February outfits on the same page.
I could NOT resist this shirt. I feel like it was made for this color palette…
Here's where I love the way this comes together – this (in my mind) looks like a Six-Pack long weekend travel wardrobe! You've got a few different ways that these 6 garments can be worn…
You can switch around the 2 original outfits into at least 2 more combinations: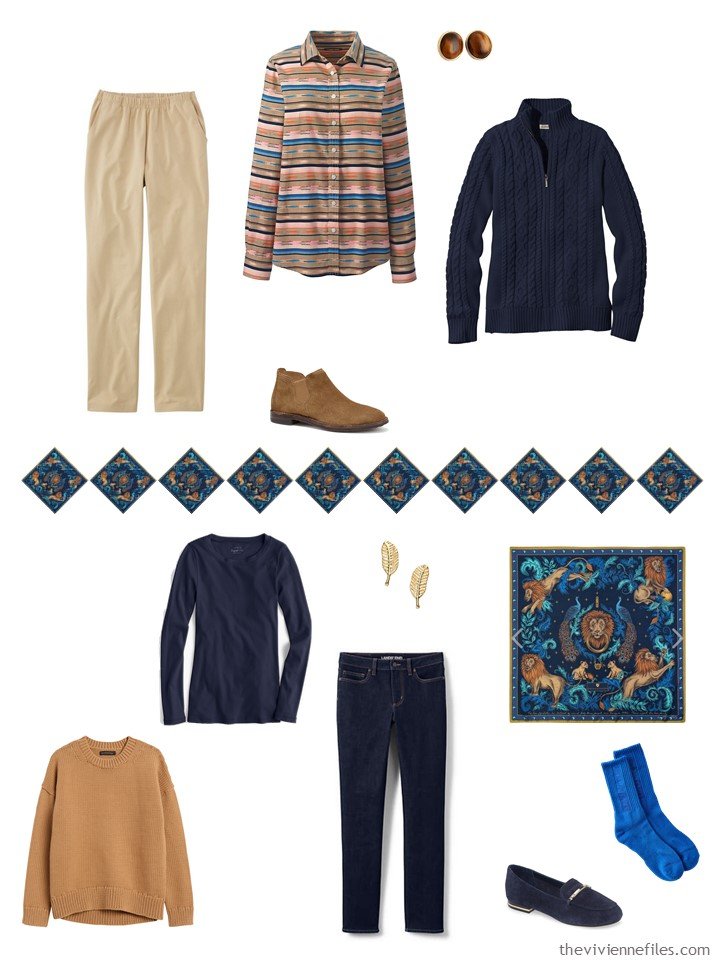 I love this color combination; I just hope that someone, somewhere, will offer us some lovely mint clothes! A pretty sweater, a classic cardigan, maybe a tee shirt or two?
But until that happens, we have a lot of possibilities with camel, denim blue and soft white…
I could travel with these six pieces without hesitation!
Same general ideal here – these 6 garments offer a few different possible combinations: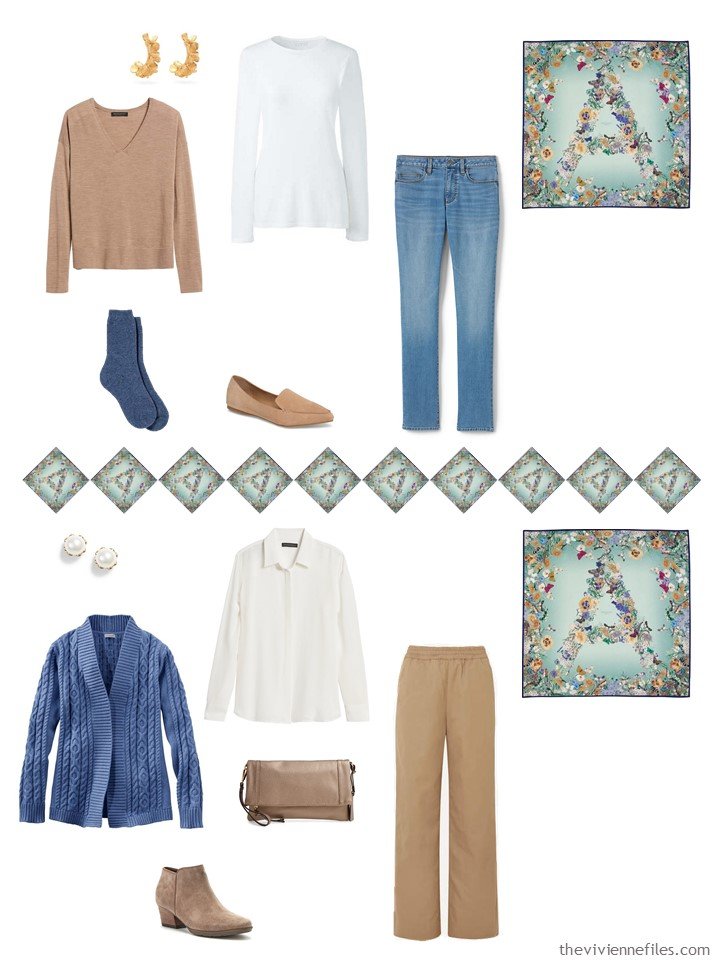 I'm still wondering if I've thrown myself under a bus with this grey and mustard color combination. In my heart I know that any colors can serve as the basis of a wardrobe – this is just going to be a question of finding great clothes, in the right colors, that don't cost a fortune, right?
For what it's worth, I own this shirt in black, and it's great! And yes, I'm going to show you these boots about a million times, because I also own them, and love them – they are indeed waterproof, and quite comfortable…
While this isn't a travel capsule wardrobe you'll see everywhere, it's still quite practical, and makes a true statement!
I really like the way this wardrobe already gives you good options between a muted, neutral outfit and something with a little bit more brightness: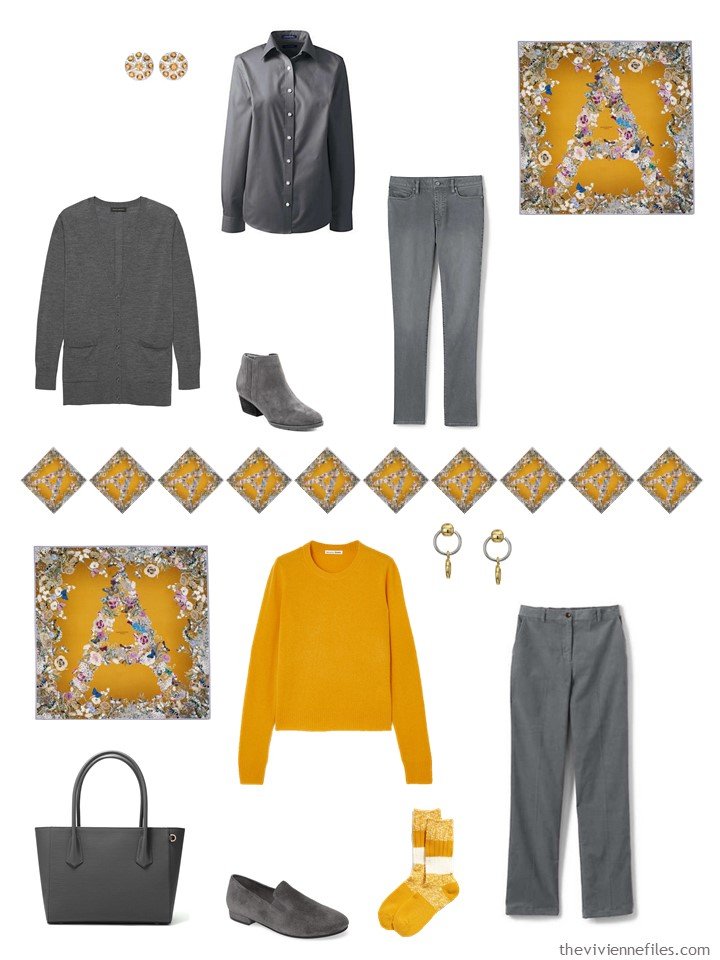 Mixing softer neutrals with red is classic…
Marled sweaters can combine a couple of core colors in your chosen palette; this makes them really versatile! Imagine how much this sweater could be worn with the additional beige garments that will inevitably make their way into this wardrobe…
These colors are about as far from my wardrobe as possible, but I could feel comfortable with this…
Lots of options here!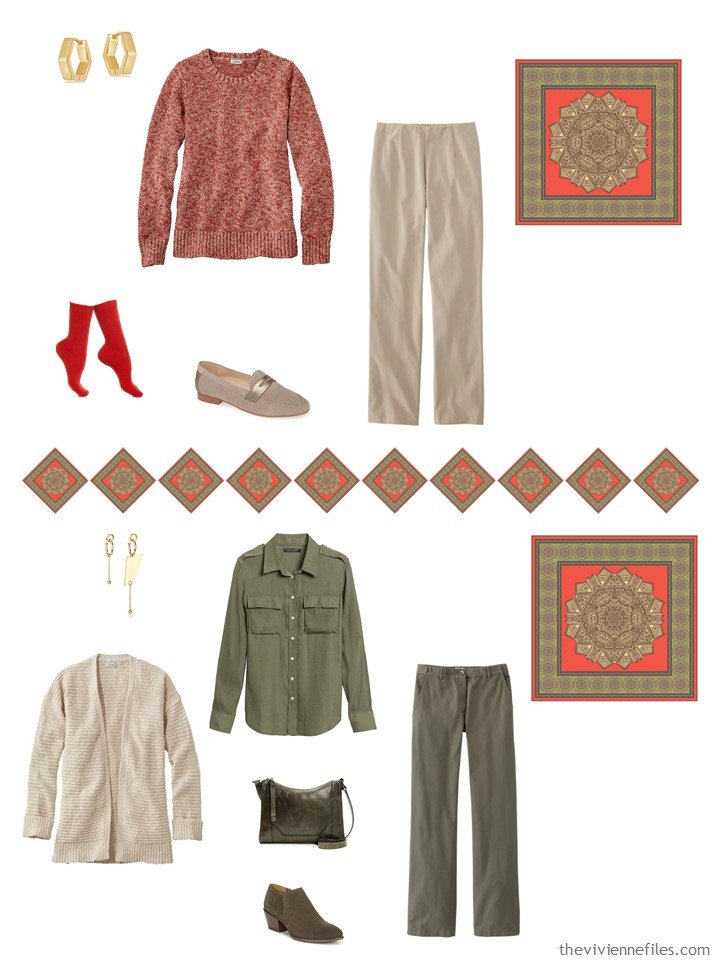 Now that I've made the major life change of wearing pink clothes, I'm finding this more and more delightful!
This outfit isn't anything astonishingly trendy or hip, but it's pretty, practical, and timeless. I'd prefer that every time…
THIS is a travel capsule wardrobe that I would cheerfully pack for 2 or 3 days, in cool weather! Every last piece of it….
These 2 outfits do NOT exhaust the possibilities here: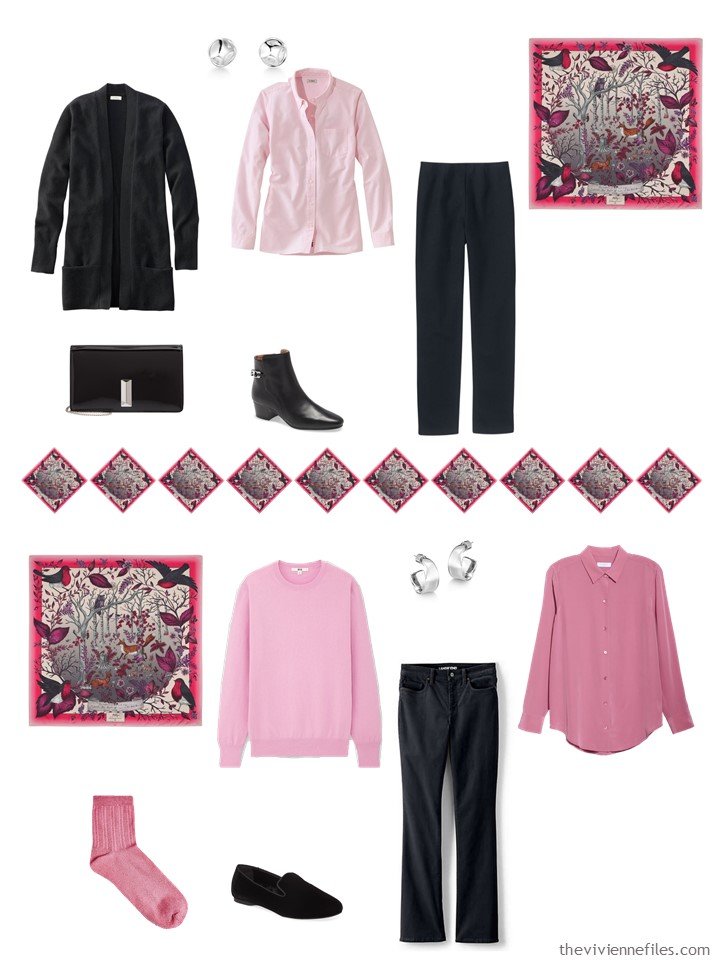 Such a classic scarf:
I was back and forth about this shirt, but I realized that you don't HAVE to knot those little tails – just tuck them in! Such perfect colors don't just fall out of the sky, so sometimes we have to be smart.
Remember, this wardrobe is going to be more "warm climate" oriented than the others.. I think these 6 garments look wonderful together.
You've got choices here for warmer days, or cooler. Even in Florida there are cool days from time to time…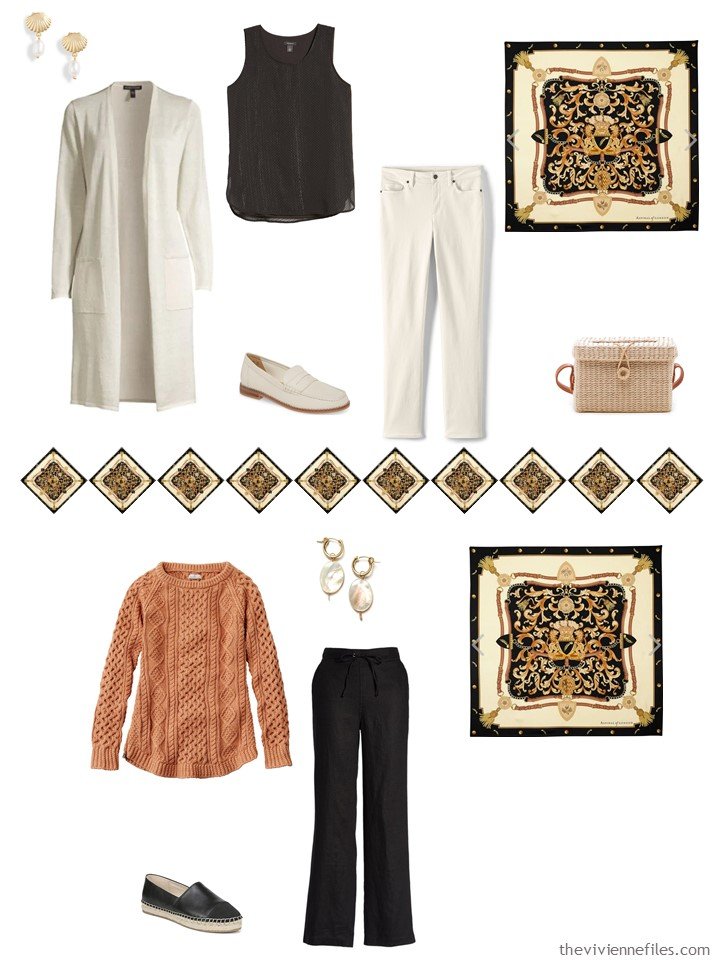 If you want to see last month's post, which provided those essential first outfits, you can find it here.
love,
Janice
p.s. SIX years ago, I dreamed up six months of outfits to go with a Celtic knot scarf that belongs to one of you…