February 3, 2020
Oh, this really feels like preparing for warm weather! That said, with boots and tights, these pants could be worn most of the year…
I like these pants because I feel a LOT more modest in them than I do in shorts. I also feel that I'm appropriate for a wider range of places and activities than I might be in something above my knees; you might feel differently! As with all garments, you have to know what you find most comfortable (both physically and mentally/emotionally) and fully honor your preferences.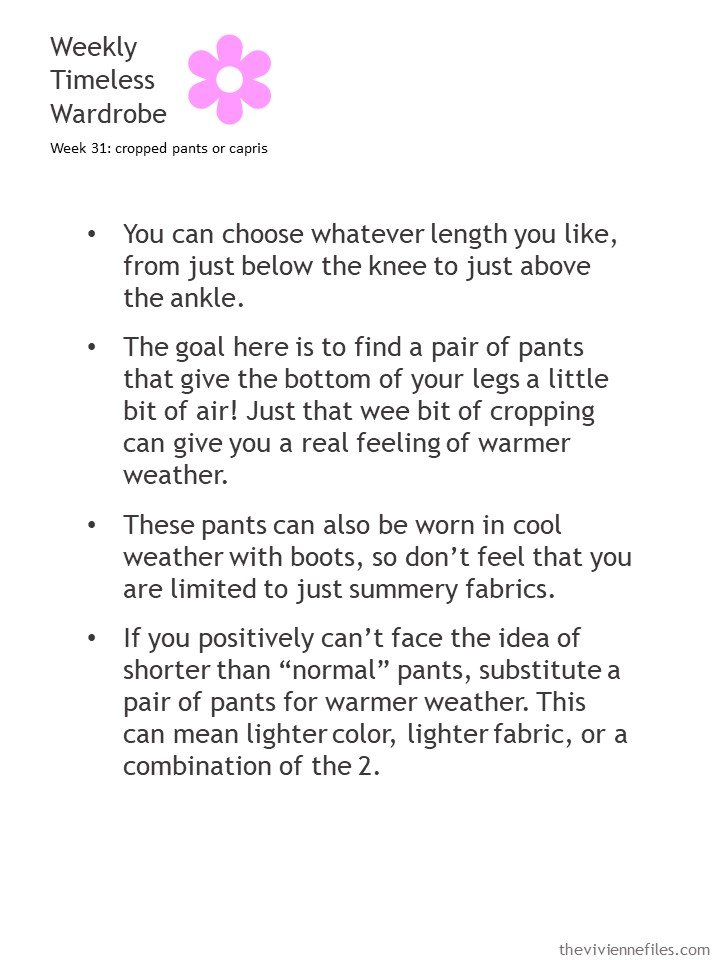 The example outfits that follow are gradually changed from last week's outfits, which in turn evolved from the outfits of the week before that. My goal is to show how gradually adding carefully-chosen garments can give you more and more outfit options over time.
First up is my favorite black and white; I caved and added the floral tee in place of the more expected stripes. I have a hunch that this tee shirt is in my future…
I suspect that anybody who invested in this navy floral tee might want to wear it a lot; so I changed the pants (of course) and the cardigan. If you had the pants and cardigan from last week, you'd have 4 different combinations around this single tee shirt!
Okay, I admit that I'm still smitten with this tee shirt/cardigan/earrings combination! The change of pants takes this into spring and summer; imagine wearing last week's outfit to travel, carrying these pants and shoes in your bag, and changing before you leave the airport at your destination…
Instead of last week's navy paisley tee, I really like this floral tee! (and yes, floral earrings too.) A white cardigan would be great here, and you could of course swap out for a simple white tee shirt and turquoise necklace. So many possibilities…
If you like brown, you want to take a good look at this tee shirt! Do you know how HARD it is to find a pretty floral brown tee shirt?
Brown capris were impossible to find at any decent price, but that's okay – there's always something that will work! White pants in warm weather are classic… but peach ones would be pretty here too!
And don't miss that cool bamboo handbag! I would probably find or make a drawstring bag (or 2, or 3) to line it; the color of the bag would show through the bamboo…
This outfit changed very little in overall feeling – it's just much more summery with cropped pants and espadrilles. I love the mesh in these shoes; they would be so cool (literally and figuratively) in warm weather.
While there's just 1 garment changed here (as is always true, duh…), I think that the shorter pants make the whole wardrobe feel more summery. This might be the kind of thing you pack when you're going to be spanning climates during 1 trip:
Here's the overall list, for reference. I'm beginning to work on the Weekly Timeless Wardrobe of Accessories… I can't believe that we've progressed so far!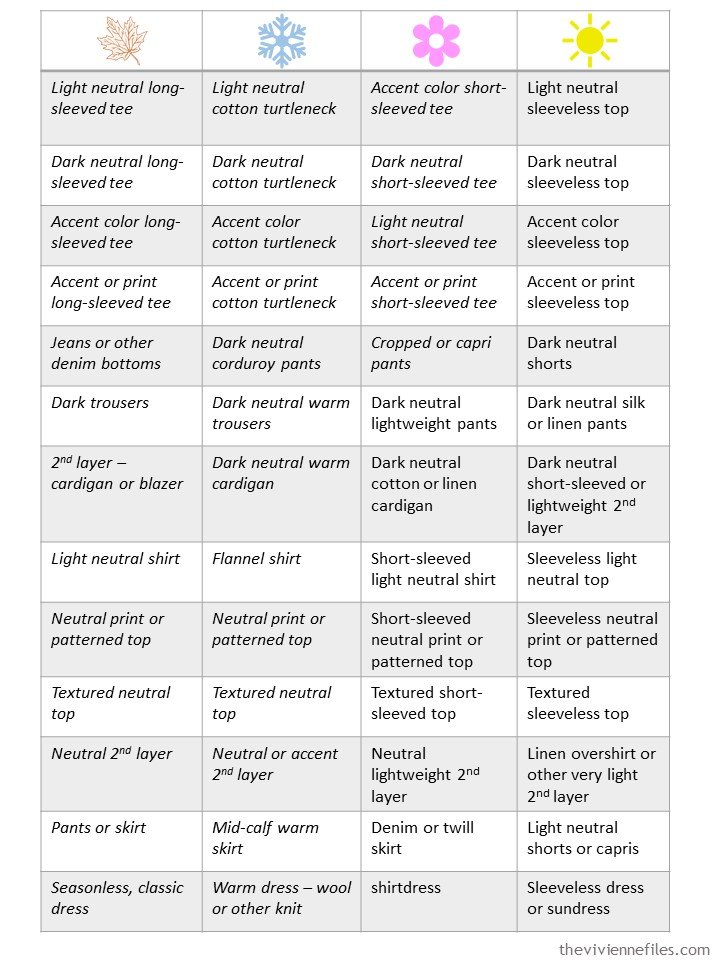 love,
Janice
p.s. 3 years ago, I used a floral cardigan as the basis of a warm weather wardrobe. This post is really LONG on explaining the way I think; be warned!