February 3, 2017
I have no idea why it's called "Bavarian Cream." I had no idea that the cream there was in some way special…
Today is the last version of the "start with a patterned cardigan" idea, with more complete explanations of what I'm doing with these cardigans. (brace yourself – I get pretty carried away explaining my methodology here!) This cardigan was chosen because one of you who is contemplating the purchase on this one felt that the colors might prove to be too autumn-like…
For what it's worth, upon close study, I think that these colors are pretty safely seasonless; one might be reluctant to wear a pair of cream wool crepe trousers in February (nasty salt splashes = ruined garment!), but for the most part, none of these colors are particularly more or less popular in any given time of year.
I've not mentioned it, but you do understand that you don't have to actually have a cardigan in order for this to work? You could start with any colors, or any garment, that you like – a plaid shirt, floral skirt, etc. etc.
I chose to create a spectrum for the accent color file of the color wheel, because of the way that the flowers in the cardigan actually include a pretty wide range of shades. There's quite a bit of pink in this sweater, and even a few leafy patches of olive green, so the possibilities might even be wider.
But I think it's wise to avoid trying to match a bit of color in a garment if that bit is simply too small/obscure. To the casual eye, scanning the ensemble, it won't really "hang together" because your eye won't pick up the smaller bits of color. If you don't care, that's certainly up to you, and fine, but if you're trying to create an impression of harmony or homogeneity, it won't really work.
If you already have a solid core of black garments in your wardrobe, this cardigan will be simple to incorporate into your warm-weather capsule. For the first outfit, I chose to balance out all of the black by including some pearls (nothing snowy white – you want that warm creamy color) and a handbag with some outrageous pearl detail. These 2 touches sort of refer back to the cardigan for their color origin, and keep the overall effect from being too somber or cold-weather ish.
For the second outfit, I got a little bit more bold with the strong block of black clothes – this would be a "cold day in spring" kind of outfit, with long trousers, a long-sleeved shirt with a cardigan over it, and closed-toe shoes. But in order to make the cardigan look like an intentional choice and not just "grabbing the only clean sweater," I found great red poppy earrings that mimic both the accent color and the floral theme of the sweater.
You could, with no apologies, wear your cardigan only with black. But if you want to give cream a try, the cardigan becomes the real stand-out part of the outfit. On the top, you'll recognize many of the pieces from yesterday (good classic garments are very versatile, of course). I considered a red espadrille, or red bracelets, but I kept coming back to this very simple creamy look with just the touch of color and pattern in the cardigan.
The second outfit here is a bit riskier – combining dots and flowers isn't something you see every day! And instead of grabbing one of the colors from the cardigan, I thought it would be fun to add some gold shoes, and gold sunglasses too! When you take off your cardigan (as you undoubtedly will, if you're somewhere in shorts), your outfit still shows a really coherent cream and gold theme. The cardigan is almost a wild card second accent! (now if the cardigan had gold buttons, THAT would be amazing…)
This is unquestionably the hardest way to wear this sweater – red pants are not for the faint of heart! But a simple blouse calms things down considerably. Red shoes would be overdoing it here, but I thought that small red earrings, and a small red clutch were sufficient to keep the red pants from looking visually lonely, or out of place…
The final ensemble is a much easier way to wear more red with this sweater – black jeans are nice and casual, red loafers are too much fun, and another piece of poppy jewelry for a dash of color, and a gesture to the floral theme of the sweater. A cream scarf helps tone down the red even more, and would be handy with most of these other outfits.
Because this sweater is pretty exuberant, the rest of this wardrobe (except 3 pieces) is very classic, neutral basics. It's amazing how much 4 print or accent pieces of clothing can be used to jazz up 9 really simple pieces!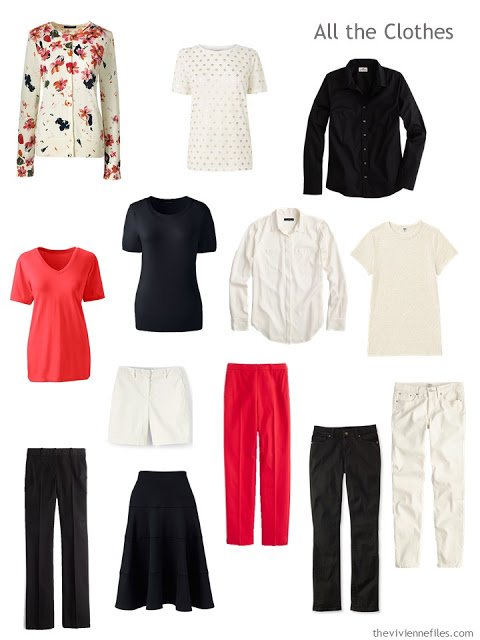 And as always, the accessories make the big difference: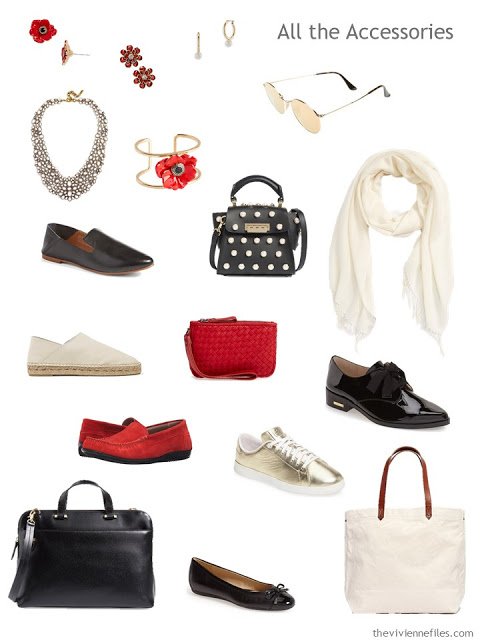 Six more outfits from the 13 pieces, just to reinforce the versatility and practicality of this approach. The top outfit is pretty bold, with BOTH the dotted top and the red pants, so I chose black leather pieces and the simplest of earrings to calm things down.
The second outfit is pretty casual, and well-balanced – jewelry would be completely optional here. But the red earrings are such fun…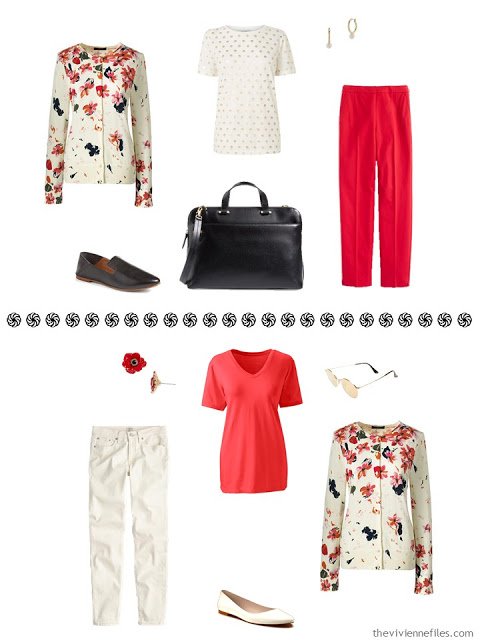 For the first outfit here, I really had to include black shoes to balance the black top – again, it's a question of making your entire look appear to be intentional, rather than thrown-together!
The second outfit doesn't need the dark shoes nearly as much, because the dark jeans are a classic type of clothing, on an expected body area, to see darkness. That sentence sounds weird, but when you think about what you normally see women wearing, dark trousers or jeans are in the majority, so there's really no visual "compensation" needed to bring balance – you immediately compensate for the fact that the jeans are the only black thing, because it's what you expect, and you recognize the normalness of it.
Whew….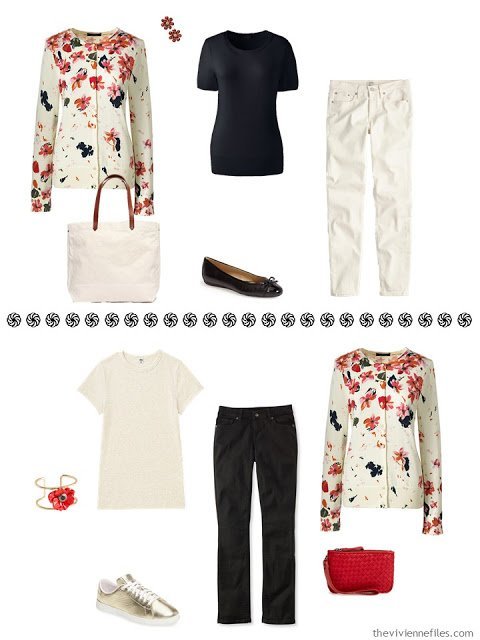 This top outfit screams business to me, but a slightly fun, or whimsical business! The little touch of floral earrings makes quite a bit of difference; imagine this outfit with the pearl hoops, instead.
And the 2nd outfit could omit the earrings completely, because it's so casual. But I think they give a nice "finished" feeling…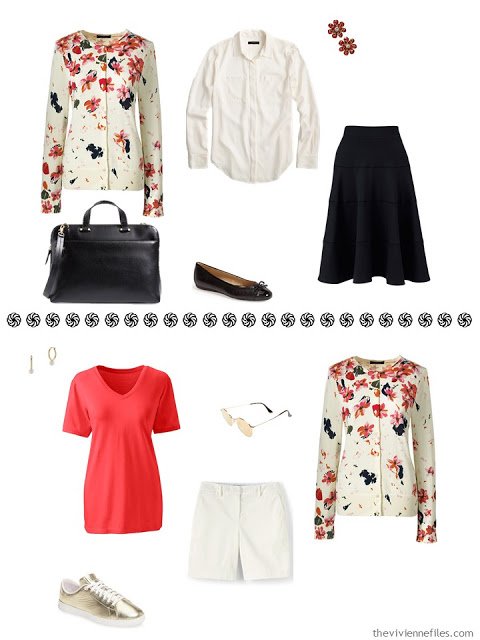 Wow! Next week, I'm going to start thinking about our birthstones…
love,
Janice