February 2, 2017
Groundhog Day! (in the US – does anybody else depend upon rodents for long-term weather forecasts?)
And you might feel like Groundhog Day, The Movie, because this idea looks really familiar. Remember the Dandelion Cardigan capsule wardrobe you just saw on Tuesday? Well, someone went wandering on the Lands' End website, and discovered this:
She was particularly interested in seeing how this worked with navy, so I thought another trip or two through this concept might be helpful…
First up, her preferred navy (which is indeed present in small doses in the cardigan) and ivory are the core neutrals, and then the vivid red (which I wouldn't have called burgundy in about 5 years, unless it's a really cheap screw-cap supermarket burgundy…), the pink and that nice aqua-ish shade for accents. One bright, one soft, one… green!
For choosing these six outfits, I thought that I would pick 2 outfits emphasizing each of the 3 neutral colors. If you vary the outfits you assemble in this way, you can be pretty confident that you're not favoring one accent color over the others.
Unless you really WANT to favor one accent color – you could certainly do that here…
This wardrobe is a wee bit dressier than others, but I'm never going to miss the chance to give someone a good pair of jeans… and I thought that the dots with the flowers would be today's "out there" selection; what do you think?
And frankly, you'd be daft if you didn't grab a navy cardigan too… Wouldn't these outfits work well for an office job? (yes, the blouse has a bit of a stripe – we've got to have some fun, right?)
As before, let's look at all of the pieces together – a pretty nice capsule wardrobe that would be great for a relatively dressed-up trip: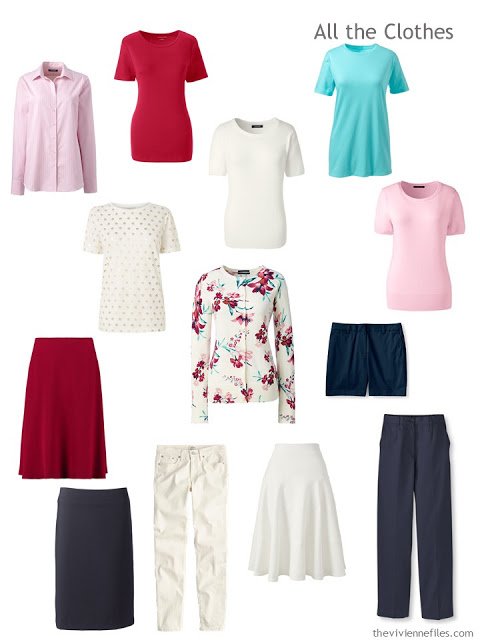 And the accessories! Yes, 3 bags might be over the top, but they would all get used, and they're all classic and timeless:
Just to emphasize the versatility of this little capsule wardrobe, I pulled six MORE outfits out of the pieces. That's 12 outfits (at least) from 13 pieces of clothes…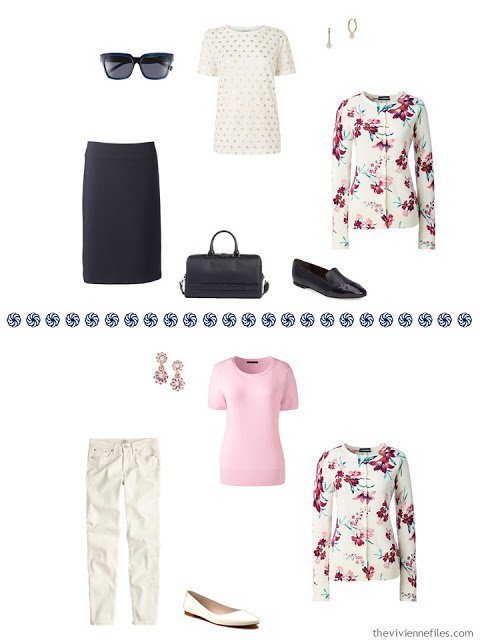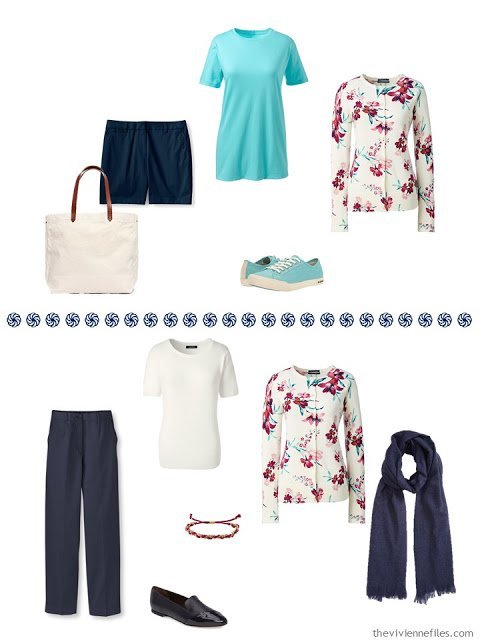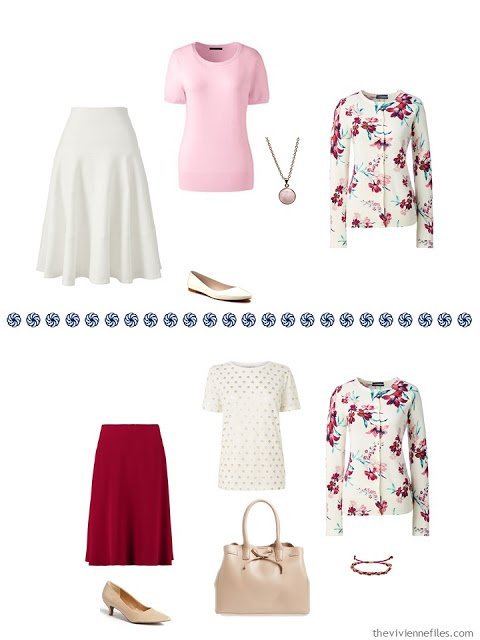 There's one last cardigan that I'm going to address tomorrow. There's some concern that the colors are too "autumn-ish," so it might be a challenge!
love,
Janice