February 6, 2017
It's a question that comes up surprisingly often – I'm an adult woman, and I sometimes feel like I'm too old to wear my birthstone…
Well, if you don't tell anybody that you were born in February, or that amethysts are your birthstone, they won't know the difference; they'll just think that you like amethysts, or the color purple.
And if they do know that it's your birthstone, and for some reason they think that it's odd that you wear them… ignore them. Well, ignore this particular judgment, for a judgment is what it is. And not a kind one…
I was born in June. I wear pearls a LOT. Clearly, I don't care if someone thinks I'm channeling my inner 3rd grader!
But frankly, it's nobody's business but yours, and you should feel free to embrace any ornament or color that pleases you. If you're happy, that makes you a better friend, a kinder person, and a source of joy for those around you. That's much more important than any mythical age-limit on what's appropriate in the realm of gems and semi-precious stones…
Some of the other questions I've been asked were about wearing a particular stone with various colors, or with casual clothes. These are some of my ideas: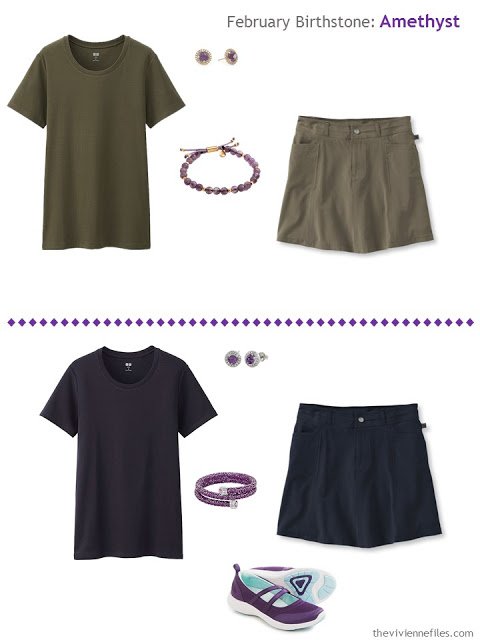 Tee – Uniqlo; earrings – TJ Maxx; skort –L.L.Bean; bracelet– Gorjana;
Tee – Uniqlo; earrings – Michael Krainer; bracelet– Swarovski; skort –L.L.Bean; shoes – Vionic
Purple and green are both secondary colors (that is, they are mixtures of red, yellow and/or blue, the primary colors), so they have a certain affinity. And I think amethysts with navy are glorious. Please note that if you're actually going to go run/bike/play rugby, you might want to remove your bracelet. Okay, if you're playing rugby, take off the earrings too! And send photos!!!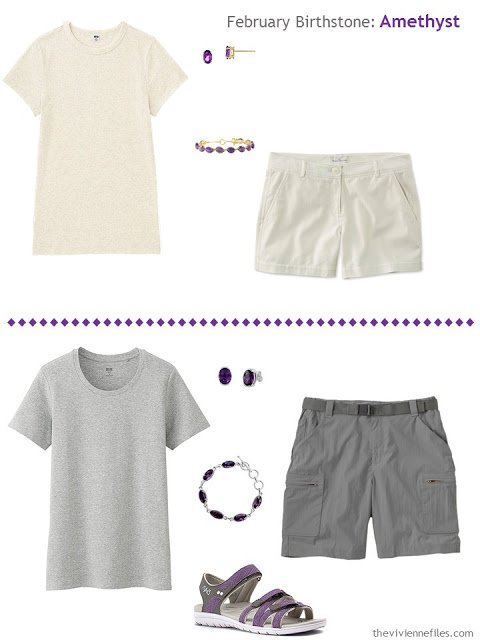 Tee – Uniqlo; earrings– JCPenney; bracelet – Khun Boom; shorts – L.L.Bean; Tee – Uniqlo; earrings – Michael Krainer; bracelet – Bhavesh; shorts – L.L.Bean; sandals – Ryka
One little personal rule that I tried to observe pretty scrupulously was that warmer colors had jewelry set in gold, and cooler clothes had the cooler feeling metal of silver (or platinum, if you're splashing out).
And you probably already know this, but if you're looking for semi-precious stones set in silver, Novica is the best place in the world to find amazing things…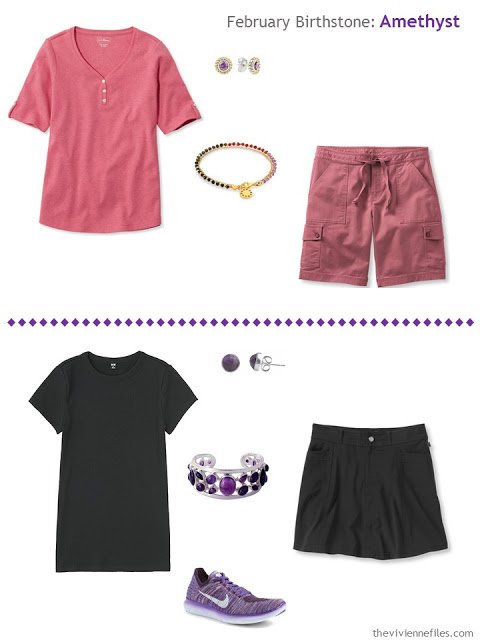 Henley– L.L.Bean; earrings – Lagos; shorts– L.L.Bean; bracelet – Astley Clark; Tee – Uniqlo; earrings – Juvi; bracelet – Neeru Goel;
shoes – Nike; skort –L.L.Bean
I tried REALLY hard to include a brown outfit. I spent a couple of hours looking around for nice shorts and a tee shirt in a pretty brown shade… and settled for barn red!
This is a good lesson though, because it's a color that's a long way from amethyst, but it still works when you include some other stones to bridge the color gap. Amethyst is often set with other stones and there are lovely color combinations around…
What if you want to wear amethysts for something dressy?
I suggest looking for a larger stone, if possible, in order to make a bit more of a color statement. During the day, a small stud earring is lovely, and all you need, but in the evening, or for a dressy event, something that shows up a bit more is worth considering.
And scarves can serve a million functions, including being the key that pulls all of your colors together! (plus they keep the air-conditioning off of your shoulders…)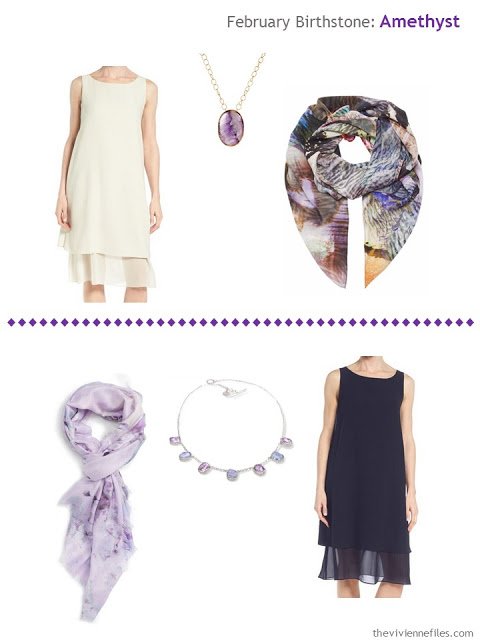 Dress– Eileen Fisher; necklace – Christina Greene; scarf – C F McEwan; Scarf– Nordstrom; necklace – Poppy Jewelry; dress– Eileen Fisher
Do remember that amethysts don't have to be faceted – some of the polished ones are beautiful…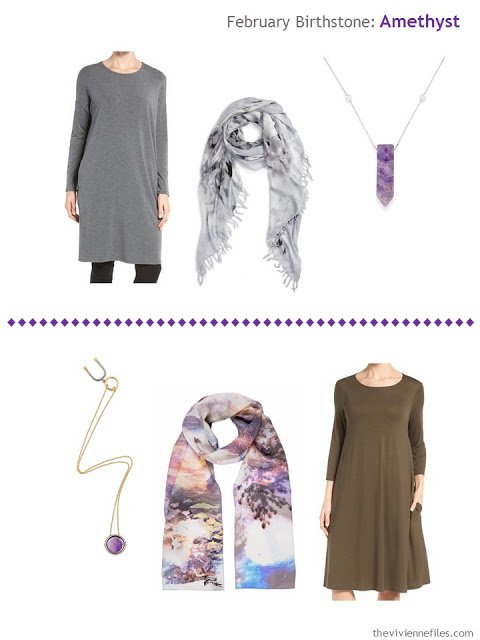 Dress– Eileen Fisher; scarf – Nordstrom; necklace – Alex and Ani;
Necklace– Su; scarf – Louise Coleman; dress – Eileen Fisher
Yes, two of these dresses are the same color, but it's SO unusual, and such a useful color for so many people who wear warmer shades, I couldn't resist showing it twice. Eileen Fisher is always a good source to check for shades of brown and green; they seem to be important colors for her.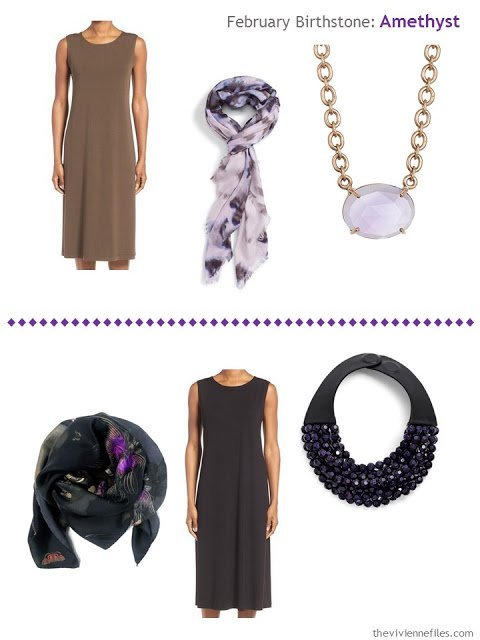 Dress– Eileen Fisher; scarf – Nordstrom; necklace – Irene Neuwirth;
Scarf– Santorus; dress– Eileen Fisher; necklace – Fairchild Baldwin
If you already have some amethyst birthstone jewelry (or just lovely treats!), it's fun to bring another touch or two of purple into your outfit. Here are a few pretty pieces that I saw…. (OH, that handbag…)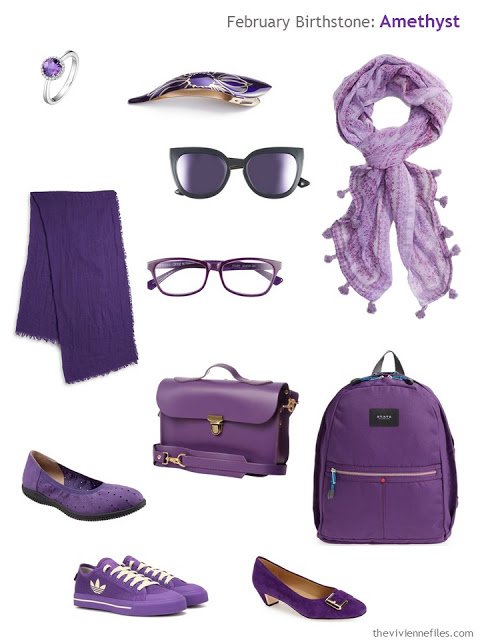 Ring – Lafonn; hair clip – Ficcare; scarf – Caslon; sunglasses – Quay Australia; solid scarf – Lord &Taylor; reading glasses – Corinne McCormack; handbag – N'Damus London; backpack – STATE Bags; ballet flats – SoftWalk; athletic shoes – Adidas; pumps – Trotters
I'm going to visit each months' birthstone – I think it's worth remembering that we have these kinds of accessory options available. Any chance I have to build an "accessory family" is a good work day for me!
love,
Janice
More from the Birthstone Series: