February 7, 2020
THIS is just perfect; what a great way to bring some cheer into your day, and some Mardi Gras spirit to your outfit throughout the year:
I was sorely tempted to dress our heroine in creamy silk with bright accents, but alas, creamy silk is not yet available from anybody I could see…
But there are ALWAYS options, if we think long and hard enough!
She Thought She Was Going to Mardi Gras
for her vacation. But just a few days before she was to leave, the head of the Engineering Department told the Sales Manager that SHE should go to their biggest client for the launch of a number of system modifications. After all, she designed all of the carbon-neutral adaptations for the client operations – who better to explain it all!
She's never visited this client before, and she's not quite sure how dressy/casual they are. It's always a dilemma to pack lightly, but keep available enough options that you can adjust to circumstances…
And she's determined to show her Mardi Gras heart, even if she's discussing composting!
It's a bit warmer at the client's than it is where she lives, but then again she has been working with them for months to keep the temperature less "baking" in the winter and less "walk-in freezer" in the summer. She brings layers – between her blazer and her blazer-style cardigan, she should be okay. One can always remove a jacket or sweater, of course.
She reviews her wardrobe – heck, she reviews everything else, why not her travel capsule wardrobe? She can see a lot of possibilities…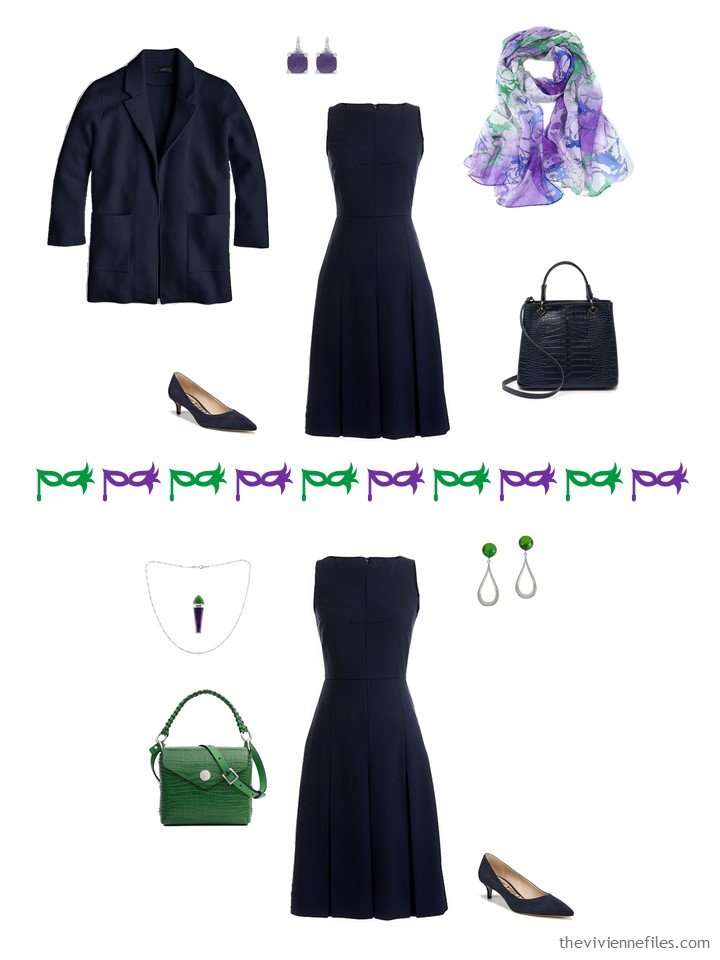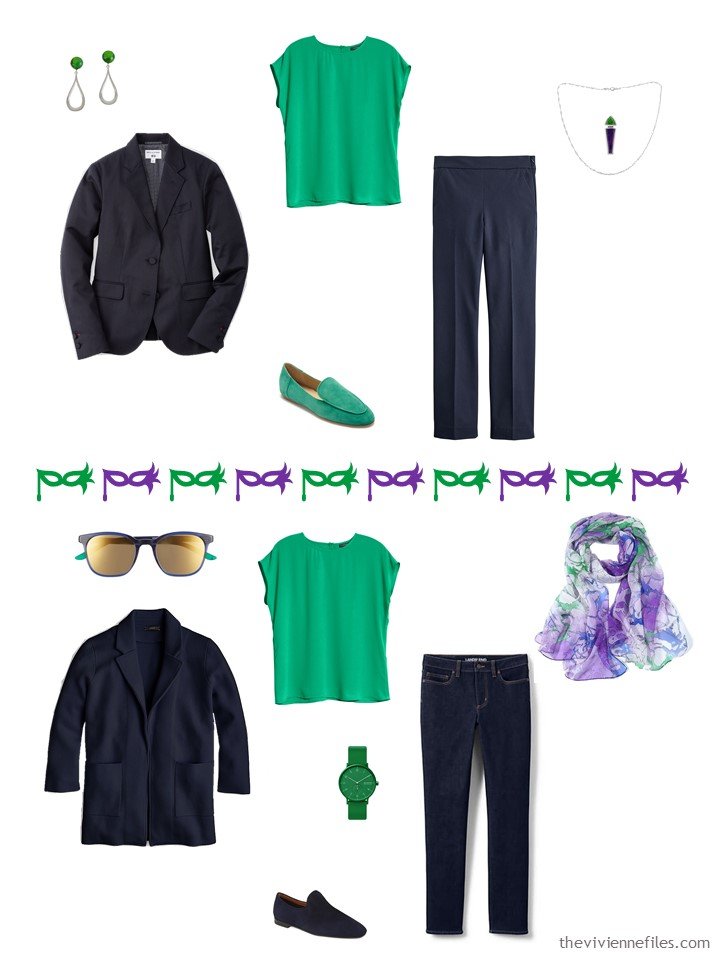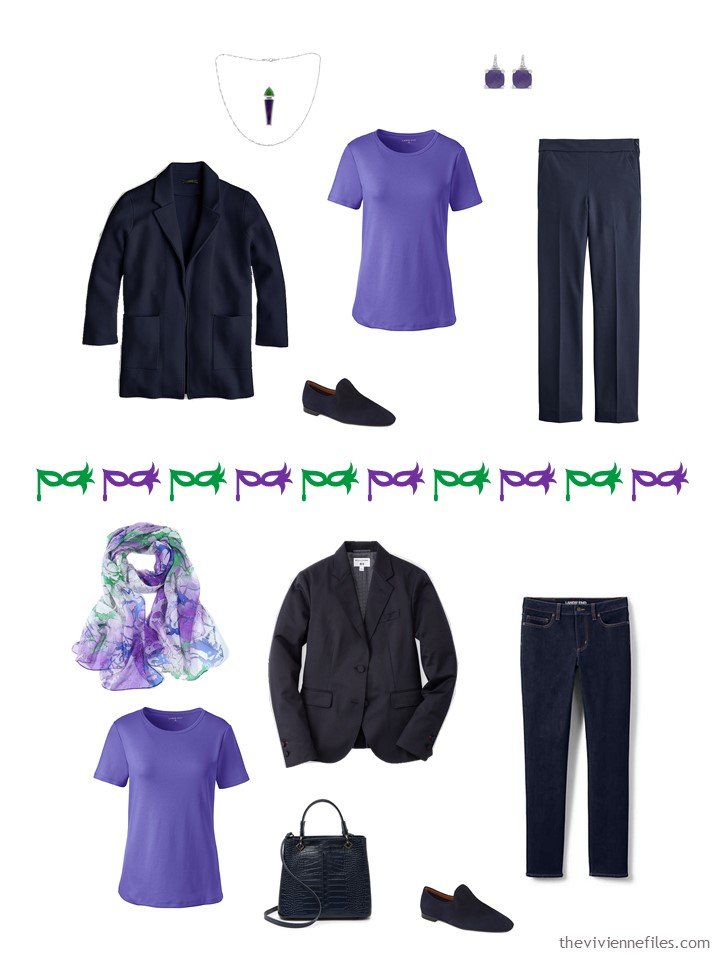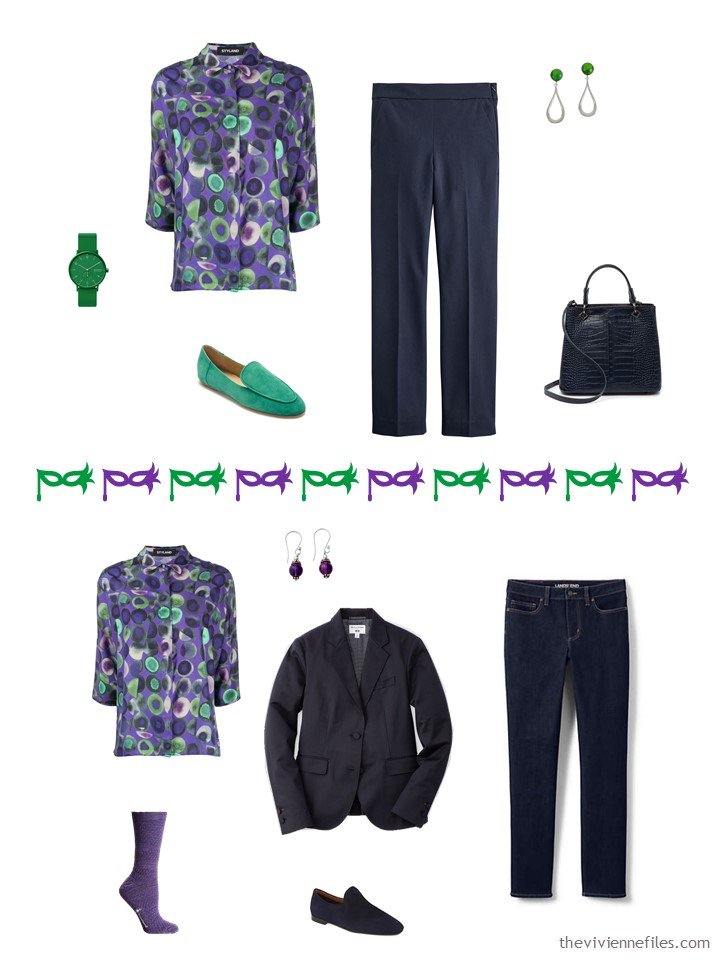 Yes, sometimes our vacation plans don't get to come first; work, health or family can force a last-minute change. How lucky are we to have jobs and loved ones who need us!
love,
Janice
p.s. Four years ago, we looked at an "eccentric aunt" travel capsule wardrobe based on one of my favorite paintings IN THE WORLD. This is a wonderland of subtle colors…