February 7, 2020
They're regular long pants, but they're NOT denim, nor corduroy, nor velvet – they're a lovely seasonless (and often no-iron!) cotton pants. The perfect thing to wear on all but the most steamy, or shivery, days…
It's good to remember how versatile these can be; having more than 1 pair wouldn't be a silly extravagance if you wore them a lot!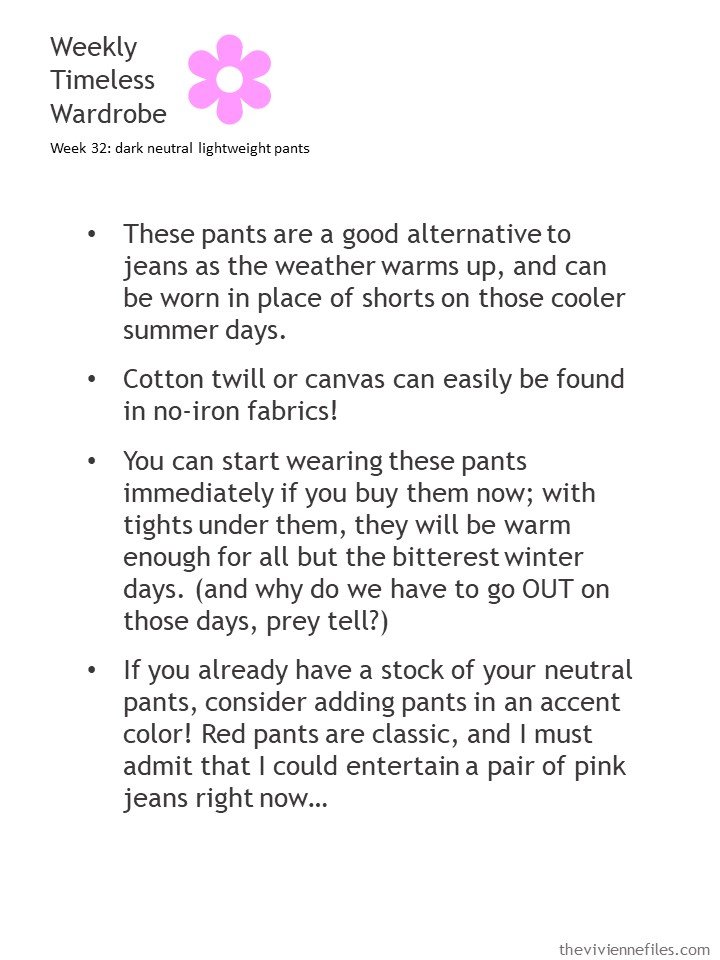 I kept some of the accessories from last week, and the cardigan… Imagine if you had last week's and this week's clothes (and probably the week before) in black and white, or any of the evolving "color stories" in this series. Options make getting dressed (and thus life) easier…
Of COURSE you can wear hot pink espadrilles with a flower on them! They're perfect with the floral tee…
This next outfit just feels… relaxed, but not sloppy. Subtle, but not boring. Grey is always lovely…
I only changed the pants and the earrings here – ROSE EARRINGS! I rarely wear any but the tiniest stud earrings, but these could change my mind. Roses ARE my birth flower…
After spending a LOT of time looking for nice brown pants, and coming up empty-handed, I realized that there's a big lesson in this. If you aren't seeing a solid neutral pair of pants that really bangs your shutters, maybe you should shift the "print focus" of your outfit (and maybe a bit of your wardrobe) to printed pants (and probably skirts, eh?). These were too perfect to resist…
This next outfit is timeless – I would wear it weekly for about 6 months a year for the rest of my life…
The slowly evolving 13-piece wardrobe looks almost exactly as it did last week, but swapping out wool pants for cotton is a BIG change in the "feel" of things!
Here, as always, is the overall Weekly Timeless Wardrobe garment list, for your delectation. I think if one owned all of these garments (or a personal variation on some), and then maybe a dozen "statement" garments, getting dressed would be pretty much fool-proof. These basics can of course be all of the clothing that you need if you're a big accessory person, or if you just prefer to be dressed in a low-key but appropriate and attractive manner.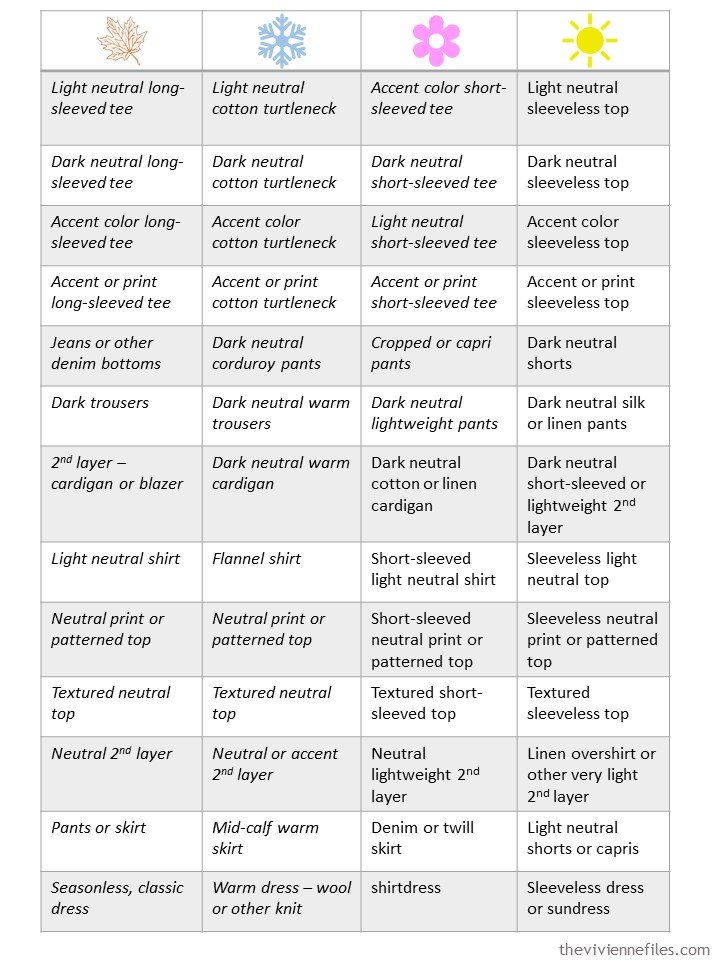 Chacun à son gout! (each to his own taste!)
love,
Janice
p.s. 8 years ago I shared one of my greatest beauty/skin care blunders, as a cautionary tale to women everywhere!