December 12, 2018
This wardrobe might be closer to my own than any blog post I've ever done! My clothes are almost all black and white, which I find very simple and calming. After scrolling through (literally) thousands of scarves, earrings, shoes, and handbags every day when I'm working on The Vivienne Files, some simplicity and clarity is welcome!
Remember our school consultant? She believes that creativity can be subtle – no shouting, no loud colors or garish details for her! Her favorite painting is simple but has a lot of subtle interest: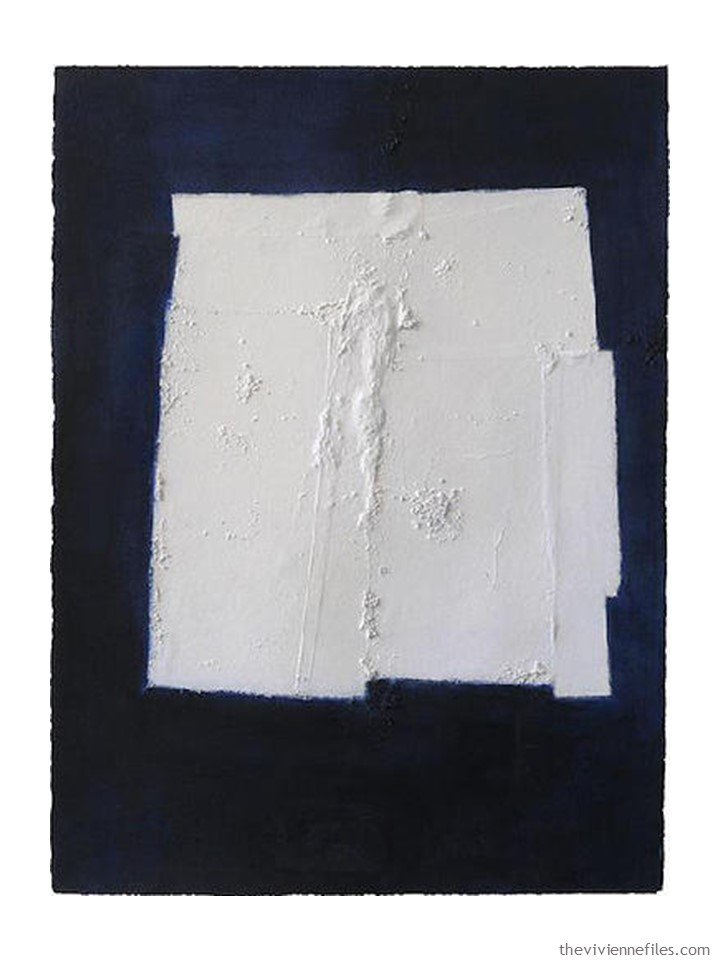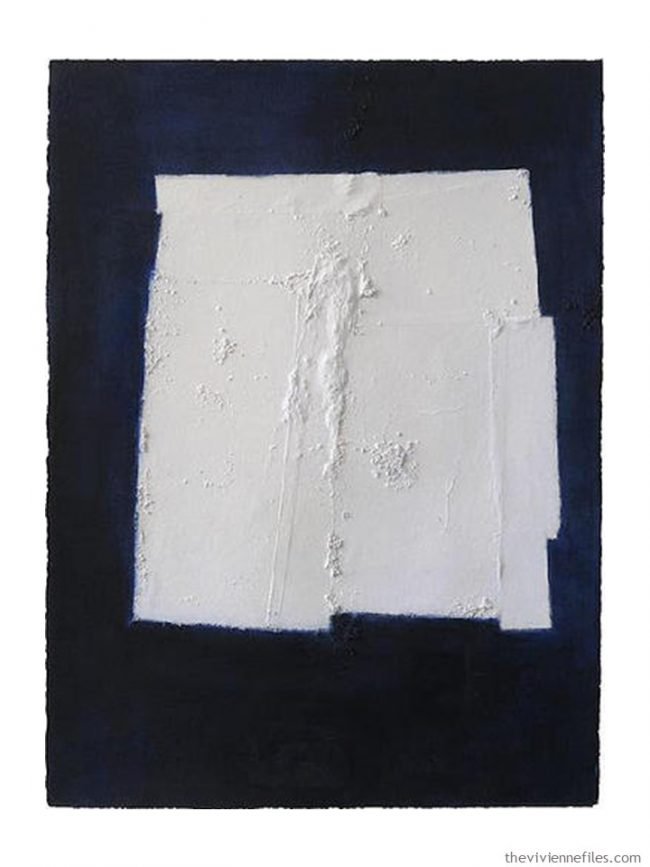 She maybe didn't even need to condense her ideas into words, nor her color palette into a wheel, but she did so in order to ensure that she is really focused and committed to this idea! Thinking through your wardrobe inspiration before you go shopping is only sensible.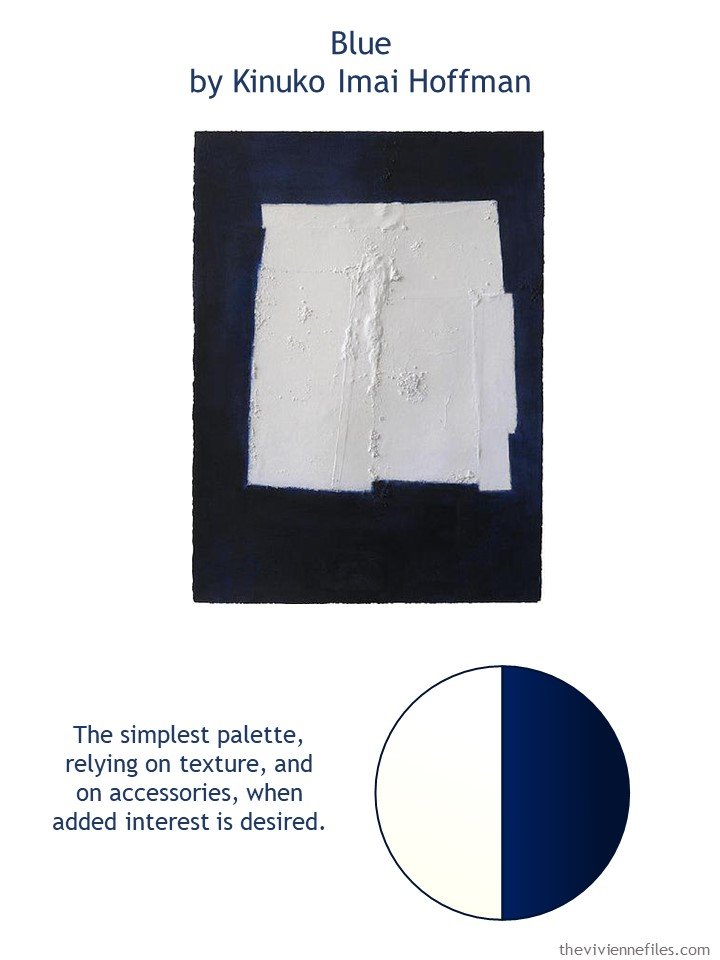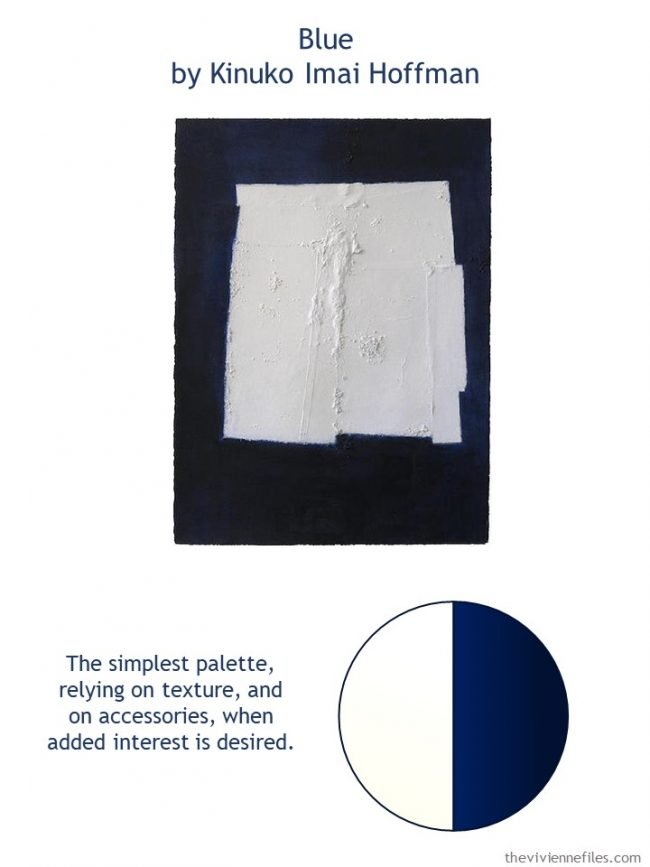 Back in January she was visiting classrooms – trying to be inconspicuous but not completely boring.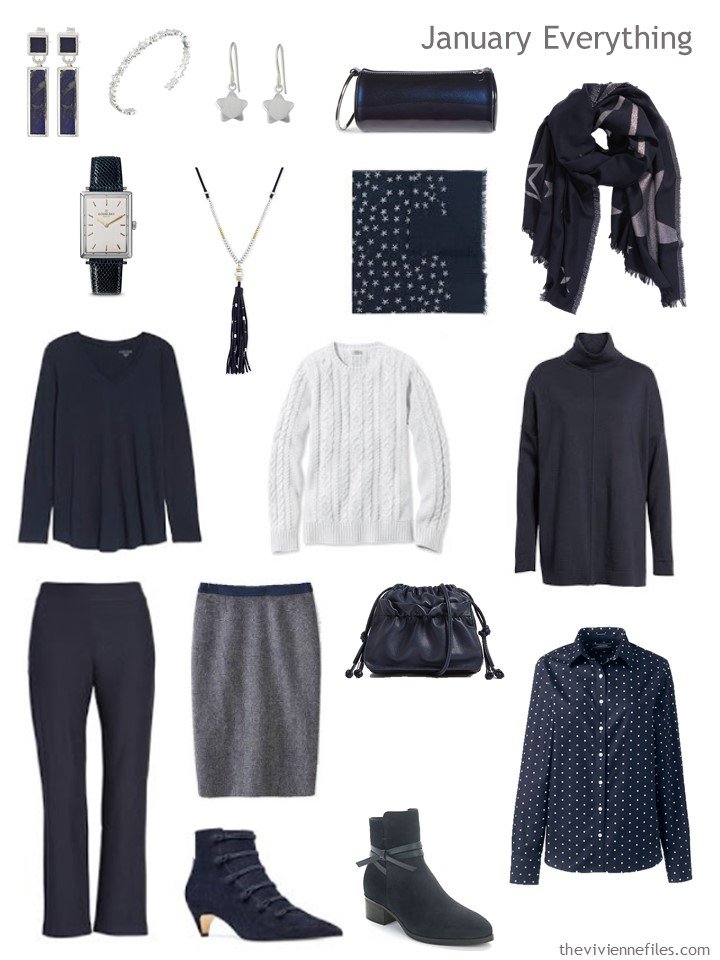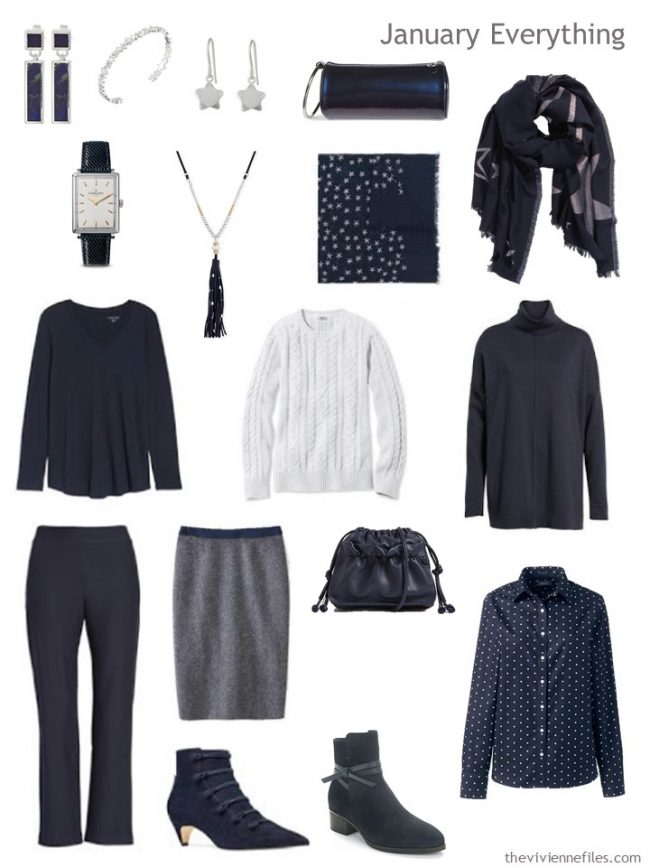 As the weather warmed, in April, she continued to visit schools, looking for ways to calm and settle difficult situations…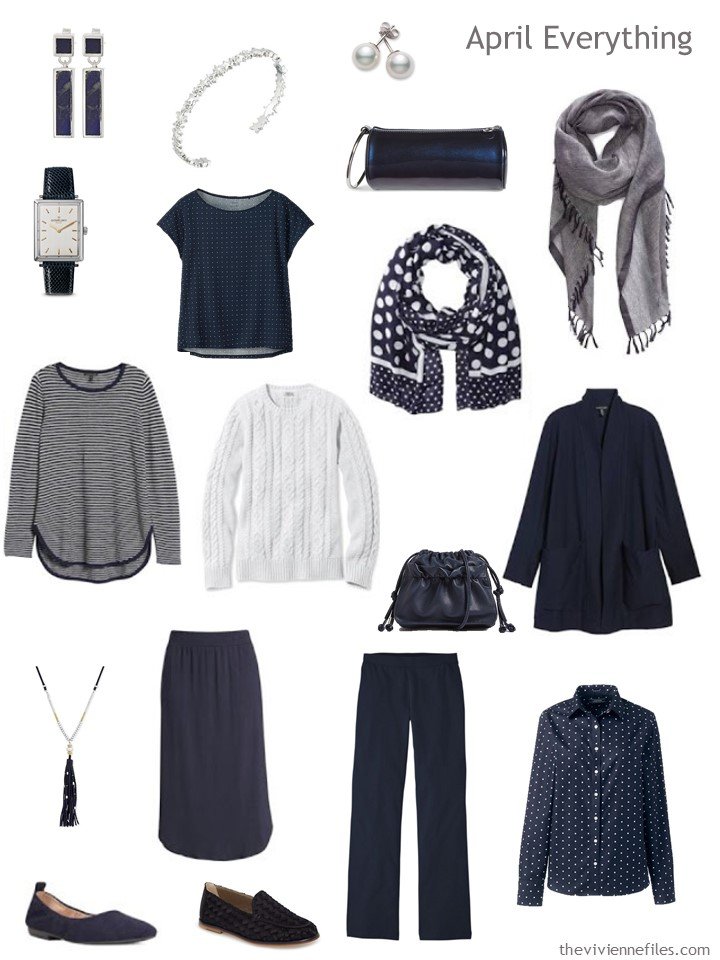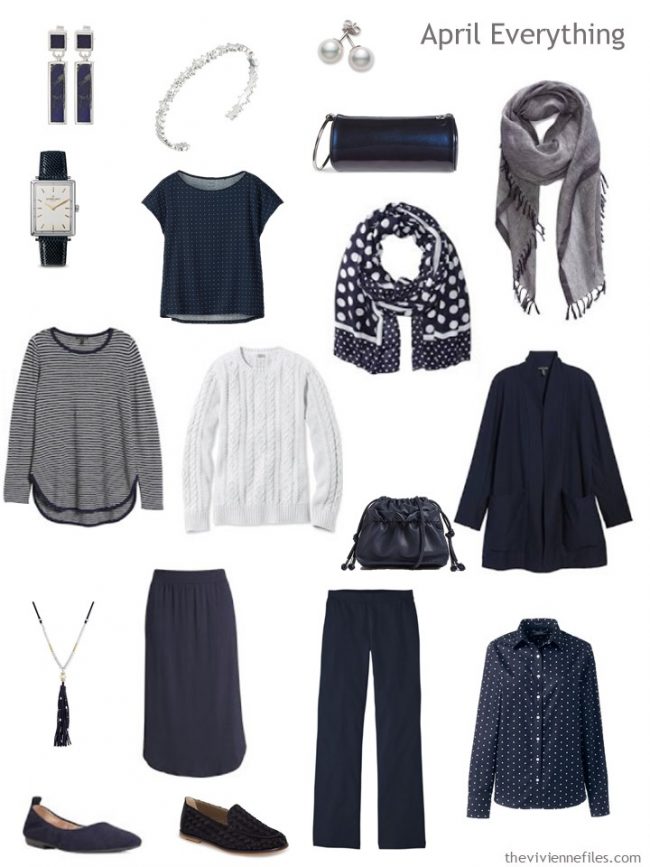 Late in the summer, she didn't have any visits to make, so she decided to go to that BIG music festival that so many students enjoy so much. She might feel a little bit out of place, but she might also gain some insights into the young people she meets in her job…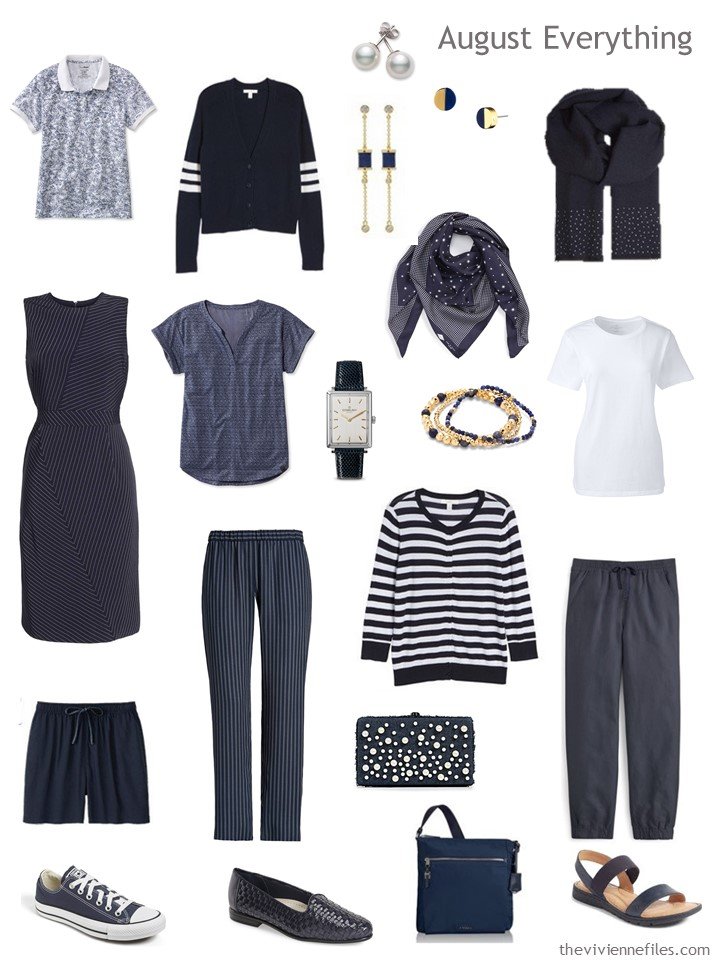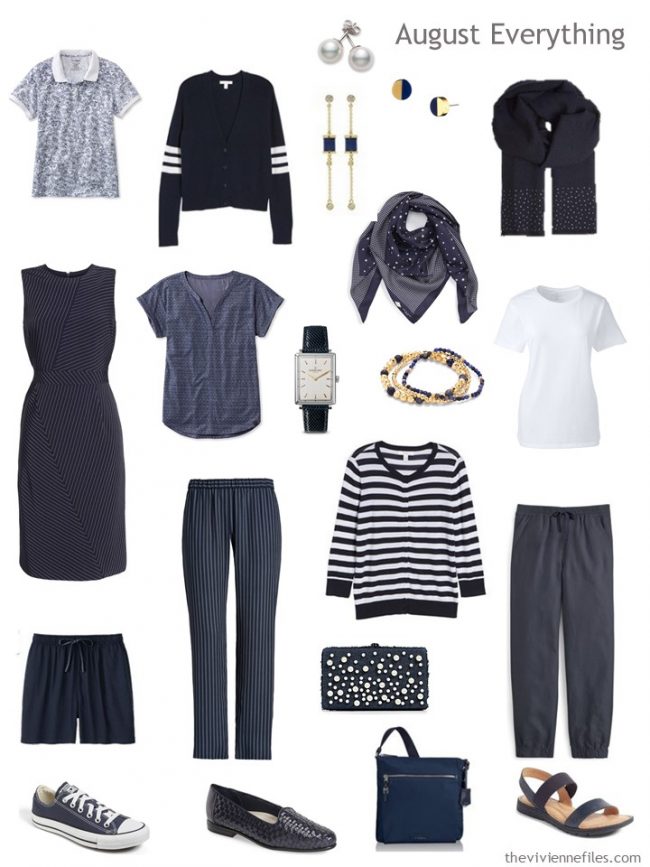 Her reports, and the insights in them, are beginning to be widely read and appreciated! One was read into the Congressional Record in Washington – she went to the session just to listen!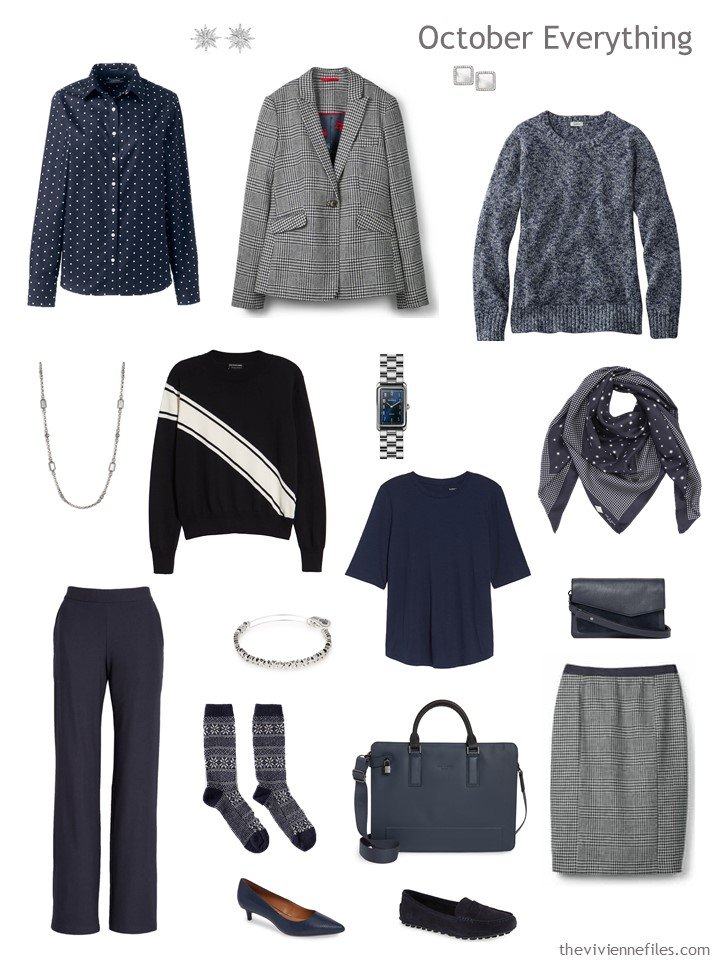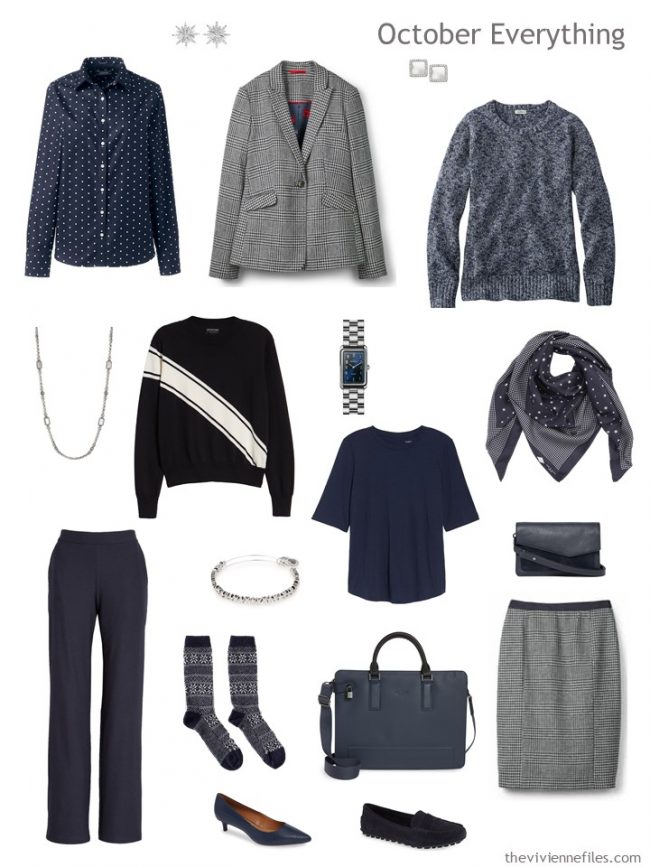 Her assembled wardrobe looks great to me! If this all magically turned into black and white, instead of navy and white, I would dive right in: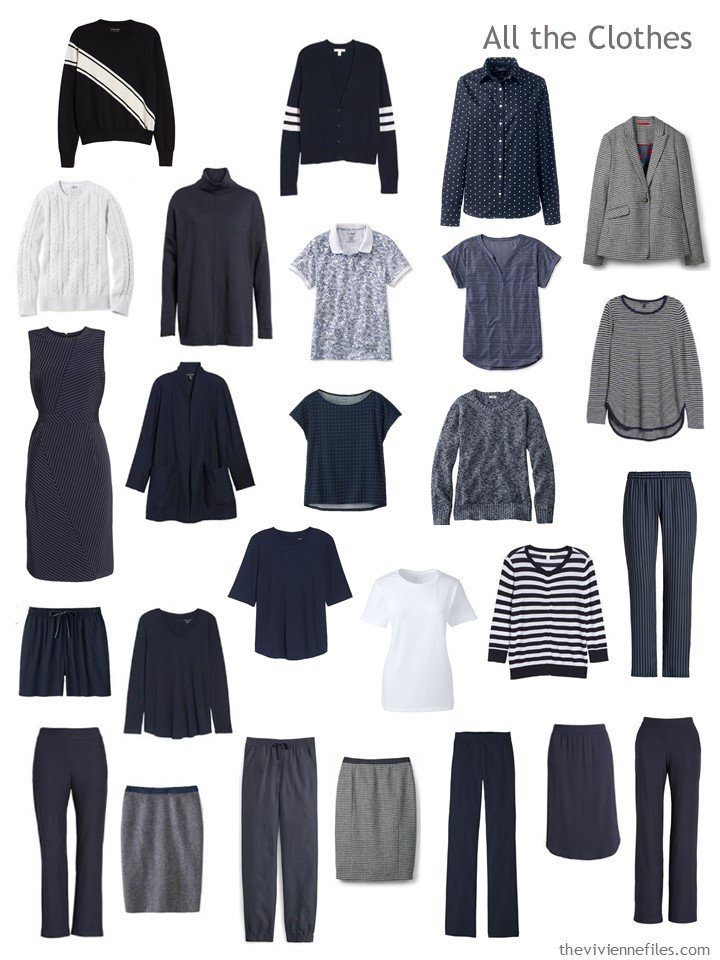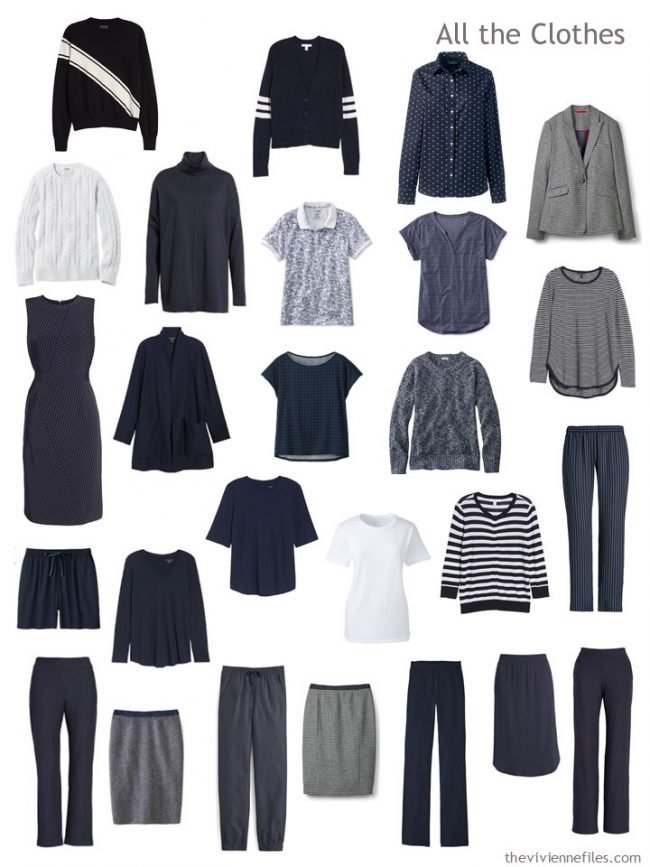 And the accessories are wonderful too! I love the scarves, of course: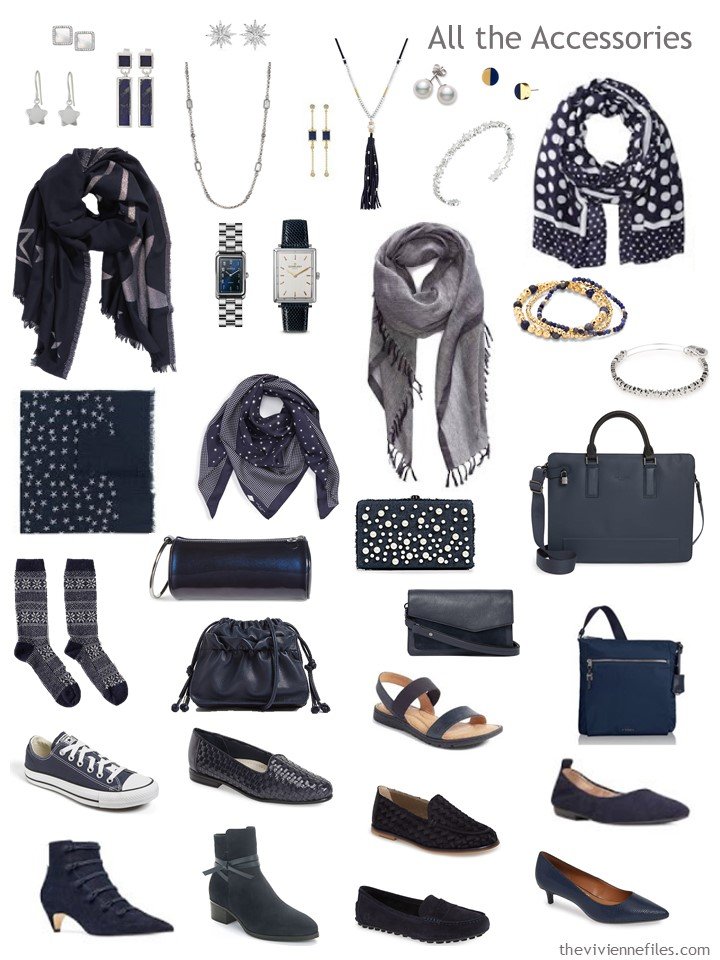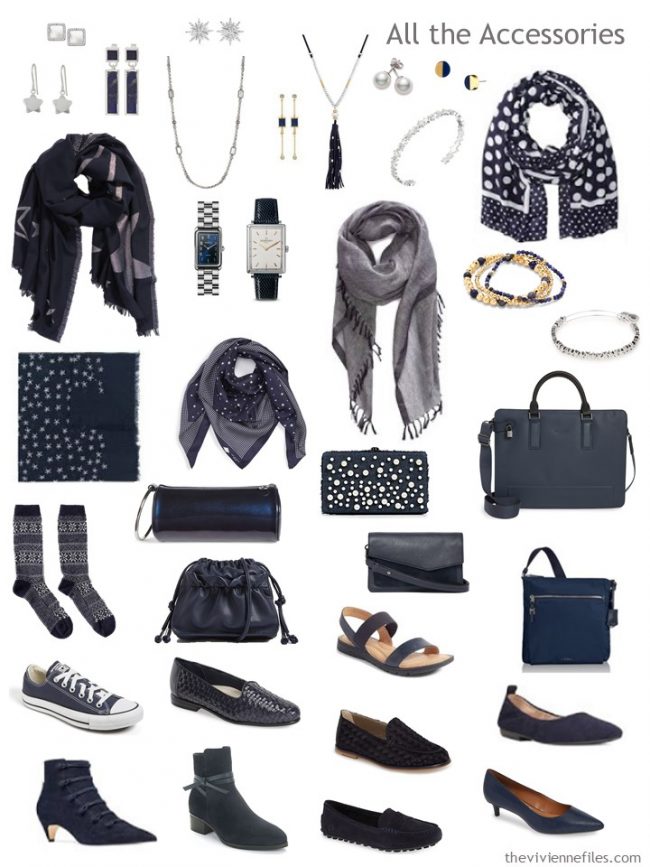 So… what to suggest?
My hunch is that this heroine has a career that's about to flourish – the recognition of her interpretive and diagnostic skills, and her talent in writing about them, can only increase as she gains experience!
Thus, I'm screaming for a classic blue blazer for this woman! She has both a tweed and a plaid skirt that will be perfect with this blazer. And it looks great with jeans. (I picked up a timeless brooch for her lapel – why not?)
Which leads me to thinking that she could easily incorporate a pair of jeans into this wardrobe. There might be some schools to which wearing jeans would be a good idea, and she can also use them for travel days.
Another classic item she doesn't have is a simple navy sweater! 3 weeks before Christmas, and on the heels of Hanukkah, surely she will receive this as a gift?
Lastly, I like the idea of her wearing a button-front shirt with a collar occasionally – it looks crisp and fresh, with just a touch more authority or gravitas than a tee shirt…
All of these pieces merge into her existing wardrobe without the least bit of struggle!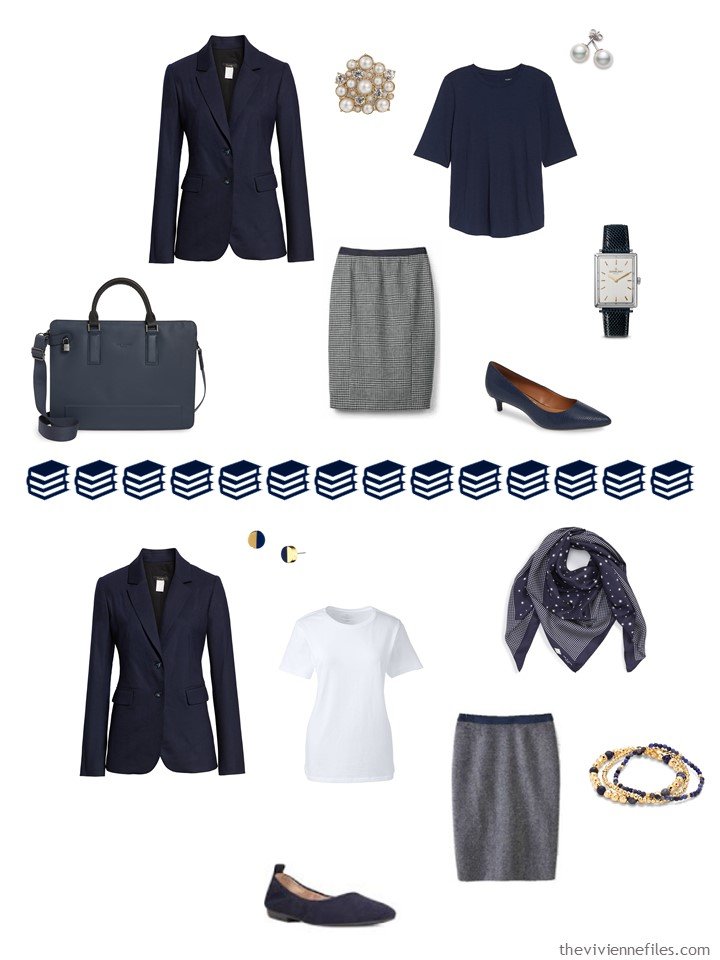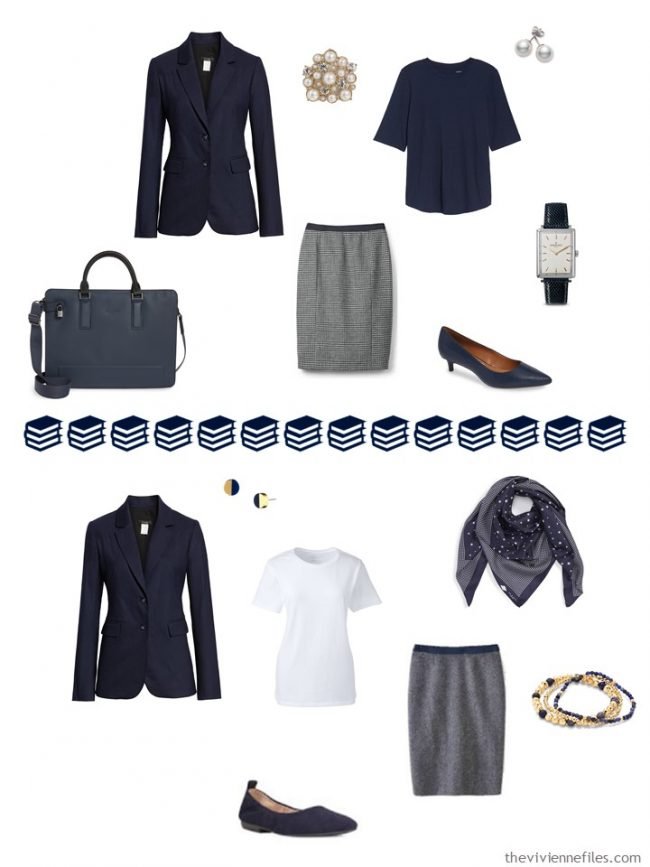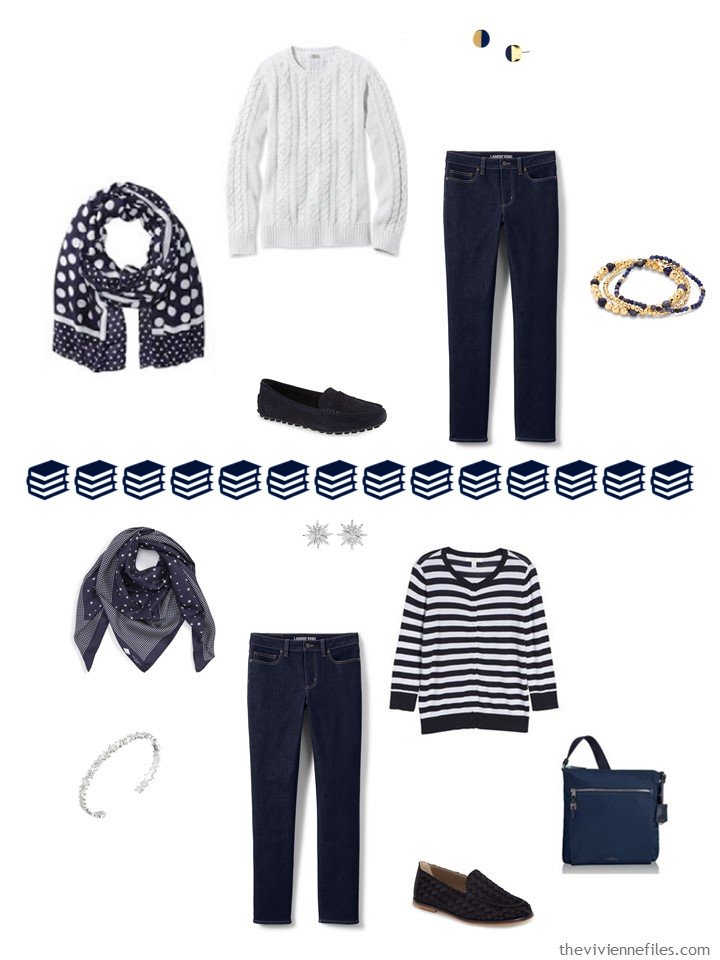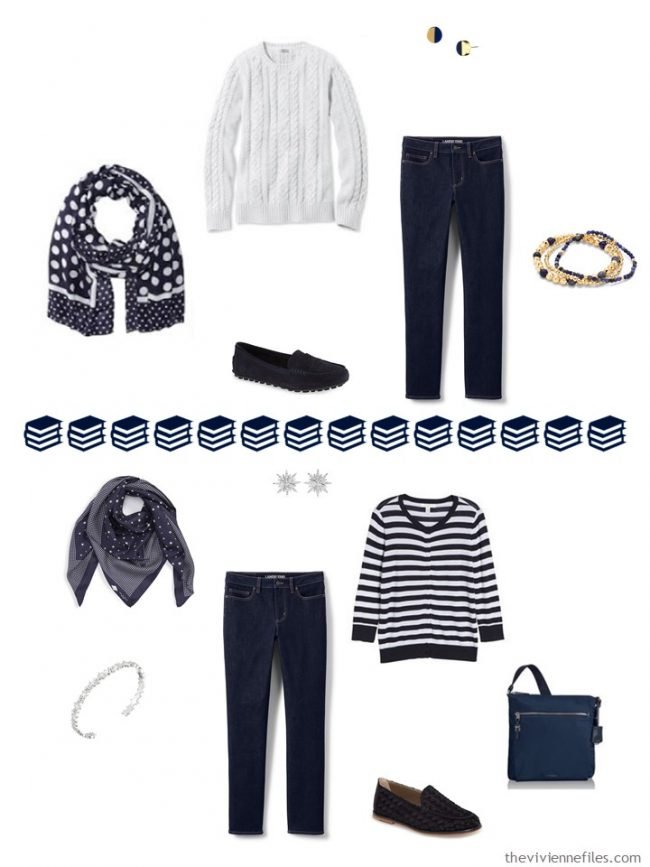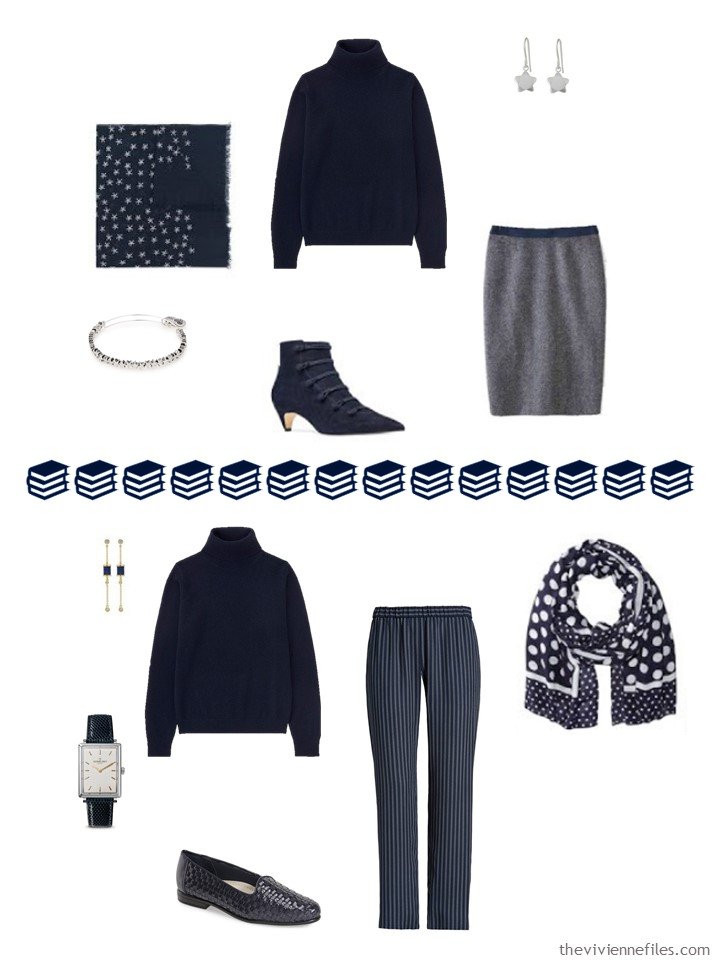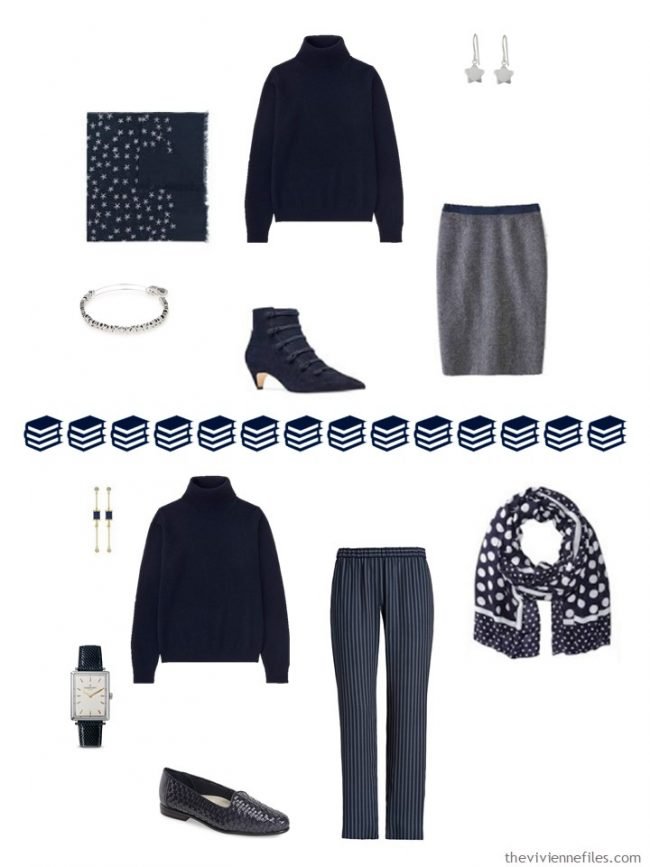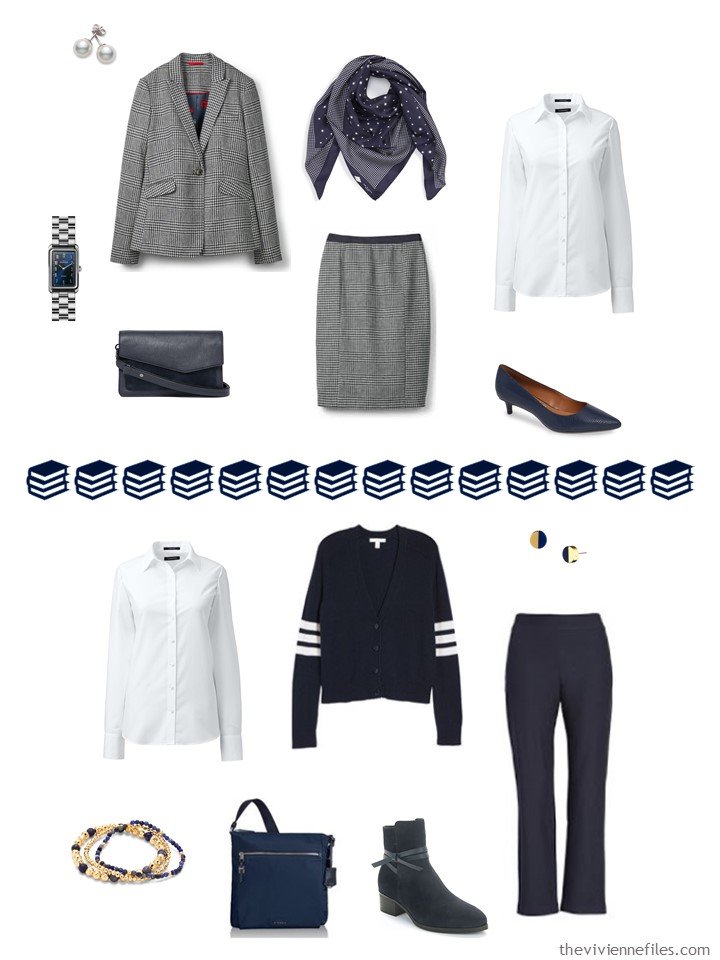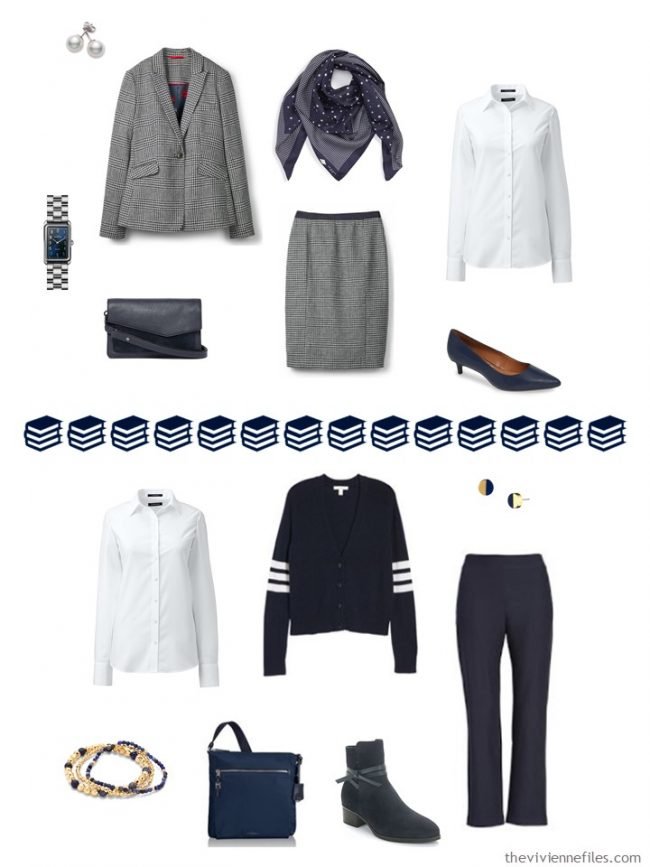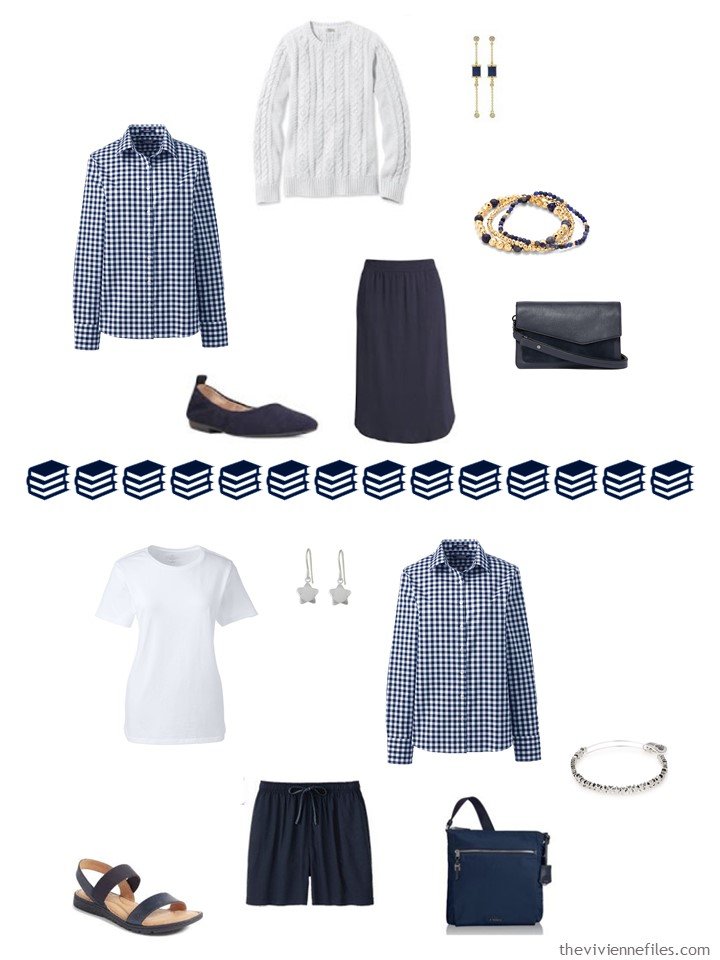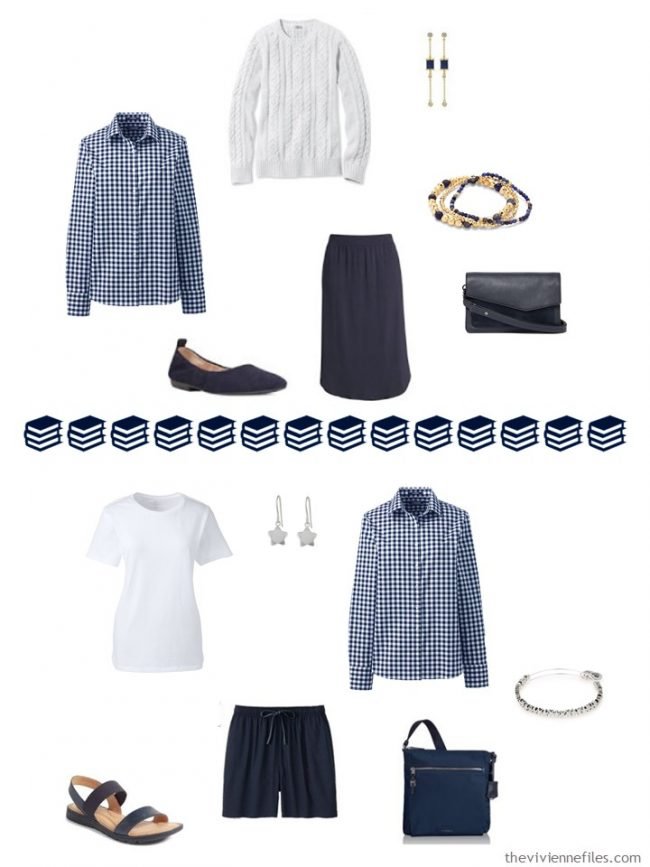 What can we learn from this heroine's wardrobe? I think (at least) 2 things:
Make sure you've stocked up on the basics – solid shirts and tops, a blazer, good jeans, and
Don't be afraid of a monochromatic or bi-chromatic outfit – it can be a painless and elegant way to dress!
love,
Janice