January 11, 2017
Monday, we pulled together a wonderful business capsule wardrobe with a navy suit for the reader with a new job, but let's get her some accessories too!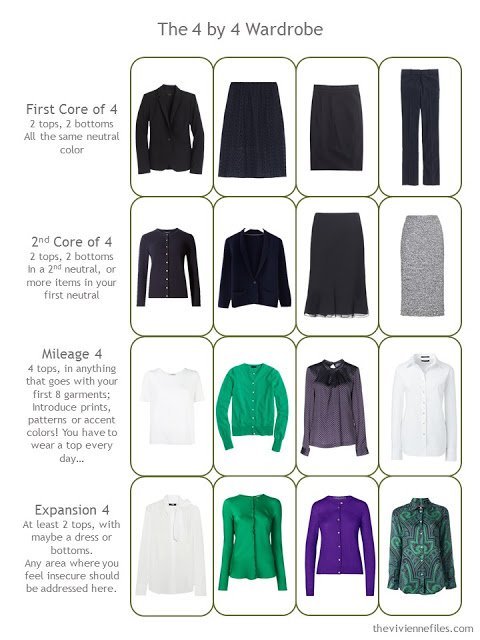 Obviously, she had shoes on when she interviewed, but let's add a beautiful pair of black pumps, with comfortably low heels, to her wardrobe first: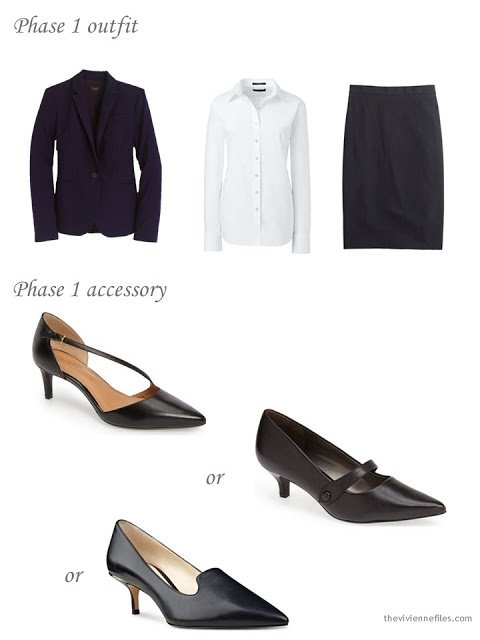 Blazer – J.Crew; shirt – Lands' End; skirt – J.Crew; Top pumps – Calvin Klein; middle – Trotters; bottom – Nine West
And I always want earrings, sooner than later. I know women who never wear them and who look just fine, but I always feel more… complete? finished? when I get my earrings on…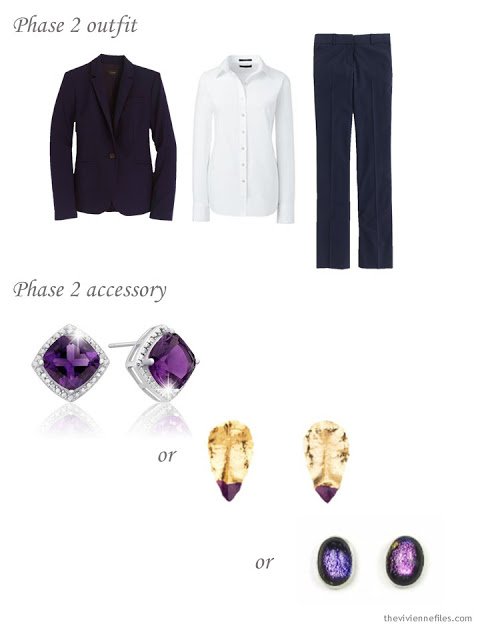 Bl
azer – J.Crew; shirt – Lands' End; pants – J.Crew; Top earrings – Passiana, middle – The Habit: Art!; bottom – Servando Dominguez
While it's entirely possible to carry everything you need in your pockets when you're just banging around town, for work, a nice bag is essential. I didn't try to get navy leather goods for this wardrobe, because they are much harder to find than black, and because virtually all of the men in any workplace will wear black (or brown) shoes with a navy suit. Why should women make it harder for themselves?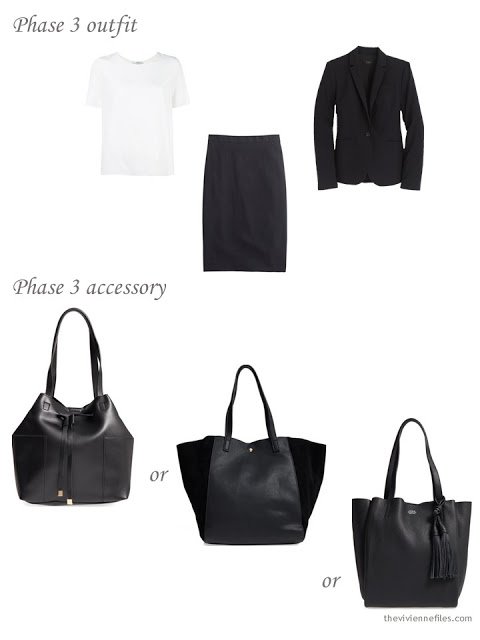 Top – Forte Forte; skirt – J.Crew; blazer – J.Crew; Top bag – Sole Society; middle – Sole Society; bottom – Vince Camuto
I love bracelets, and I thought that a cuff that didn't jangle around and make a lot of noise could be a big addition to this wardrobe. For someone who works on a keyboard constantly, this is going to depend on how to rest your arms/hands to type. If you hang off the edge of the desk, as I do, you can wear bracelets any time, but if you're using a "wrist rest" kind of gizmo, a bracelet might be uncomfortable…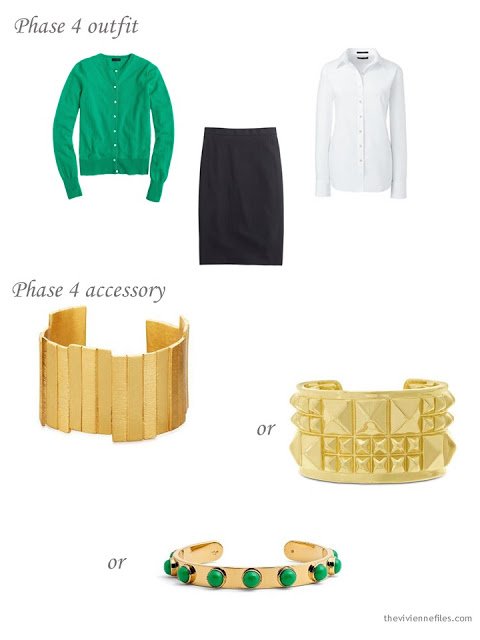 C
ardigan – J.Crew; skirt – J.Crew; shirt – Lands' End; Top bracelet – Stephanie Kantis; middle – Passiana; bottom – Kate Spade
One of the joys of a relatively dressy job is that you can wear beautiful scarves without any fear of damaging them – no splashing foodstuffs, no messy hands, no constant exposure to damaging chemicals. So let's pick something truly special: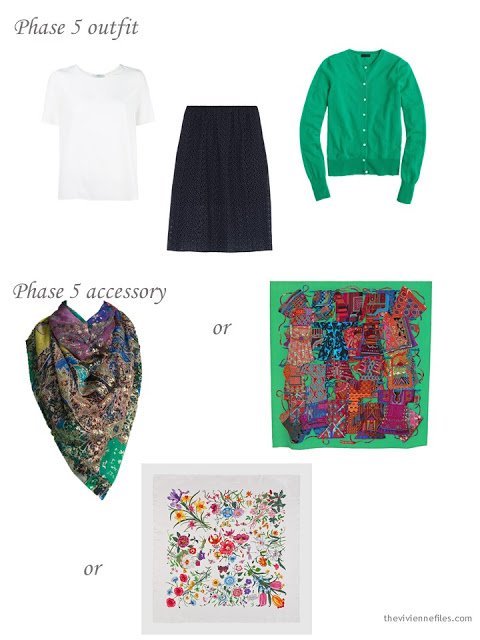 T
op – Forte Forte; skirt – Tibi; cardigan – J.Crew; First scarf – Etro; second – Hermès; bottom – Gucci
The pants have belt loops? That means a belt is required! You don't need a million belts; I suspect most men only own/wear 1 or 2…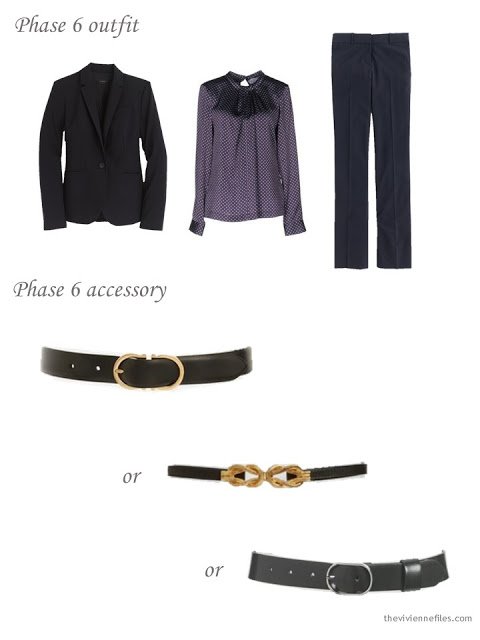 Blazer – J.Crew; blouse – Guglielminotti; pants – J.Crew; Top belt – Salvatore Ferragamo; middle – Raina; bottom – Halogen
Everyone needs more than 1 pair of shoes for work, and when I saw these purple pumps, I knew that an accent shoe might be a fun idea! If you don't like to wear bright shoes, you can try to scare up a great pair of dark navy pumps (like the ones in the middle). But always try to have 2 pairs; shoes last MUCH longer if they're given a rest (with shoe trees in them, of course) between wearings.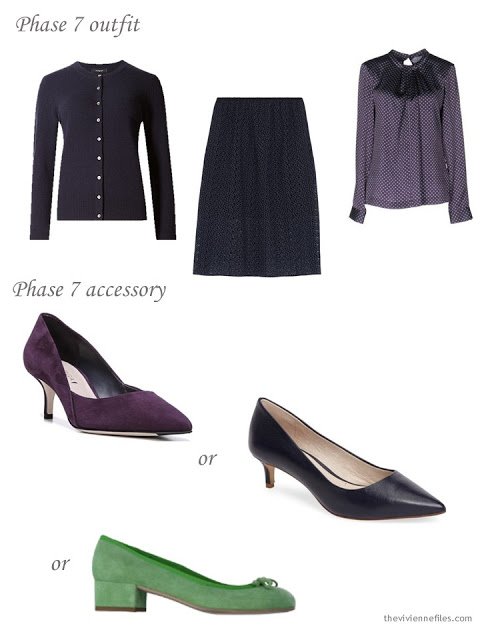 Cardigan – Marks & Spencer; skirt – Tibi; blouse – Guglielminotti; top pumps – Via Spiga; middle –Louise et Cie; bottom – Alberto Moretti
For days when a scarf just isn't in the cards, a fun necklace is a great alternative. This simple silk top just cries out for something lovely hanging on it…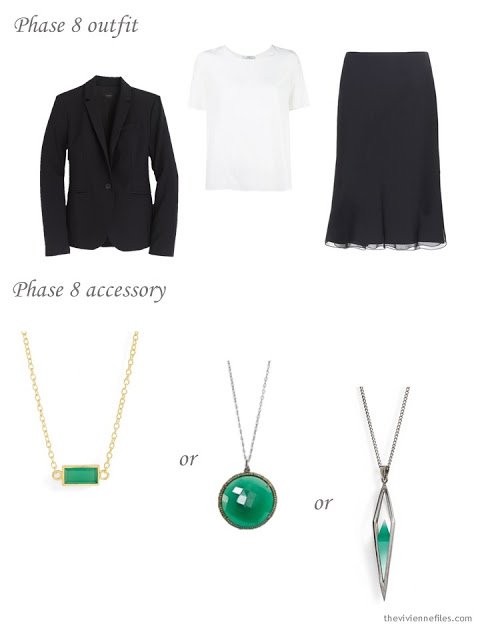 Bl
azer – J.Crew; top – Forte Forte; skirt – The Row; Topnecklace – Karen London; middle – Susan Hanover; bottom – Dean Davidson
For a second pair of earrings, you might want to make more of a statement, in a small way. I love the mix of colors in the middle pair of earrings: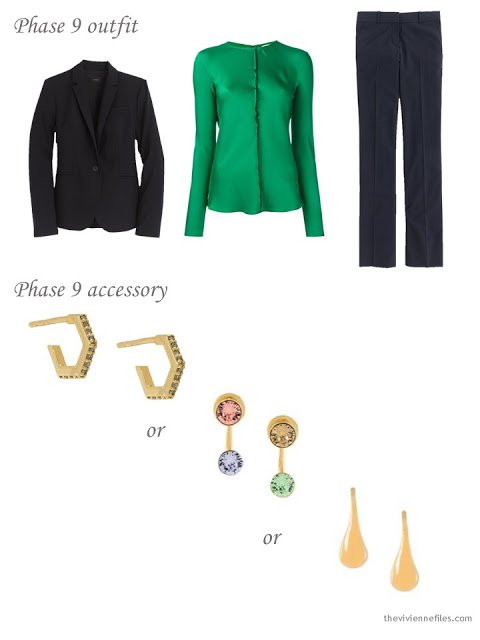 B
lazer – J.Crew; blouse – DKNY; pants – J.Crew; Top earrings – Rachel Jackson; middle – Ca&Lou; bottom – Wouters & Hendrix
One does NOT need to carry a tote bag or briefcase every day; if you're not literally carrying "briefs" (as in documents, NOT undergarments…) you don't need a big bag. There are so many lovely handbags in the world… sigh…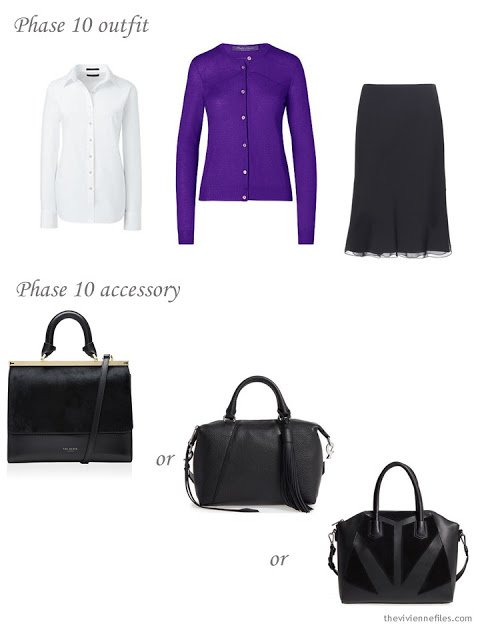 Shirt – Lands' End; cardigan – Ralph Lauren; skirt – The Row; Top bag – Ted Baker; middle – Rebecca Minkoff; bottom – Sole Society
Since you're going to be working and won't be hanging on your phone, a watch might be a good idea. For people who aren't parked in front of a computer all day, knowing what time it is (and being able to tell others, when they ask you) can be pretty important!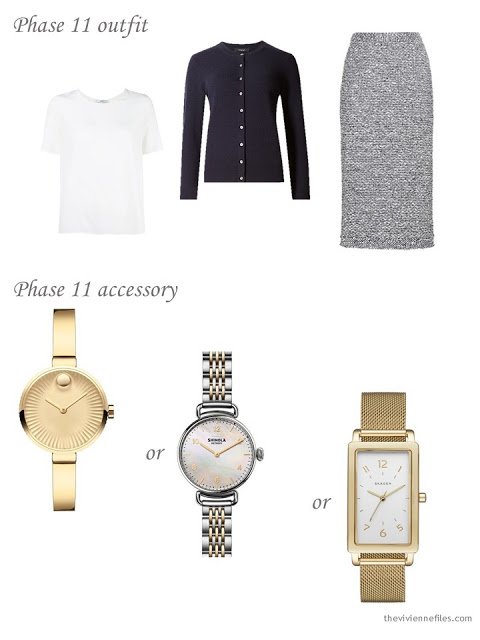 Top – Forte Forte, cardigan – Marks & Spencer; skirt – Roland Mouret;
Top watch – Movado; middle – Shinola; bottom – Skagen
More scarves! In this case, I was looking for something that had lots of navy…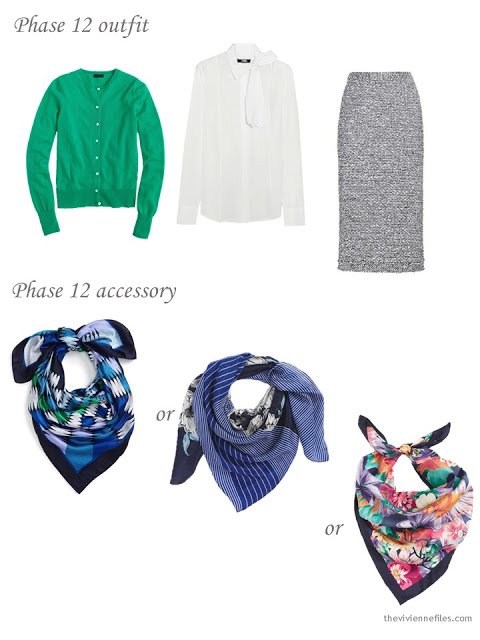 ca
rdigan – J.Crew; blouse – Karl Lagerfeld; skirt – Roland Mouret; Top scarf – Echo; middle – Halogen; bottom – Salvatore Ferragamo
Yes, this outfit in no way supports the wearing of a scarf, but I really wanted to bring another scarf into this wardrobe in order to brighten up the large amounts of navy and white. Choosing from among these 3 scarves was really difficult…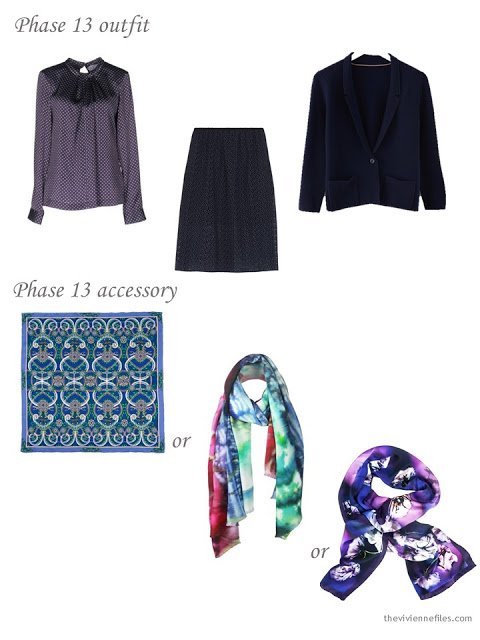 blouse – Guglielminotti; skirt – Tibi; cardigan – Boden; first scarf – Julie Impens; middle – Unpaired; bottom – StephieAnn
And after you've become really familiar with the overall feel of your workplace, you might find that a good-quality pair of ballet flats will be appropriate. I'm assuming that nobody will notice that you're not wearing high heels, if everything else about you is dignified and appropriate. Somehow, someday, we've got to completely eliminate the requirement of pumps from dress codes – it's terribly unfair to those among us who can't wear them comfortably, nor walk in them gracefully!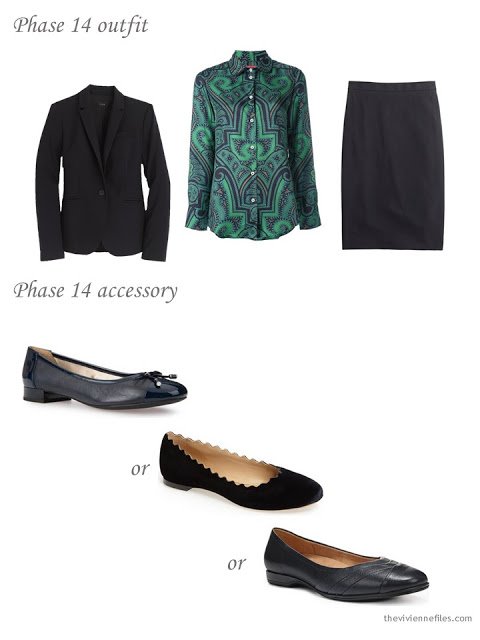 Bla
zer – J.Crew; blouse – For Restless Sleepers; skirt – J.Crew; Top shoes – Geox; middle – Chloe; bottom – Naturalizer
I don't wear navy at all, but I could grow to love this wardrobe: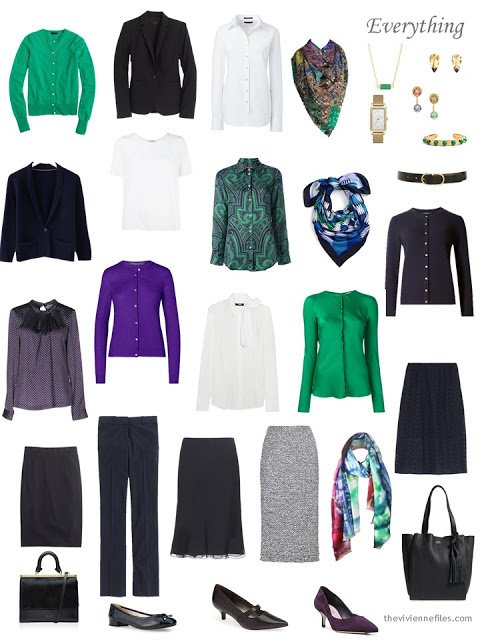 In addition to the outfits that we saw yesterday and today, there are lots of lovely ways to wear these pieces. If you want to emphasize the emerald accent, you can: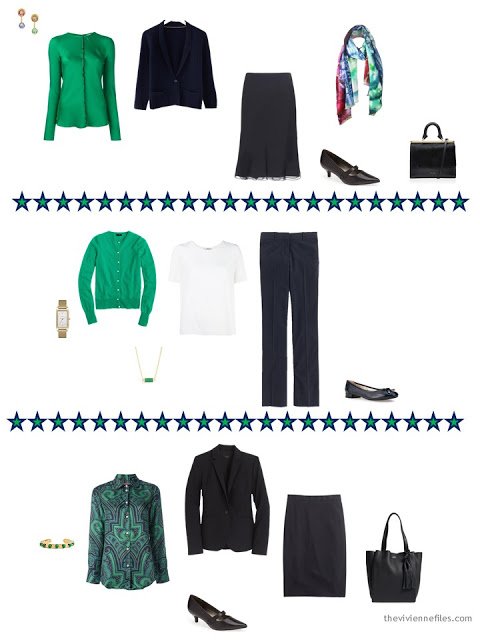 If you are in an amethyst mood, you have lots of choices: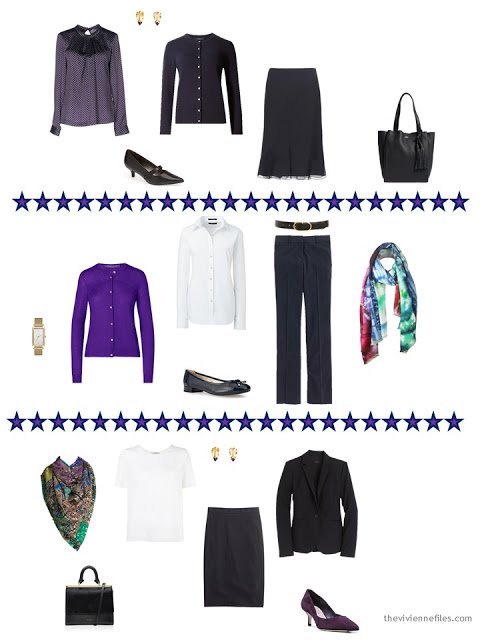 And for those times when simple navy and white is quite enough, you'll still look professional and beautiful: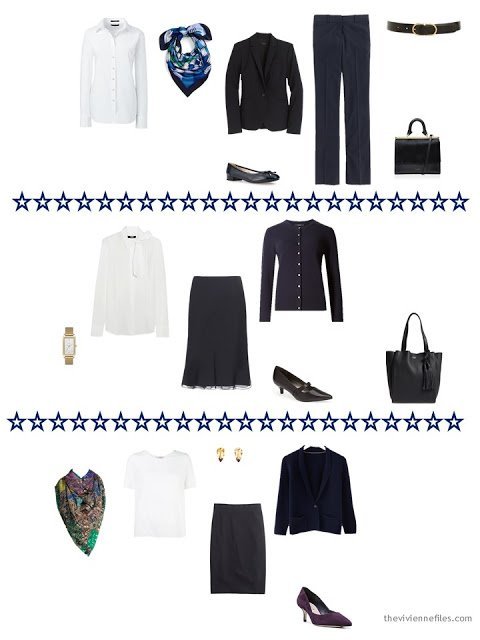 Were you surprised to hear that this dress code prohibited skirts above the knee, sleeveless tops, and any sort of cleavage? I wasn't, but I think some people might consider this very old-fashioned…
love,
Janice