January 9, 2017
I got this email just before Christmas – one of my readers got a new job, and needs to build a new wardrobe to wear. This is a pretty special workplace – very elegant, with occasional clothing allowance cash awards given, and all laundry and dry-cleaning reimbursed! Pretty dreamy, at least from a wardrobe point of view…
I think the target color scheme is based on my reader's very russet hair, fair skin and freckles, which look GREAT with these accents…
Of course, I answered her email right away, and she's already purchased a bunch of things for her new position, but I thought that this was so pretty, so luxurious, and such a dream shopping adventure, that I wanted to share it with you all!
First thing – if you have a skirted suit that also has pants that match, you really should get them, unless they fit appallingly and can't be altered, or unless you absolutely don't want to ever wear pants with your blazer. Even if you never wore these pants with this jacket, just having pants in EXACTLY the same navy would mean that everything else your purchased would coordinate beautifully with both the suit and the pants. These purchases aren't exciting, but they're intelligent, practical, and very efficient.
(I know these colors don't appear to match, for the 3 suit pieces. I tried to monkey around with the colors a bit, and couldn't make them any better – they were different from the source… the clothes ARE, however, all from the same manufacturer, in the same fabric, so they SHOULD match perfectly. If they don't, raise the roof!)
This is another easy, and fairly obvious, step – a replacement for your workhorse white shirt! A simple top in silk will prove to be madly versatile, and a great background for any scarf or necklace that wanders your way…
Finally, an accent color! This could be a green jacket or blazer, if you can find one, but a cashmere cardigan covers the "elegant" base, while also providing you with a sweater that can be worn on its own, when buttoned all the way up.
Even though we're sticking with navy as our neutral, there are a lot of textural things that we can look for to bring variety and visual interest to our outfits. In this case, the skirt is made of broderie anglaise (or eyelet, as many of us know it) fabric. It's still a navy skirt, but it's a nice change of pace.
This wardrobe color scheme is perfect for all kinds of beautiful jewel-toned blouses…
That navy blazer is going to get really boring, really quickly, unless we introduce an alternative to it! Ideally, you would be able to find another navy jacket in a different style – maybe Chanel-ish? – but in the absence of that, a high-quality cardigan will do just fine.
Here's another way to add a navy skirt to your wardrobe – in a lovely, swishy silk. When you mix fabrics like this, you don't have to be as hysterical about matching the navy colors. So long as they blend nicely (in this case, so long as the navy is very very dark) you'll be fine.
Another jewel-toned blouse – what a beauty!
And a second accent cardigan. As before, this could certainly be a jacket, if you can find one…
Tweed is a wonderful fabric to watch for when you want to work with one neutral. Ideally, this would be the skirt from a suit, in which case you would also buy the jacket. Designers should listen to me more, don't you think?
Yes, it's about time for another white blouse – this time with a bow! A variety of styles can keep you from dying of boredom wearing white blouses or shirts frequently.
Don't forget the possibility of a knit jacket – sort of a hybrid blazer/cardigan. These can be really lovely, and keep some of the structural authority of a jacket while still giving you the softness of a sweater.
No resisting this blouse, and no reason to! Although the brand names makes it sound as if this is a pajama top, I'm rejecting that thesis. If I'm wrong, just don't tell anybody; to me, it looks like a blouse!
This is how the first 16 pieces come together. I would also be on the lookout for a great navy and white sweater and blazer, a navy dress, a printed silk matching blouse and skirt…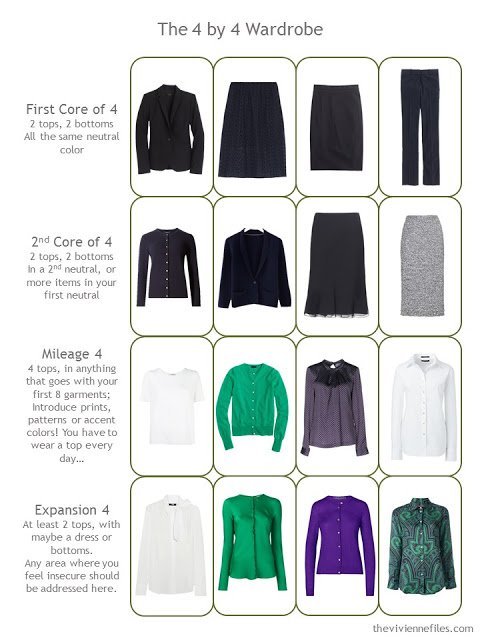 Wishing all the success in the world to this woman in her new position! (tempered by just the tiniest bit of envy. tiny… really, really tiny…)
love,
Janice
PS – Click through to read about how to add some accessories with this navy suit.