January 6, 2017
Yesterday's capsule wardrobe based on Soir d'Octobre was pretty great, but we can't just leave our imaginary heroine like this:
Let's remember our inspiration: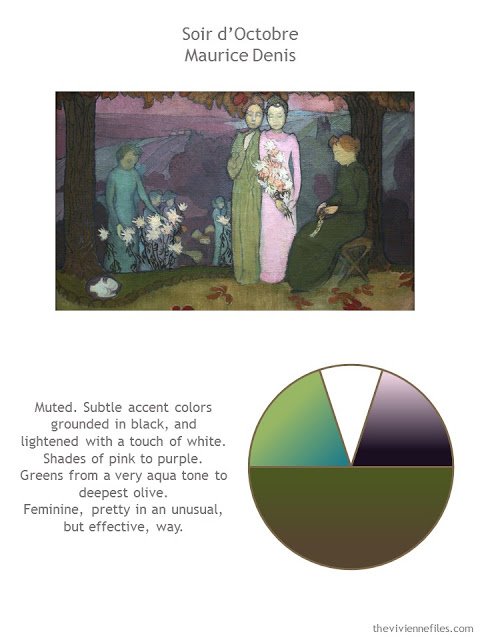 So let's work step by step – just as we did yesterday – and add all of the essential accessories (and a few fun ones) to this wardrobe.
First, one must have shoes! This time of year, a pair of short boots is a nice warm choice:
I know that many women would want a handbag immediately, but for me, I don't feel dressed unless I'm wearing earrings!
Here, I decided to test-drive the theory that I could walk into a store looking for… a pair of gold hoop earrings, maybe, and find enough choices to feel comfortable. In this particular case, and at Talbots, it turned out to work just fine. Some stores work well for this kind of thing, but you should never force yourself to buy something just because you walked into a store with something in mind. That leads to wastefulness and regret!
(I'm not telling you that Talbots has a lot of beautiful blue pieces already in for spring…)
Finding a bag in the right shade of green is really difficult! If you're in the market for anything green, try to carry a swatch, or a skein of embroidery floss, with you at all times so that when you see something, you can be certain of getting the "right" green.
I'm in a bracelet mood these days; I don't know why, but bracelets have been the most appealing jewelry for me for a few months…
Of course, you need a scarf! I don't know if anybody else has ever noticed this, but Eileen Fisher seems to love the color green; her collections almost always have some shade or another of green in them! If her things are a bit too pricey for you, don't forget to check second-hand sources like Ebay or Thredup… some of my favorite pieces of clothing were NOT purchased "new."
(oh yes, that top scarf comes in black & white… sigh…)
Your eye doctor told me to remind you that you need to wear sunglasses most of the time that you're outdoors. Even in the winter. Maybe especially in the winter, if there's snow on the ground, and the sun is out!
Woman does not live by boots alone! A comfy pair of loafers are very important to one's physical and mental well-being.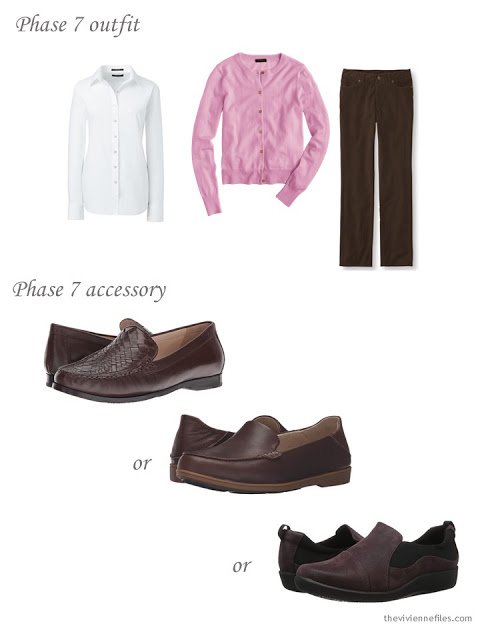 shirt – Lands' End; pants – L.L.Bean; cardigan – J. Crew;
top loafers – Cole Haan; middle – OluKai; bottom – Clarks
Working with our reference painting gives us lots of options for beautiful amethyst, or just plain purple, jewelry:
And while we're at it, let's get some earrings too!
I always like to have the option of a smaller handbag. I found all three of these at the same place – when you find a company that has committed to working with this "coffee" or "tree-bark" brown, it's worthwhile to really dig into their offerings. This is a tough color to find!
While watches are not necessarily something that you must have, I still think that they look nice, and they keep you from constantly pulled out your phone and checking it. I DO get tired of seeing people with their phones glued to their nose, don't you?
Another scarf! This time in purple…
And what the heck – 1 more scarf, in a neutral, an accent color, or a combination of neutrals:
(yes, to match the pink cardigan as closely as possible, I went back to the same store; that should work well, in theory!)
And one last pair of shoes, for those days when you're wearing your skirt, or when you're not going outdoors much but still need to be able to slip into a shoe for a moment or two during the day:
What do you think? I'm pretty pleased with how this all seems to work well together: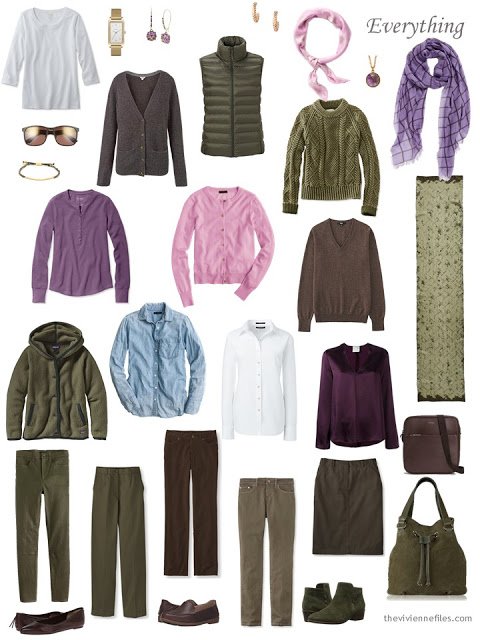 Monday I have another "1 Piece at a Time Wardrobe" – a special request from a reader who is starting a new job…
love,
Janice
p.s. Big programming notice here: starting next week, for probably the next 3 weeks, I'm going to only post on Monday, Wednesday and Friday. I'm going to Dublin for 12 days, and then IMMEDIATELY (yes, the very next day) going to Florida for family business. I should be back in the metaphorical, ergonomically correct saddle by the end of the month, in time to give you my "Year Without Shopping" update.