January 5, 2017
You wanted to revisit the Soir d'Octobre, the most beautiful of paintings, and I receive an email which sets the stage perfectly: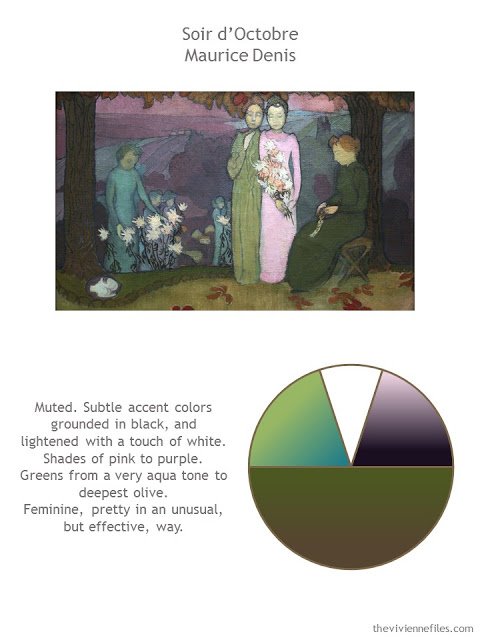 One of us bought some leather pants, just before the cold weather really kicked in! And she's only got one way to wear them, so far:
But she's recently retired, and wants to build a casual wardrobe! This is a PERFECT scenario for gradually building a wardrobe, and for adding 1 piece at a time…
First up, the white shirt is a great starting point, but these pants also need something a bit more relaxed. To me, nothing fills that bill better than a classic chambray shirt.
Just to shake things up, early on, let's introduce one of the really pretty accent colors:
As much as this wardrobe is really based on leveraging those leather pants, you can't wear leather pants every day! Cotton trousers in the same color will be just as useful, but more suitable for some situations and climates.
Relaxed? Warm? Versatile? There's everything to love about a down vest!
Time to move to the 2nd neutral – that beautiful brown. I KNEW I was going to include this sweater from the very beginning, because I OWN THIS SWEATER. IN BROWN. SERIOUSLY…. (sometime, I'll post about what I'm going to do with a brown sweater…)
Brown pants – of course. Corduroy for the cold weather is a nice casual option:
Oooh, accent colors! These waffle fabric henley tops are classic, and come in a lot of colors…
Brown cardigan! Note that this doesn't in any way match the brown v-neck sweater from earlier – that's okay because they won't be worn together. You have to remember that a little variety is okay in some pieces, so long as it doesn't interfere with the basic versatility of your "core" neutral groupings. For example, if this cardigan didn't look good with the brown pants, it would be a bad choice…
A skirt isn't included in everyone's casual wardrobe, but one skirt might make sense. If you absolutely can't face the idea of a skirt, this would be the time to try to scare up a pair of dark "tree bark" colored jeans.
And one sort of dressy blouse? Heck yes – it will be smashing with those leather pants, and will give you a way to slightly dress up your otherwise casual pieces.
Fleece – timeless, tough as nails, warm, and available in a bajillion colors – all casual wardrobes should include a piece or two.
These jeans are just about halfway between brown and olive – what a great, subtle color!
That white shirt is looking lonely, so a tee shirt seems a good way to wrap up this wardrobe. Simple, light neutral tee shirts are the easiest way in the world to layer together an outfit.
It all hangs together really well, I'd say!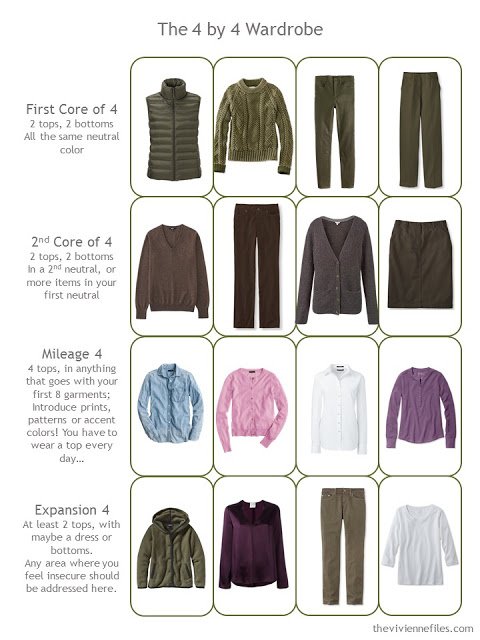 Just a word of warning – if you run across any cold-weather gear that you like, you'd be wise to purchase it sooner than later. Lots of things are selling out at an amazing rate, and spring clothes are showing up in most of the places that I look. It's silly, but we should grow used to it, I supposed…
love,
Janice
p.s. Tomorrow – the accessories!