November 18, 2016
I've never really accepted the idea that women can, uniformly, only wear warm colors or cool colors. I know that for many of us, it's a great guideline for wardrobe discipline, and helps coordinate things beautifully, but I still wonder why someone who loves black and white as much as I do would have gold and orange highlights in their eyes… Oh well, it's a great subject for conversation…
But I think of these things when I look at this painting, which skews two very different directions, color-wise:
I seriously considered sawing the painting in half (metaphorically, of course) and using the bottom half for today, and the top half on Monday for a study that includes grey… But I think we can all manage to focus on the warm tone today, and the cool grey later, without me digitally mutilating the painting!
First up, I was just corresponding with someone who wears warm tones and who wants accents that don't contrast harshly with her neutrals. When you're looking for colors that are more soft or subtle, I might suggest that you keeps your eyes open for the term "soft, dusty, brushed, or powdery" or anything described as a "tone." It's not foolproof, but these are terms generally applied to those colors which have some beige or grey mixed into the core hue, in order to soften it.
For today, I've chosen the gold neutral as an accent, as well as the rose and jade that lurk in the details…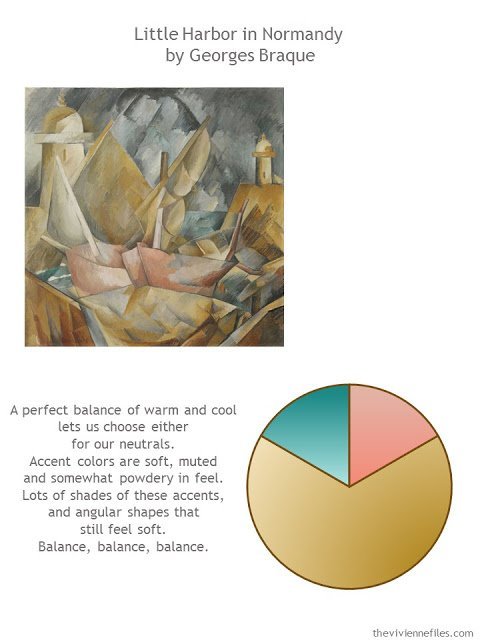 As before, I'm going to use these 9 garments as our Wardrobe Building Blocks. These have the glorious benefit of also being a true "Whatever's Clean" wardrobe…. getting dressed in the dark isn't fun, but it's good to be sure that you look acceptable when you have to do it!
First is that gorgeous gold; this sweater is a perfect example of a garment that shows the color clearly, but with a softened, textured surface that doesn't scream GOLD!!!!And some nice accessories in gold are timeless. We love timeless…
After the somewhat dressy sweater, I thought that a nice cozy fleece top would be a fun addition. Fleece isn't automatically super-casual; with some care, it can serve for most day-to-day activities. Worn with nice trousers, layered over a shirt or blouse, it's really just a sweater in a different fabric, after all.
This rose might be one of those colors that can be worn by almost anyone. That's something to bear in mind if you're tasked with organizing the tee shirts for a fundraiser (for women only, maybe?) or the smocks for the hospital volunteers, etc… And the brushed gold earrings (yes, there's that brushed term) have a teeny rose stone set in them. AND they're geometric, so they echo the angularity of our source work of art!
These are some widely-varying, but still coherent, additions for a capsule wardrobe, aren't they?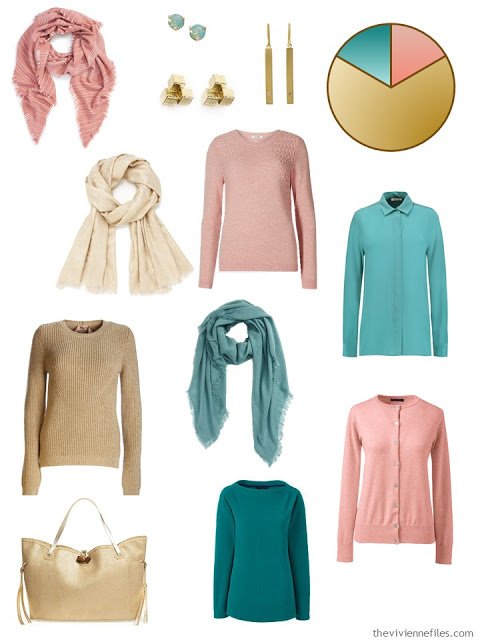 Here's the entire capsule wardrobe, core + additions. As we've seen before this makes a great potential travel wardrobe: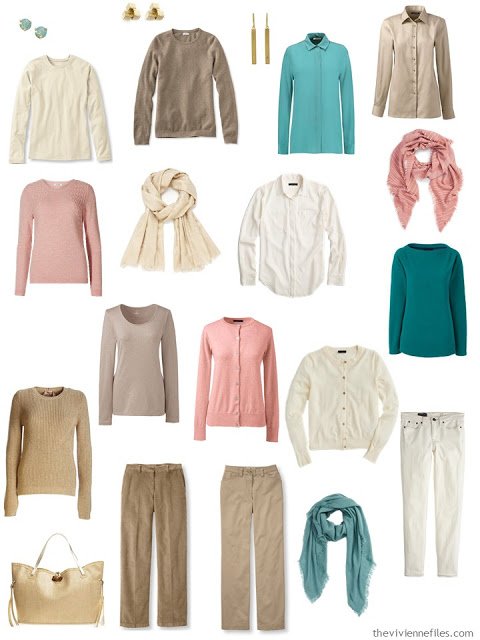 As always, we want to be certain that each of our new garments can be worn in at least three different ways: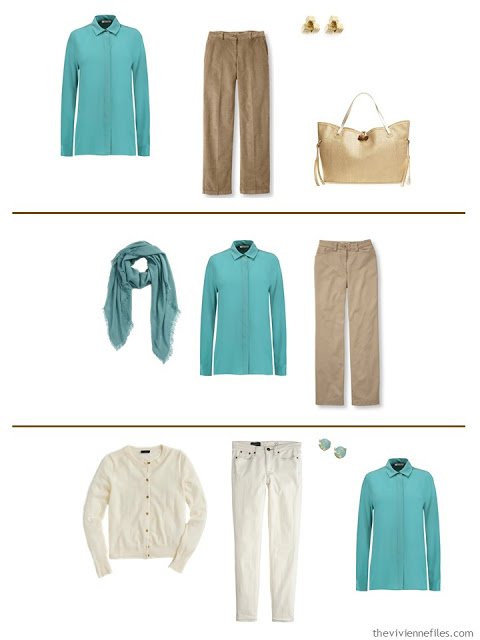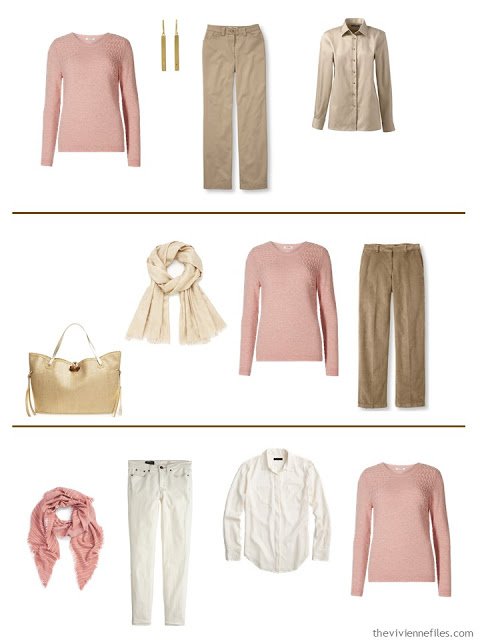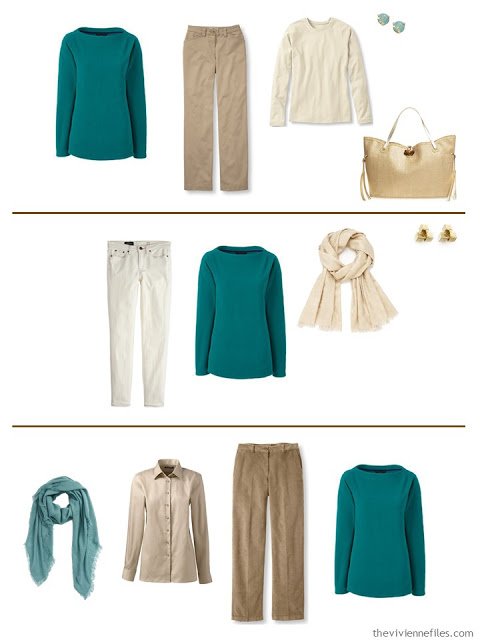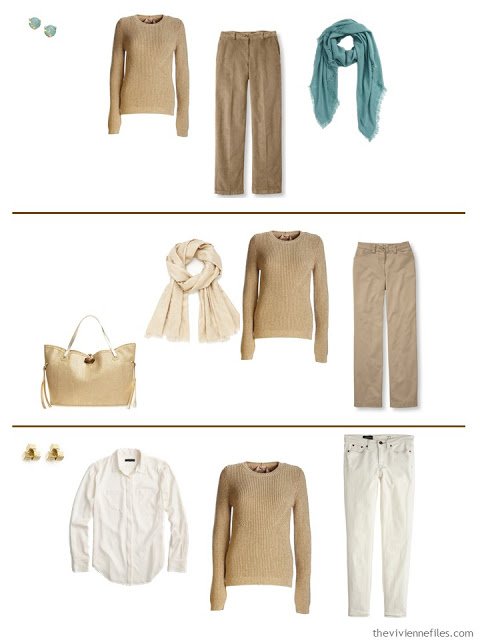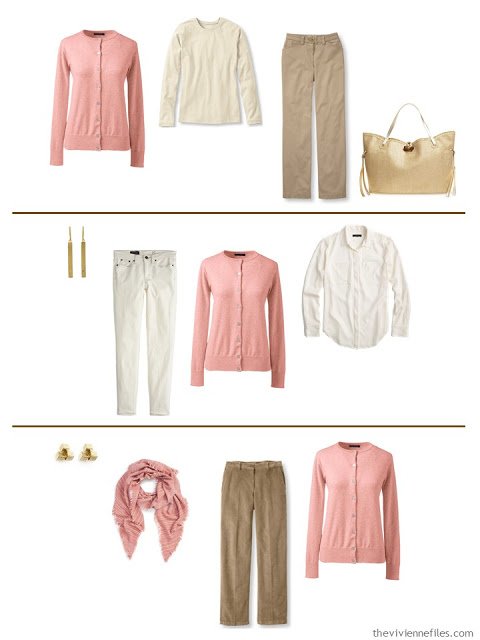 We're going to recycle some of these accent pieces on Monday, and take the wardrobe to a much "cooler" place…
love,
Janice