Dear Elizabeth, who's favorite designer is Vionnet – send me an email at
[email protected]
with your mailing address. You won the Mainbocher exhibit book!So what do you do if you WANT something new, but you really don't need anything? You feel the need for brightening up, for some new ideas and inspiration, for some updated options in your wardrobe… I think it's important to take these feeling seriously, and to act on them deliberately, with a clear plan and established goal. If you just start buying things willy nilly, you risk wasting money, and feeling guilty, and still not satisfying that urge that stems from something vital within you.
How about first find something beautiful to help focus that sort of "all over the place" desire that you're feeling:
Rachel Ruysch was pretty good, wasn't she?My thinking here was of someone who has a wardrobe a lot like mine – long on black and white, with all of the essentials covered. So what you see here, at first glance, is that lovely warm red – and that's going to be perfect with black and white!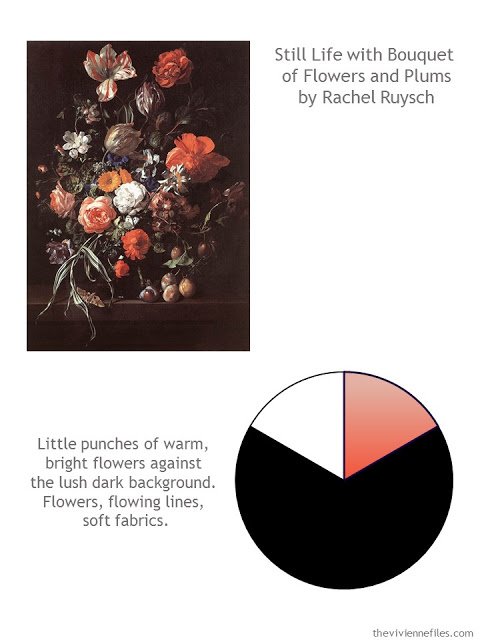 Let's assume that she's starting with these basics: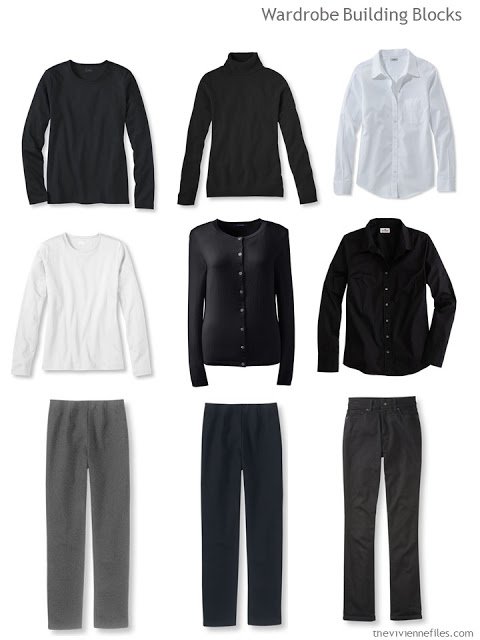 Although I'm writing about the "French 5-Piece Wardrobe," this heroine doesn't need, nor particularly want, to buy 5 pieces of clothing. However, she could certainly buy 5 items…First up, she finds this scarf, which echoes the colors and the feelings of the painting, but has a bit of update – some scattered stars, and a leopard border! (yes, the designer's initials are in the middle, but it's subtle to the point of being unintelligible, so I'm going to roll with it…)
With scarf in hand (physically, or mentally), our heroine start browsing "flower" colors, and when she gets to poppy, she knows that she's found what she wants – warm red, soft, classic, fluid shapes, a good quality and ethically responsible manufacturer. If you can't afford Eileen Fisher at her (sometimes breathtaking) retail prices, I strongly encourage you to look at places like Thredup for her things at lower prices – they don't date, and most of them are beautifully made. When thrifting, her name should be at the top of your list!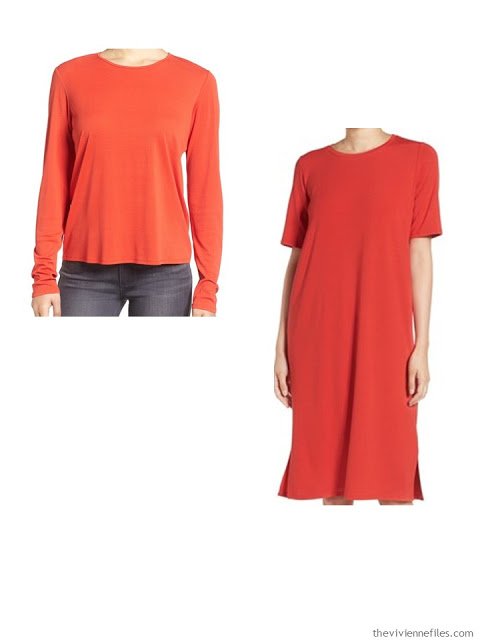 silk tee – Eileen Fisher; dress – Eileen Fisher
And now, because she's only buying 2 pieces of clothing, she thinks that she should make sure to have some really pretty, festive jewelry. (yow, do I have a weak spot for onyx and marcasite…) Dressing up for the winter holidays will be easier, and in the long days after that, these pieces will bring a bit of joy every day.
Oh yes – she's going to check to be certain that she has the right shoes to wear with her new dress…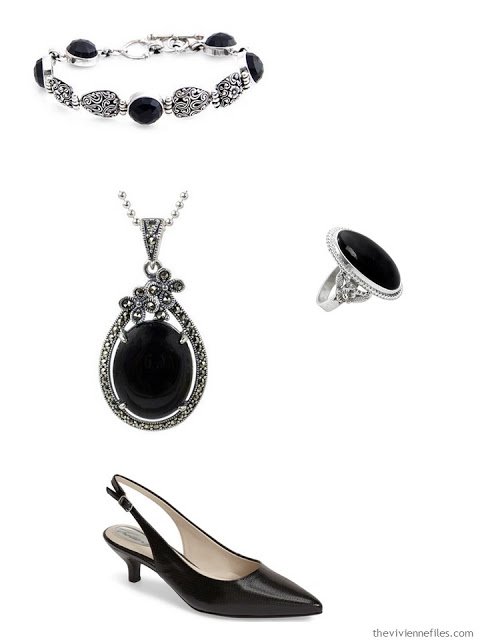 bracelet – Kadek Hendra; necklace – Narinee;
ring – Rafael Antonio Zurdo; pumps – Trotters
So today's "French 5-Piece Wardrobe" (which really is just a fancy Continental way of saying "my autumn shopping spree!) is just 2 garments, and a few accessories. She may not buy all 3 pieces of jewelry; she may already own the right shoes, so that would get us down to the obligatory five pieces.
Obligatory according to whom???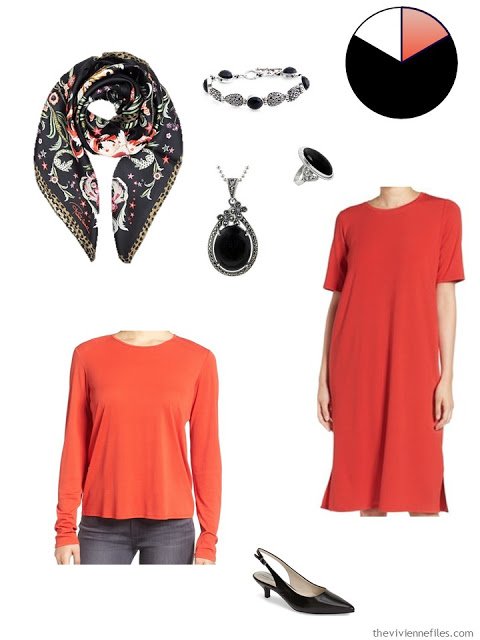 scarf – Robert Cavalli; bracelet – Kadek Hendra; necklace – Narinee;
ring – Rafael Antonio Zurdo; dress – Eileen Fisher;
silk tee – Eileen Fisher; pumps – Trotters
Wouldn't this be delightful to pack for a getaway after the first of the year? Warm enough to be warm, with a pretty dress for a nice evening out…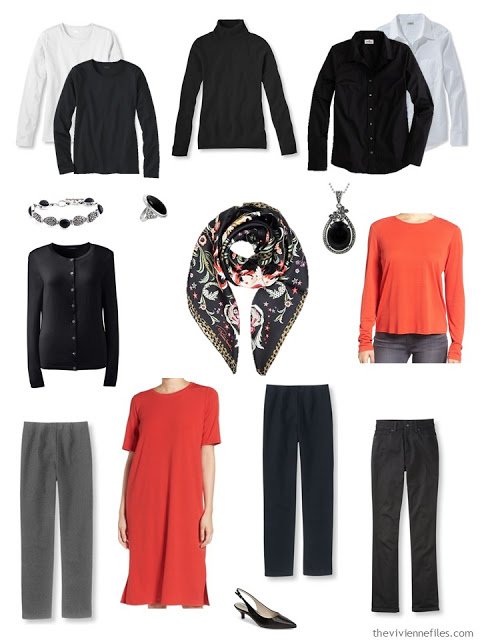 The new additions will help our heroine be prepared for a wide variety of events through the first of the year, or even just for everyday activities that deserve beauty: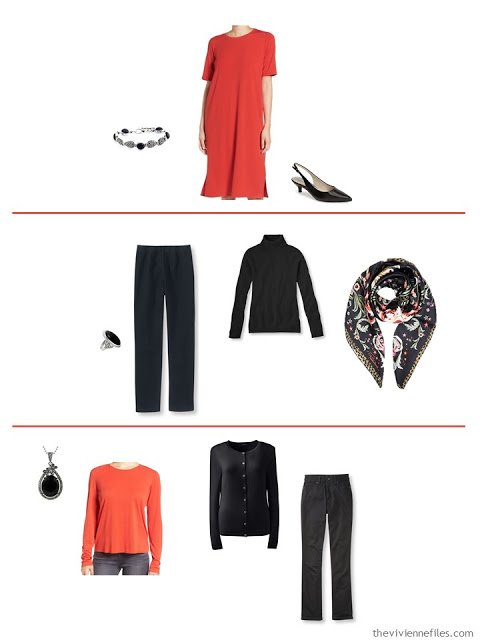 I'm discovering more and more that I don't need a THING in my wardrobe. I'm going to Paris the first week of December, and I don't really have anything targeted for shopping. AND, I'm thinking of making 2017 a Year Without Shopping….
Stay tuned for the decision!
love,
Janice