March 10, 2016
Adding the accessories is fun – I'm going to do a few of these in a row, so we can all see the system, and the cumulative benefits that accrue when you get a nice core of accent pieces, growing bit by bit.Here's where this second "1 at a Time" started: (you can see the original wardrobe post here)
Shoes will ALWAYS be the first thing to make sure you have, for obvious reasons. It's entirely likely that you already have the shoes that you need, but it's always wise to be absolutely certain.
A bag is, to me, the second most important accessory to have. This time I've put the tote bag first…
From those two essential pieces, everything after that becomes much more discretionary! I love a small pair of earrings to give a feeling of polish to even the most casual outfit, so that's what I'm putting 3rd.
Years ago, I sold shoes (yes, I've had LOTS of interesting jobs!), and one of the old wives' tales that proved to be true was the idea that you should rotate your shoes, i.e. not wear the same shoes on consecutive days. So let's try to make our shoes last longer, and introduce a 2nd pair, in a subtle gold, now.
There are a lot of watches available that are lovely, but aren't blindingly expensive. Maybe, if you like wearing a watch, it might make sense to own 2 or 3 of them, including 1 or 2 in accent colors? You could blaze a trail of "anti-status" watches!
Bracelets are as much a source of pleasure for the wearer as for the people around her – every time you look down at your hands, you get a little zing of beauty.
Sandals, or something similar, are great to have in warm weather. If you don't like to expose your toes, there are still plenty of summer shoes from which to choose. I particularly like all of these various subtle textures:
An accent scarf – always useful!
And small accent-colored earrings will be surprisingly useful in this wardrobe:
If you're going to get your 10,000 steps in every day, you're going to want some canvas or other athletic-ish shoes…
It might be much more practical to buy a beige handbag for this wardrobe, but there are so many beautiful blush bags available this year, there was no way I was going to pass them up.
Using an accent color as inherently pretty as blush sort of suggests a floral scarf, maybe?
If you're only going to put 1 necklace in your capsule wardrobe, make it a cool one! Sometimes, a completely neutral outfit looks more complete with just a single accessory addition.
Never forget your sunglasses! Blush glasses on your face serve almost as a cosmetic, don't they?
Couldn't you travel for a couple of weeks with this? You could turn New York City (or any big city), and all of their black, completely on their collective heads if you wore this. What a breath of fresh spring air you could bring!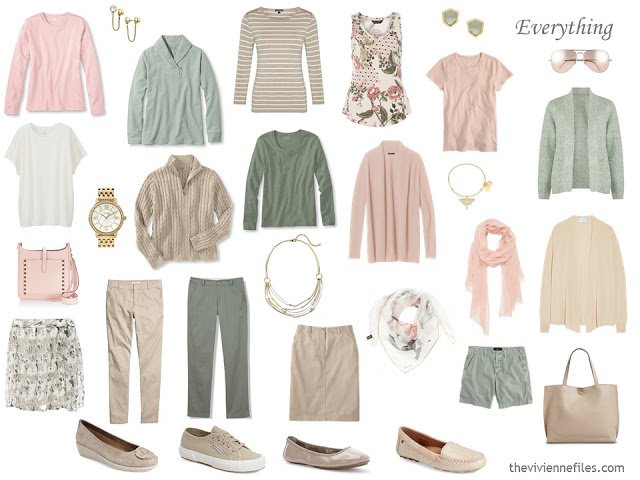 love,
Janice