March 9, 2016
I promised you accessories, and I try to always keep my promises! My plan is to take a representative outfit from each step of the wardrobe built earlier (this one is here), and then show a few choices for accessories. It will make more sense once you see it in action, I hope…
This was the "starter outfit" for the wardrobe in question. The first accessory needed, without exception, is shoes! With warmer weather coming, mules could be a fun choice, but there are those among us who are devoted to their driving mocs, or their ballet flats, so those are also possibilities.
For most of us, given the lack of pockets in our clothing, a bag is essential. I was trying to find a mid-sized, classically styled option here.
I know some of you never wear earrings, but I'm including them as the next accessory because many of us feel naked without them! If you're not an earring person, this is a wild card moment for you – any jewelry? scarf? another pair of shoes???
Although navy shoes would be fine with this particular outfit (since it has the dark cardigan to balance the shoes), I'm going to take this opportunity to introduce a pair of casual white shoes. Nothing too dressy; white dressy shoes wouldn't be at all right with this wardrobe.
Many of us don't wear a watch any more, but I still find that they can be lovely, and can act almost as a functional bracelet. If you wear a sport monitor gizmo, it's always work checking to see if it is available in colors that work with your wardrobe; many manufacturers are beginning to realize that everybody in the world does NOT love black rubber bracelets.
Speaking of bracelets, this is a good time to pick up a nice bracelet. Consider wearing it on the same arm as your watch…
Another pair of shoes – definitely time for sandals, if you're a sandal person. But if you prefer to keep your toes under wraps, ballet flats or espadrilles both look nice with summer skirts.
I have strong feelings that everyone should own a solid scarf in their accent color; here I show you three options:
More jewelry! Maybe a pair of earrings that are just a bit dressier, or make a bit more of a statement?
Warm weather just doesn't seem right without a pair of canvas shoes – and wearing a pair with a skirt is a good way to be both dressy and casual. It's great to confuse your friends…
Our handbag purchased earlier is great, but sometimes a heroine needs a tote bag:
One last scarf, in the dark neutral:
Summer isn't necessarily the time to wear pounds of jewelry, but a pretty necklace could be useful…
Self-care demands sunglasses! Don't skimp here; your vision is terribly important…
You can now see how very well this wardrobe will work – there are dozens and dozens of possible outfits here. The addition of a couple of tee shirts might be all that's needed to round out the entirety of your warm weather wardrobe!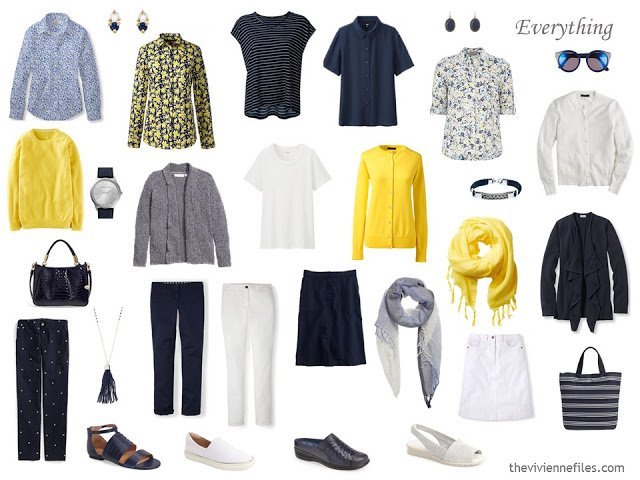 love,
Janice