March 8, 2016
I knew that I had more black and grey wardrobe requests, so I thought I'd jump on another one right away and see how much difference a change of accent colors would make.First up, the hypothetical starter outfit:
It's a pretty somber outfit, but when you drape the scarf over the shoulders of the cardigan, or loop it insouciantly under the collar of the shirt, everything changes!
Although this outfit includes an Hermes scarf, I imagined that this was being put together for a woman who really needed some more casual clothes. First up is to consolidate a solid column of black, as well as build a sort of fake twin-set in black.
Here's where we start getting much more casual – a nice sweatshirt! So long as you don't look like you just rolled out of bed, there's no reason that you can't wear a sweatshirt in public. There's nothing inherently wrong with the fabric, nor the cut of the garment. This one comes in some very pretty pastels, too!
Jeans! While these look like they could be worn by the man on stilts, in the circus, they in fact come in 5 different lengths. I don't understand why photographs can't more accurately convey the nature of a garment to a potential buyer…
Fun tee shirts are important in a casual wardrobe:
As is a snuggly cardigan:
Since the original shirt in our wardrobe was a light grey, that's a logical color choice for a pair of casual pants. If you need to dress up just a bit, the matching shirt and pants are a good base. If you feel more casual, tee shirts and/or the sweatshirt will go with these, too.
There are enough basics here now that we can easily support a fun casual top, especially when it includes shades of grey, cobalt blue, and touches of black!
I can't imagine a casual wardrobe that uses grey as a neutral, without a grey sweatshirt. This one is an interesting variation on the traditional design, in that it provides for some cinching in the waist!
If sweatshirts are necessary, then shorts might be a step too far, but maybe a pair of capri jeans would make sense. It's important to try these on and make sure that they don't make you look stubby. I see a lot of really wide-legged cropped pants right now, cut off at really ugly points on the model's leg, and the coupled with chunky, thick-soled shoes. If you can make a professional model look dumpy, you've really gone awry, fashion-wise….
There was no way I was going to miss the chance to include a striped tee shirt here! The blue and white version is classic.
In a similar vein, any top that includes black, and both of our shades of grey, is worth consideration. I wish I could have found a better photograph of this, but I felt that it was a sufficiently excellent garment (at a banging markdown!) that it made the "Vivienne Files" cut.
It's always important to have enough simple, neutral tops to avoid having to do laundry constantly. (which is wasteful of electricity, water, and your time). Realistically, this wardrobe would eventually include short-sleeved tee shirts in black and white, too.
Yes, you've seen this skirt before, but it's a great idea, well-executed. It doesn't exactly match the sweatshirt from above, and I think that's fine – sometimes things don't have to be a perfect suit.
This is another wardrobe with a wide range of moods, from jeans and a sweatshirt, up to a nice silk tee shirt that can be worn with simple pants and a classic cardigan. For a mostly casual life, that still included a few dressy moments, this would be a great way to dress!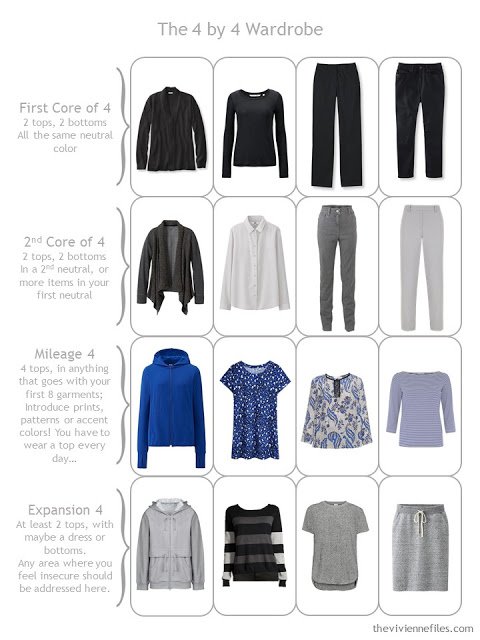 love,
Janice