I thought that this would be challenging, but I really enjoy the options provided by including both black and grey with these soft accent colors: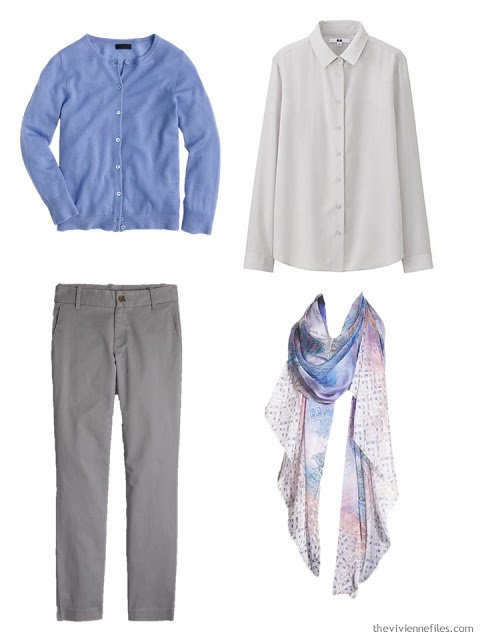 cardigan –
J. Crew
; shirt – Uniqlo;
If you like florals, I can't encourage you enough to look at products from Ted Baker London. While not inexpensive, they are SO beautiful, and you really only need 1 piece to be the starting point, and the lynch pin, of a beautiful wardrobe.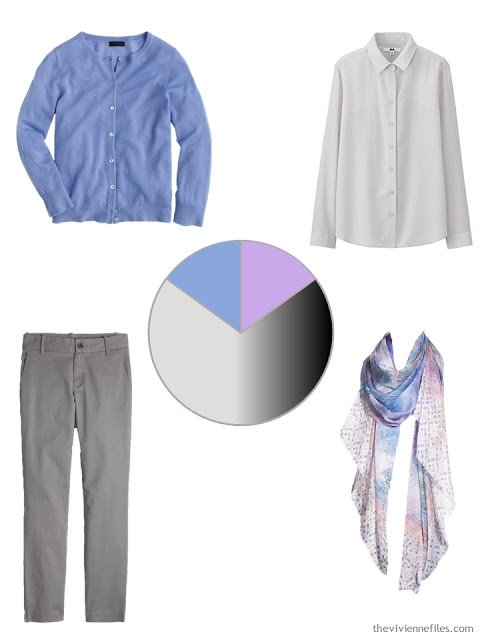 cardigan –
J. Crew
; shirt – Uniqlo;
While my first inclination was to buy the sweater to match the cardigan, I thought that instead I'd invest in another piece in grey. These pieces, although they are 3 different greys, all work well together.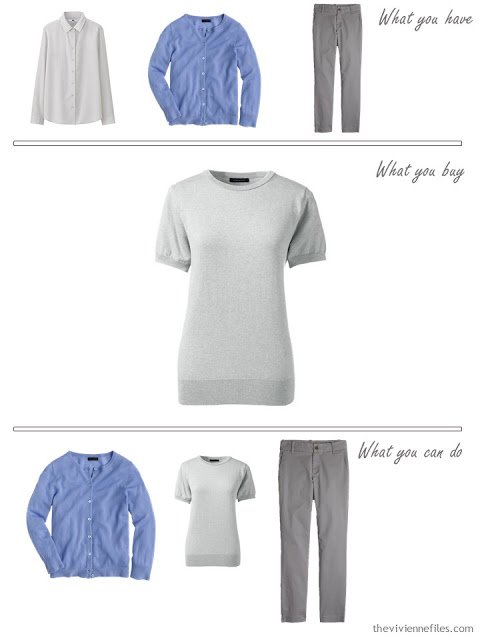 Introducing another grey piece gives you that sort of "suit-like" idea that you get when a cardigan or jacket matches a pair of pants or skirt. Because the fabrics are different, the colors just need to go well together, but not necessarily be a perfect "dye-lot matched" pair.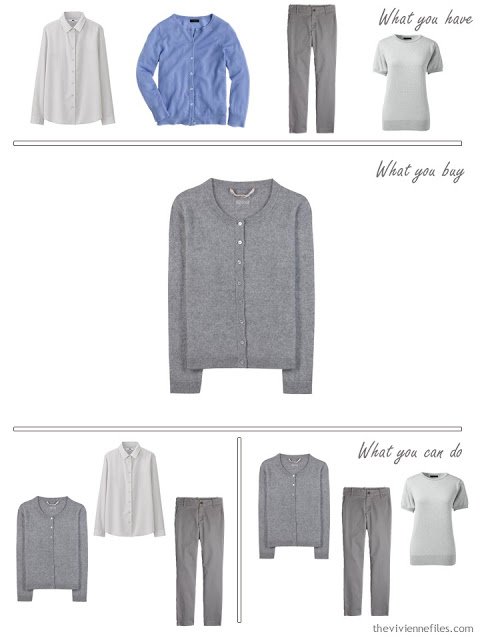 Basic pants in your darkest neutral color are always important, so I chose to introduce them pretty early in this wardrobe.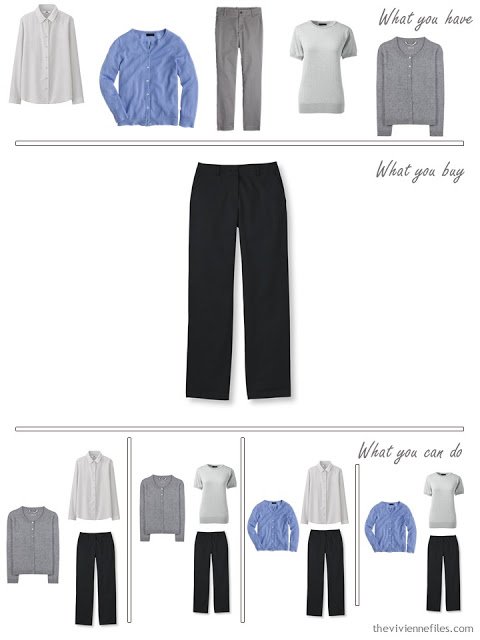 Irresistible…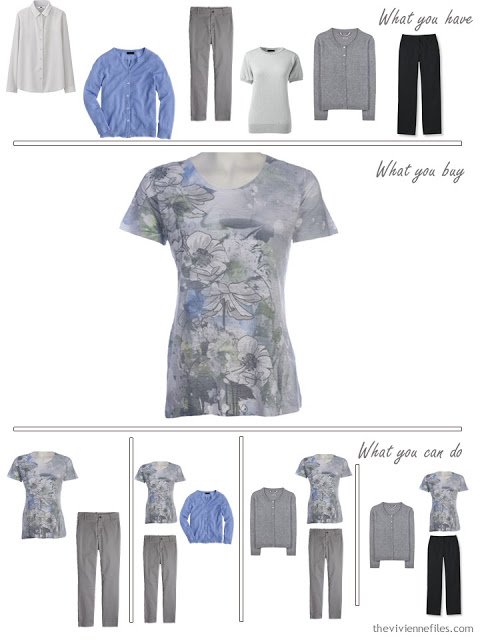 It's fun to mix up the cuts of your cardigans or jackets, so long as you stick with silhouettes that you like, and that you feel comfortable wearing.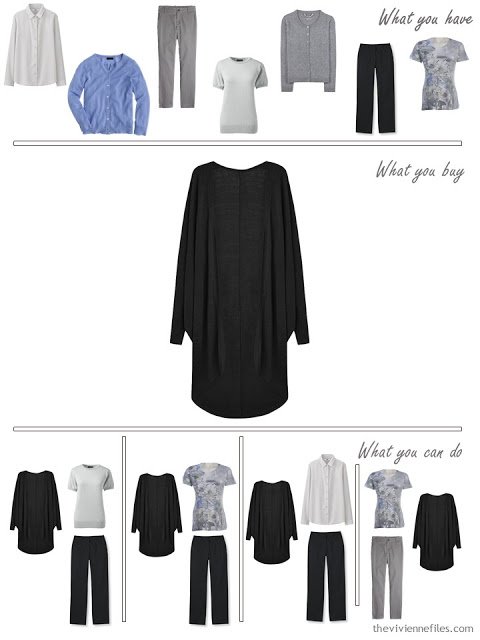 Another piece with real whappage, but I have to rant for just a minute: would it be SO difficult for vendors to include just ONE photograph of the garment, all by itself, so we can really see what we're getting? On a model, you're never sure what's happening behind the scenes. Still, this skirt was so perfect that I made an exception… however, we're stuck with this tilty photograph. Sigh…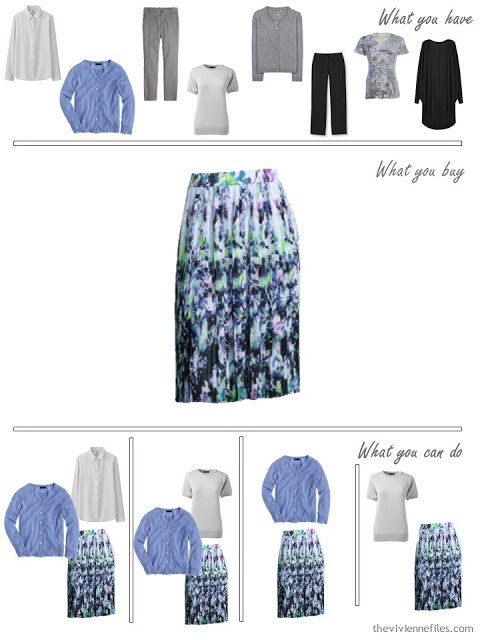 I know I've said it before, but it's always a good idea to get these kinds of pieces that match ones that you already own, even if you'll never wear them as a twinset. I could easily see this worn as a vest over the grey shirt, or a cream blouse.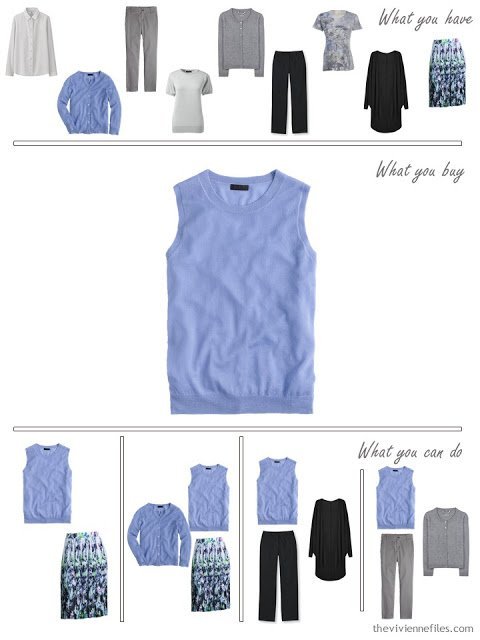 Ah, let's tackle that 2nd accent color. Lilac is so lovely for spring…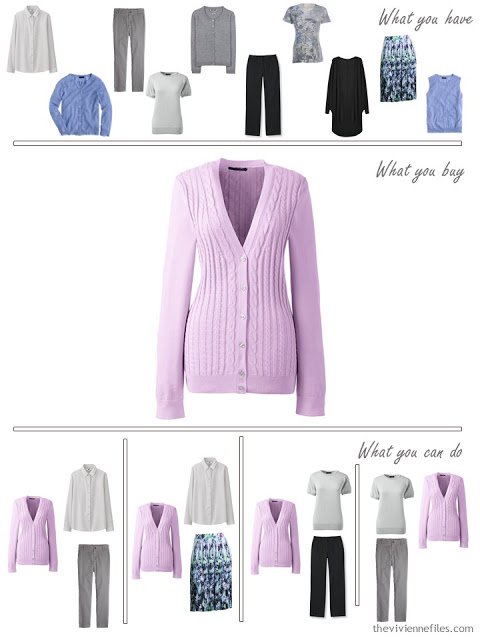 This is a case of whappage gone almost haywire. This is a blindingly expensive skirt, and I think there are only a few of them still available. But I wanted to show it because (a) it's lovely, and (b) it shows the kinds of items that are available if you keep your eyes open. When you have a specific, short shopping list, these kinds of items will jump off the page at you when they are available. Just check your favorite stores, or favorite websites, monthly (really, a lot of places only update their inventory once a month) and look at "What's New."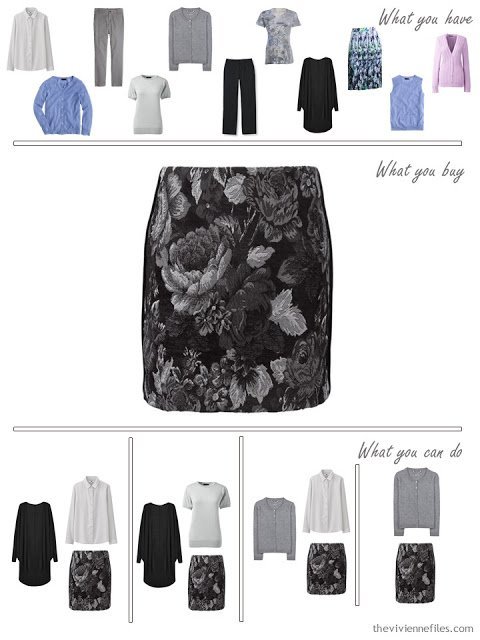 With all of the printed garments we have, a nice workhorse black top, in silk, should be wildly useful!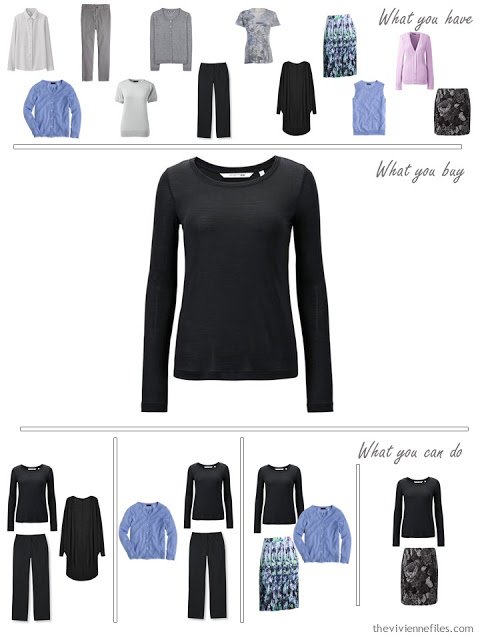 Tee – Uniqlo
Yes, this is the same color as the cardigan. It serves a similar role in your wardrobe as the cardigan, but has a rather different feeling. I'm not sure if the cardigan or the sweater is more dressy…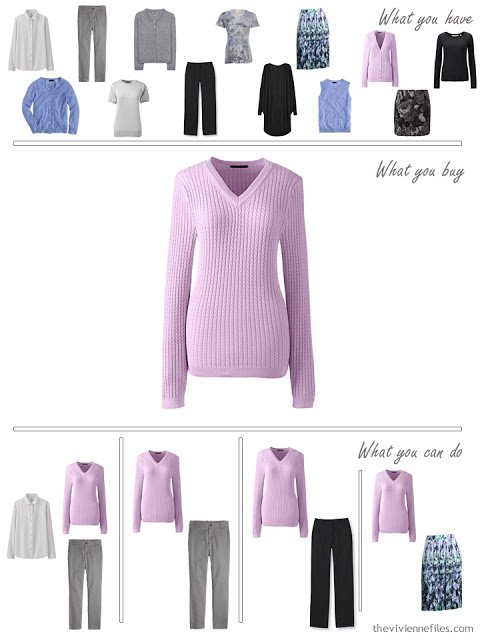 It's the same color, but a lighter shade! Keep these kinds of choices in mind when you're building your wardrobe. I think mixing shades is an interesting way to use an accent color.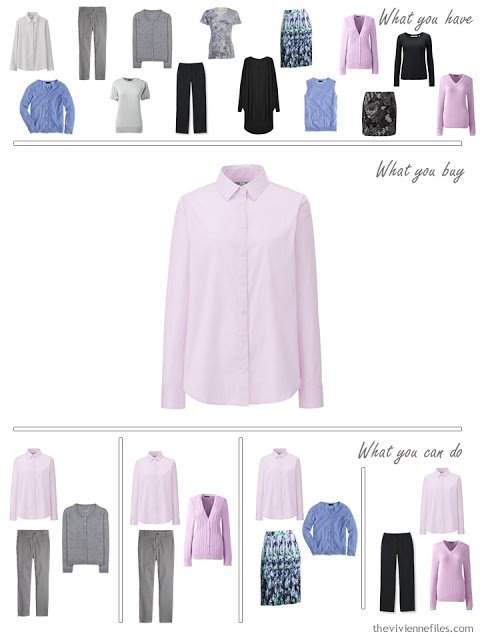 Shirt – Uniqlo
This is a great skirt! I have it in black, and when I was in Florida a few weeks ago, I wore it every other day. Comfortable, but still a skirt, and the diametric opposite of the floral skirt already in this wardrobe – why not?
This turned out well – not too many prints, and enough variety to allow you to dress in solid black one day and then put on a pastel blouse and floral skirt the next day. That's a wide range of mood for a 16-piece capsule wardrobe!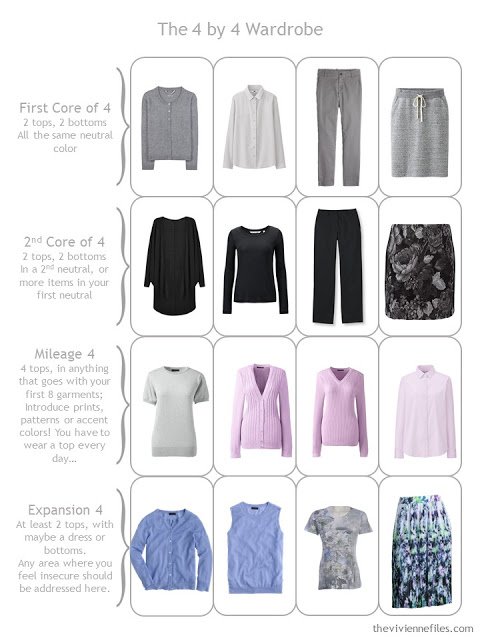 love,
Janice