Sometimes, the Internet behaves badly….
Well, let's be more specific – my connection to the Internet can often be disrupted by things that happen in Chicago, or that happen in my (VERY large) building, or that take place in the phases of the moon which govern our connectivity to the rest of the universe. (this last issue might explain why I personally am often stymied about how to get things working again!)
At any rate, sometimes I have NO ability to comb through the world of online merchandise, searching for the perfect tee shirt or scarf. It is during these times that I play with PowerPoint…
PowerPoint is ideally suited for making fun graphic images, especially those that use standard shapes that are arranged in essentially geometric systems. You can resize things, change colors, and just generally go nuts… and when you're through playing around, you can put PowerPoint on your resume!
If you come up with a design that you like well enough to wear on a tee shirt, nothing could be easier, if you have an ink jet printer. Light-colored printer transfer paper is readily available (here), and if you want to put a transfer onto a darker-colored top, those transfers are also easy to do (paper available here.)
A couple of years ago, I bought a wonderful cardigan in Amsterdam – fluffy grey alpaca with stars woven into it. Recently, I've started wearing tee shirts with stars on them. So I thought I'd design a few of my own!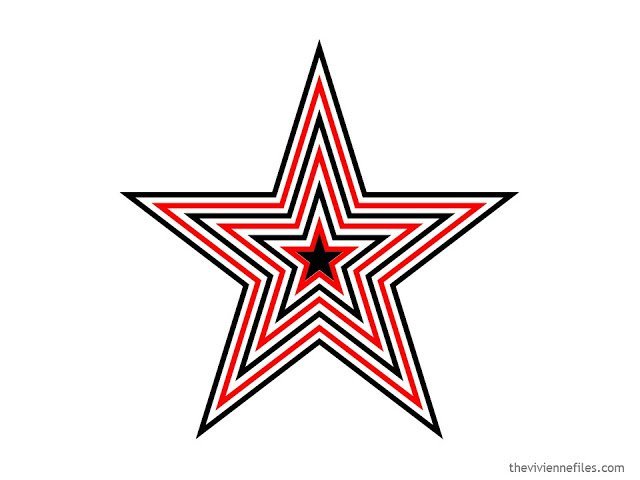 While this looks a great deal like a smile, these stars should arrange neatly around the neckline of an L.L.Bean size medium tee shirt. I intend to find out. (These are what I think I'm going to use…)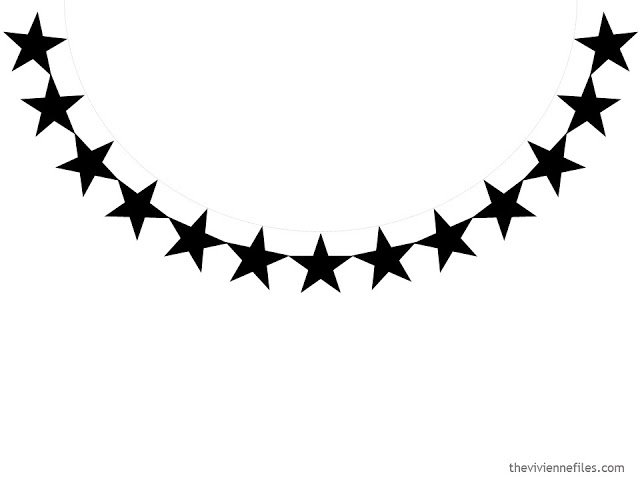 If you "right click" on these images, you should be able to copy them into a document and print them for yourself. Or of course, if you get stuck, send me an email (the[email protected]) and I'll send PDF's to you.
Now that the Internet is back in gear, chez moi, I'll get back to finding some lovely accessories…
love,
Janice