March 12, 2016
Remember this wardrobe, viewable
here
? Time for some essential accessories!
Start, as always, with some shoes in which you could do serious walking:
This time, you might prefer a small bag:
I will always have earrings as the 3rd step, but from here on, the order of choices, and the overall numbers, are entirely up to you. If you want to have 3 pairs of sunglasses, go for it!
I love the range of off-white shoes that are available. Since the materials are very different from those of your garments, the colors don't have to match exactly, but they should be in the same color family. It's easy to wander into the "too grey" crowd if you're not careful; take your trousers with you when you go shoe shopping!
I can personally vouch for the quality of Skagen watches – I had one, years ago, that was stolen in the big "jewelry burglary." It sounds much more dramatic than it really was…
Here's another case of looking for a sort of scarce color – not a true bright red, but almost… If everything looks good when you get it all on, perfect matches aren't required…
Sandals, espadrilles, or ballet flats?
Even in the hottest weather, you can tie an accent scarf to your handbag!
These colors, worn near your face, would flatter almost everyone, don't you think?
More canvas shoes, or similar; I really do consider these pretty essential unless you live the dressiest of lives.
The sequin-trimmed tote is quite the status symbol in Paris! But I think with this wardrobe it's a whimsical option. And I have to mention that the navy bag is available in a BUNCH of colors…
Sometimes a simple dark scarf ties things together. And yes, I would definitely wear the plaid scarf with the striped cardigan. They share a color palette, they both include a graphic/linear pattern, and I think they would look great together.
Maybe the only necklace you wear all spring and summer is a signature pendant.
Always last, but NEVER least, the essential sunglasses. Don't skimp here – they're too important to your health, as well as your beauty!
A perfect wardrobe for someplace that has warm days and cool nights, or otherwise unpredictable weather. (This would be great for July in Dublin…)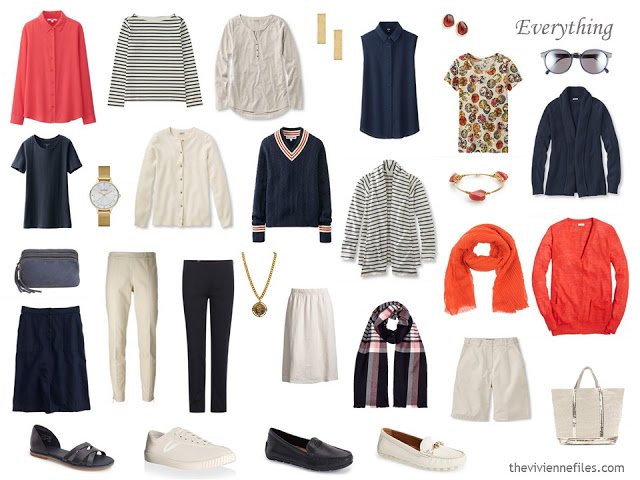 love,
Janice