March 14, 2016
Maybe it's the unseasonably warm weather here in Chicago, but this wardrobe felt very summery to me…
We always have to start out with a couple of basic, essential accessories…
I thought that I'd introduce some pearls here – to pick up on the pearl/off-white color of the cardigan. I like to tie outfits together through these small, but powerful, little color "echoes."
Theoretically, this particular outfit would be better balanced with dark shoes, but I'm assuming that you're going to carry a dark bag, which will serve the same purpose. Let's not go completely nuts trying to do everything perfectly!
If you're an avowed "watch avoider," you can always just buy a gorgeous bracelet!
Speaking of bracelets, I particularly like the idea of a bracelet with a seashell on it if your wardrobe is going to be worn near the shore. Or to be worn while dreaming of being near the shore?
Strong colors that are more difficult to wear near your face could always be a possibility for a fun pair of summer shoes; you don't have to invest a fortune, and you can wear them frequently to accent your more neutral basic clothes.
Accent scarves needn't be blindingly expensive either. If you like to change your accent colors every year or two, it's good to remember that some scarves are very reasonably priced.
Turquoise is interesting as an accent color – the shades of it are all over the map! But so long as you blend things well, accessories don't have to be a "dye-lot perfect" match.
For a comfortable walking shoe, I looked at a wide variety of things – deck shoes, comfort-built loafers, and of course my favorite classic tennies.
Summer tote bags come in SO many different options; even if you're not carrying yours to the beach every day, you can still channel a feeling of leisure in your bag.
Neutral and solid-colored doesn't have to mean boring:
More pearls, and mother of pearl. Both of these materials feel summery to me, and certain have a strong sense of water and the ocean.
Time for today's lecture about the importance of sunglasses!
This wardrobe could take you places, all summer long. I know that I'm going to Vermont, and Florida…. where are you going this spring and summer?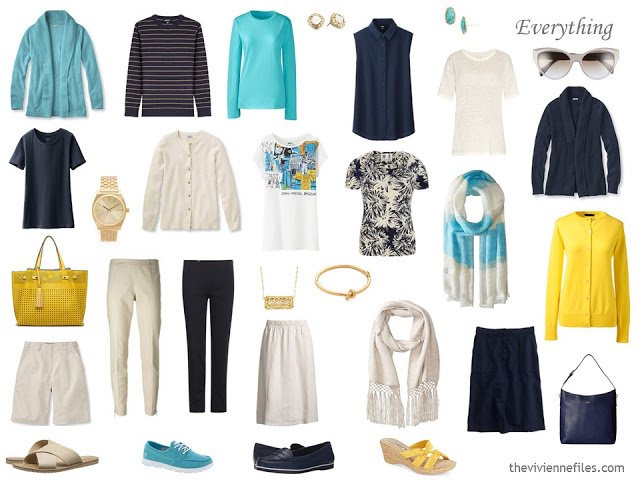 love,
Janice