February 2, 2016
The minute I saw this scarf in the store, I knew I wanted to use it here on The Vivienne Files, so you all could see it too:
He's got green eyes! The colors, and the details here, are just gloriously beautiful. I always particularly admire the contrast edge on a scarf, because it's pretty, and because I can't even imagine how difficult it is to silkscreen that part, and then roll it and hand stitch it so perfectly. Artisan genius… and it comes in other colors!
The range of possible colors that can be used here was pretty impressive, and a bit unusual. Hermes can always be counted on to come up with color schemes not seen elsewhere.When I do capsule wardrobes like this, please bear in mind two things:
I don't expect that the whole world is going to use Hermes scarves as their starting point for a capsule wardrobe. The range of possible items that you can use as your focus and inspiration is vast; don't limit yourself when you're looking around our planet for beautiful things to spark your creativity.
I strongly don't suggest that you buy an ENTIRE new outfit every month – that's way too much consumption for our planet to sustain! You should be looking to use items you already own, and you should plan to reuse things that you buy – especially things like neutral tops and bottoms, or great shoes.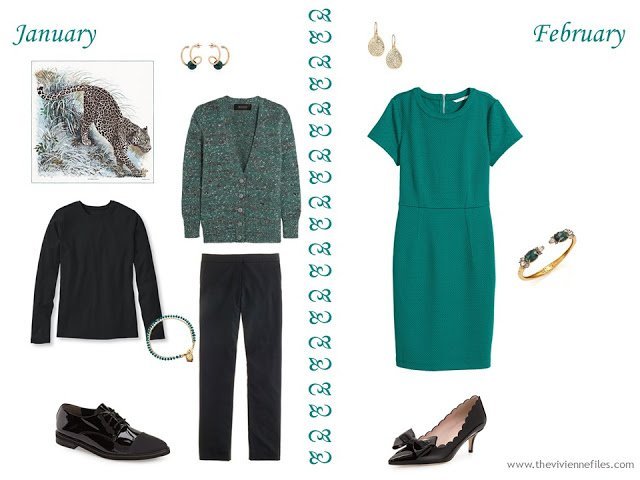 Scarf – Hermes; tee shirt – L.L.Bean; bead bracelet – Astley Clarke; oxfords – Paul Green; apatite earrings – Uribe; cardigan – Gucci; pants – J. Crew; teardrop earrings – Alexis Bittar; dress – H&M; cuff bracelet – Alexis Bittar; pumps – Kate Spade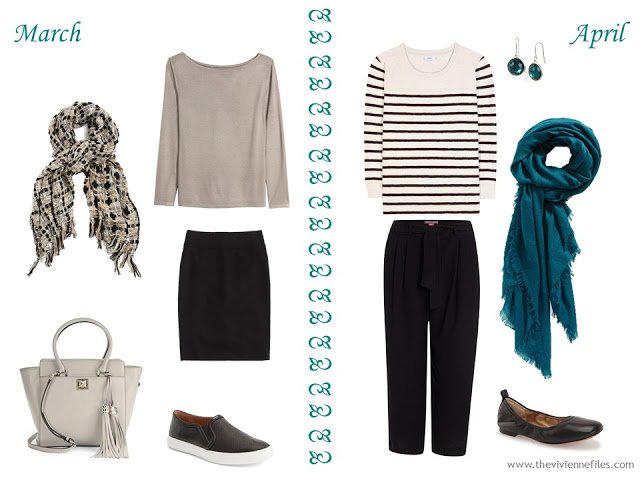 scarf – Renee's Accessories; tote – Karl Lagerfeld; tee – H&M; skirt – J. Crew; slip-on shoes – Halogen; striped sweater – Closed; black culottes – Vince Camuto; scarf – Nordstrom; earrings – Ippolita; ballet flats – Marc Fisher LTD

Earrings – Charter Club; dress – IDLF Uniqlo; tote – Whistles; sandals – OluKai; sleeveless top – L.L.Bean; cropped pants – L.L.Bean; jacket – L.L.Bean; scarf – Mark & Graham; sandals – Birkenstock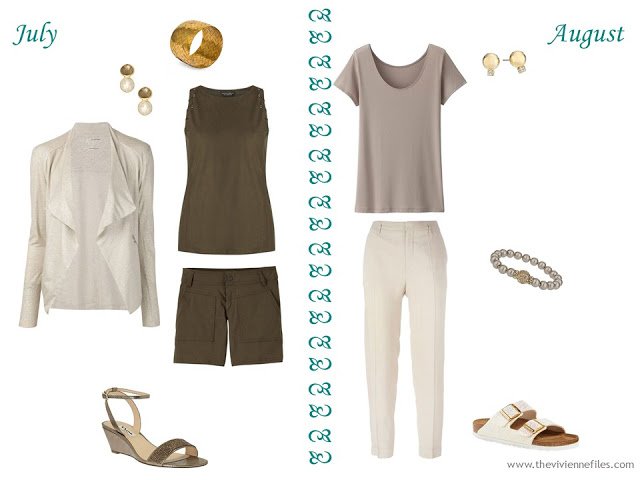 linen cardigan – Majestic Filatures; earrings – Cole Haan; cuff – Lupita Betancourt; sleeveless top – Dorothy Perkins; shorts – Prana; sandals – Nina; tee – Uniqlo; earrings – Vince Camuto; pants – Maison Margiela; taupe bracelet – Wallis; sandals – Birkenstock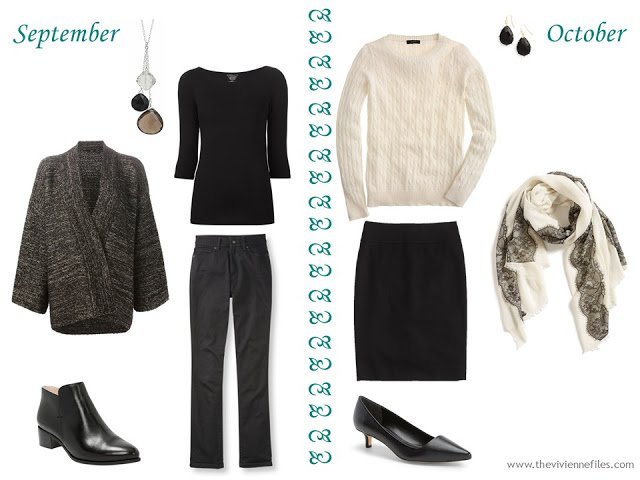 Necklace – Ashanti; tweed jacket – Stills; boots – Clarks; tee – Majestic Filatures; jeans – L.L.Bean; sweater – J. Crew; earrings – Panacea; skirt – J. Crew; pumps – Charles by Charles David; scarf – Nordstrom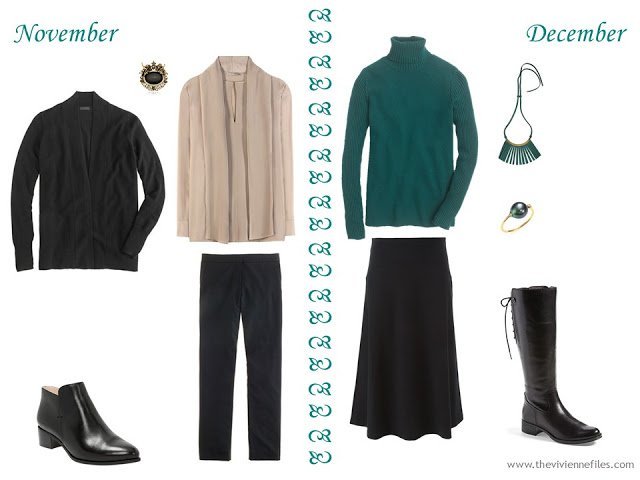 Cardigan – J. Crew; brooch – Forzieri; blouse – Bottega Veneta; pants – J. Crew; boots – Clarks; sweater – J. Crew; skirt – MICHAEL Michael Kors; necklace – Marni; ring – Mizuki; boots – Bussola

Someone asked about how many pieces of clothing this comes to at the end of the year – and it's a nice, tidy 25!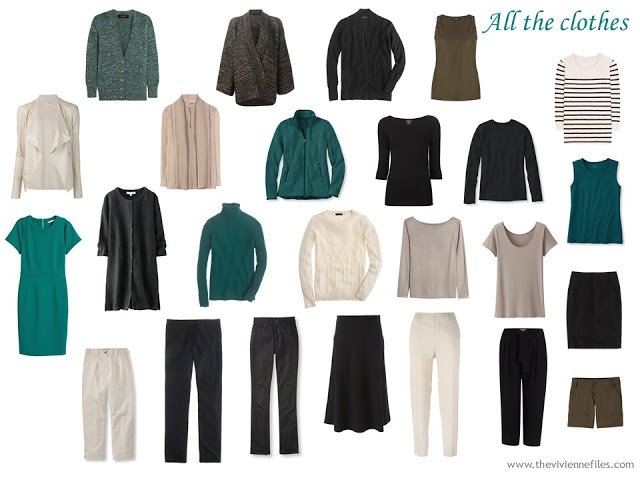 And I didn't count the accessories – you can be pretty flexible about how you work with accessories, in order to show your personal style. Some of us are always wearing scarves, where others of you might be more drawn to tons of bracelets. Choose your favorites, and express your preferences!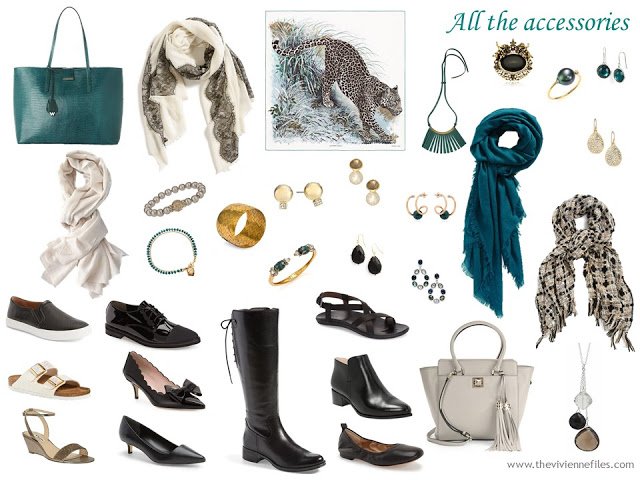 It would be remiss of me to fail to mention that a portion of the revenue from the sale of "Panthera Pardus" will go to support an organization called Panthera. It was founded by Robert Dallet, who was an artist with Hermes, and who devoted his life to studying, drawing and protecting wildlife. Beautiful things, supporting beautiful animals….
love,
Janice