May 8, 2015
You ask, I deliver! This very beautiful scarf, from the company Radical Chic, with a color scheme that emphasizes the rosy tones, and the grey base:
Today's core of neutral is quite a bit dressier than the light brown from yesterday; maybe you have more work on your agenda, or the tone of the vacation is dressier. I would think that the Orient Express could justify a skirt…
I kept yesterday's white linen separates – most because I'm smitten with the dress! And while white trousers can never be true workhorses of your trip, they do bring a summery beauty to a travel wardrobe.
Of course, here's where the fun is! But I think we can all agree that finding subtle colors, that don't scream PINK or PURPLE, is difficult. Sometimes it's frustrating how very cheap and uninteresting clothing can be…
Another handbag to make you distracted with desire… Given the floral nature of our scarf, a pair of beautiful earrings with a floral theme seemed a natural choice!
Just setting out these items to pack would make me smile:
And to have all of these choices would make an elegant luxury trip just a little bit more elegant, wouldn't it?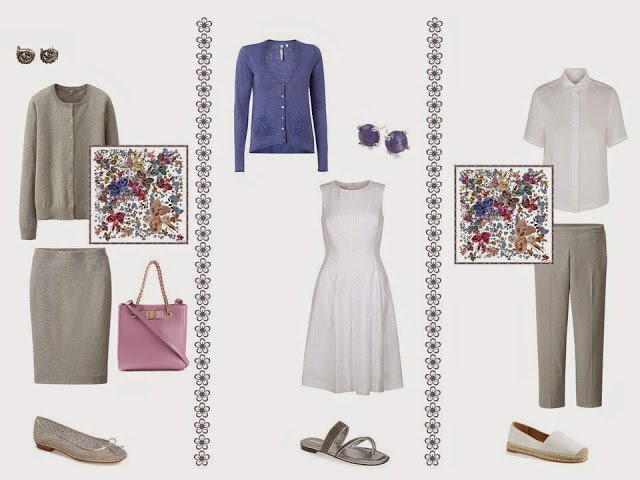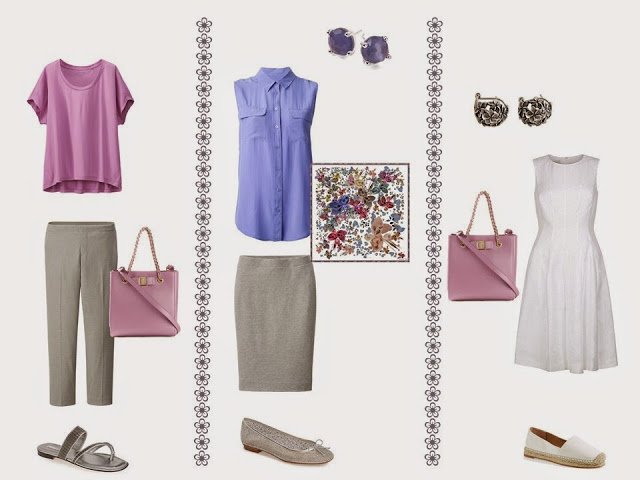 Those of you who were clamoring for a red handbag, integrated into a wardrobe, don't worry! It will be here tomorrow or Monday…
love,
Janice
Looking Back:


2014: Start with Art/Scarf: Dark Pool version 2
2013: Turquoise & Orange: A Packing Capsule based on Hermes Fleuri de Provence