September 30, 2022
Why yes, Pantone found additional colors at New York Fashion Week…
Which is fine with me, because I could look at accessories 'til the cows come home! And since I live in the city, that would be forever, right?
Let's start with this classic red; yes, this scarf is an investment. But you could wear it at least once a week during cool weather, for the rest of your life. I'm finding that I have some scarves that 20+ years old, and that I still adore.
I've chosen ivory (Winter White?) and beige as our wardrobe core colors to "test drive" this batch of accent colors. While I wouldn't wear white pumps in this lifetime, I know a LOT of women who wear them through the year and look just lovely.
And for those of us who don't wear skirts, I thought that beige would be just fine with jeans and cords. One need never wear a skirt, you know! (this from a woman who has worn a dress for 29 days in a row, and who plans to wear it for another 71 days!)
Red and ivory – I would wear this every day of December, and quite a few days in February! And any other time I wanted to, frankly. Just a little bit of red makes everything feel festive…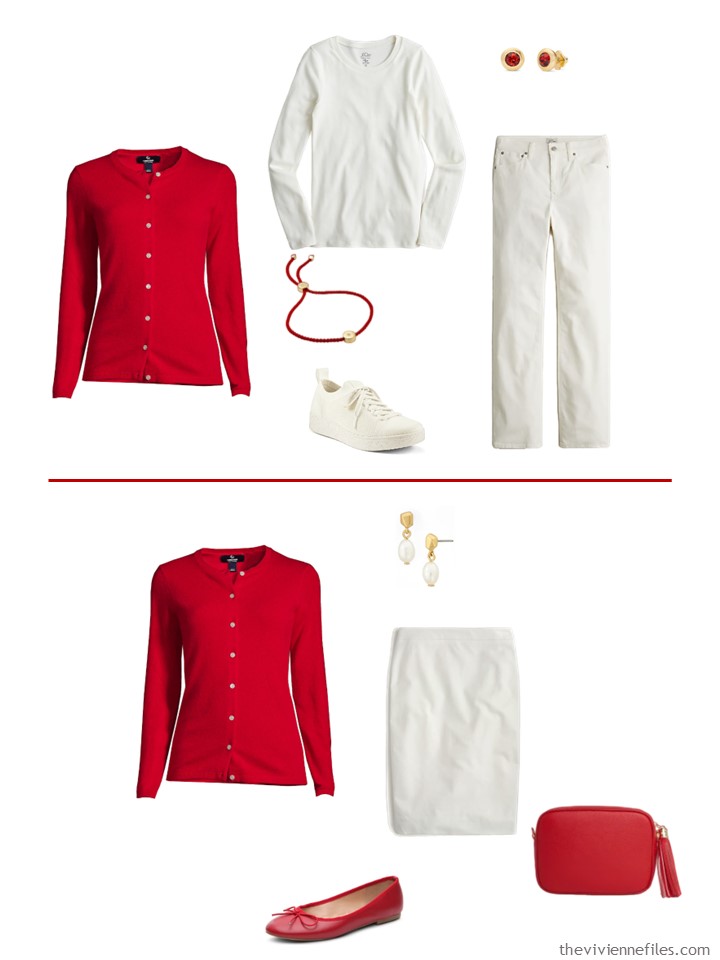 And on days when you want to brighten up beige, red will do it. And in case anyone thinks that your jeans are too casual, dazzle them with a gorgeous scarf!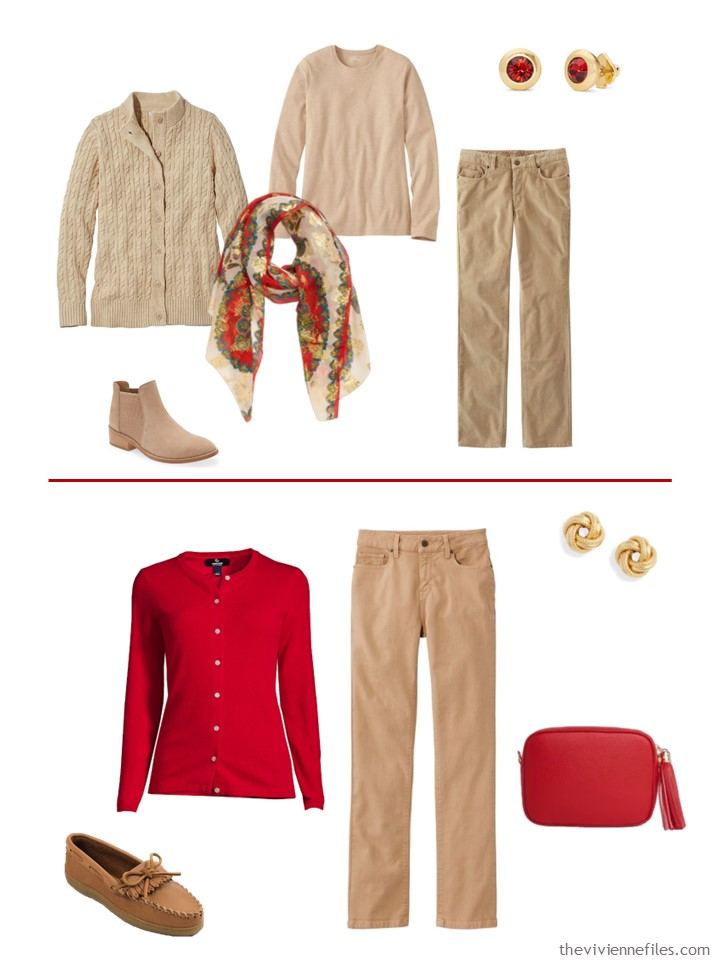 Here's a chance for me to remind us all that when we struggle to find a particular object in a particular color (like a lovely handbag in Crystal Rose), consider something metallic! It often saves the day when you're not sure what to wear…
I know a beautiful blond who could wear this and look like a princess: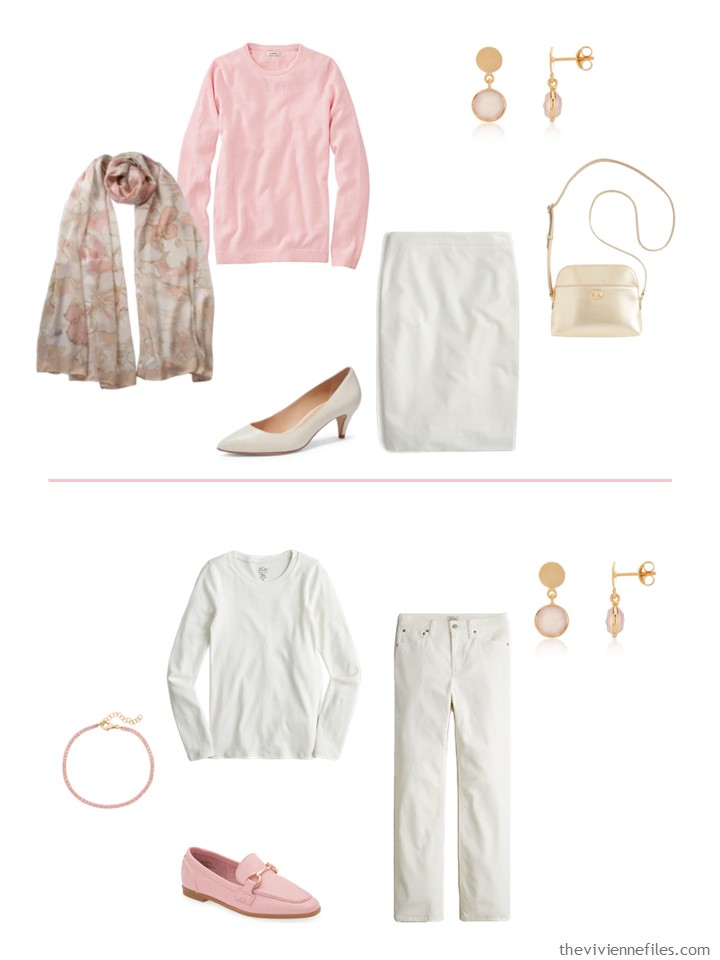 Pink softens any edge that jeans or cords might seem to have: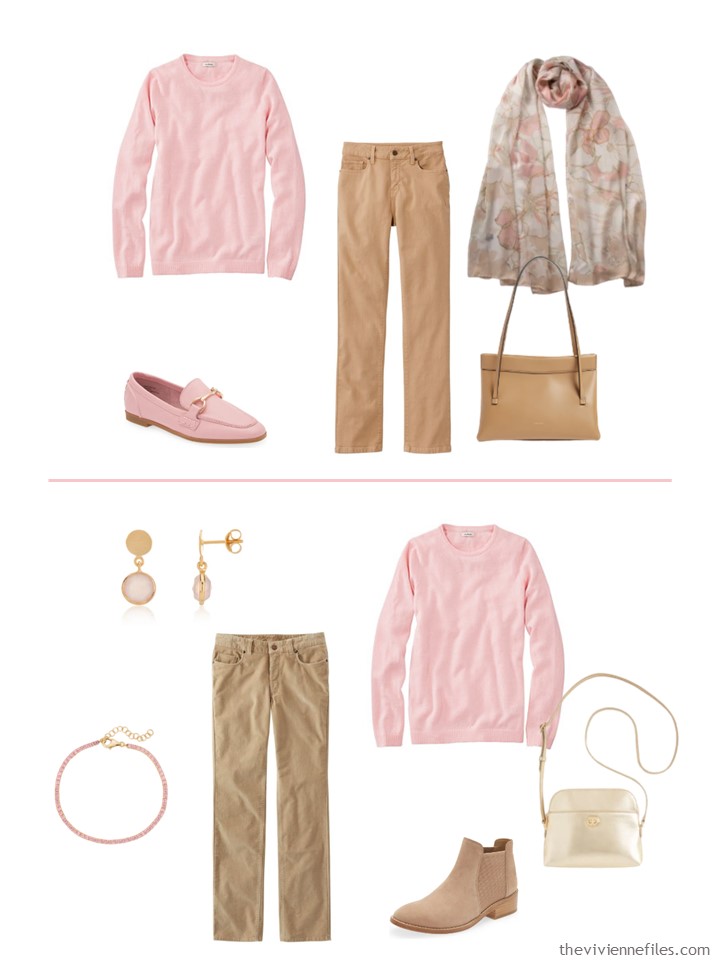 Here's another example of the joys of finding the right metallic accessory. I'm sure that six months from now, I might easily find "Summer Song" loafers or sandals, but right now these gold suede loafers are a brilliant option:
This could be lovely for cool weather dressing up – you would stand out in every crowd!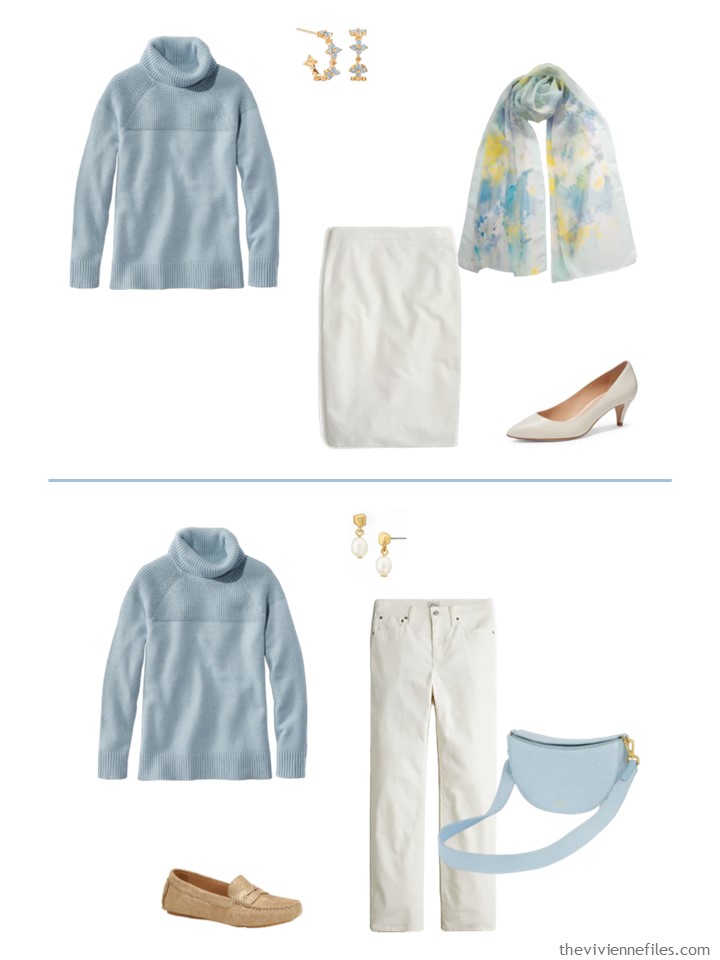 See how perfect these suede loafers are with our heroine's beige jeans?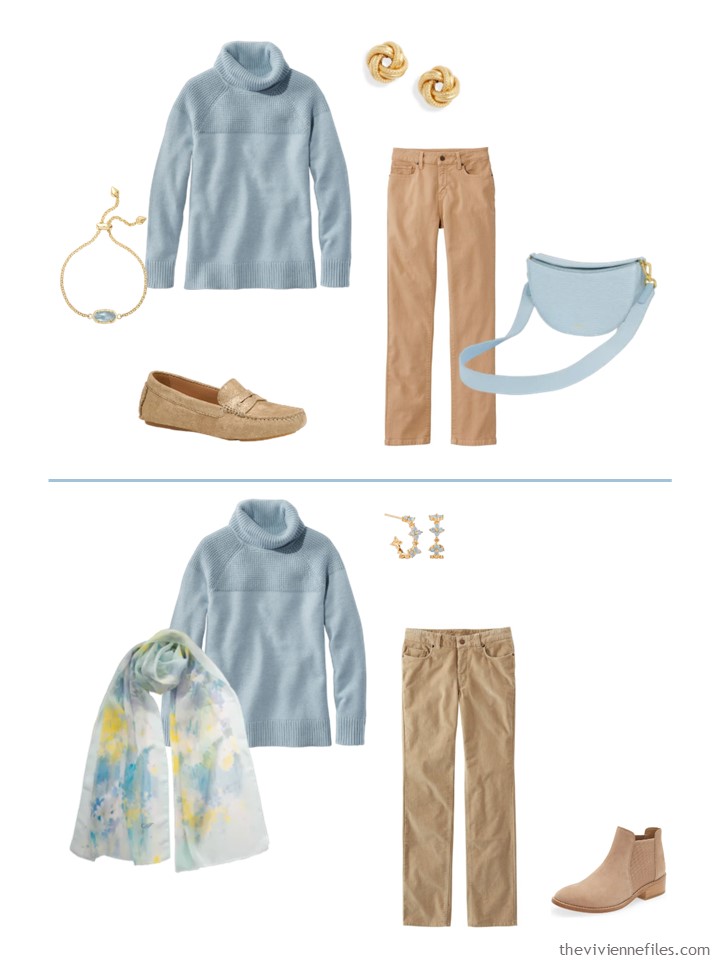 I could SWEAR that the London fashion colors included this shade of green!
Green and Winter White screams "holiday season" to me. I could love wearing this…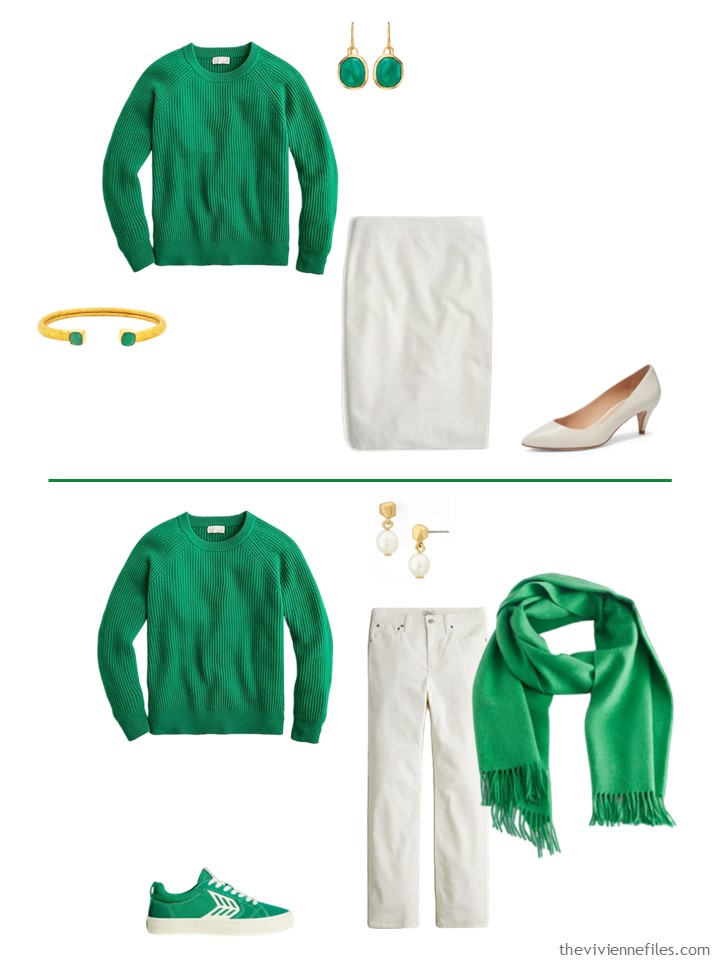 I was surprised how much I like green with beige – it was a combination far from my color combination radar system!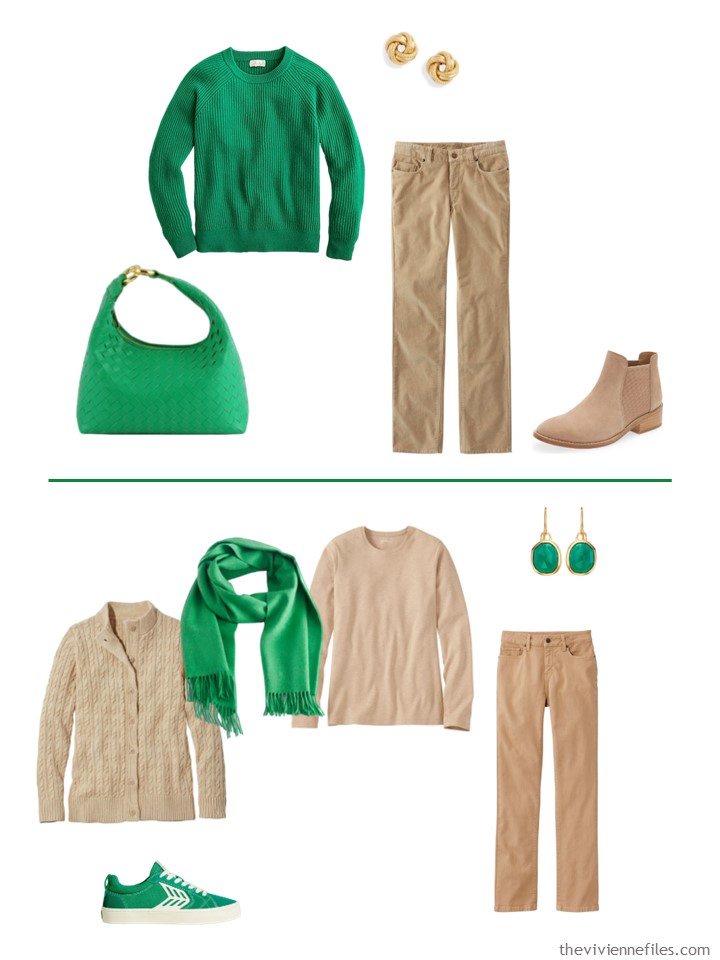 Okay, this shade of blue is gorgeous. The shoes might not be a flawless match, but there was NO WAY I was going to miss sharing these with you…
And one of the joys of this particular accessory family is that the cardigan is cotton, so you could wear all of these things straight through the summer!
These colors are far from my norm, but I would feel beautiful wearing either of these outfits: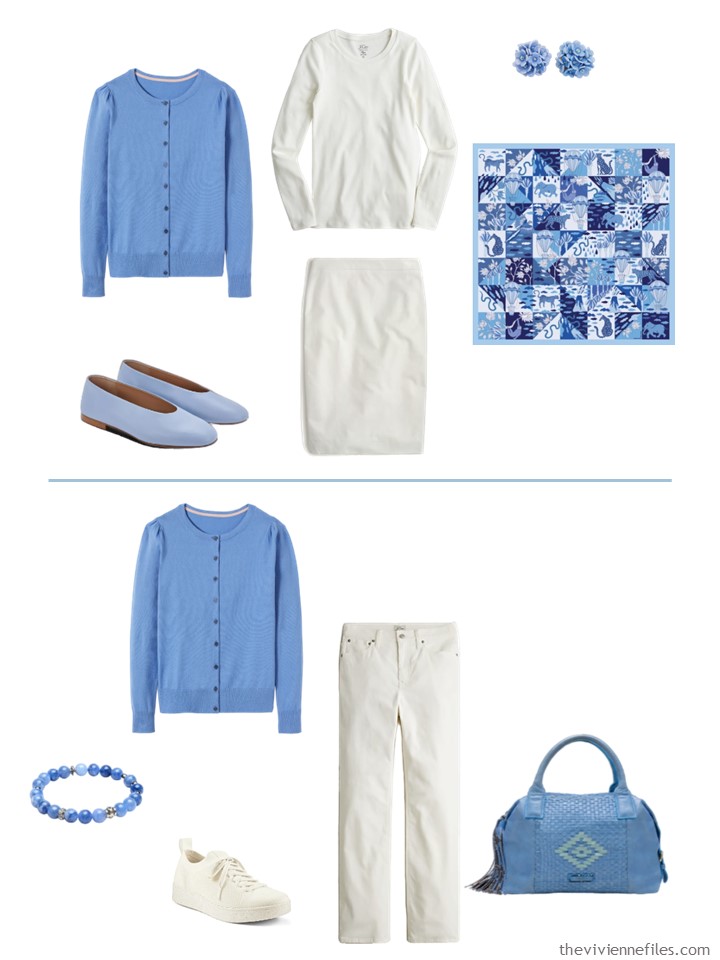 And blue brings a cool, soft feeling to beige…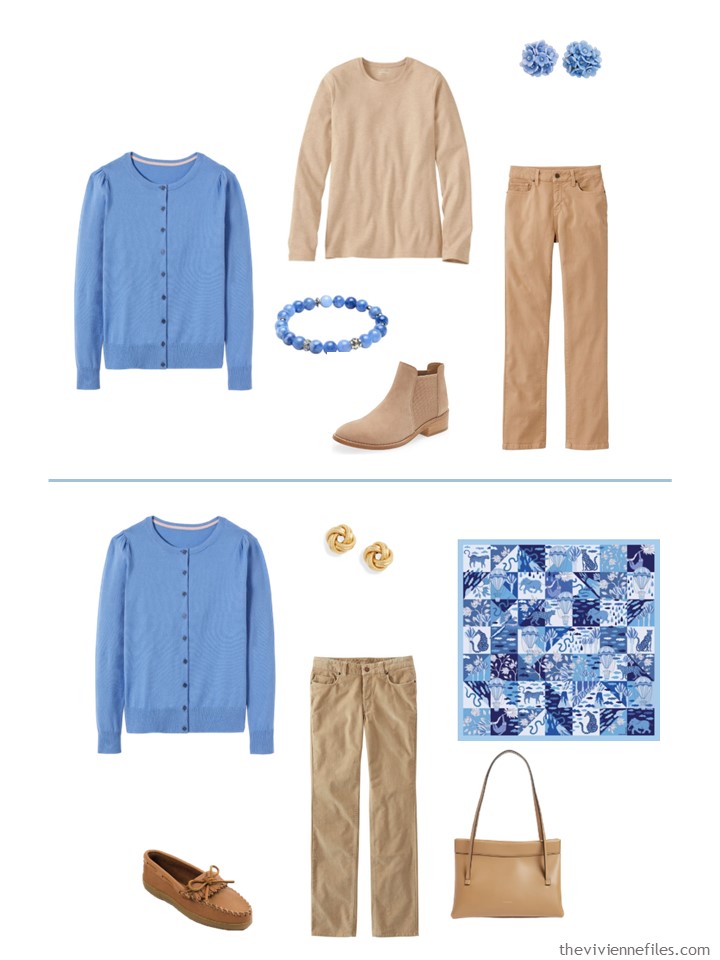 I will look at the other 5 New York Fashion Week colors in a few days – we have some scarf-based wardrobes demanding my attention first!
love,
Janice
p.s. Five years ago, we were looking at all 12 of the Pantone spring colors for 2018. The more things change…