September 6, 2021
yes, there's no Weekly Timeless Wardrobe this week; of course the schedule got tossed in the bin when my back started acting up! But this doesn't work out badly – the 13 weeks of Autumn clothing will nicely align with the dates that feel like Autumn to me…
When I looked at these wardrobes and pondered what I might want to add at this point, I was (as always!) drawn to a nice neutral sweater, something to wear under it sometimes, and a skirt. Of course, you can swap out the skirt for pants, the shirt for a tee shirt or lightweight layering turtleneck, and the v-neck sweater for crewneck, or cardigan, or whatever is best for you!
But I'm pretty thrilled with my finds for some of these wardrobes…
Let's start as we always do, with this lovely scarf:
I was pretty tempted to pile in more black for this wardrobe, but I think the grey is softly pretty, like the haze over the lake on cool autumn mornings…
Each wardrobe now has 25 garments, which would be a great wardrobe for a very VERY long stay somewhere – like a sabbatical?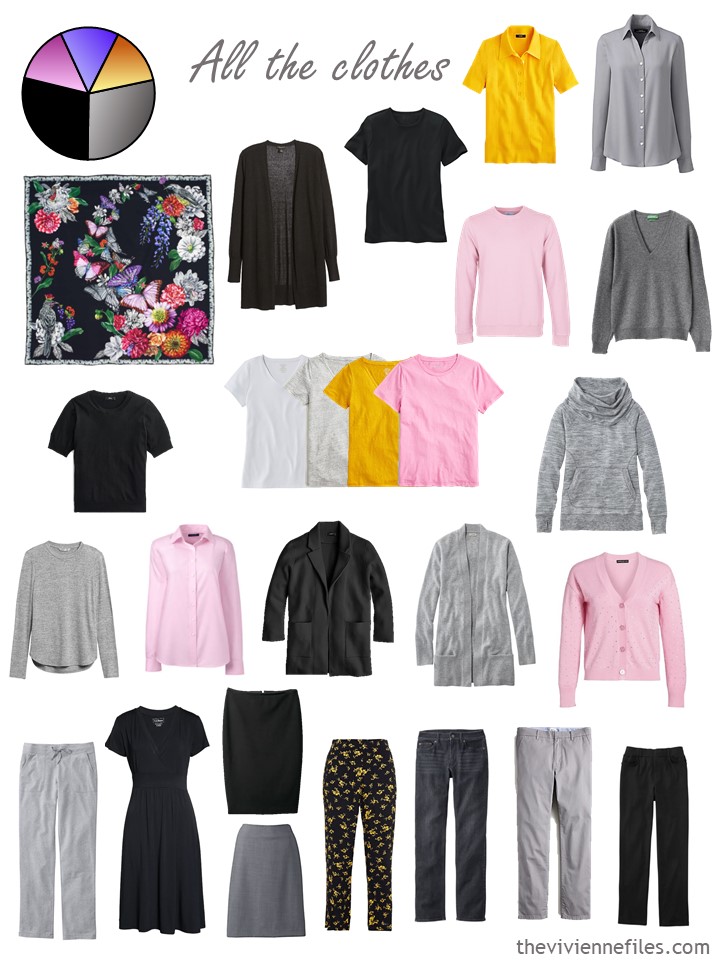 This heroine's accessories are SO pretty; I could be persuaded to wear grey if someone tossed a grey beret and some silver loafers my direction!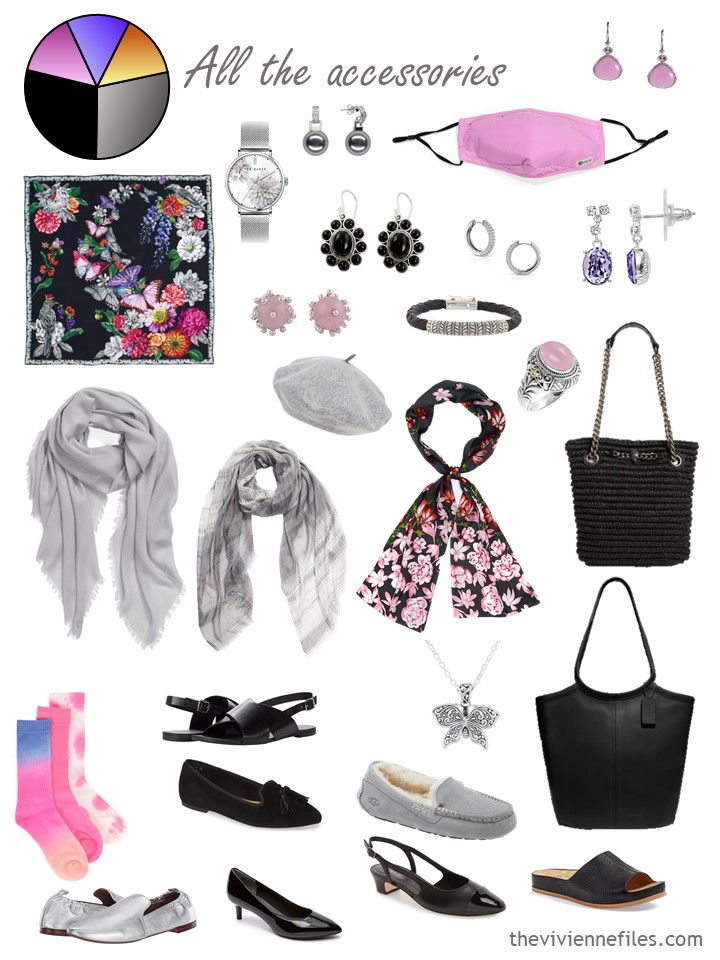 At this stage in building wardrobes, no new garment should feel at all like an orphan; if you're considering adding something that can't be worn at least two additional ways (on top of the outfit that you buy), you need to rethink either your purchase or your overall plan!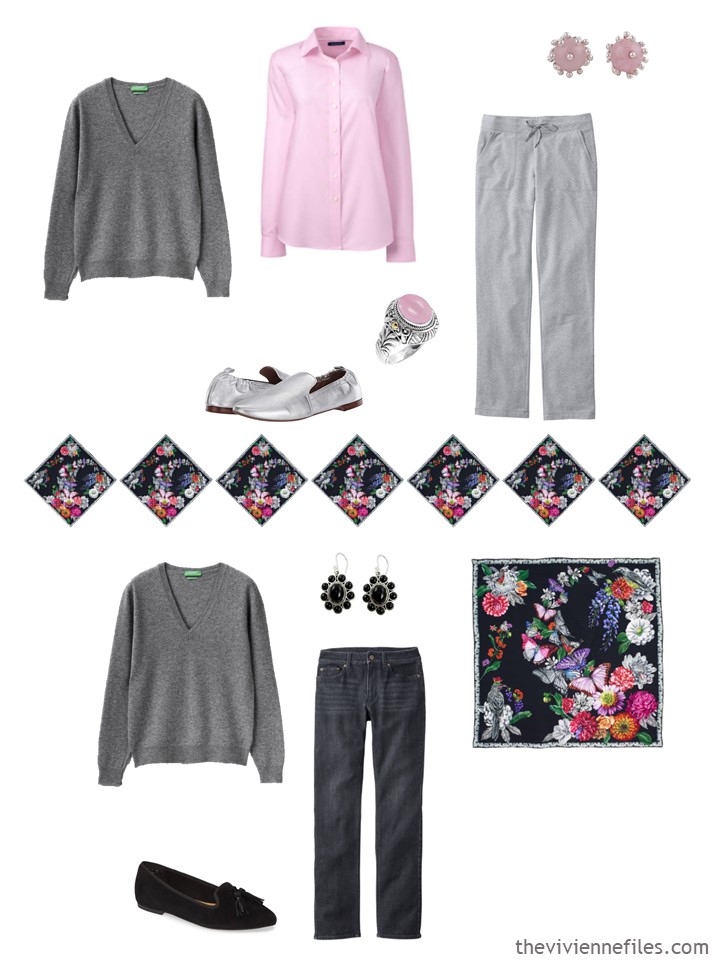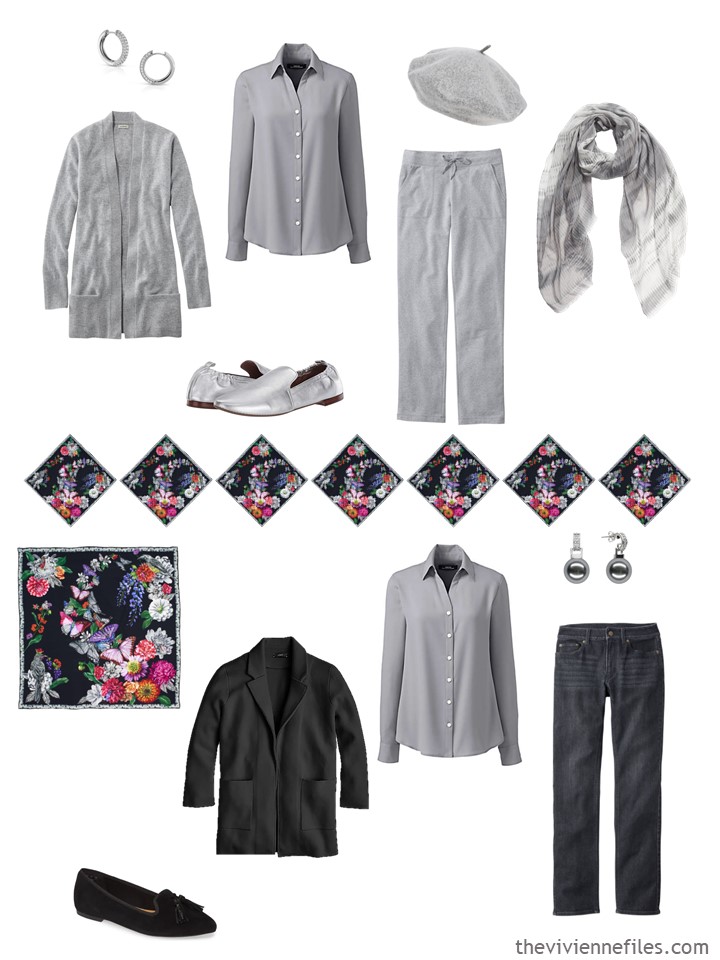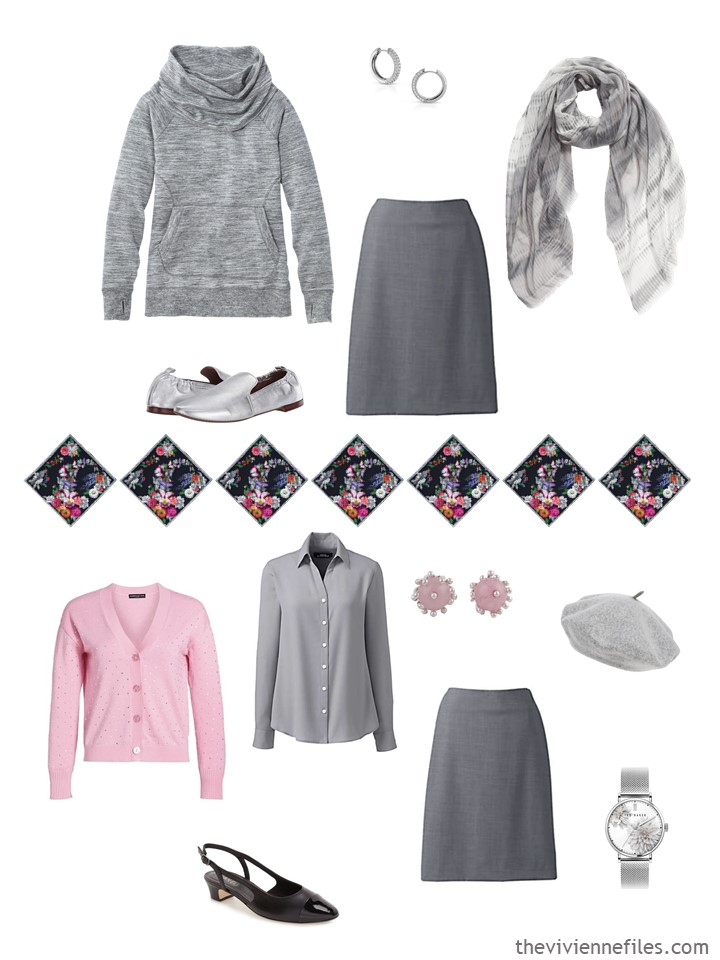 How will this quintessentially summery scarf work for a cooler weather outfit?
Beige! Let's think of it as "light camel!" And note that this shirt is actually a soft apricot color – it blends in beautifully…
This wardrobe feels more balanced with these beige additions, I think…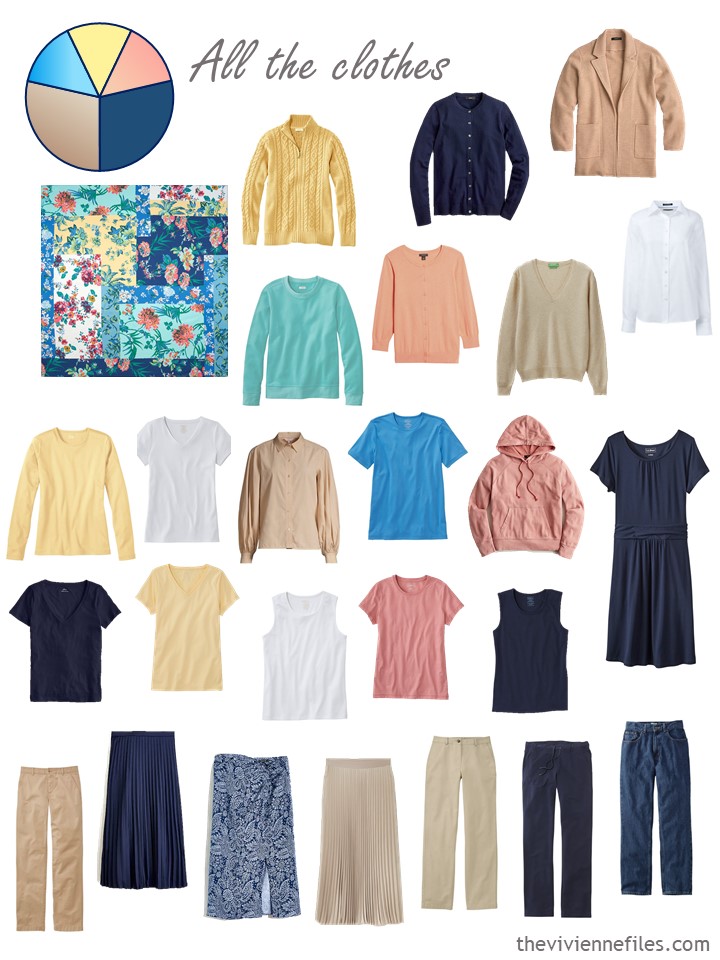 And her accessories are so appealing… who doesn't love a little bit of turquoise from time to time?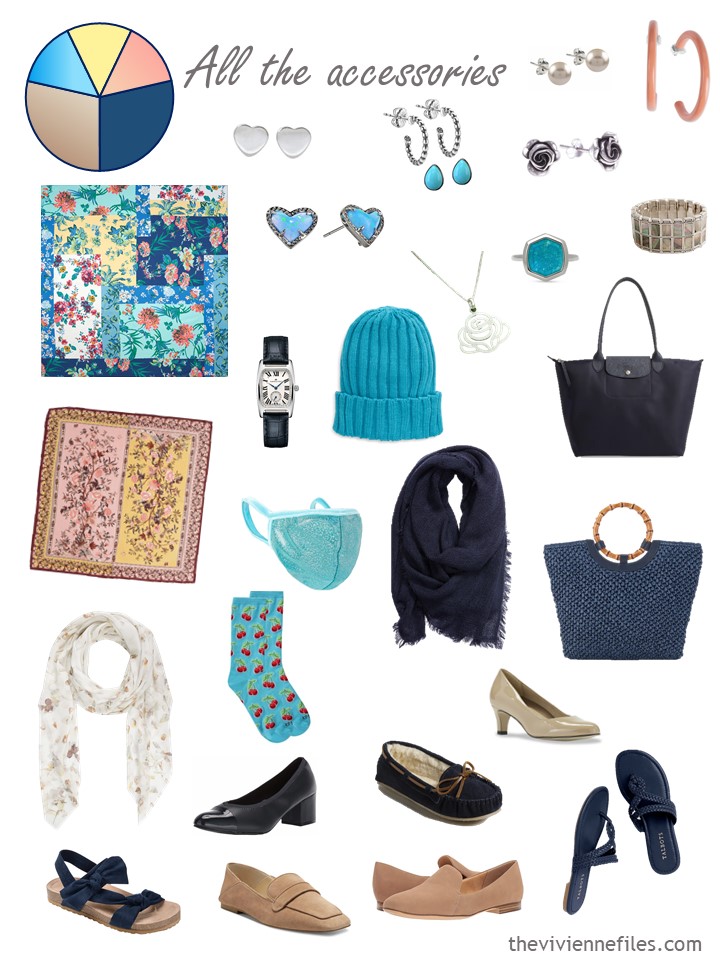 Although her new outfit is pretty monotone (which is NOT a bad thing!), she can easily add touches of coral, turquoise, or yellow to brighten things up: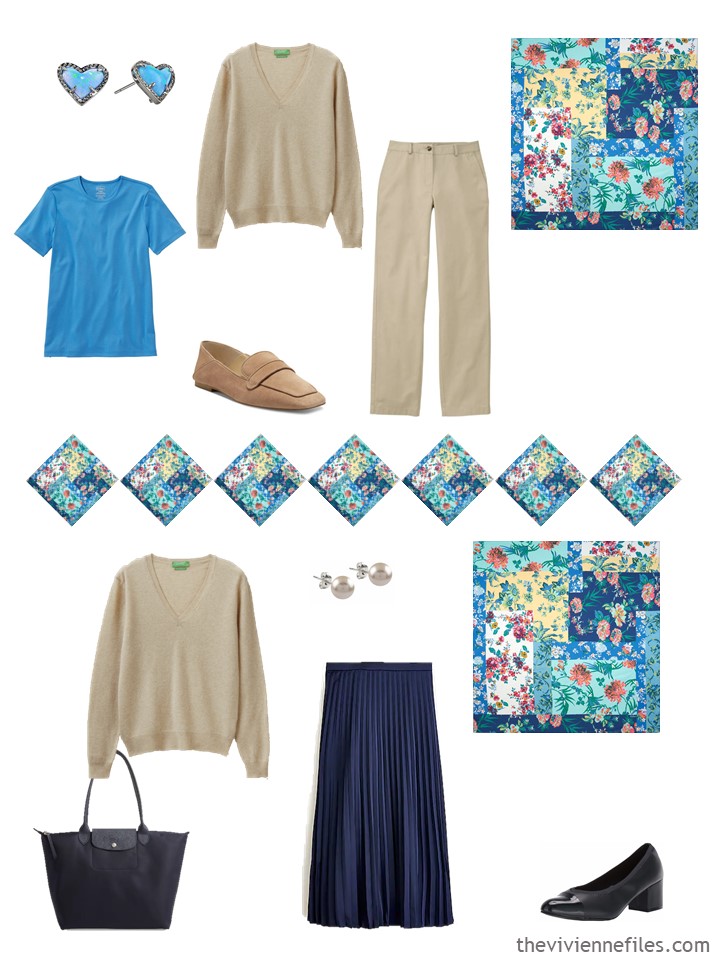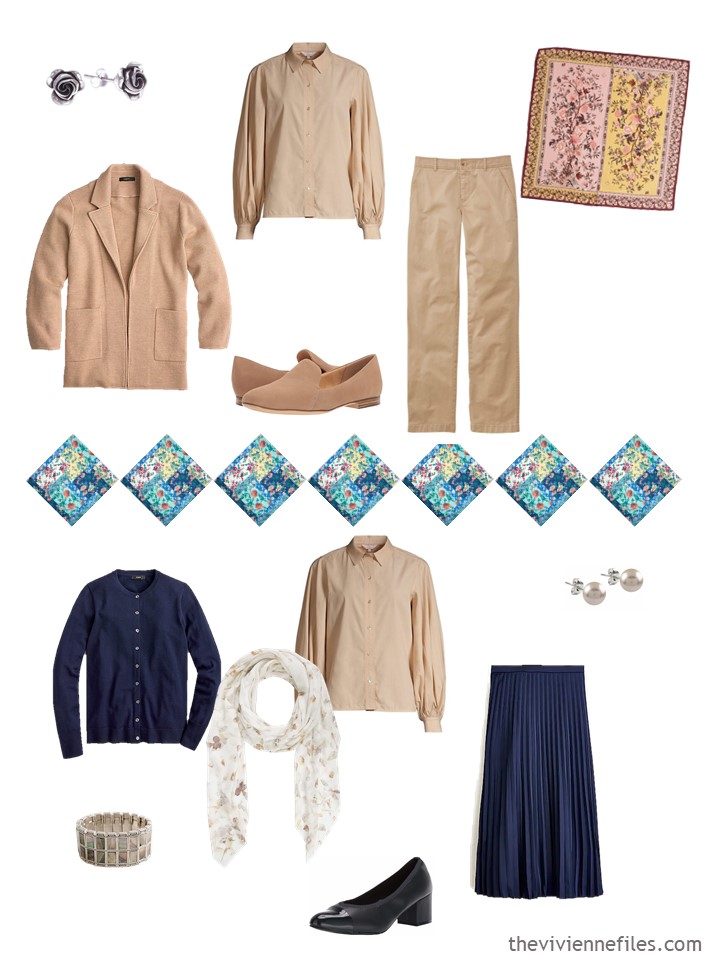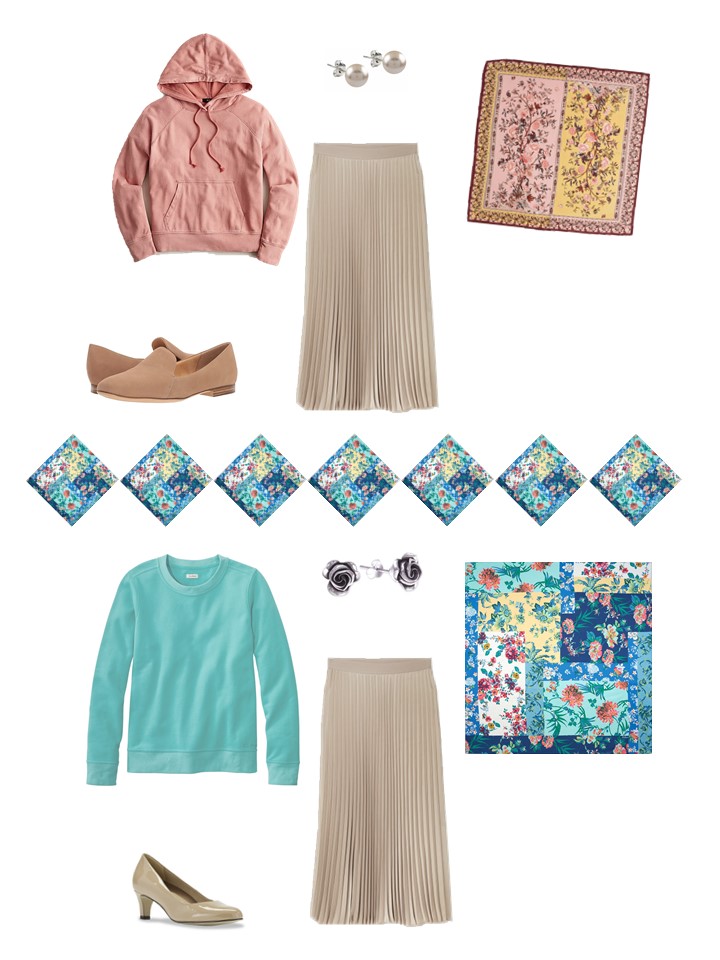 Next is my favorite wardrobe; I don't know if everybody has heard the rumor, but I do indeed have purple highlights in my hair! I have NEVER received so many compliments from total strangers as I do now; people stop me on the street to tell me how much they like it.
Honestly, I may have it this color until I die; I love that kind of feedback!
Some days, you just get lucky looking for shirts… and I did treat myself to this scarf!
I'm feeling very at home with this heroine's wardrobe: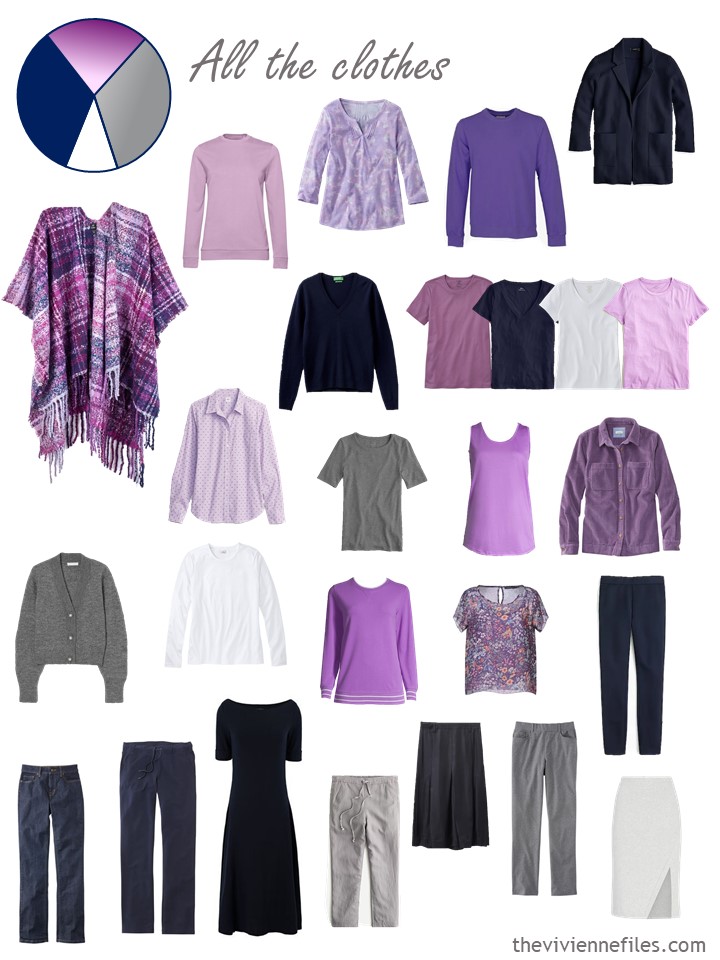 These accessories give you a real feel for what this heroine likes…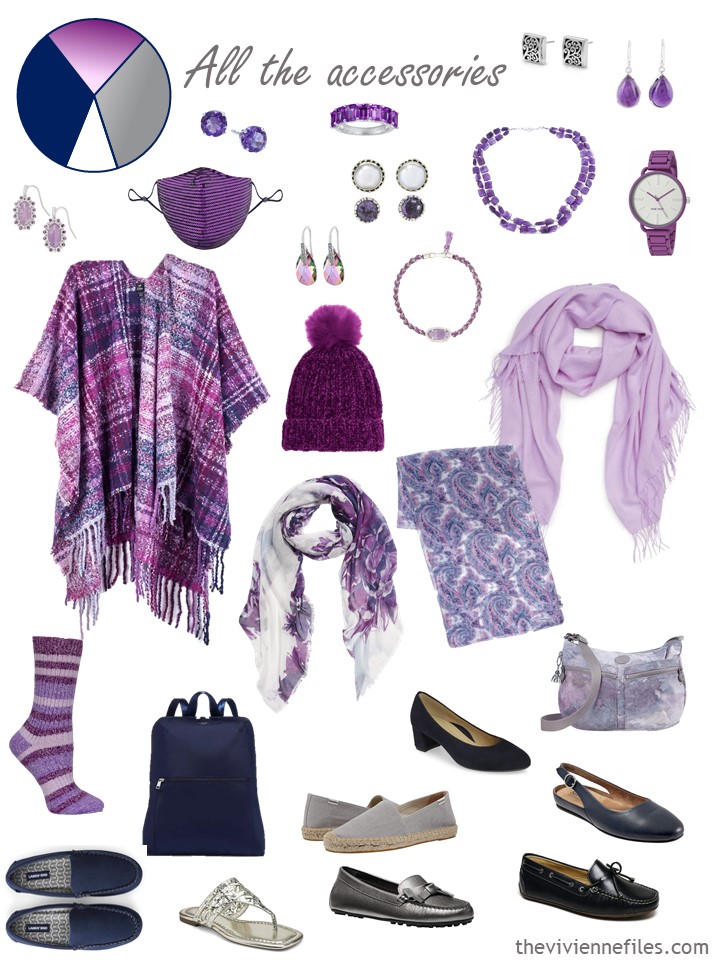 Is there a better feeling than coming home with what feels like an extravagant bunch of new things, and then realizing that you have in fact added a LOT of new choices and possibilities to your wardrobe?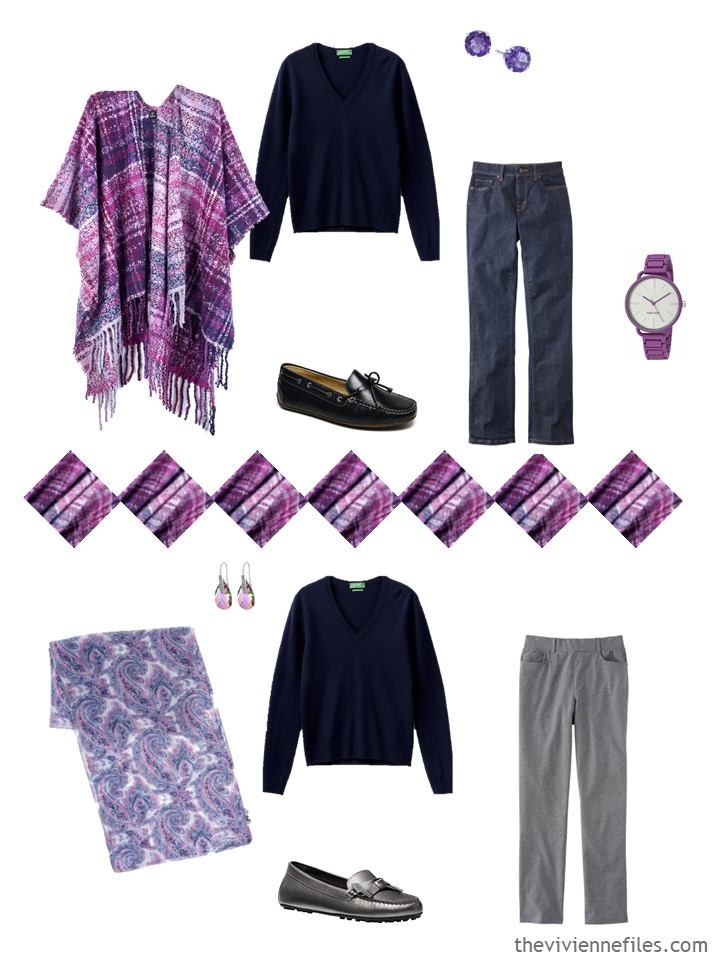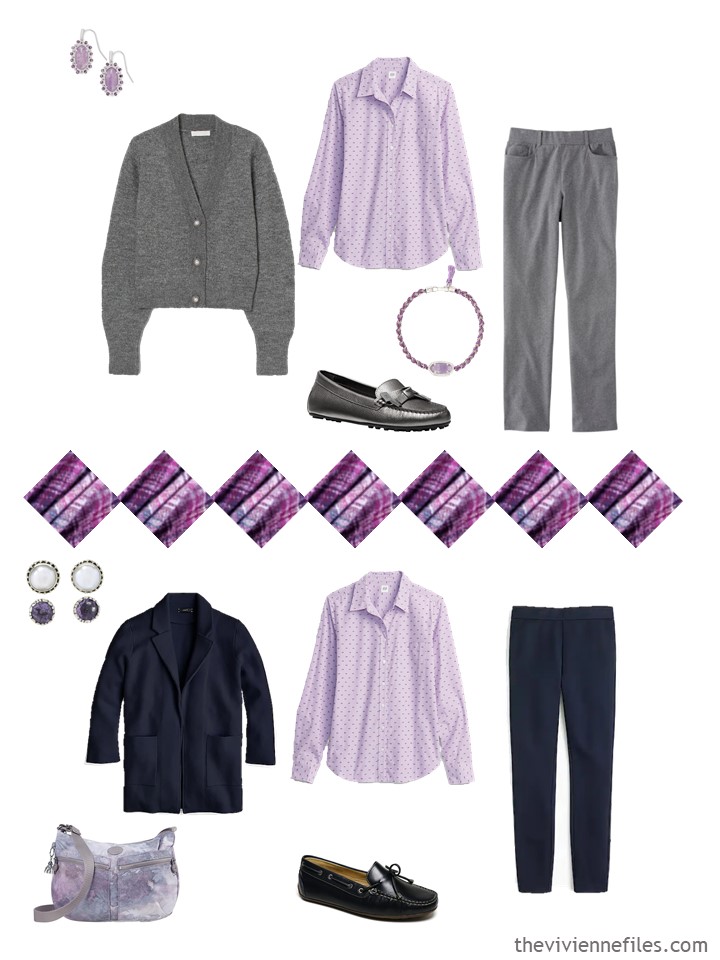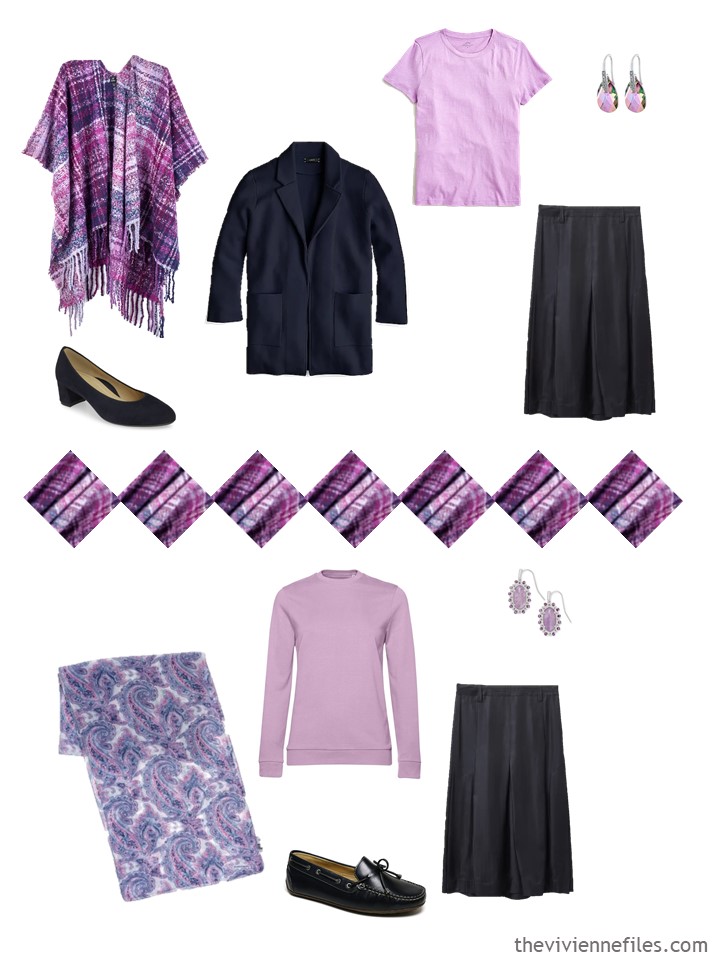 These colors feel quite right for the end of summer and the beginning of fall…
If your skirt is sweatshirt fabric, you can absolutely wear loafers with it! And I love the juxtaposition of sweatshirt fabric with a silk shirt…
I love the way this all looks together; imagine all of this hanging together in a closet: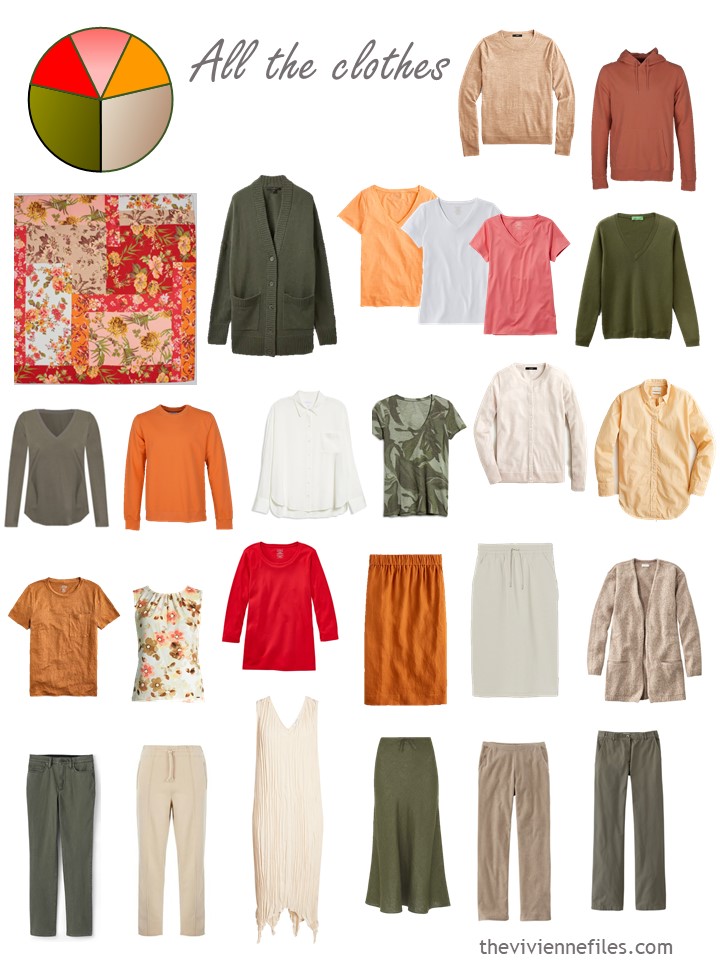 This heroine has options from very muted beiges to bright red – that's a nice situation!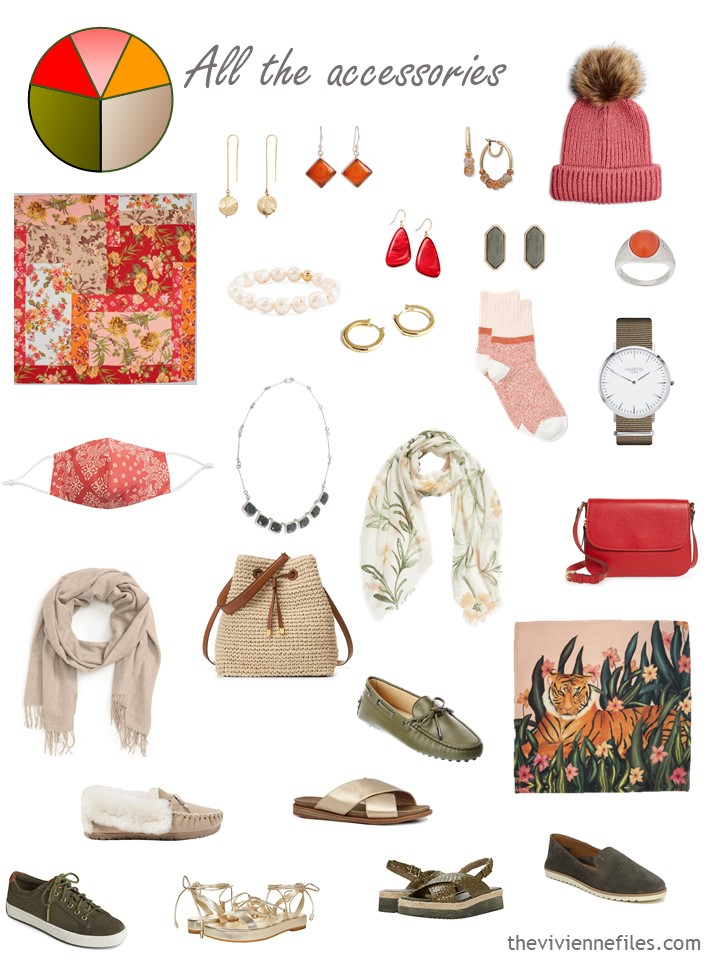 And getting dressed as the weather cools won't be a problem for her: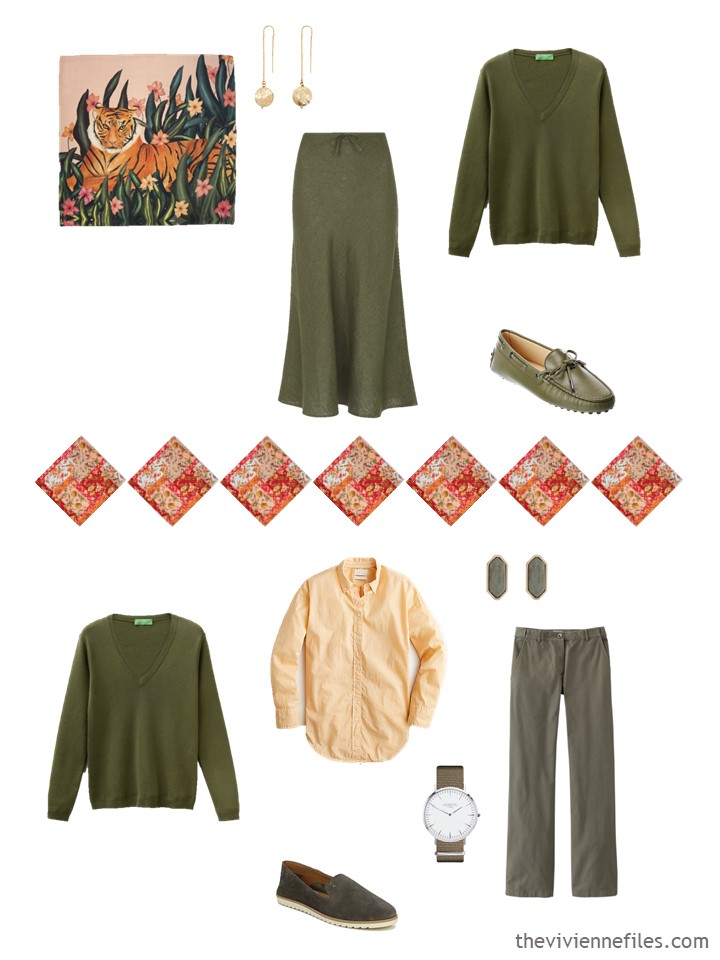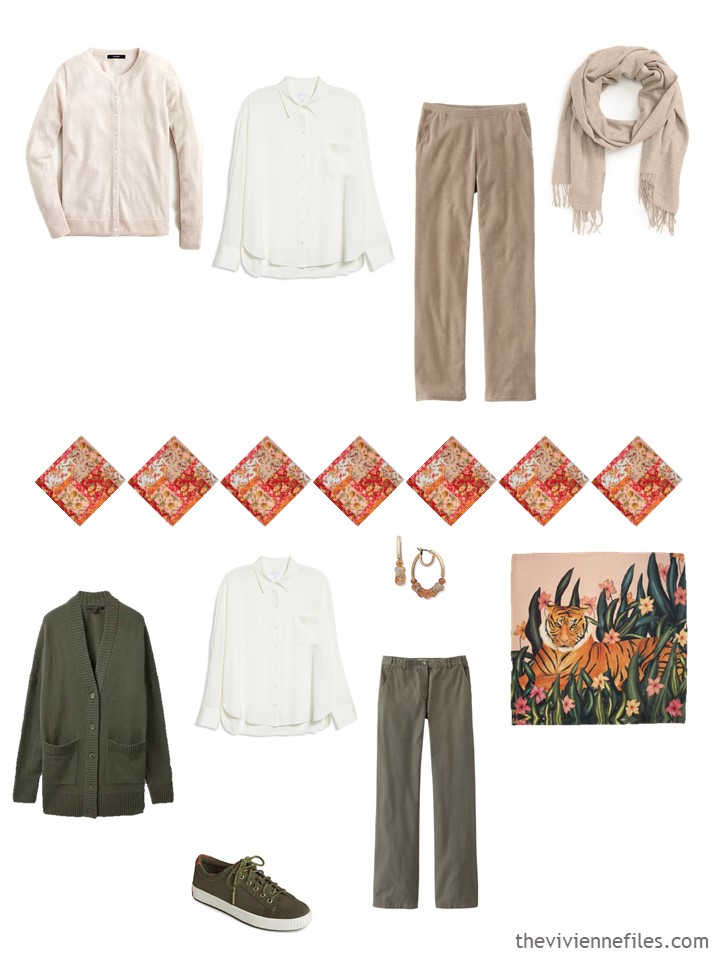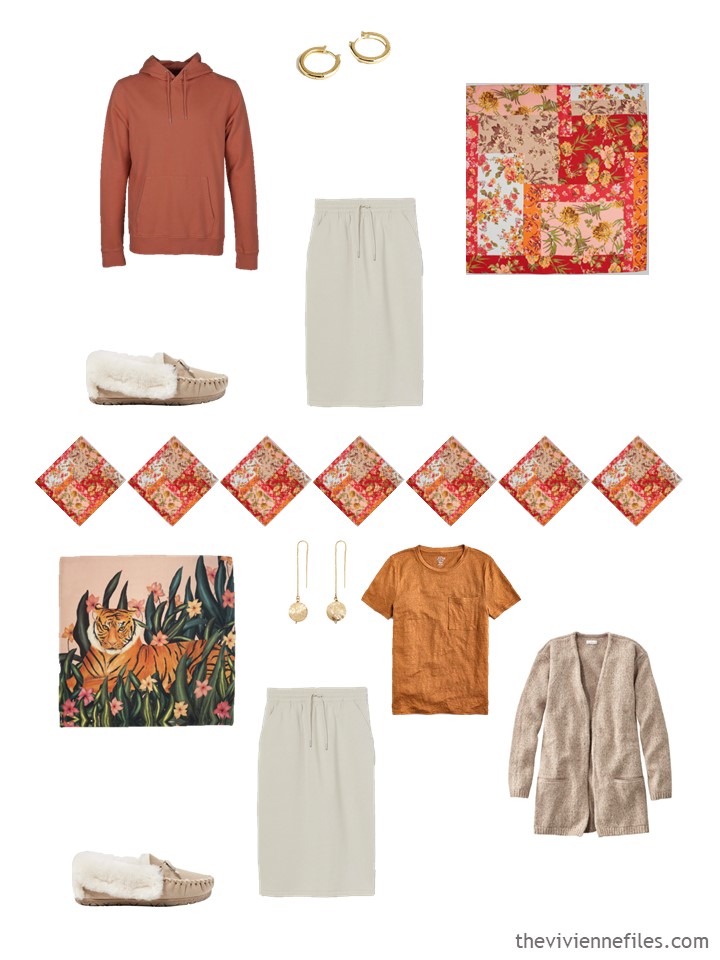 Now, to the bane of my blogging existence!
I realize now, way to late to fix anything, that this heroine should have concentrated on grey clothes with brown leather accessories. Learning from my mistakes is smart, I guess!
But this month, I was able to find beautiful brown…
But I'm still feeling like this wardrobe is lopsided… Not that this has never happened to anybody else in the world, right?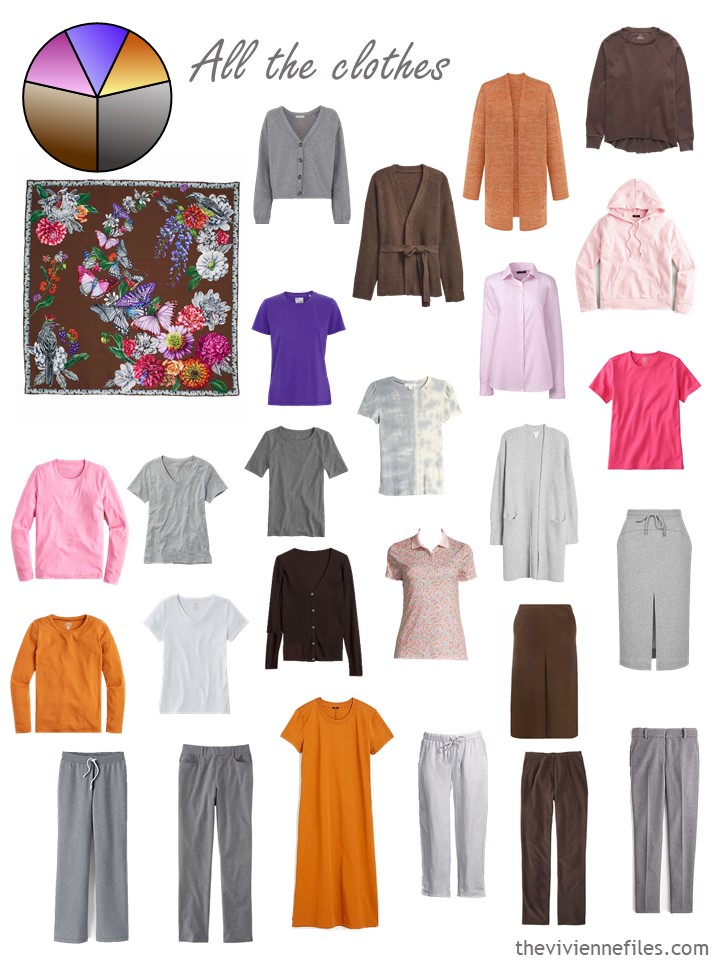 Her accessories are equally out of balance, but that's to be expected in a wardrobe that leans in 2 very different directions!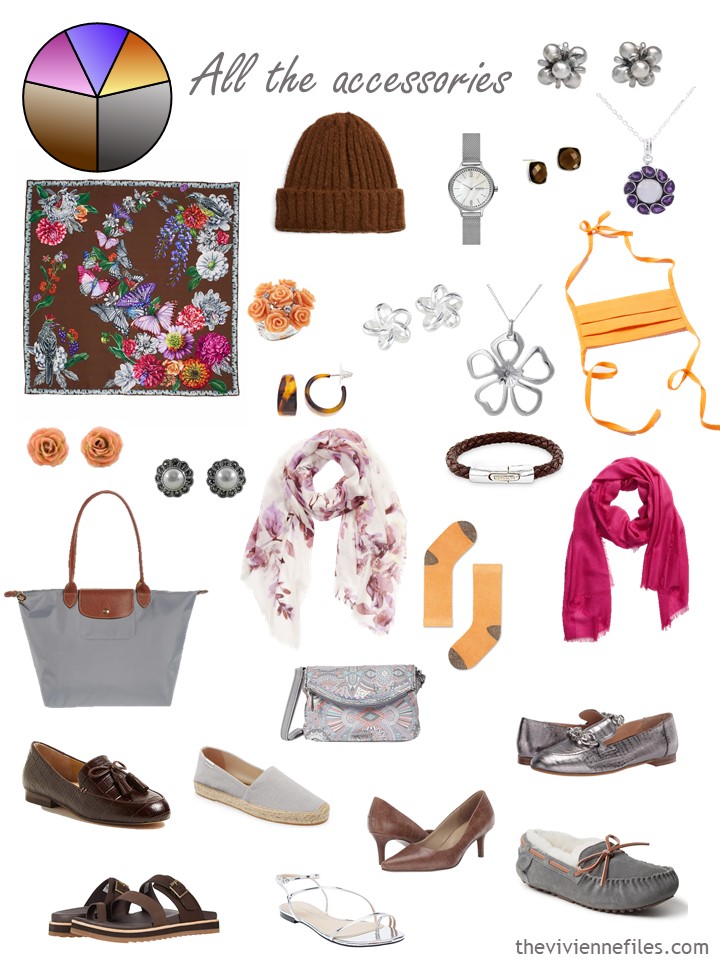 Happily, her new brown and pink outfit mixes in with her existing garments very nicely…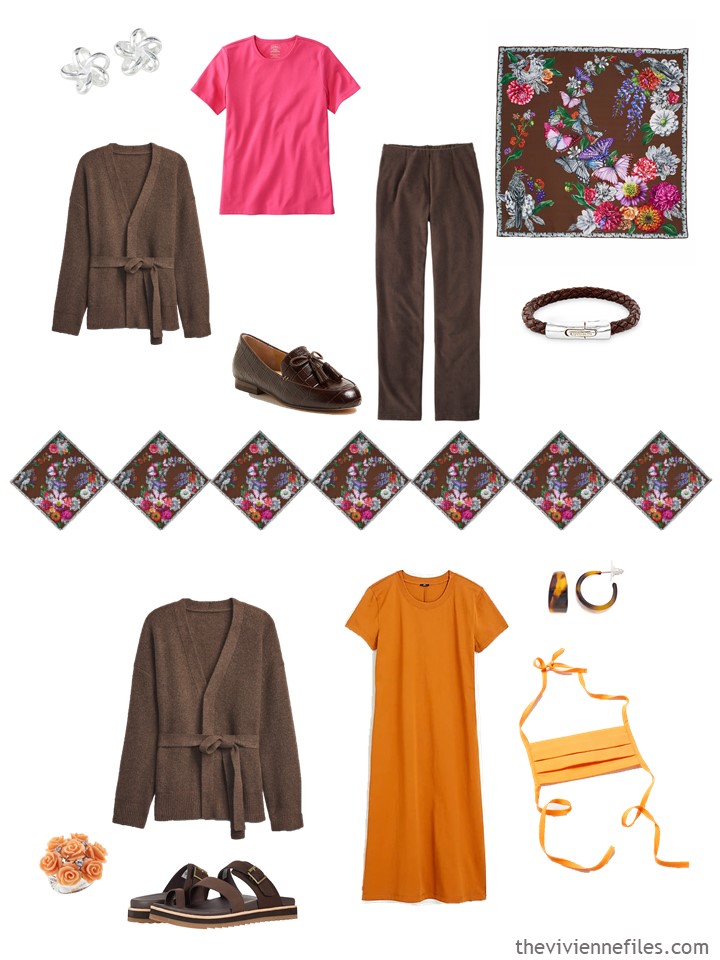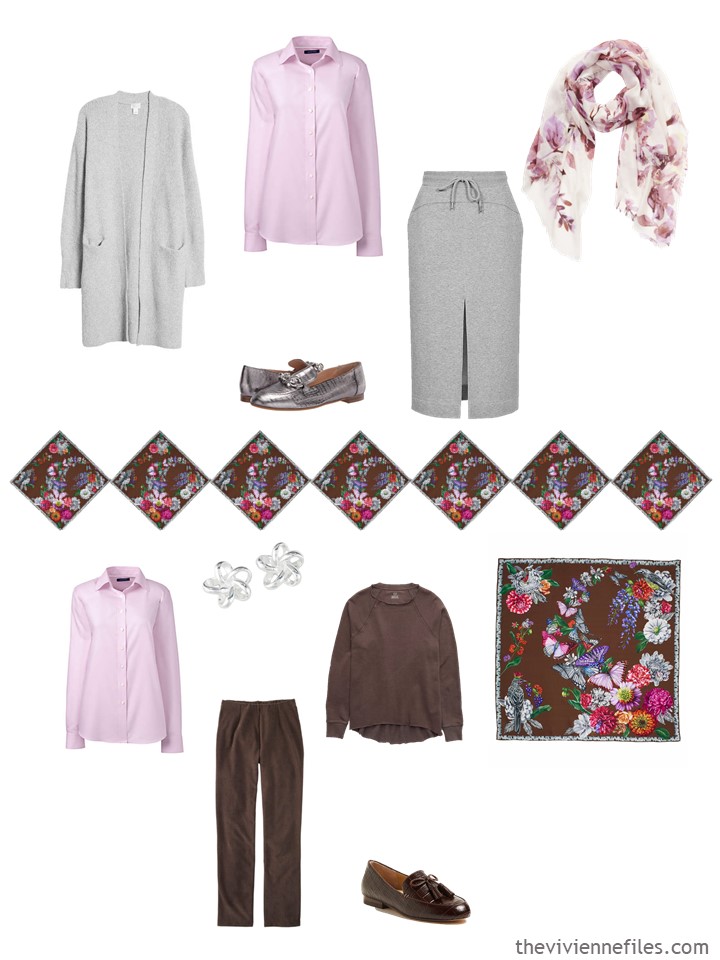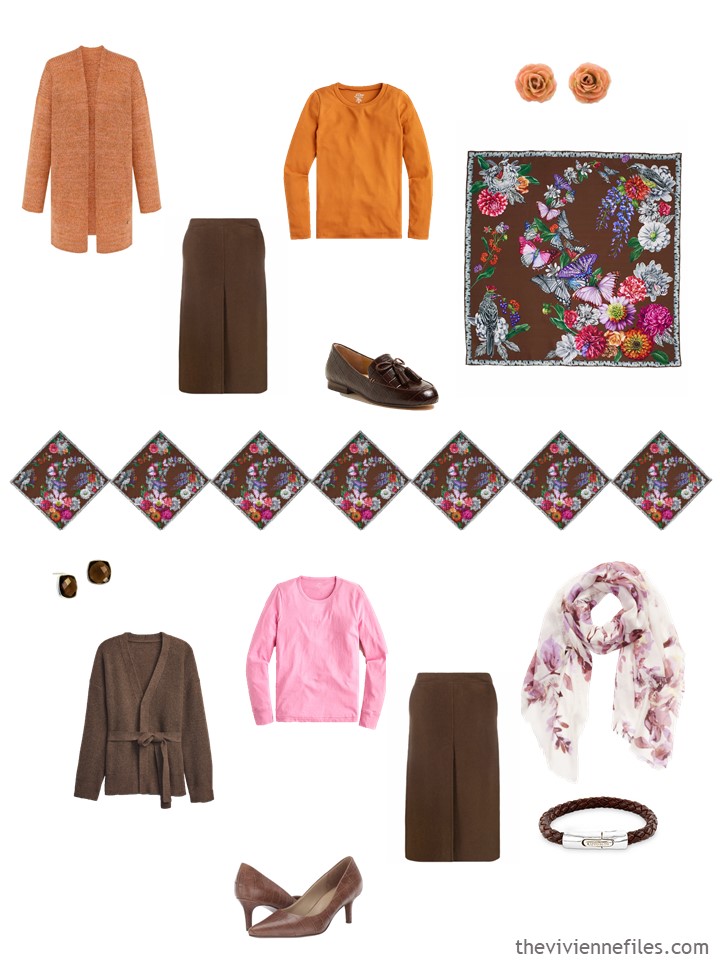 As always, we close with this most beautiful of scarves, and this color palette that is unfailingly pretty:
THIS SCARF! HOW PERFECT IS THIS SCARF?
I get really excited sometimes…
This is a wardrobe that could get you wherever you wanted to go, so long as you're not playing rugby, or having tea with The Queen…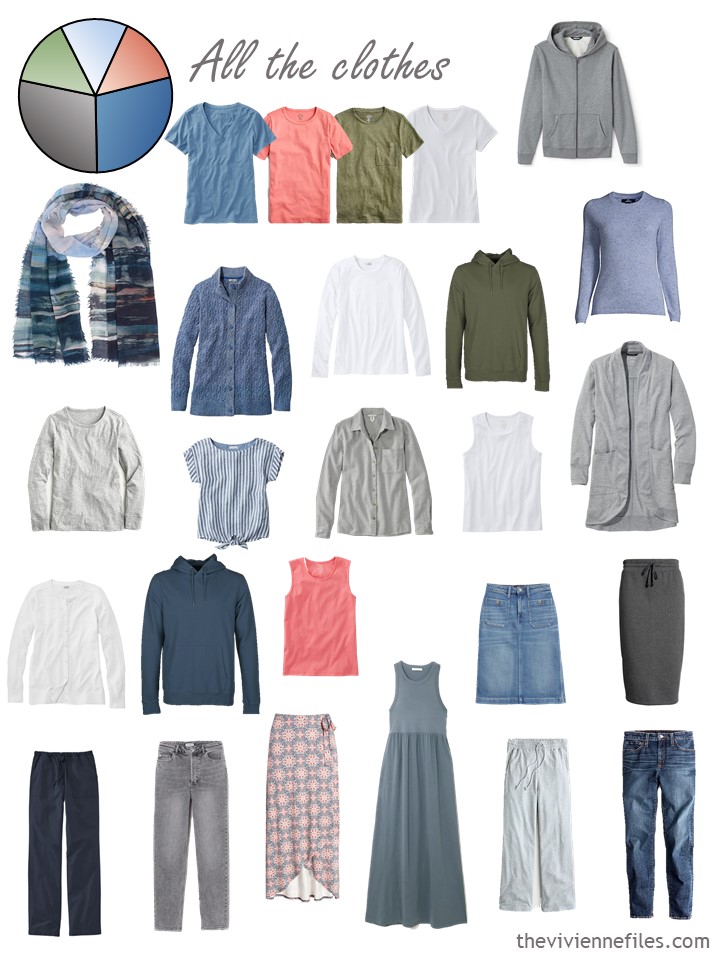 If I had to start with absolutely no clothes at all, this wardrobe would tempt me; it's so relaxed and easy…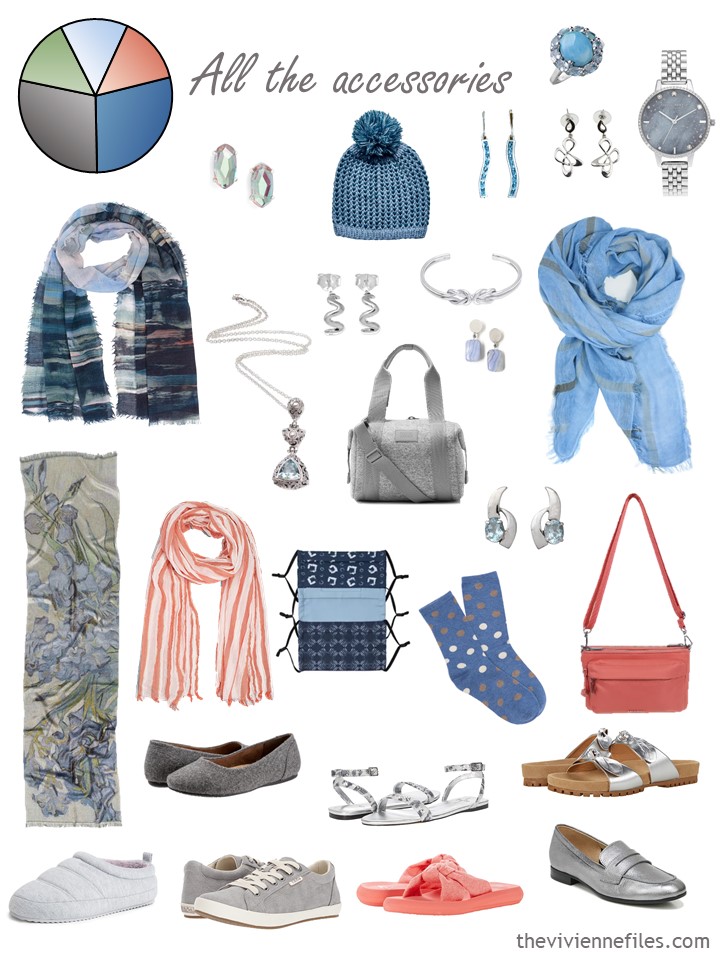 So many options…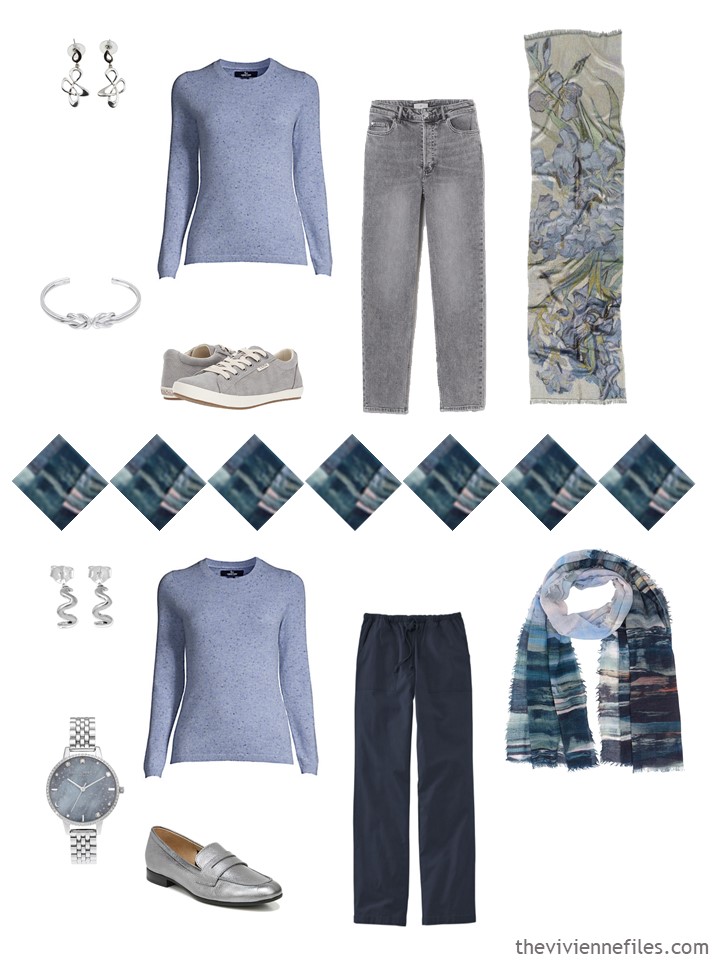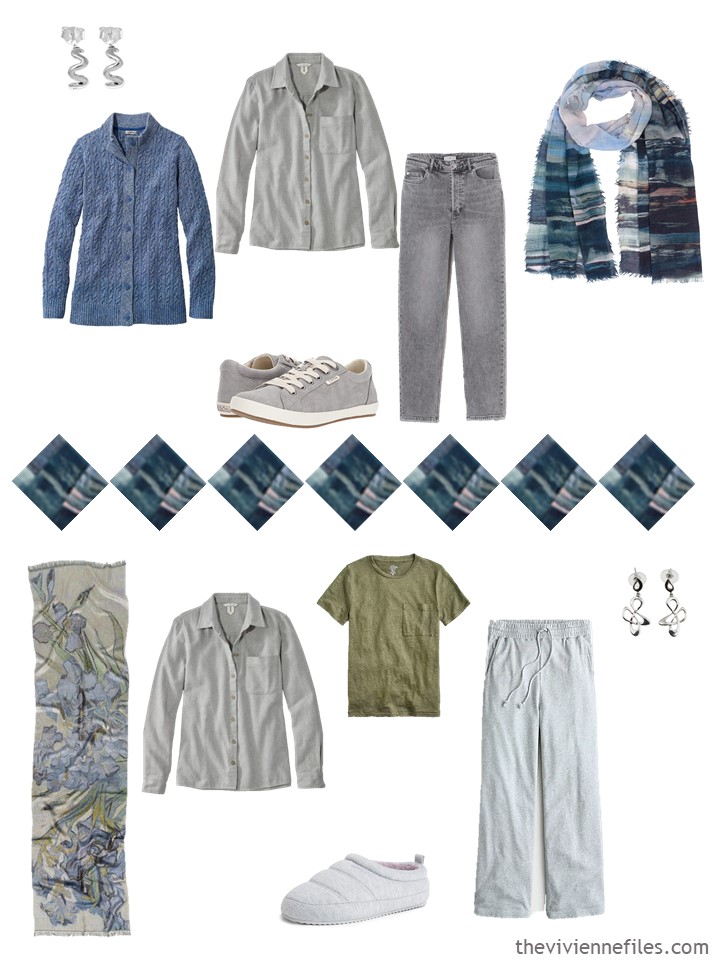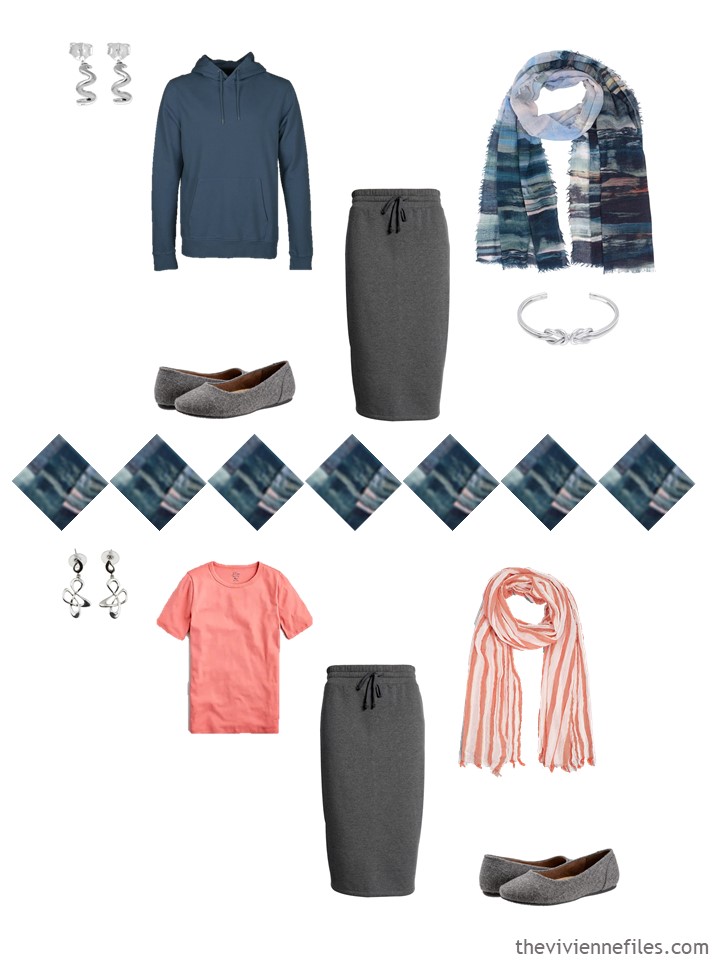 For me, I've finally determined that the purple and navy wardrobe is where I would probably cast my vote… I think!
Have you changed your preference during this year?
love,
Janice

p.s. Four years ago, our heroine was inspired by a photograph of the Central Cygnus Skyscape! Try saying that 3 times, fast…