September 6, 2017
If you don't know about the Astronomy Picture of the Day site, you're in for a treat. Some of these are amazing, and many are also amazingly beautiful…
Our heroine today was very inspired by this particular image…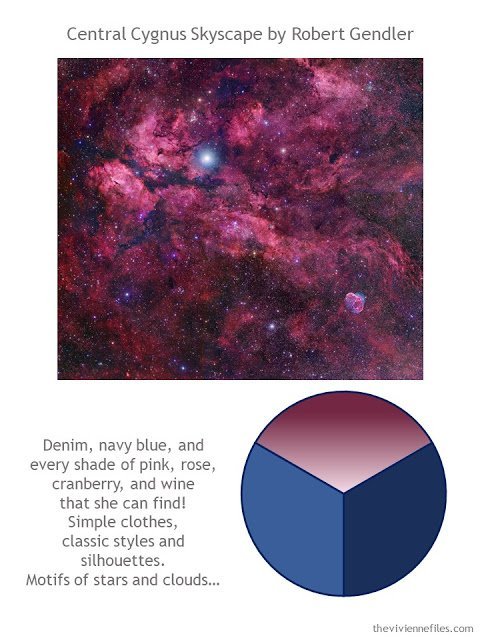 Finally Released…
After 6 weeks in the hospital, and then in rehab, she's finally free! But her clothes are positively hanging off of her – never let it be said that hospital food isn't good for something. And with her surgery and weight loss came a new phenomenon – she often feels cold. She missed a large chunk of the summer, and now fall is staring her in the face, and the only pants that she can wear have drawstrings, and look more like pleated skirts than anything else!
Shopping is essential… And she has a plan!
She walked right into the store and bought the first seven pieces – she was so happy, she paid for everything, and then went directly into a fitting room to change into her starter outfit! The saggy sweater and drawstring pants can be donated – and good riddance…
Her plan for the first pieces was clear – neutral pants and jeans, a neutral cardigan and an accent cardigan, and 3 tops that would be wearable with any combination of the pants and cardigans. Her initial accent color was a lovely burgundy that brought color to her cheeks, and looks richly classic with both navy and denim.
With 2 cozy, interchangeable outfits in hand (in her size!) she was much more deliberate about the next ensemble that she purchased. She knew that she wanted that bright pink that so inspired her in the photograph that is her style guideline, and she knew that she wanted a skirt. A long-ish skirt, that can be worn with tall boots or with tights – she's not quite ready to bring the scar out into public yet…
Now she has three complete outfits, with an extra tee shirt – really a lot of options! And so now, her eye wanders, and she decides to really bring some more whimsical elements into play:
The skirt was impossible to resist – all of the right colors, and the right feeling of brightness bursting against the darkness of the night sky. Maybe someday she'll find one with a star print!
That skirt deserves a simple but pretty sweater, I'd say!
From here, she only buys when something truly speaks to her; this tee shirt didn't speak as much as it sort of shrieked over the computer monitor!
After a few days she finds that tights and flat shoes feel really comfortable – and so a sweatshirt dress seems like an easy way to pretend to be dressed up while really feeling like she's wearing pajamas…
At this stage, she's very content with her wardrobe, but will still fall for something that makes her heart sing – an innovative but not outrageous sweater is a perfect finishing touch for a 4 by 4 wardrobe!
She had a clear plan in mind – with just enough room for some "whappage" for particular items. Now that she looks at her new cold-weather wardrobe, she's got a real sense of accomplishment – along with a lot of pleasure! That's how getting dressed should be…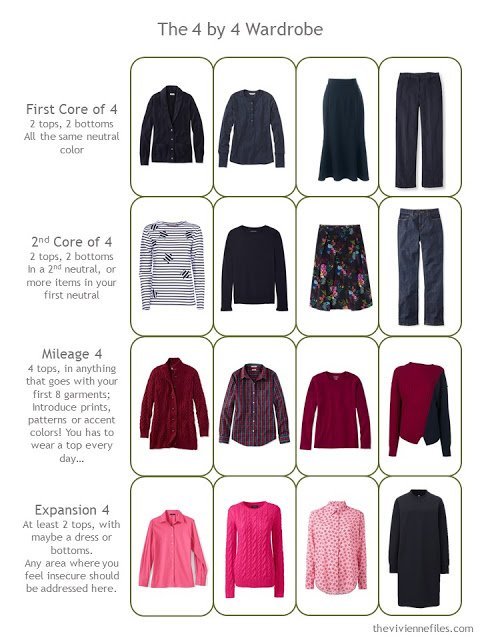 Sometimes when I'm packing, I start with my travel outfit and build my suitcase 1 piece at a time, just as I built our heroine's wardrobe today. I think it's an interesting system, and so far it's worked well for me! When I pack with this system, I keep reminding myself that every additional garment has to be wearable in at least 3 different ways; it's a good disciplinary reminder on those days when I'd like to just chuck everything into the bag…
love,
Janice