September 4, 2017
When you read this, Belovedest and I will be hanging out with my mother in Florida! It's super-easy to pack for these trips, because I can wear her clothes if I HAVE to (her coloring suggests a soft, cool, powdery-pastel wardrobe – not perfect for me!) and I can of course do laundry. That said, one always should have a plan!If this first outfit looks familiar, it should; it's what I wore to fly to Ireland earlier this month. It was really ideal, but I'm making just a few small changes to tweak it to suit Florida better. First up, instead of my favorite Bremerton pants from Eddie Bauer, I'll be wearing J.Jill stretch linen pants. (my Bremerton pants just got back from the cleaners – I splurged – and I'm sort of keeping them under wraps until we go to Paris on September 20th…) And I'm going to wear ballet flats instead of "real" shoes and socks. For me, a 3 hour flight is no big deal, so I don't worry about being cold, or dealing with deep vein thrombosis…
If you've got a hankering for a Missoni scarf, please note that some of their scarves are heavy, woolly and warm, and others are viscose and nylon, which has a really soft, cool, almost silk-like feeling. This one that I'm wearing falls into the latter category, which makes it pretty idea if one wants to wear a scarf to Florida at the end of summer!Please note that most of the blue pieces are long-gone from J.Jill, but if you want to replicate a 4-piece super-buy like the one I made earlier this summer, J.Jill is the place to do it! They come out with beautiful linen pieces every year, in a wide range of colors and styles, which are good quality and reasonably priced. I can highly recommend them!
Yes, both of my sandals are the same brand – I've been fighting an arthritic knee, and supportive sandals seem to help a bit. I'm loving these…This seems like rather a lot to take for just 4 days, but I have a mad abundance of suitcase space (I'm taking some things for my mother which bumped me up from a simple tote bag…) and I thought I'd give myself some options. It's always smart to have a shirt or cardigan handy – even at home – in Florida because the air conditioning can be paralyzing. I try not to run too much air conditioning here at home, and so I'm not used to "walk-in freezer" types of temperatures!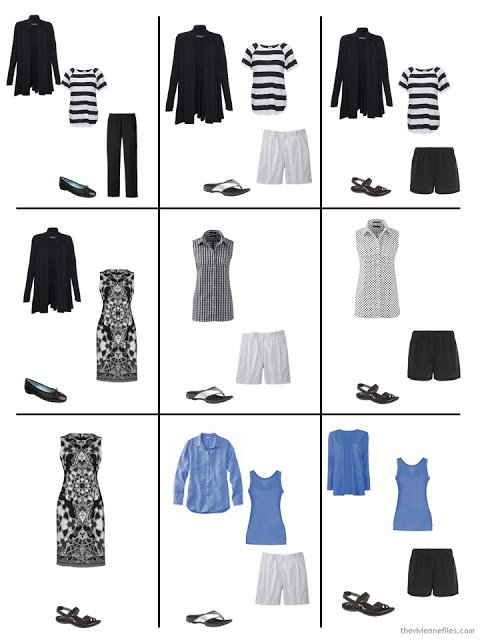 If we go out to dinner someplace nice, I'll be in good shape (I'm mostly packing the dress because it's a favorite of Belovedest's…). The rest of the time, I won't need to look amazingly dressy, but I still like to give some sort of sense that I didn't get dressed in the dark!
It will be interesting to see if we get rain from the storms in Texas and Louisiana…
love,
Janice