September 8, 2021
Bird Watching, of a Sort…
She started with this – it was an irresistible urge to own this scarf that got it all rolling…
The color palette was pretty obvious – she already had plenty of grey and navy with which to work…
Her only plans for her trip are to sit in a cafe, or a restaurant, or outside a museum, and watch the world go by. Bird watching – if you use the term "bird" to refer to young women!
She just wants to see youth, and individuality, and distinctive personal style as worn by the women of her favorite city. She's happy to just look appropriate, and be warm and comfortable!
So she starts with her travel outfit:
She doesn't really know how much she can get into her suitcase, so she decides that packing 1 thing at a time is the only way to make it all work.
First, she knows that she will definitely want a clean top!
After lots of navy, and her favorite grey cardigan, she's ready for an accent color! A cashmere crewneck can be worn either as a 2nd layer over her gingham shirt, or on its own…
For garment number 6, another pair of pants! Warm, soft, comfortable…
Now, she's ready for her 2nd accent color! Nothing elaborate or complicated, just a simple teal tee shirt…
She pauses… it's going to be cool, but not terribly cold at her destination. Another cardigan seems like the logical next step – especially in her 2nd neutral!
She wasn't sure about a skirt, but after she thought about it a few minutes, she realized that she will be just as comfortable in this skirt, with tights and flats, as she might be in pants!
And it opens the possibility to go for a more posh dinner than otherwise…
There's STILL room in her bag — woo hoo! This is a perfect opportunity to pack a really fun sweater that she may not have considered earlier…
She takes another pause, and looks over everything in her bag. With the exception of her gingham shirt, everything is solid! Well, her teal sweater isn't exactly solid, but it isn't really a print either…
This is one BIG suitcase, she realizes. Does she want to shift to a smaller bag, or add in a couple more garments?
She's already planned to check her bag, and to take a taxi to the hotel, so she sticks with her big-ish bag, and starts looking for something in her grey neutral that will be versatile.
A v-neck sweater? She can wear it over her button-front shirts, or by itself. Into the bag it goes!
There's still room for 1 more thing! Maybe a dress? Or another skirt? But she looks at her teal tee shirt, and realizes that she really WANTS to wear teal with her new favorite scarf…
So the matching cardigan goes into the bag…
As she leans over to zip up her suitcase, she stops to think about the 10 pieces inside, and the 3 hanging on the back of the bathroom door to be worn tomorrow: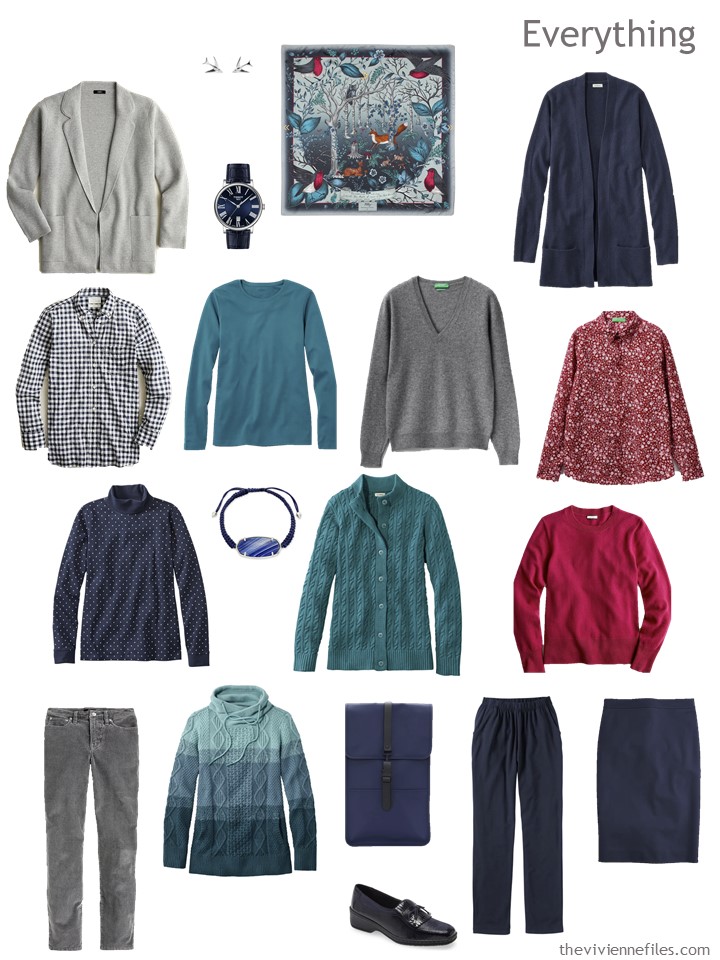 And she smiles! If someone else is also people-watching, they might spot her and admire…
love,
Janice
p.s. Six years ago we considered some possibilities for wearing floral garments with a core of black. It still works!