September 8, 2015
If you're not mad for monochromatic wardrobes, yesterday might not have been your dream. But this idea has all kinds of potential; what if you're all about floral prints?
Oh my… While each of these garments is quite beautiful on their own, when you pile them all together like this, they could give even the most staunchly pro-botanical among us hay fever…But if you also own at least these 9 solid garments, you're really in pretty good shape, wardrobe-wise. The solids temper the impact of the print, and give them center stage, and make garments that might seem busy or "too much" into pieces that are just perfect.
The addition of the floral pieces to your core black wardrobe will give you at least 81 additional combinations; I'm NOT going to show them all this time! Rather, I've selected a few different ways that these pieces can be worn. I've included some great flower earrings, and some simple black shoes – this would be an easy and very pretty way to get dressed every day!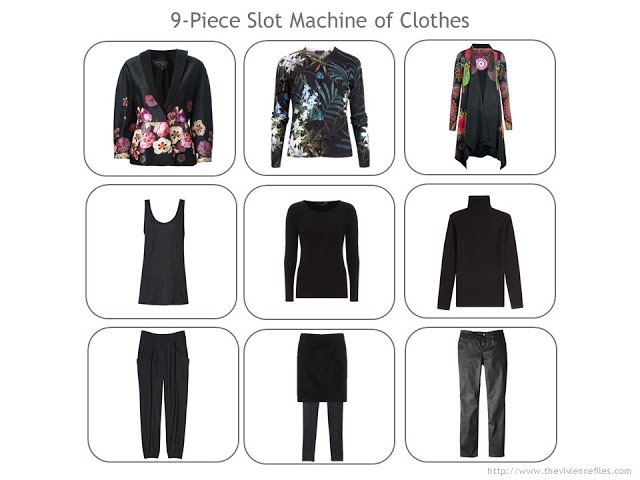 If you choose your florals carefully – things like a cotton cardigan – these outfits can span all seasons.
The tee shirt could be worn alone with pants or a skirt in the summer, and then layered under a cardigan or jacket as temperatures drop; it's much more efficient to find ways to wear clothes throughout the year, rather than completely change out your entire wardrobe twice a year.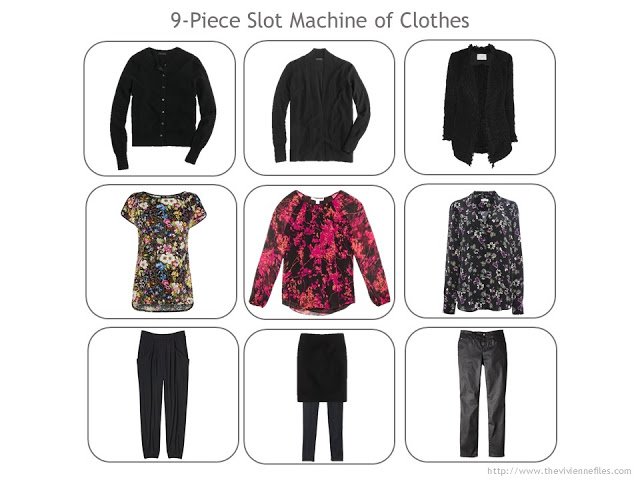 If you're madly uncomfortable drawing attention to the bottom part of your body, you could simply skip this part of the wardrobe completely, and may be get a few more jackets or blouses…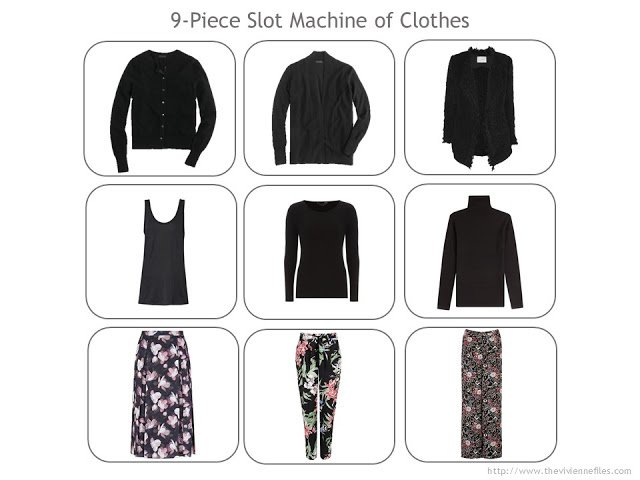 I have one last idea for leveraging the 9-Piece Slot Machine that I'm going to share with you tomorrow. Do you have any requests, suggestions, or questions?
love,
Janice