September 7, 2015
Ever since I started trying to identify my signature wardrobe items, and have worked with A Common Wardrobe, I've pondered the various ways in which printed or patterned garments can be incorporated into your wardrobe. I think for most of us, either non-solid pieces, or accent colors, are pretty important to give a sense of change and variety…So I started with a wonderful 9-Piece Slot Machine Wardrobe in solid black. These pieces run the gamut from a tank top for warm weather to a cashmere turtleneck for (in my life) about 6 months of winter. Just doing the math, these give you 27 3-piece outfits (3 x 3 x 3), plus 12 more 2-piece outfits. Some of the combinations might be a little unlikely – like a linen tank top with waxed cotton jeans – but the majority are wearable.
(these pieces are based on my wardrobe, but aren't exact matches – too many of my things are long gone from the retail world!)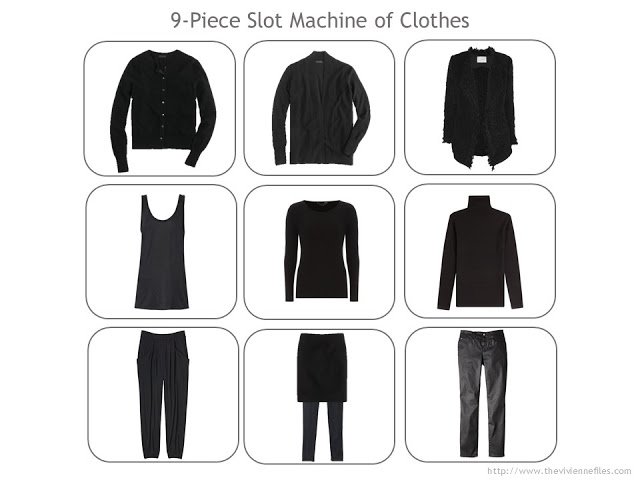 short cardigan – J. Crew; open cardigan – J. Crew; boucle jacket – IRO; black linen tank – Eileen Fisher; black tee shirt – Eileen Fisher; black turtleneck – Donna Karan; black slouch pants – Eileen Fisher; black skirted leggings – Eileen Fisher; black waxed cotton jeans – Eileen Fisher
But woman does not live by solids alone (well, most women), so I also have in my wardrobe a wide range of printed and patterned garments – none of these that I'm showing, but things that are similar, and which will work in a similar way with my solid core.A really clever person, with a long attention span for shopping, would try to coordinate at least a few of these pieces. A 3-piece suit with matching tweed or plaid jacket, trousers and skirt would give you a lot of additional possibilities for wearing 2 printed pieces together. Or a blouse and skirt in the same fabric, that look like a dress when worn together… (I just found out that the plaid tee shirt HAS a matching skirt…) These are the kinds of attention to detail that make it possible to live with fewer, better quality, pieces of clothing.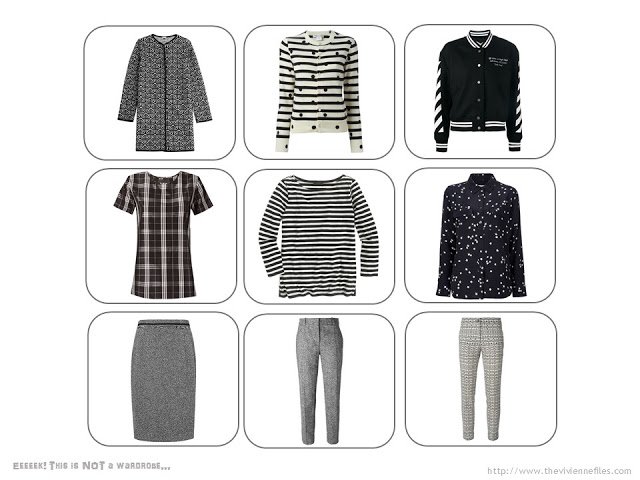 Long cardigan – M Missoni; short cardigan – Comme des Garcons; bomber jacket – Off-White; plaid tee – Vitorino Campos; long sleeve
striped tee – J. Crew; stars shirt – Equipment; tweed skirt – L.K. Bennett; tweed pants – Stella McCartney; geometric print pants – Etro
Here's where the fun starts! Take the original solid-colored Slot Machine, rip out one row of solid pieces and substitute in the prints and patterns. When I was talking about a signature look, I considered a solid black core or column, with accent pieces on top. That's exactly what this is: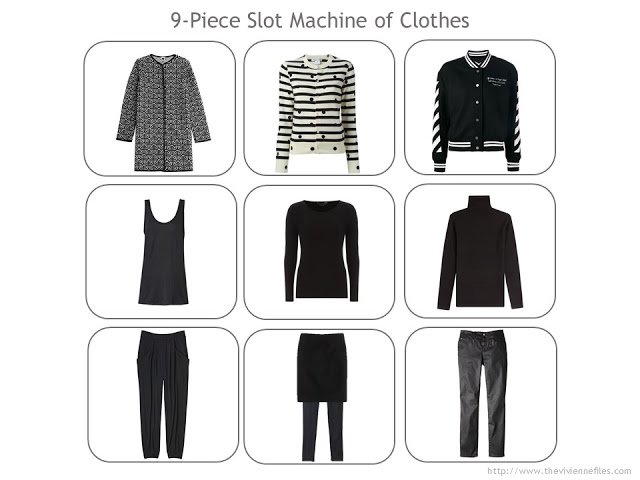 So now, with the addition of 3 new pieces of clothing, you've added 27 more possible combinations to your teeny little 12-piece wardrobe.
Showing 27 different combinations is sort of gratuitous, but I wanted to convey visually just how MANY more options this really is. You wouldn't set out to dress like this for the next almost 4 weeks, but depending on the weather and the plans you have for the day, your are probably able to dress appropriately without too much trouble.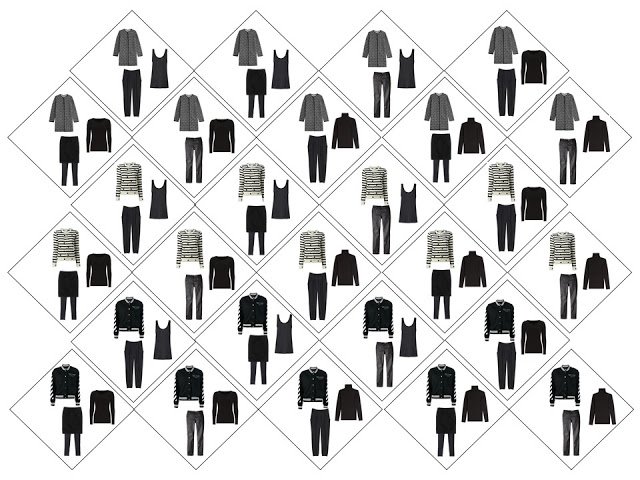 This is kind of "same song, different verse"; if you like the look of a black "suit", but want to change up the blouses and shirts, you've added another 27 possible combinations…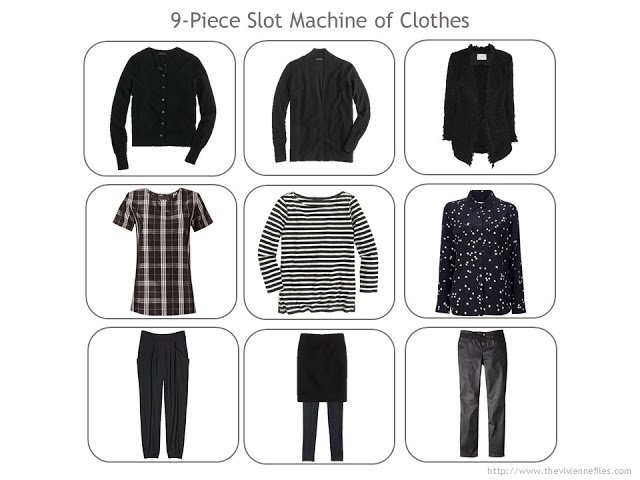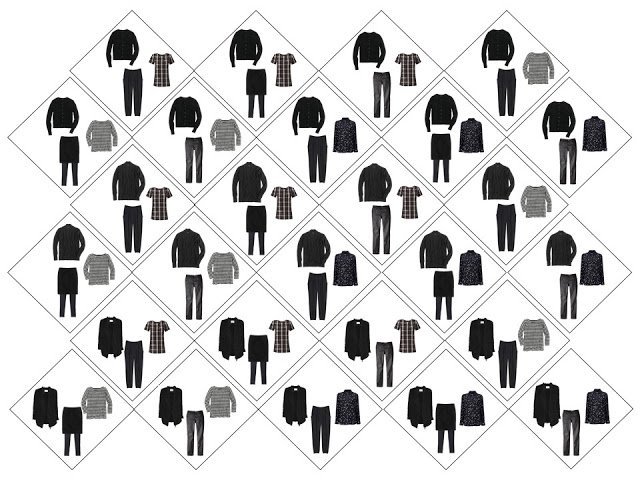 And if you prefer the visual interest to be on the bottom of your ensemble (maybe you're a bit top-heavy, or you like your jewelry/scarves to have a simple background), you can choose this option and add yet another 27 outfits!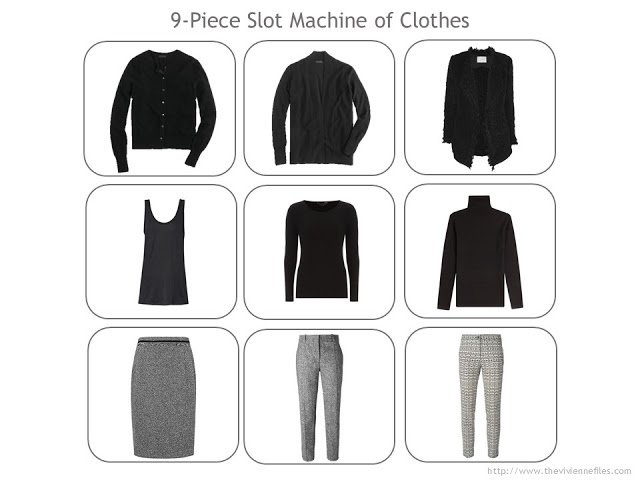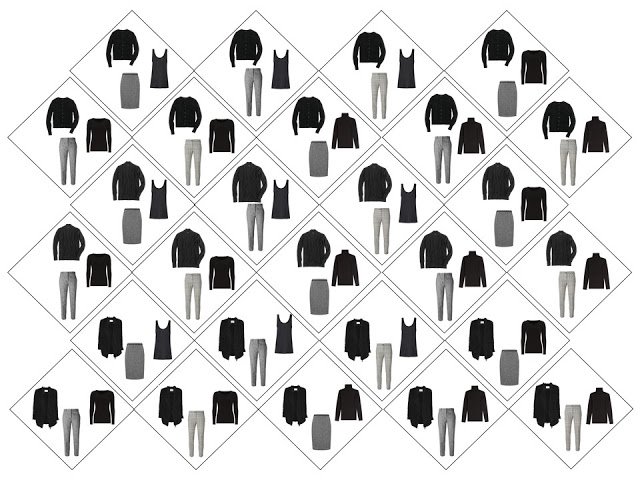 While this could be mind-numbingly monochromatic for some people, it does show the number of possibilities inherent in 18 very carefully selected items. So I think, in order to liven the world up a bit, I'm going to revisit this exercise with some brighter garments!
love,
Janice