September 5, 2015
Taken from one of my very favorite reference books for The Vivienne Files: Ma To-Do List by Jeanne-Aurore Colleuille and Laure Gontier. I'm going to quote directly from their book…
The 3 Secrets for
Creating your "Capsule Wardrobe"
"My style is the result of distillation. I have accepted my grey hair. I only wear black and white. Each year, I buy three or four dresses which I wear in rotation. I own a
pair of jeans." – Jamie Lee Curtis
"This barbaric Anglo-Saxon concept, adored by fashion magazines and women of style across the Atlantic,
doesn't have a real French equivalent.The word that they use to describe this concept is barbarisme… is doesn't translate with quite the harshness of the word in English.
Nonetheless, the idea of a "capsule wardrobe" can be universal. The product of the art of distillation, just to the essence, your style and your wardrobe can hold the
best and the most versatile items, just like those impeccable globe-trotters who tour the world with a miniscule suitcase and manage to be elegant in all circumstances.Not so easy? Let's go, shall we give it a try?
1.
Dictate your rules
Limits, paradoxically, free your creativity. Without rules, there is no personal style. So make a list of your personal style rules. Favorite colors? Sleeve lengths? Skirt preferences? Type of collar that you prefer? Note everything that you love, all the things that make a garment something that makes you feel like
you.
Then, cast a glance into your closet and eliminate everything that doesn't meet your draconian standards. And don't buy anything more that doesn't obey your rules."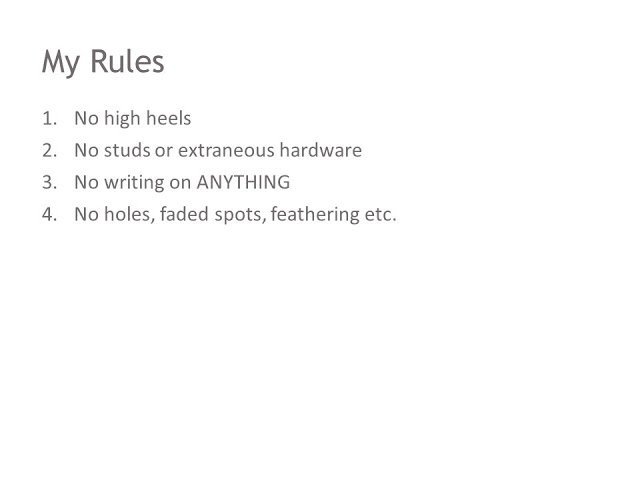 Let's think about how many rules you might have. Given that there are literally millions of pieces of clothing available to purchase, and you're only going to buy a handful – literally a half dozen or so – of items this season, you need a strict policy for why you don't buy everything else. There are unwritten rules (for most of us!) about things that cost a month's rent, or that don't begin to fit, but the potential number of rules you have in your mind, or on your list, should be REALLY long… My list is just getting started!
2.
Work on your coordination
"A variety of colors, tops and bottoms that are impossible to coordinate, shapes and materials without a common ground: these are the enemies of the ideal wardrobe. At the base of the "capsule wardrobe" is a simple idea (and yet we apply it rarely!): everything should go with everything else, so that you can get dressed with your eyes closed. (sounds like a Whatever's Clean Wardrobe to me!) For colors, you're looking for harmony and versatility, without necessarily choosing to wear all black or navy. If you love red, why not make that color the "common thread" through your capsule wardrobe?
Another
must
: hold onto the essential simple, classic pieces (black tank top, pencil skirt, classic trousers) which can, with
the addition of simple accessories, serve as both casual and dressy.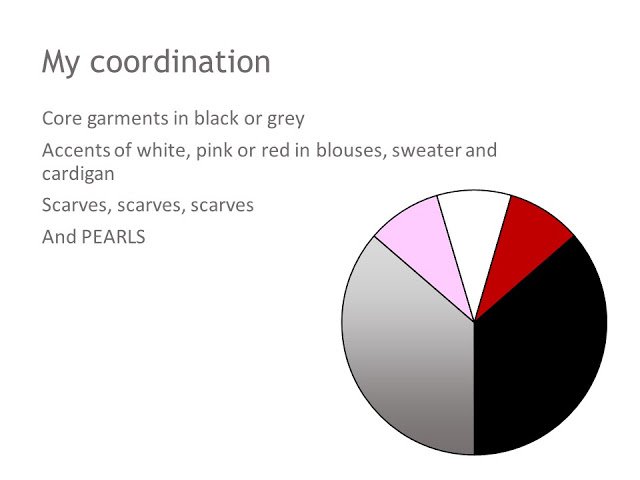 I break their rules right from the beginning, because I include two accent colors that only work together in a few instances. But I think the idea of having an entire wardrobe with EVERYTHING that coordinates is pretty ambitious; having a wardrobe that reflects a consistent personal preference and aesthetic concept is more realistic for most of us.
3.
Choose your Signature Piece
It's this which gives your wardrobe its theme and tempo. Reflect on "the" piece (single piece? How about a family of pieces? can we start gradually???) without which you couldn't live (a favorite unique jacket, for example) and decide to make it the reference point for your wardrobe: all the other pieces must be able to work with it, help it be used fully. If things don't work with your signature piece, they should be eliminated.I have three ideas of what my signature might be.
Pearl with gold or silver settings, and some Maltese cross motifs are my very favorite jewelry.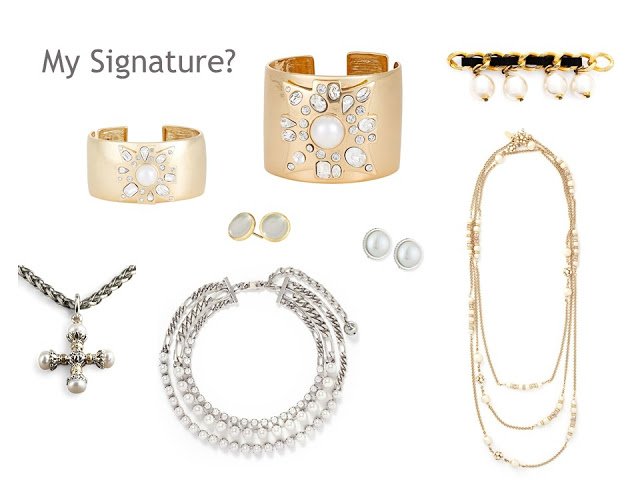 Narrow gold bracelet – Kenneth Jay Lane; wide gold bracelet – Kenneth Jay Lane; brooch – Chanel Vintage; silver pendant – Konstantino; mother of pearl in gold stud earrings – Marco Bicego;
stud earrings in silver – Balenciaga; chain and pearl necklace – Lanvin; gold chain and pearl necklace – Miriam Haskell
I wear them every day in the cold weather, and as often as I can manage on warmer days. My core would have to include black with flowers, a black and white graphic, something black and gold, as well as 1 or 2 red scarves, and a pink one…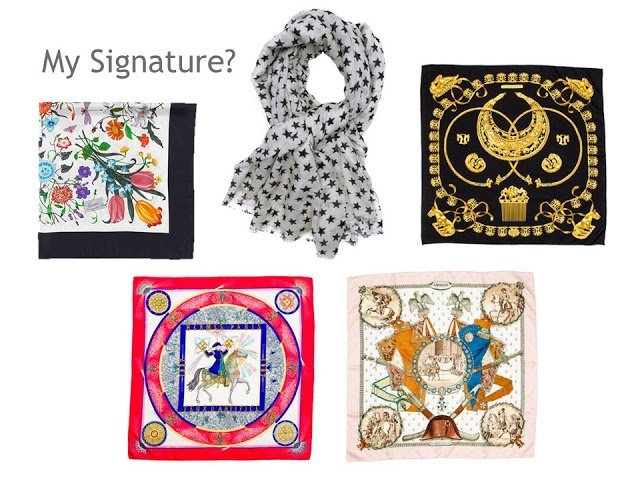 Floral with black border – Gucci; stars – Beck Sondergaard; black and gold – Hermes vintage; red scarf – Hermes vintage; pink scarf –
Hermes vintage
Or, most likely, a core of solid black garments, over which I wear a variety of accessories, snazzy jackets or fun cardigans…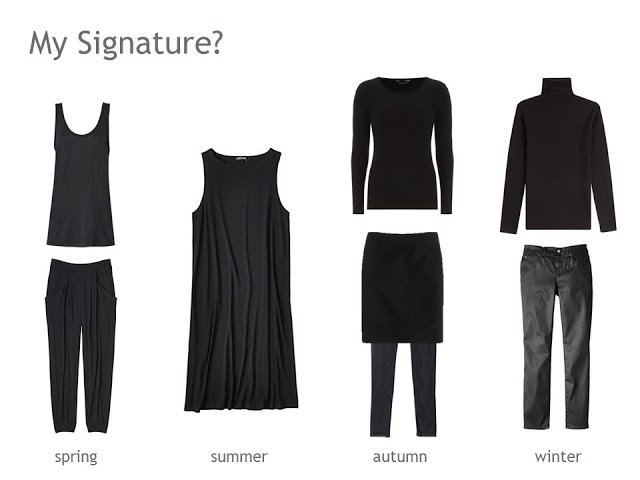 Black linen tank – Eileen Fisher; black slouch pants – Eileen Fisher; black tank dress – Eileen Fisher; black silk tee – Eileen Fisher; black skirted leggings – Eileen Fisher; black turtleneck – Donna Karan; black waxed cotton jeans – Eileen Fisher
While I can't wholeheartedly recommend that we all whittle our wardrobes down to a core of items that all go together, I think that this is a grand concept for travel; it feels a lot like the sort of travel capsule wardrobes that I build all the time.
But I DO agree with them that there needs to be a unifying thread in our wardrobes and our purchases that helps us visually define ourselves to others, and which helps us discipline and focus our purchases. As with so many of these cool French fashion books, there's something interesting to be learned…
love,
Janice