One last look at how these 9 black garments can be used to serve as a base for your personal wardrobe passion – this time, BRIGHT colors!
You might be able to put together outfits with just these 9 pieces, but people would certainly see you from a long way away! If you're comfortable doing that, I think you should do whatever delights you – that's really the most important factor when getting dressed! But for those of us who love these colors in smaller doses, I have some ideas…
As always, I'm going to build around a solid, well-chosen core of neutrals. I've used black for these examples the last 2 days, but any neutral can do the trick, with a little bit of thought and planning!
Just as I did before, I've substituted the top row of neutrals for a top row of bright cardigans. This gives you a "neutral column" upon which you can add accessories and your bright cardigan of choice.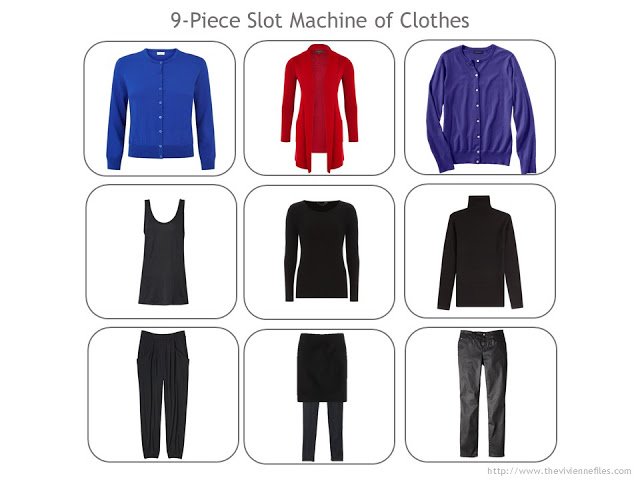 Accessories can take a lot of different forms, and many of your accessories can work with more than one of your accent colors, if chosen with that versatility in mind. Many scarves will combine at least two of these three accent colors.
(and note that I've kept the same shoes from yesterday – a good classic shoe will go a long way in the world…)
Same idea, but keeping a black "suit" look, and changing out the blouses, tee shirts, or (lightweight) turtleneck.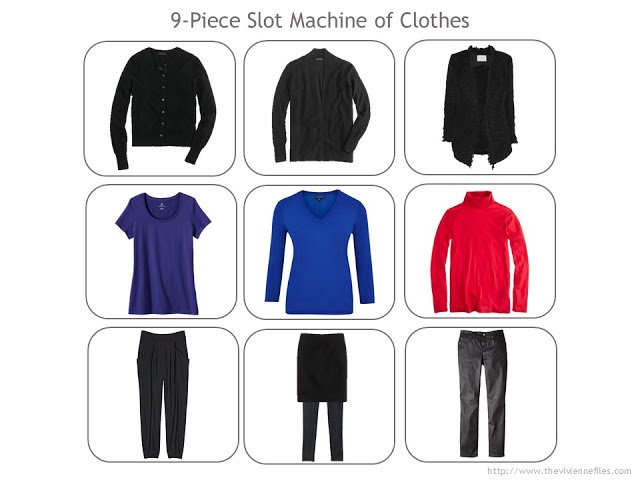 Don't forget the power of a pretty piece of jewelry with some (or a lot!) of color. And multiples are always fun, if you're in the "more is better" school of accessorizing.
And let's not forget the "black twinset-ish with bright pants or skirt" possibility!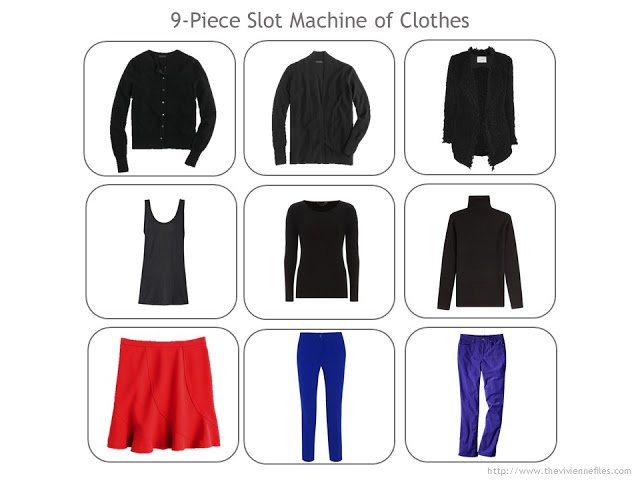 I trust that this has exhaustively convinced you of the wisdom of making sure that your neutral wardrobe core is always complete, and in good condition.
Tomorrow, I'm going to address a really interesting question that came up recently – does color scheme dictate level of dressiness? I say no, and I'm going to try to show why… Join me, and see if I hoist myself on my own color scheme petard!
love,
Janice