July 16, 2021
This whole idea is a work in process; please share your thoughts!
Those of you who have been here with me for a while know that I read (well, I TRY to read…) personal style books from France. It seems only fitting, since Vivienne was from Paris.
My current fascination is with this book:
This book takes an interesting approach to minimizing one's wardrobe – they don't believe that you should even THINK about getting rid of anything in your closet until you've had a good, long sit-down with yourself and made some decisions about what you want to look like!
Particularly, they emphasize the idea that your garments send a message to the world; are you sending the message that you WISH to send?
One of their many exercises into better style self-awareness was to choose your 10 favorite garments…
This took me a surprisingly long time!
These first four are things that I would buy again IMMEDIATELY if my clothes were all suddenly lost! I'm actually thinking of getting another chambray shirt anyway, because my mother is wearing mine as a jacket much of the time…
Must have velvet pants! And a couple of black sweaters, and a swishy pleated skirt…
I'm sort of ridiculously fond of my sweater-blazer, and I have a relatively bad habit of buying any black and white Fair Isle sweater that I see…
So these 10 make a decent tiny wardrobe, they certainly convey a sense that I wear a lot of black, but they're not REALLY expressive of the complex, slightly eccentric and ebullient me…
After I looked at these for a while, I realized that these 10 pieces are actually the bedrock neutral garments of my wardrobe, and have been for decades. Other things come and go, but these 10 (at least) are always present with me in some form.
That sent me back to thinking about what I've worn in my 3 most important "incarnations" in my adult life: the bookstore woman, the advertising woman, and the blogger!
I graph my thoughts like this: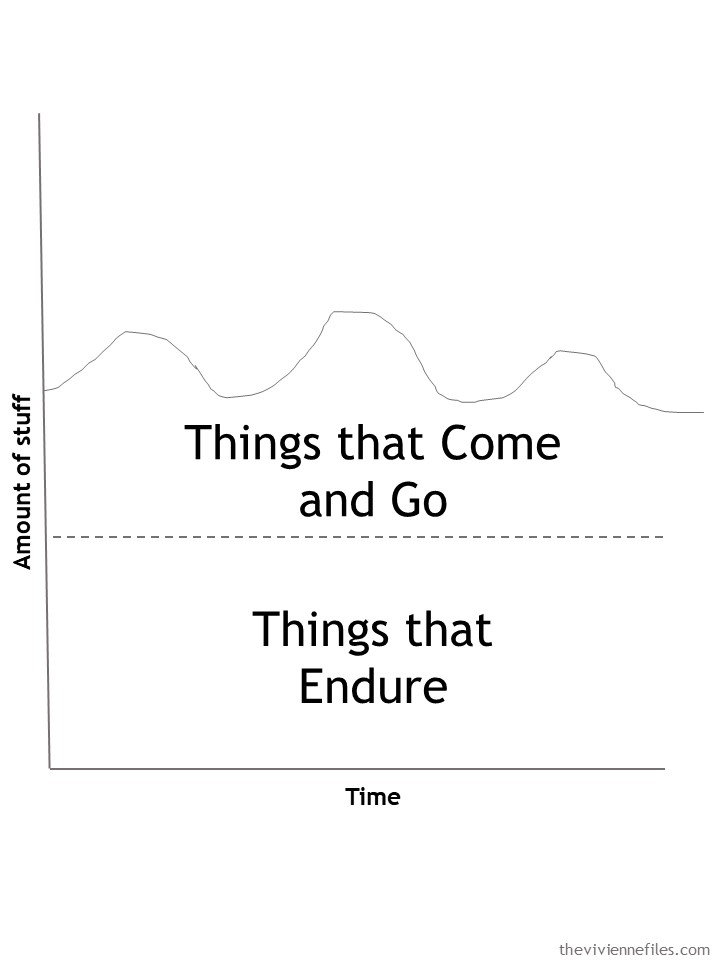 For me, the 3 major cycles can be defined thus: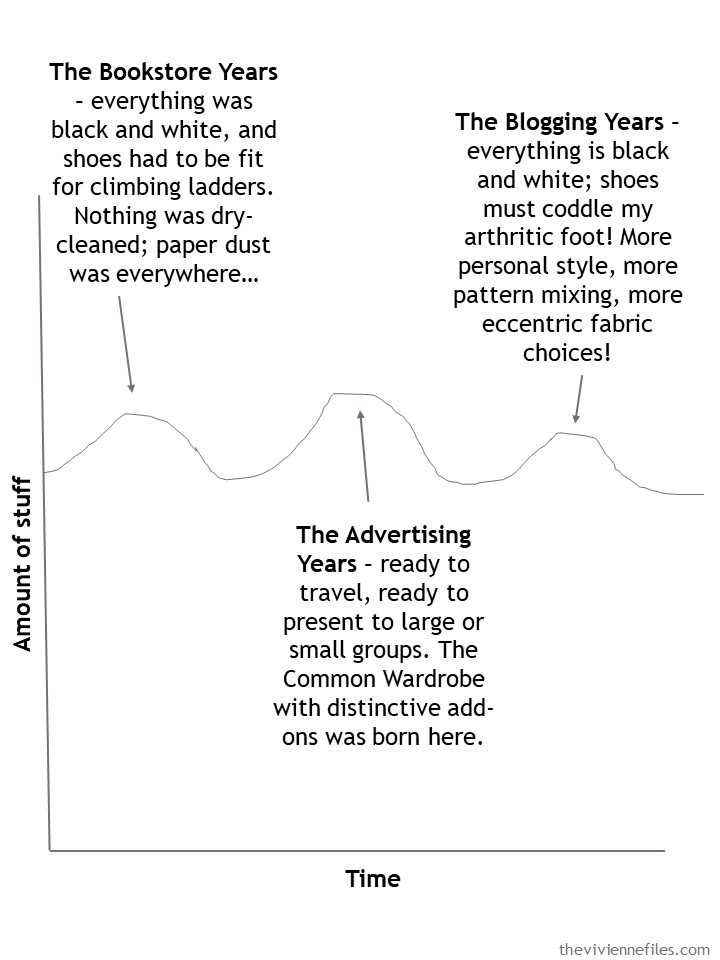 You can find lengthy discussions of The Common Wardrobe here.
Hmmm…..
Are the 10 garments recommended by my book supposed to be the "Enduring" things, or the "Come and Go" pieces that reflect my current wardrobe whims? Maybe some combination of the 2…
What the heck – let's try it twice!
Since I've decided that pink is a better color for my aging self, I've picked up a handful of pink things. They don't all go together, but that's not really a problem – a more interesting question is whether pink is a whim on my part, or a long-term style shift that merits some serious planning and investment?
I have a stack of black printed or patterned tee shirts – most for warm weather. They don't last forever, so these are definitely "whim" choices! Uniqlo is a GREAT place to find these tee shirts – they have an ever-changing assortment of tee shirts!
The purple sweatshirt was bought to match the highlights in my hair… THAT is probably a temporary thing, I imagine!
And the lantern pants feel fun to wear – I don't see them as an enduring style signature…
And late last winter, for NO good reason I can remember, I bought a couple of really pretty blue sweaters… Might I decide to wear blue more often? Could happen, but I don't feel it in my guts.
So after thinking about these things for a while, I can see a long-term commitment to pink, but I also see purple and blue as short-term "refreshers."
What alarmed me the most about this is that it was much easier to choose the 10 "Come and Go" garments that I most liked than it was to choose the 10 "Enduring" garments…
Am I spending too much energy and attention on the wrong things?
Should I move toward a better focus on garments that I will keep until they're completely worn out?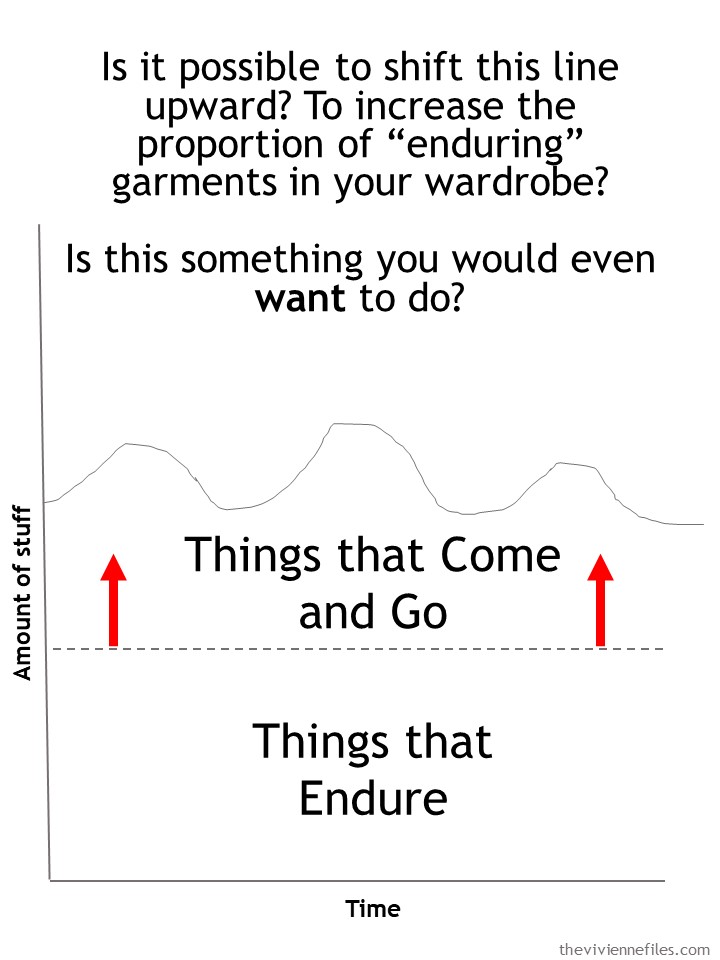 I'm the first person to admit that I only have questions here, and no answers. But I really wanted to toss this idea out to you all, to hear your thoughts and feelings about a Wardrobe Ratio between these 2 classes of clothing…
2 Enduring Garments : 1 Come and Go Garment?
3:1?
Hmm…
love,
Janice
p.s. Eight years ago, the reluctant tomboy was packing for a business trip. This is timely, given that "La Garçonne" is my style!