July  13, 2021
Why yes, the Nordstrom Anniversary Sale start Friday – at least for those with Nordstrom credit cards. (and it might be worth getting their card just to get into the sale before everyone else!) It's in the blogging contract that we ALL tell you about this sale, even though I've always got mixed feelings about it.
Generally speaking, I think that things being on sale is the WORST reason to shop. At the same time (yes, my name IS Janice…) you'd be nuts not to at least take a look at what is offered, because there are always things you want or need. Getting these things at a good price isn't silly…
But bear in mind – these things may have been manufactured specifically for the sale, and thus may not be the quality that you normally expect. Keep your packing tape handy, so you can return things that aren't worthy of you!
Let's start with what I will buy myself this sale season…
Early in the winter of 2019, I bought myself an ENORMOUS pink sweatshirt from Uniqlo. Huge. Massive. I've worn it dozens and dozens of times – clearly a pink sweatshirt is something that works well in my wardrobe.
But, of course, a sweatshirt is a pretty ordinary garment. How can I upgrade? Cashmere, of course!
Upgrading a wardrobe staple is only 1 of the 6 reasons that I could think of for making a point of shopping a big sale: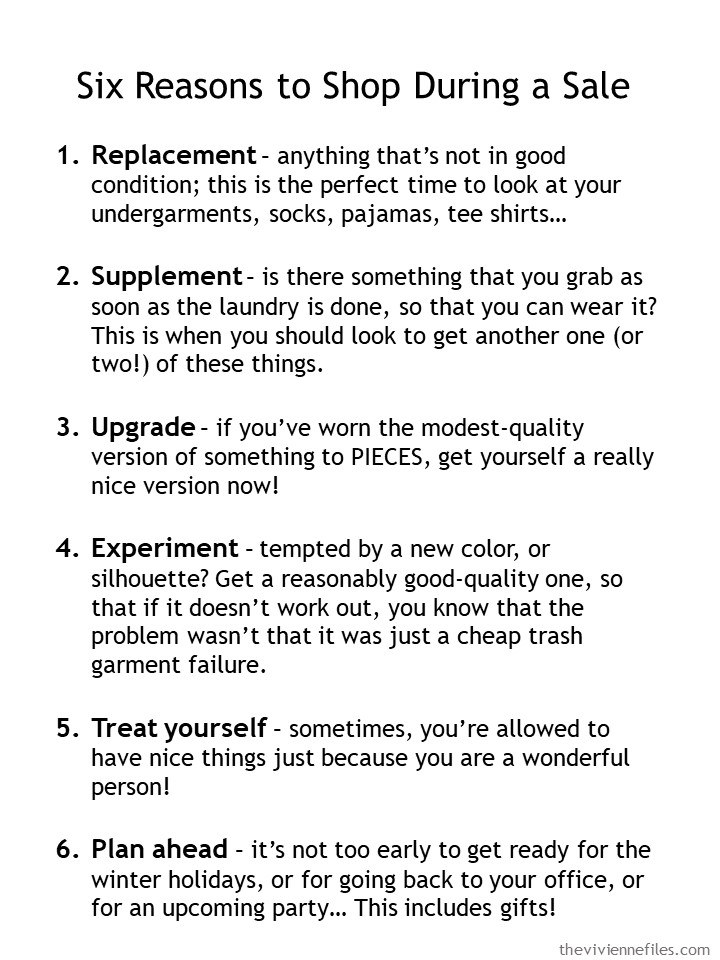 My lingerie is in good nick, but I suspect that I should give my gym clothes a good look-over…
A few years ago, I broke down and bought a bunch of striped tee shirts (black and white, of course!) in varying cuts and sleeve-lengths. I made this nutty but ultimately good decision after I realized that I was picking my striped tee shirt out of the closet literally THE DAY after I ironed it and hung it up!
You may have something you own that you love this much – why not get yourself a second – or even a third – similar item?
Maybe it's time to move up from acrylic to cashmere, or from polyester blends to silk? This is the best time to try something lovely…
And for what it's worth, I machine wash my cashmere on delicate, and hang them to dry, and then I iron them. I have a black turtleneck that's 22 years old, and it's in the laundry every 2 weeks ALL WINTER LONG…
Maybe you've been looking at tops with puffy sleeves and wondering how you might like one… Or the idea of "shortalls" appeals – I know I wore them in college and loved them! Royal blue a color you've wanted to test-drive? Or maybe you just want to see if you can wear a different style of running shoe successfully…
yes, a couple of these things aren't part of the sale – I wanted to show you possibilities, and I wandered OUT of the sale section… sigh…
Maybe, just maybe, you've been a VERY good person for a long time, and you plain and simply want a treat. I can always justify something beautiful…
And if all of this introspection is too much, remember that there are always gift-giving events in our future. This might be a good time to start thinking of our loved ones…
Similarly, if you're eventually going to have to go back to work, keep that in mind as you browse the sale offerings…
All things being equal, I wasn't bowled over by a million things this year; in the past, I've been overwhelmed with greed and lust… Lots of gym clothes this year – plenty of leggings (ick) and lots of rhinestone earrings.
What would you buy, if you choose to do so, this sale season?
love,
Janice
p.s. Five years ago (give or take 24 hours!), our heroine had insomnia, and went to Paris to cure it! Still one of my very favorite heroines, and wardrobes….