June 2, 2021
In building these wardrobes, I was trying to follow the Starting from Scratch guidelines… but the next items in order would include a jacket…
So I'm skipping over THAT step, and moving on to the "complete outfit" step. With warm weather coming, I could neither find nor face jackets!
And I'm introducing some prints into these wardrobes – not a moment too soon, eh?
This wardrobe only had the lone gold tee shirt to represent the yellow/gold accent color, so when I saw these pants, I knew this heroine might want to branch out in this direction:
This wardrobe offers 2 distinctive accents – the brightness of gold, or the gentle prettiness of pink…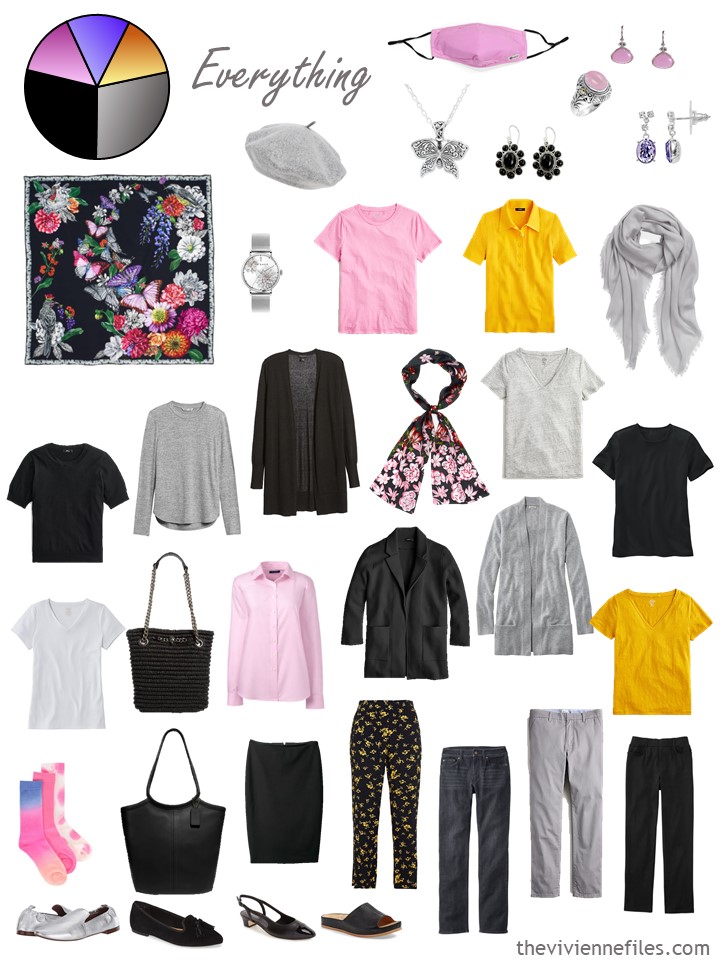 And her new garments blend seamlessly with her existing clothes!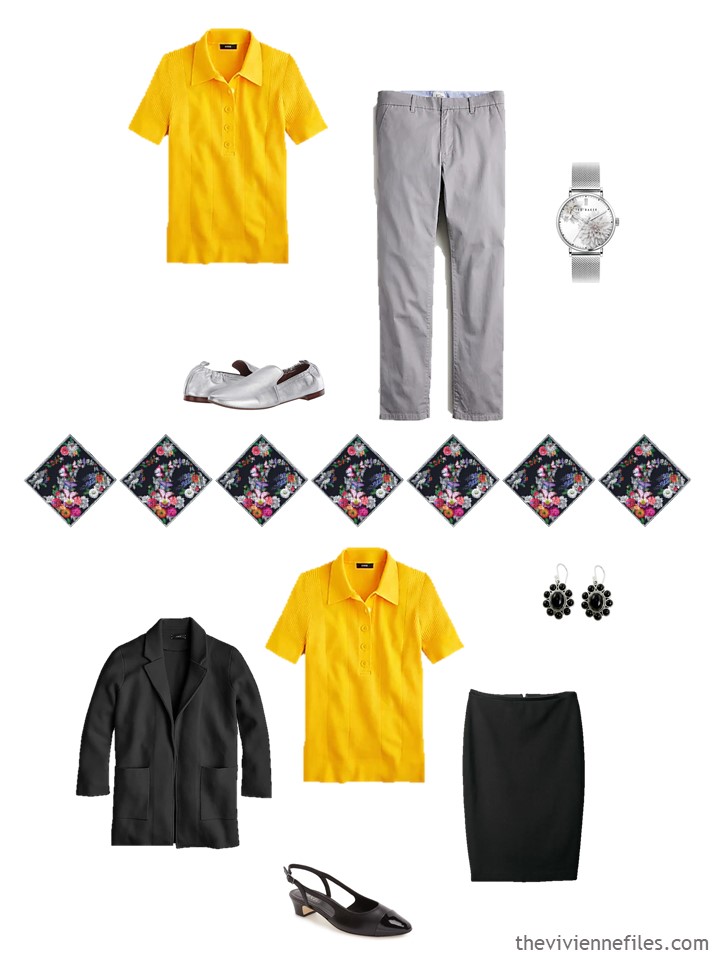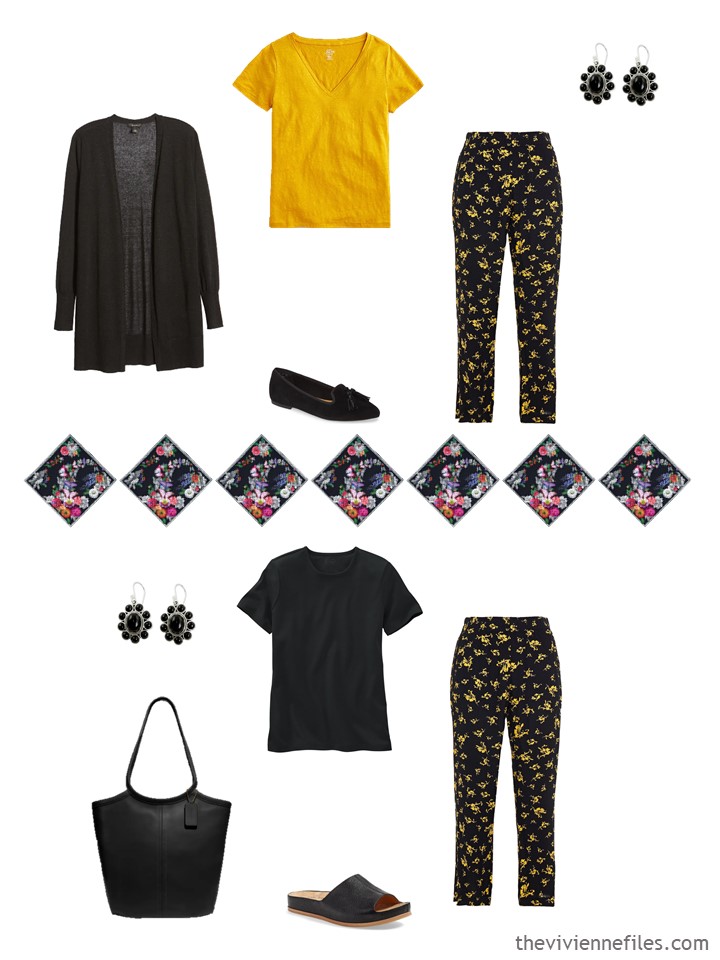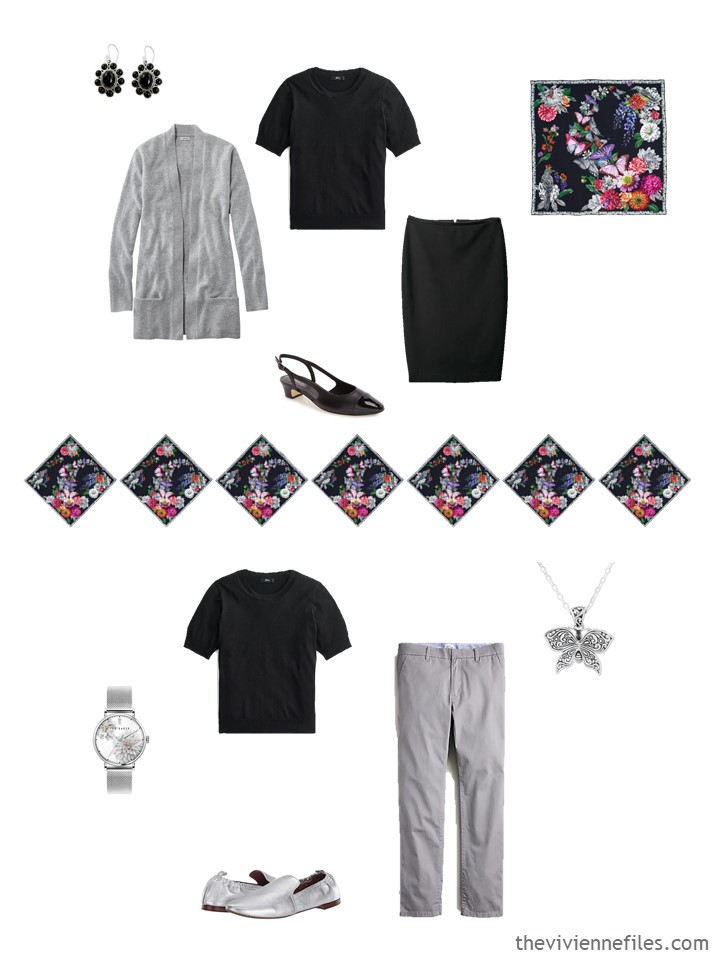 Our next wardrobe might have the best color balance of all 6 wardrobes here – it's not easy to balance a variety of colors!
These new clothes are simple classics, but oh so useful!
Doesn't this all make sense together?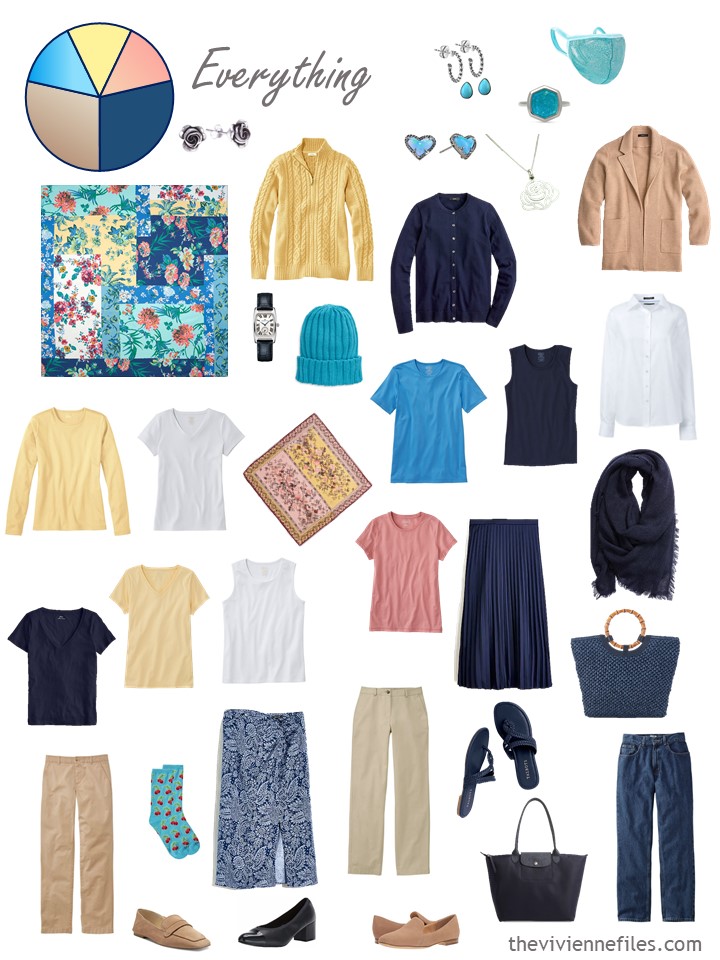 I'm always bad about hanging onto my summer tops to wear under sweaters in cooler weather; unless you get extremely cold, you may just need a touch of color under a sweater!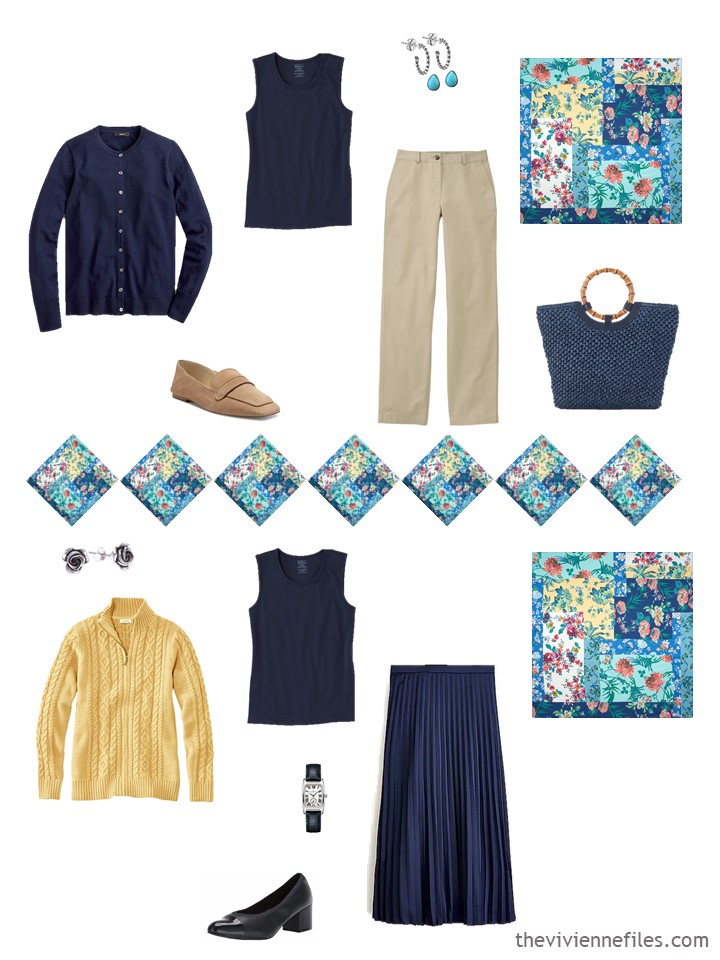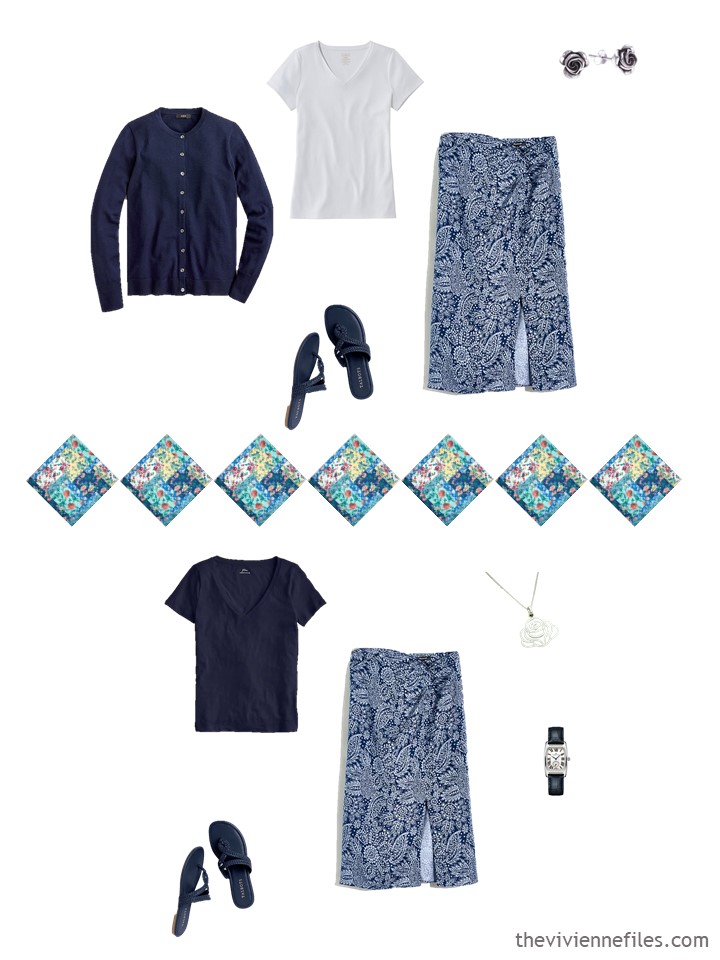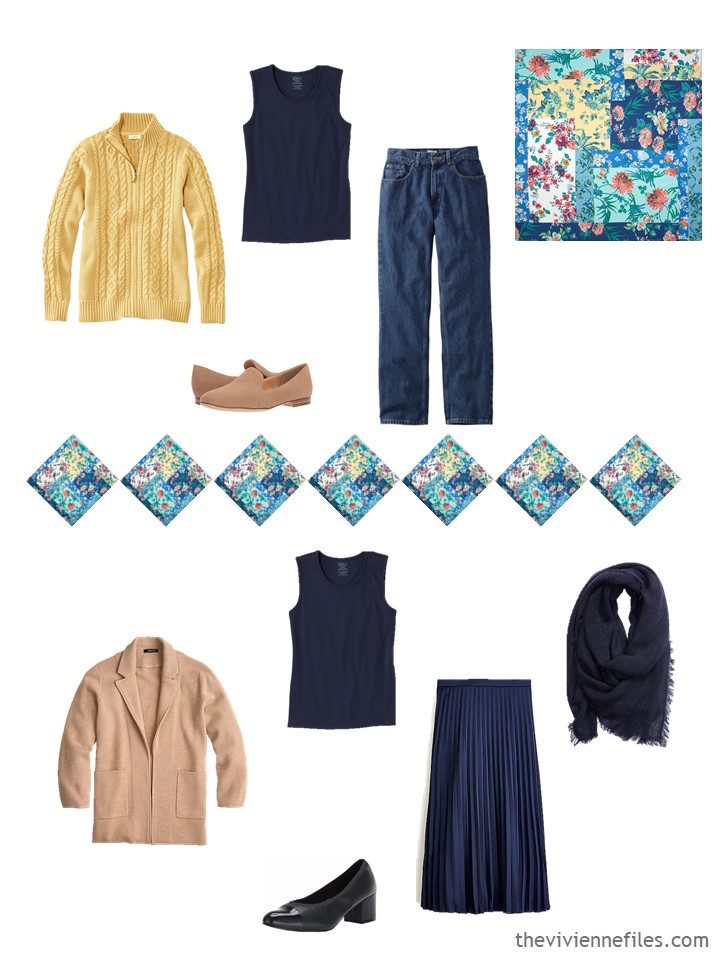 Ah, let's look at some purple! My favorite…
Not everyone wants to wear a printed garment below the waist, right…
There are other options!
You can see immediately how well our new additions fit into this wardrobe: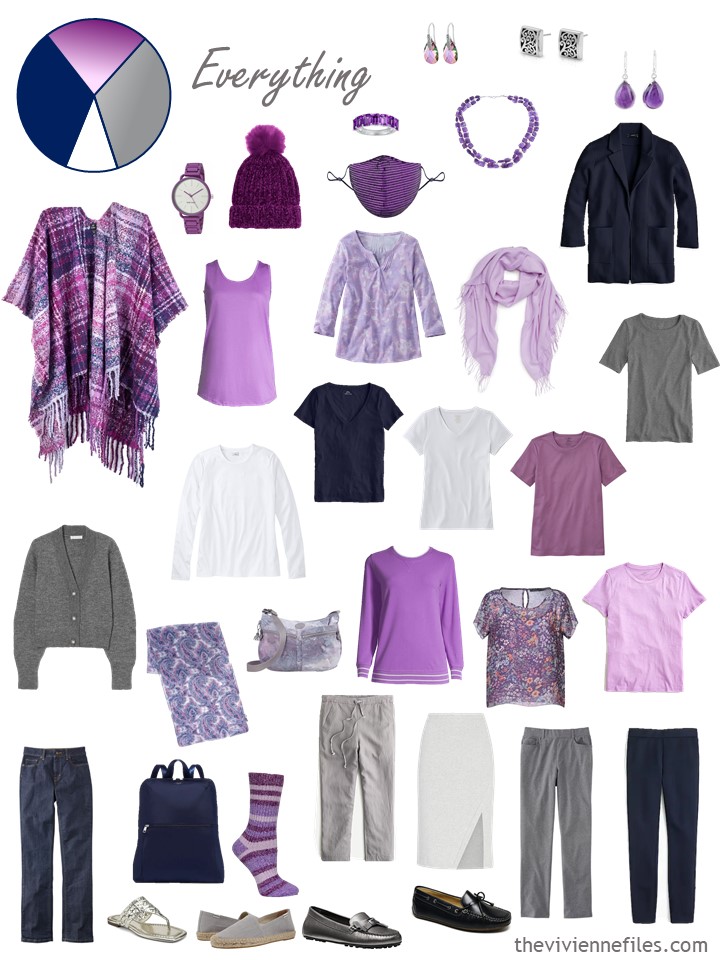 The printed tops add a lot of options to this wardrobe, and if the weather ever gets warm, the linen pants will be invaluable!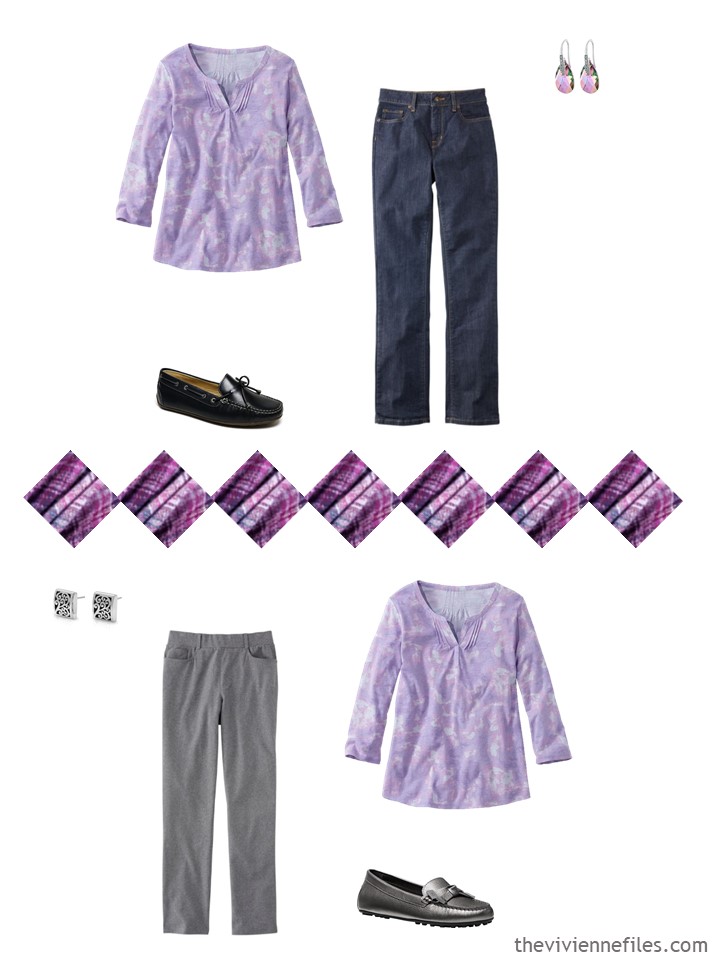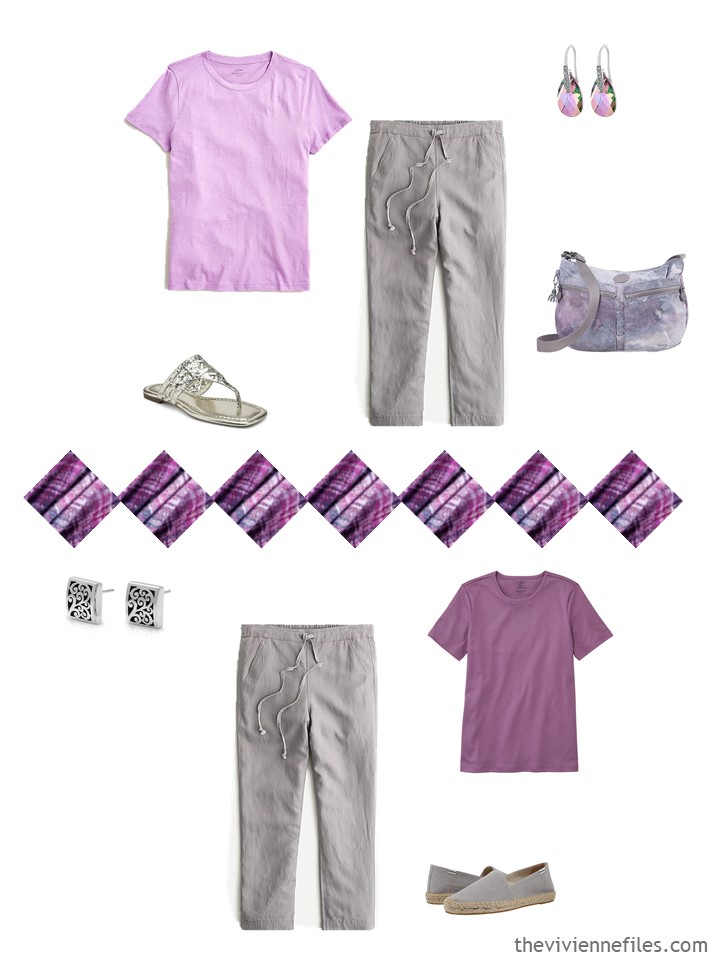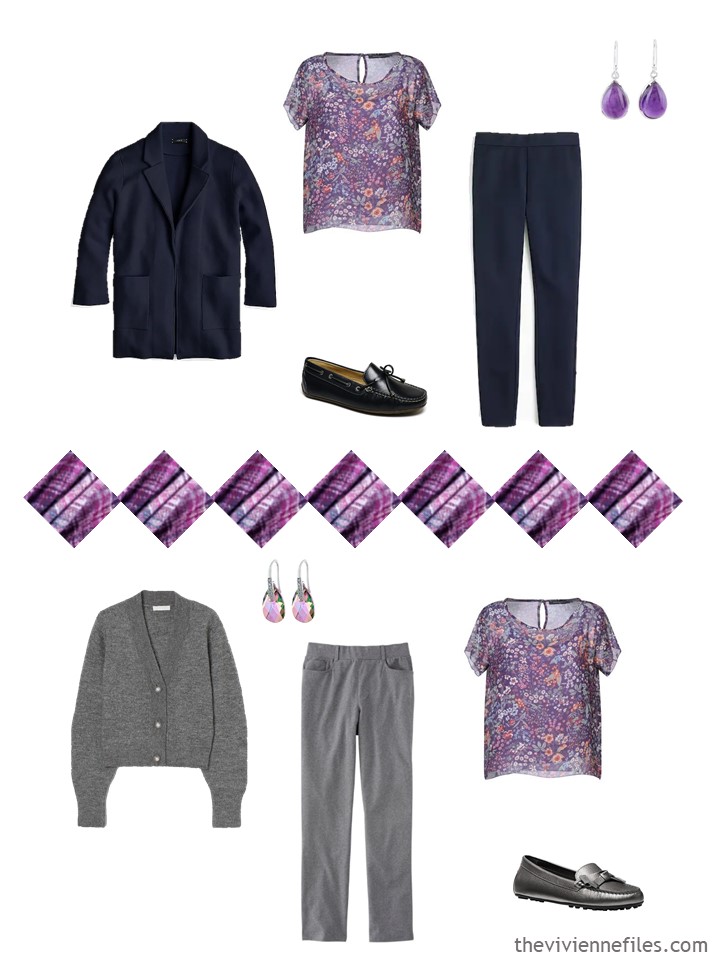 I love this next scarf, even if it requires some SERIOUS searching to find great clothes for this palette:
2 outfit possibilities!
The balance of colors here feels pretty good, doesn't it?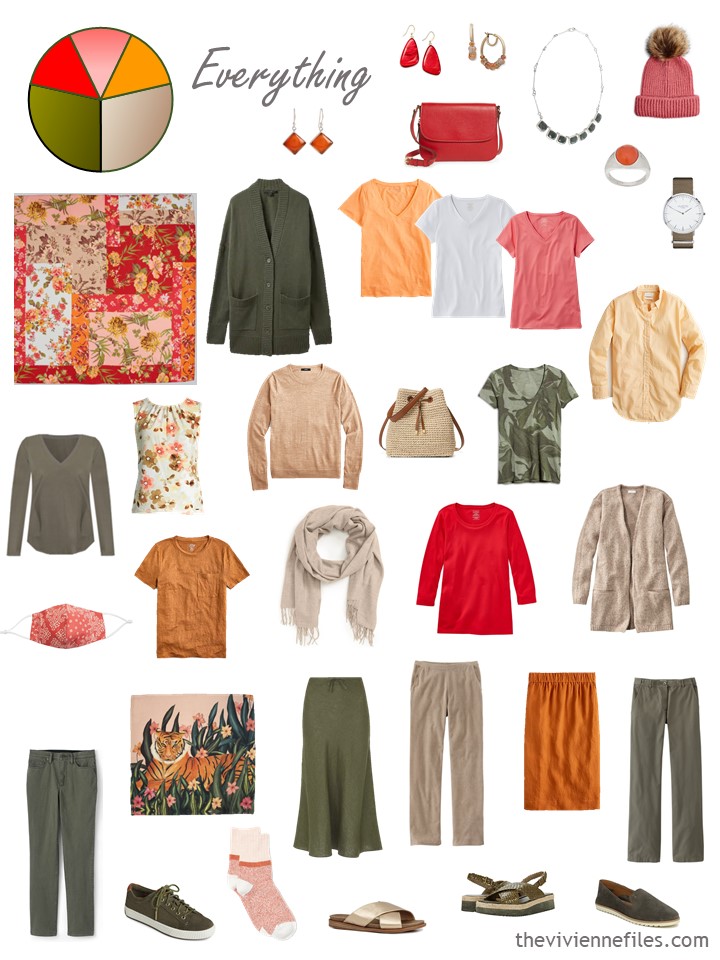 And our heroine's new clothes are easy to wear in all KINDS of ways: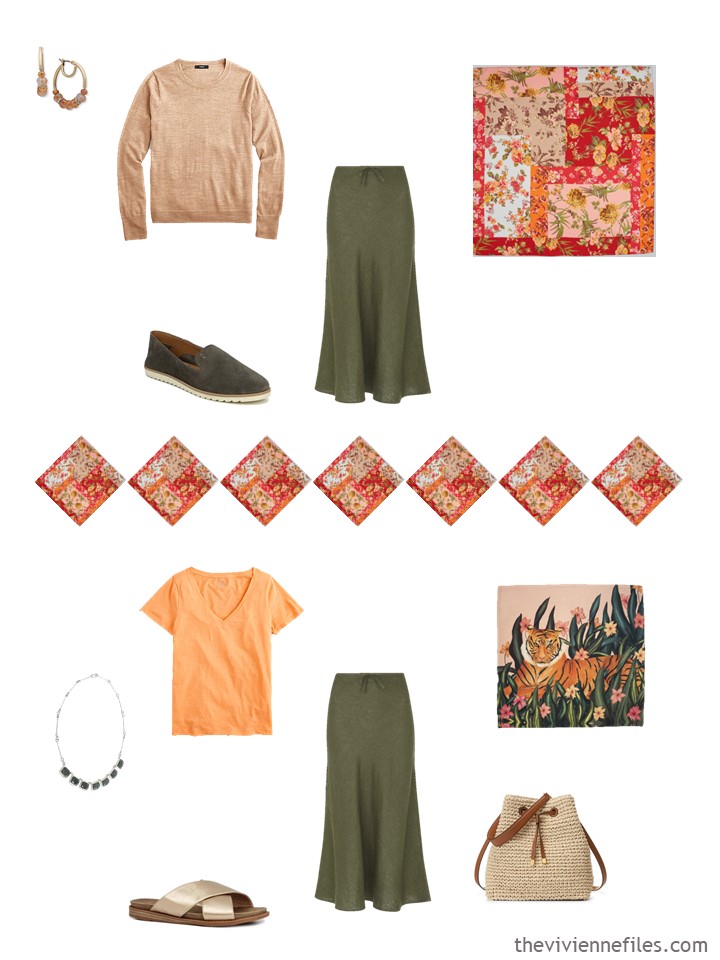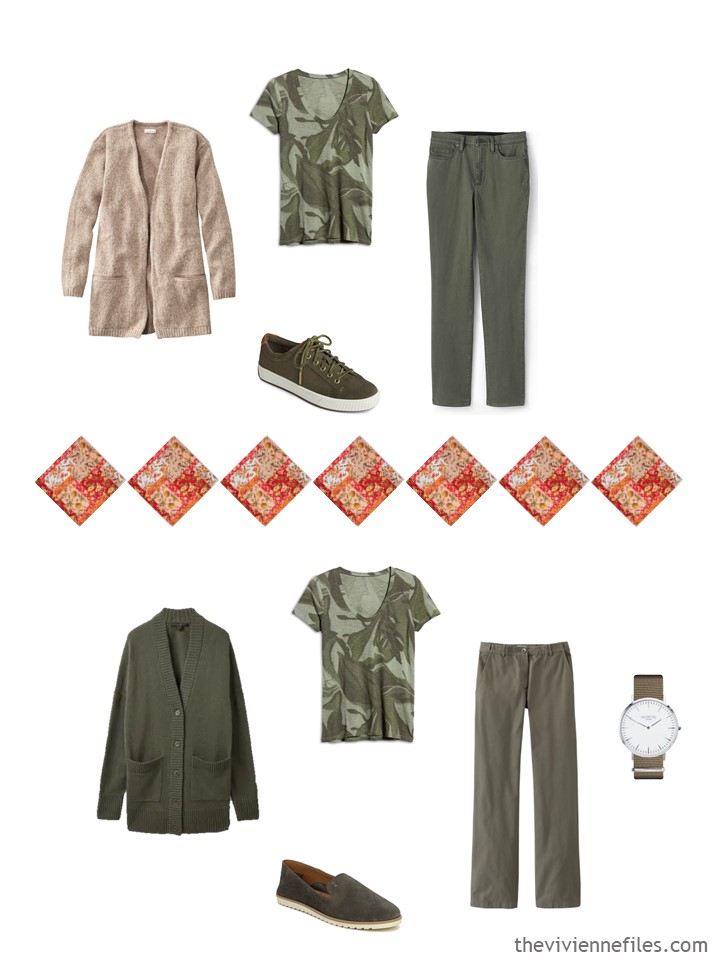 Oh dear, it's my wardrobing nemesis… who would have imagined that I would spend so much time trying to find lovely brown clothes?
I'm going to make a major change here next month. I'm not sure what – it could be as drastic as replacing the scarf (which I've NEVER done before!)…
For this month, I chose to focus on the grey and pink – I think it possible that the future of this wardrobe likes that direction.
Yes, I'm a firm believer in light-colored, lightweight pants for summer!
This wardrobe is still sort of weird, but it's clearly taking on a grey feel…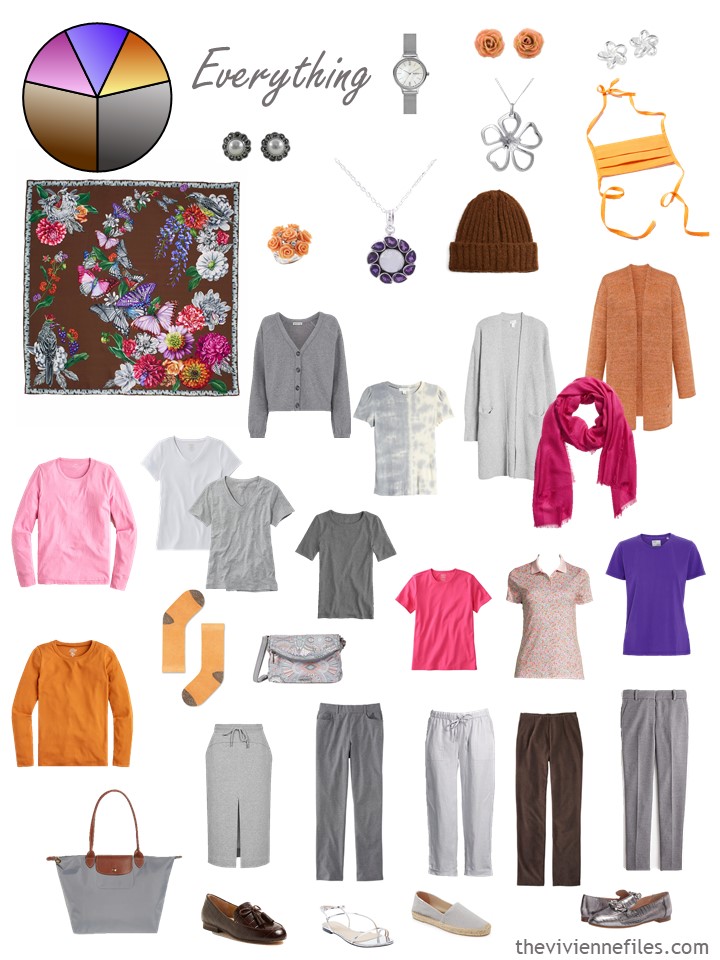 But even with the way I've struggled here, the new clothes our heroine chose work well with what she already had in her closet!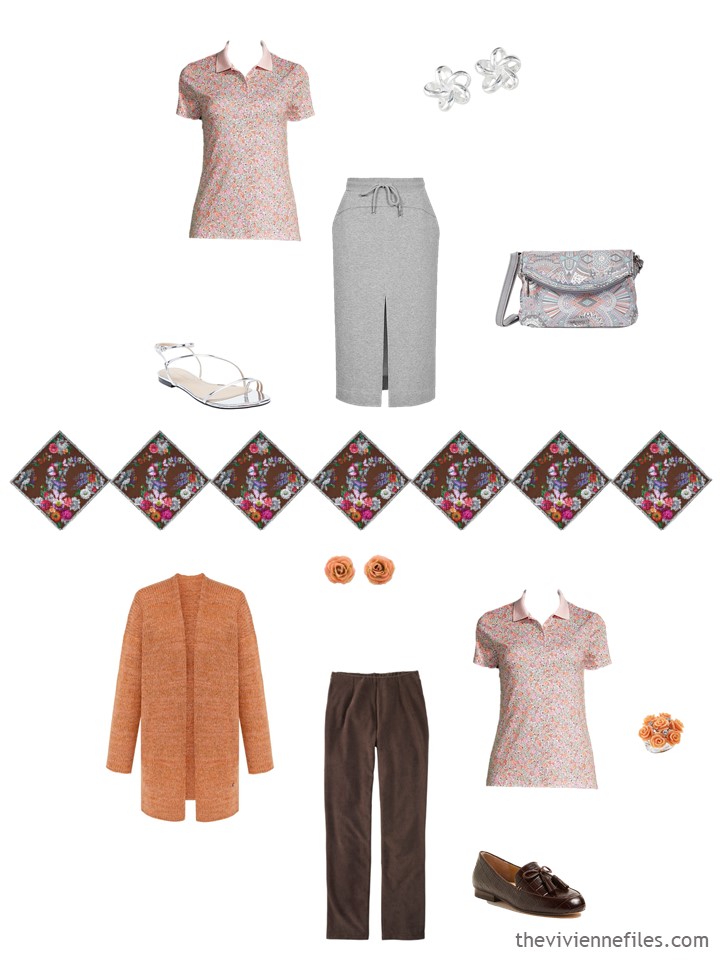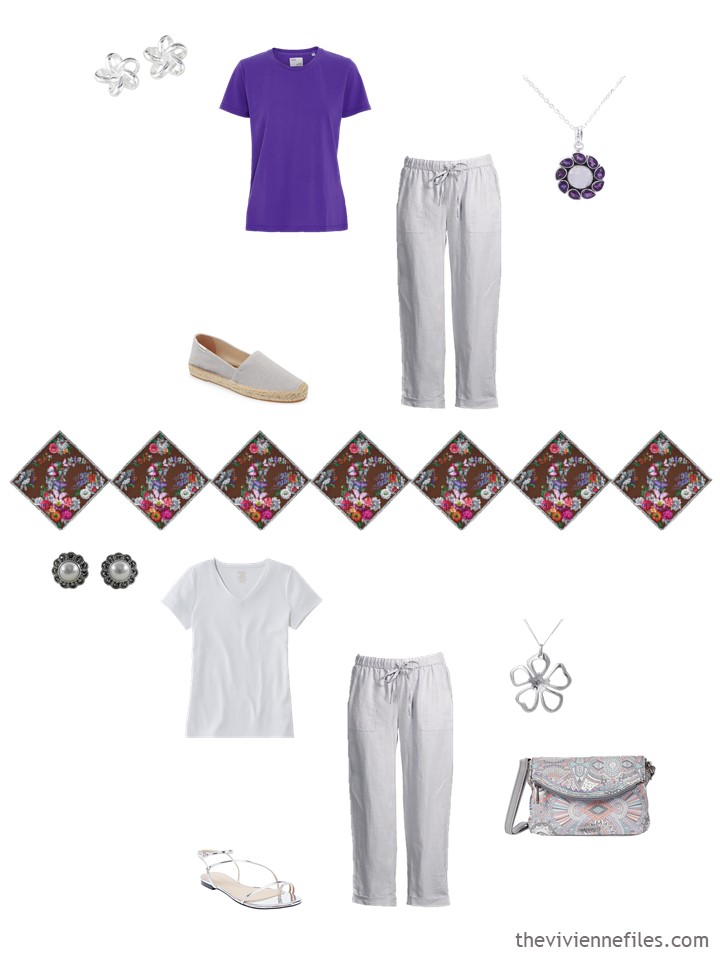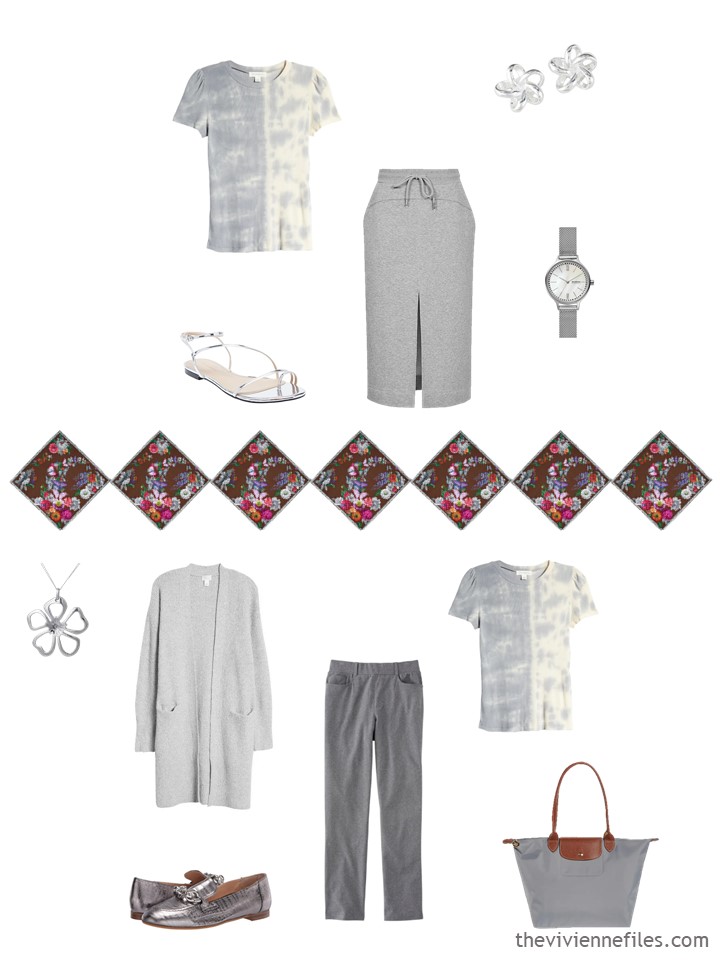 And finally, this casual, denim-strong, versatile wardrobe!
No resisting this skirt…
In another life, I could so easily be this heroine!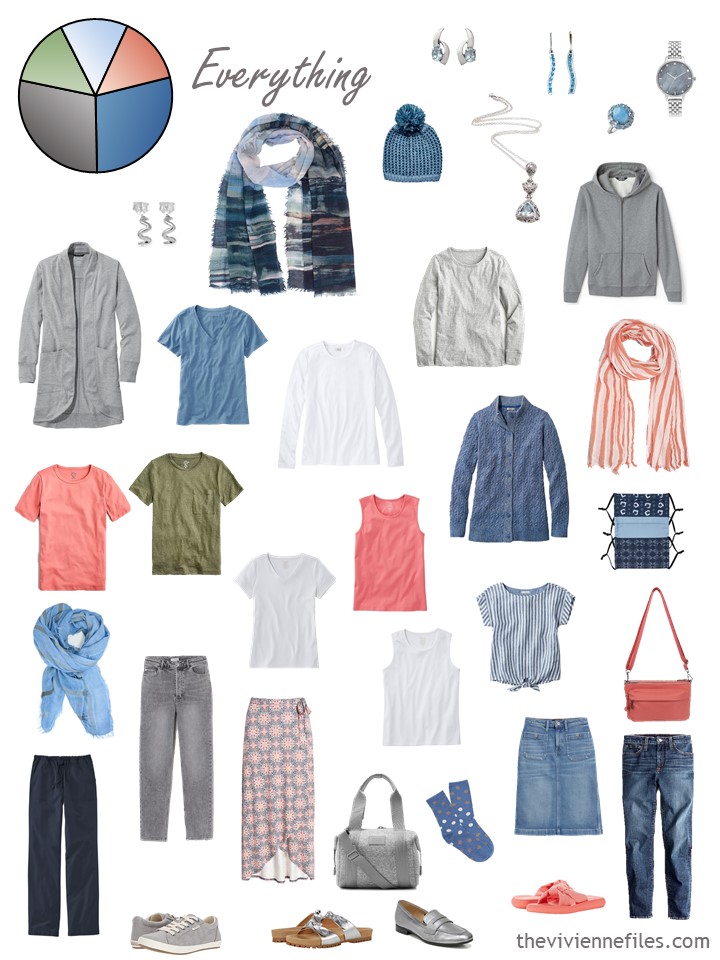 As one might expect, new clothes fit right in with older clothes in this heroine's life: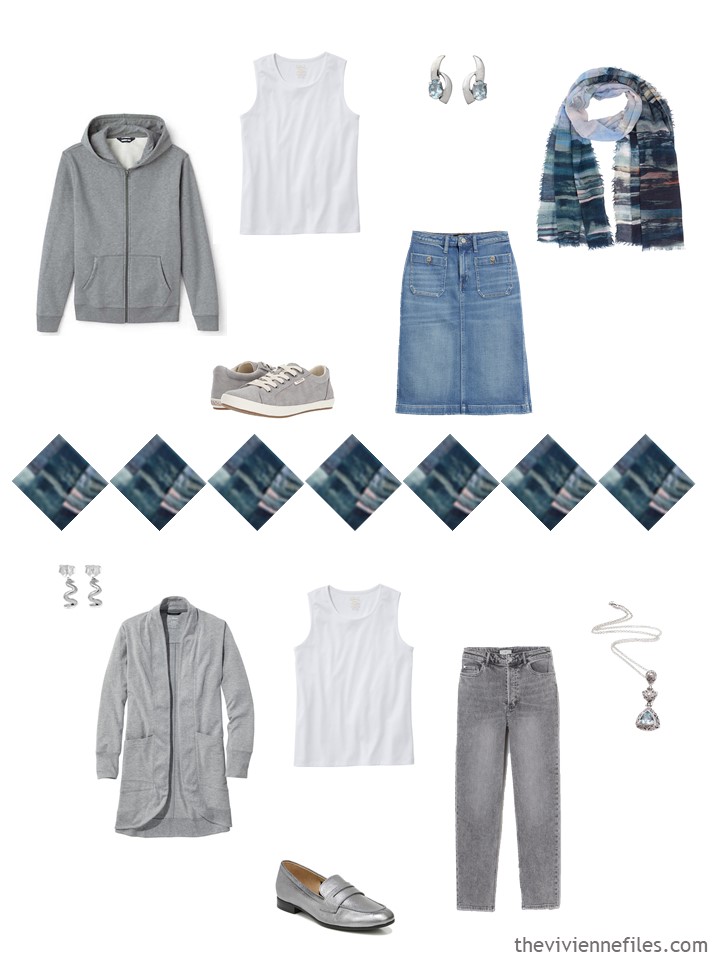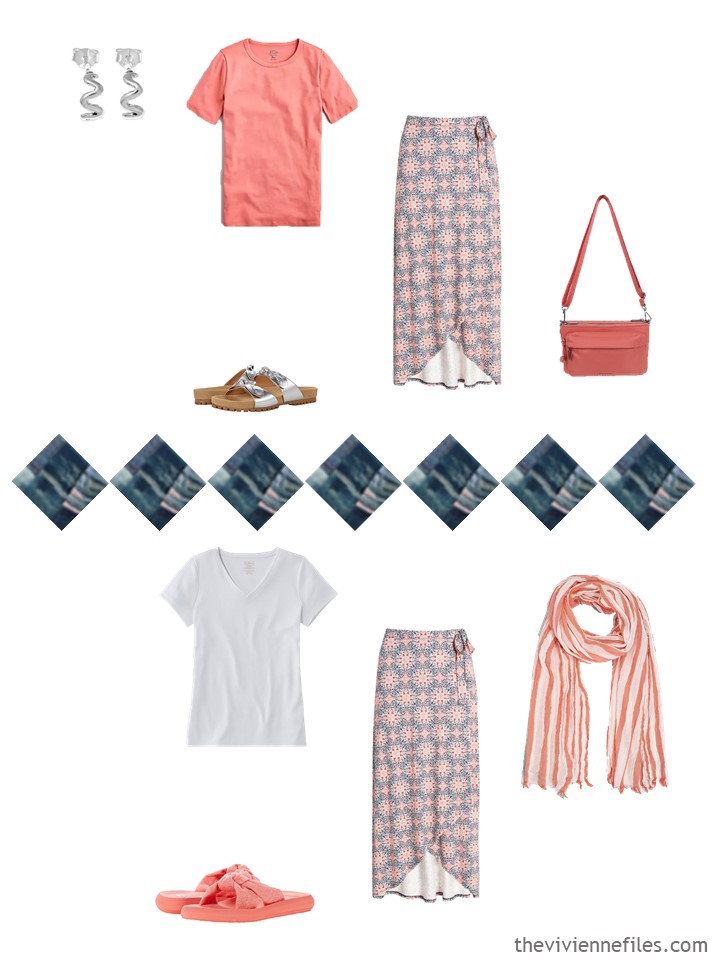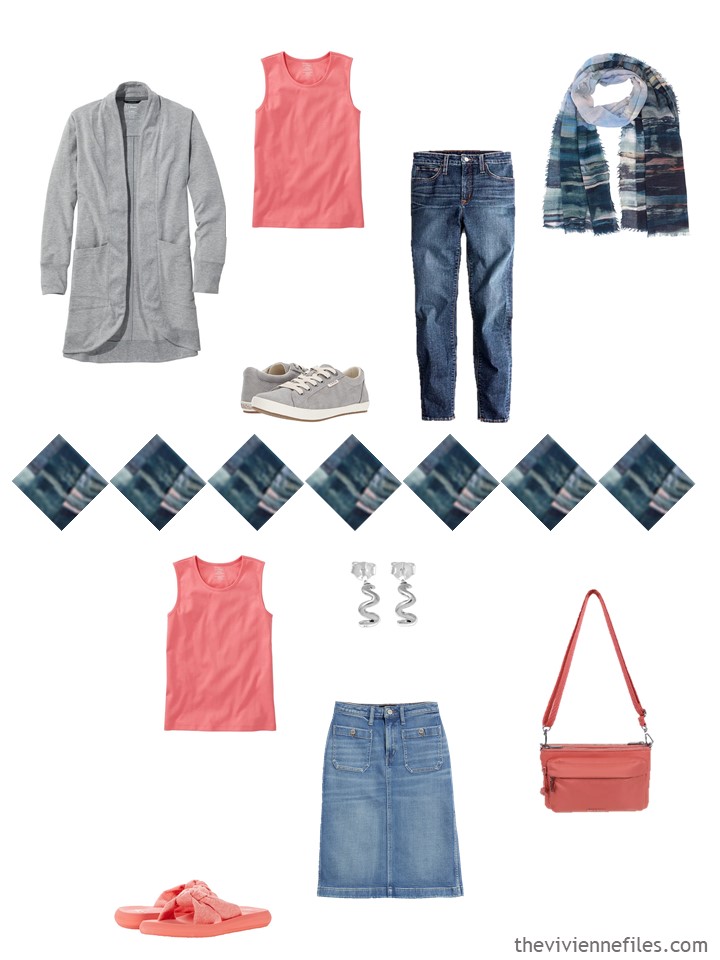 This month, I think the super-purple wardrobe might be my favorite; the idea of being able to wear those tops with linen pants holds a lot of appeal!
And you?
love,
Janice

p.s. Six years ago, I conjured up a navy and beige "Whatever's Clean 13" wardrobe for weather ranging from cool to warm…