May 31, 2021
Let's get dressed up – just a little bit!
yes, I know some of you will never wear dresses or skirts – imagine that these skirts are shorts, or cropped pants, or long pants…
When I started thinking about the Weekly Timeless Wardrobe, it never occurred to me that this skirt should be in a neutral color. I think I realized somewhere in my cluttered mind that a skirt isn't going to be worn as often (maybe?) and thus can be the standout part of an outfit!
You could take a simple navy skirt and dress it for work – imagine dashing into the loo at the end of the day and changing into shorts and sandals, but keeping your tank top and cardigan on!
Maybe this scarf is tied in your hair, or arranged in an artful head wrap?
Why yes, you DO recognize this cardigan and the accessories! How versatile is this?
With a black skirt and white cardigan, there's no limit to what accent colors you might choose:
Let's not forget, your best warm weather skirt might NOT be solid – everybody gets to make their own decisions about these things…
For reference, here's the master list; next week I'm going to look at what 13-piece wardrobes look like, based on the 13 garments for Spring. I love a tidy capsule wardrobe, as you well know!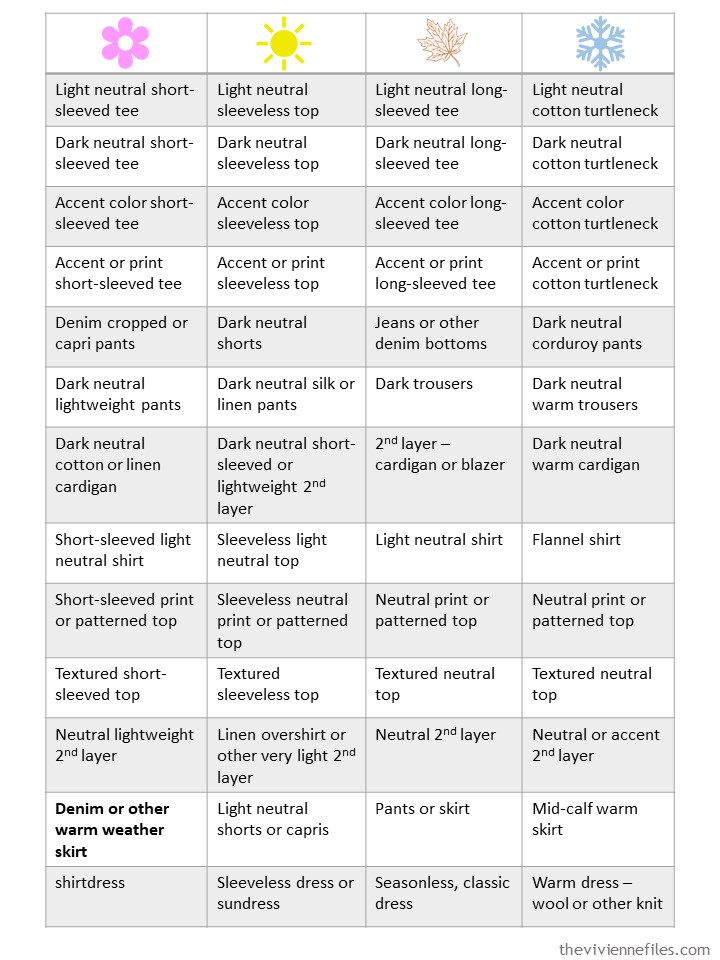 Do you wear skirts? I've had my black linen skirt on a few times this month – but of course now it's freezing cold again… sigh…
love,
Janice
p.s. Six years ago, my last post in the month of May was about packing for uncertain weather, and working with a "Whatever's Clean 13" wardrobe.