May 30, 2015
Something everyone struggles with is having to pack when the weather is iffy, or when you're going to be moving around through different weather conditions. So I thought I'd take our "Whatever's Clean 13" template as a guide to making this easier.
I've laid it out this way: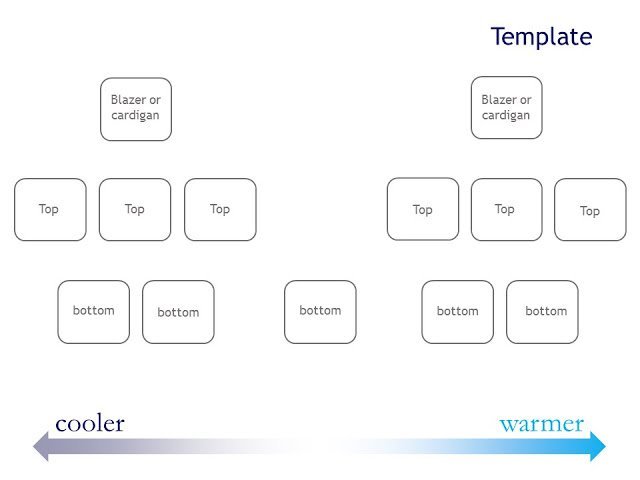 A simple navy, white and turquoise palette is the order of the day. (and starting with the Kathkath scarf, I've loosely adhered to a theme of waves and water…)
No matter what the travel plan is, I like to make sure that I'm traveling with long trousers, closed-toe shoes, and a cardigan. Depending on your mode of travel, you want to be prepared for too much air conditioning, or a rotten heating system. And it's always easier to take off your cardigan and roll up your sleeves than it is to try to get dressed in warmer clothing that's tucked into your suitcase.
This is everything that I packed (in my imagination, of course!). You can already see that there's sleeveless, and sandals, so a change of temperature is expected…
And here's the entirety of your travel wardrobe: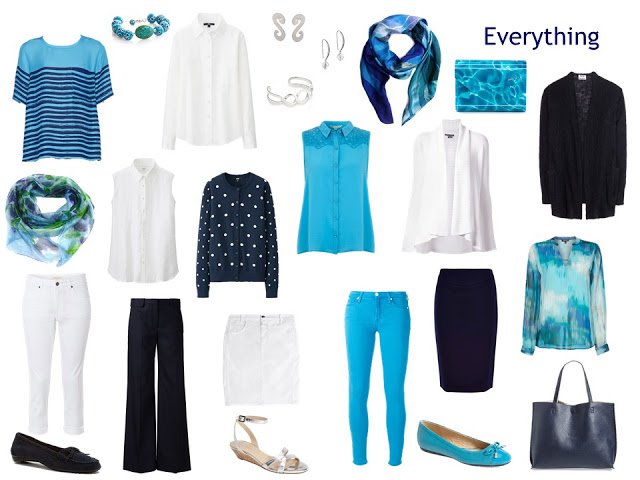 Here's how things look on our template. Although I drew up the template making it look like turquoise is the second neutral, it really is the accent color.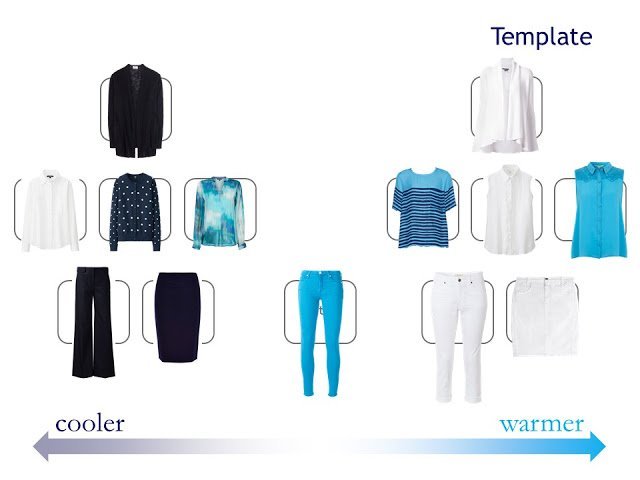 One important note that I've learned while doing these wardrobes: if you want to include prints or patterns in your travel capsule wardrobe, you need to do it with one of the three "rows" of the template. Otherwise, you're going to have to mix patterns between tops and bottoms. That's not impossible (and I might be doing it during some wardrobes here) but it makes things more difficult.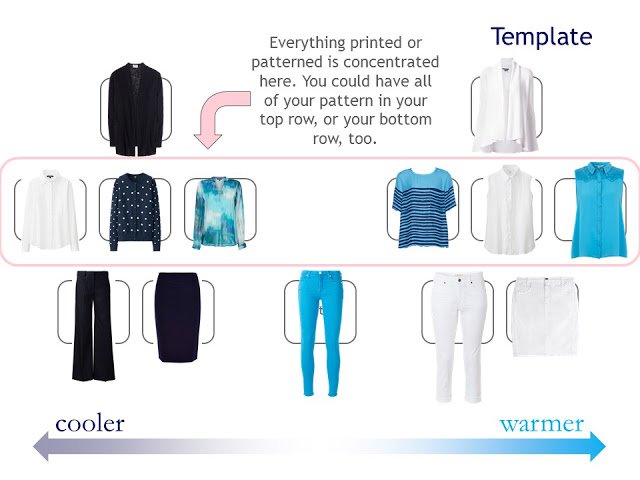 And here are a few (well, 15) of your optional outfits. There are, in reality, dozens of ways to wear these 13 garments.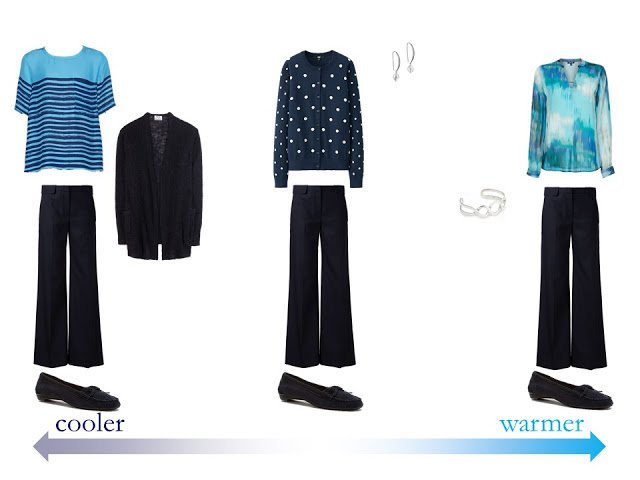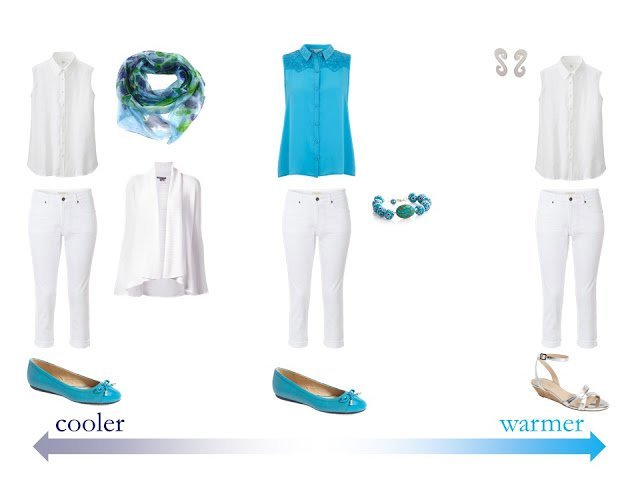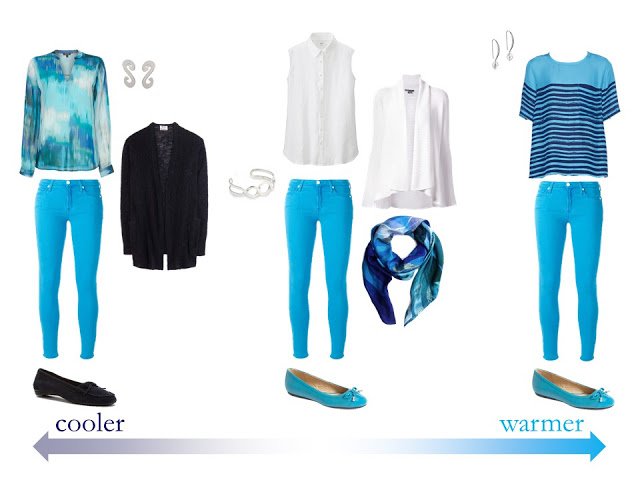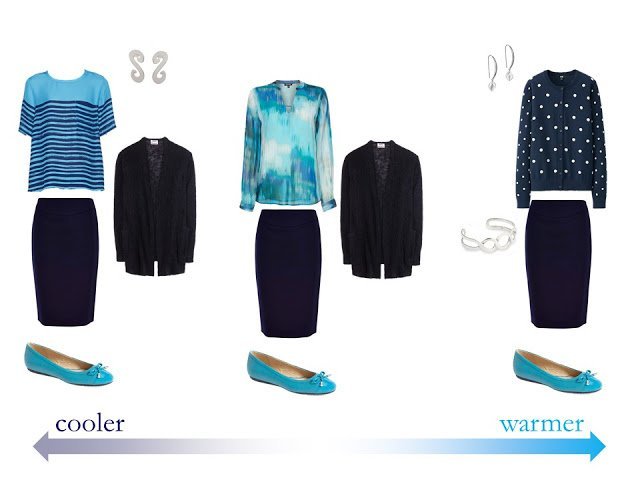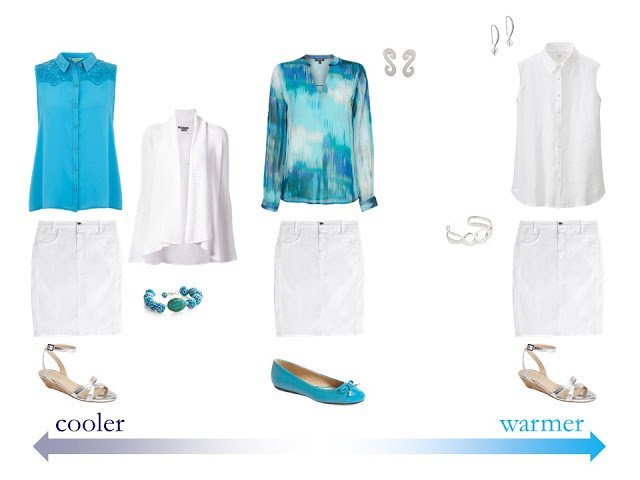 I think this would be a great wardrobe for a trip that included both city and more rural pursuits. Not exactly equipped for fly fishing or rappelling down a cliff, but a nice outdoor walk, or a picnic, would see you well prepared!
love,
Janice
PS – For more inspiration, read about packing light and the "Whatever's Clean" article.