May 29, 2015
This can't be good…. Your boss comes into your office: "I need to you to go to Des Moines (or Dusseldorf, or Dublin), because they've already spent 80% of their year's budget for widgets! Get out there and see what's going on!!!" Nobody in your office has ever been to "The D City Office", and so you have no clue what to expect. Who buys and uses the widgets? The C-Suite guys in 3-piece suits? (I can personally verify that men in Dublin still wear vests with their suits…) Or is it Jen, Roy and Moss, down in the basement? Is some moron executive treating widgets as if they're disposable? Or did a genius in Procurement find widgets at 80% off, and buy a 5 year supply? Your plate is full…
So, in addition to having to figure out (a) what IS a widget?, (b) how is it used?, and (c) how many of them should an office use in the course of a year, you've also got to pack!No worries; I've got this!
Start formal – it's always easier to peel off a suit jacket and a silk scarf than it is to try to pretend that you're "executive-worthy" in jeans and a sweater.
If you arrive wearing this, and you end up in the basement with the tech people, you should be okay…Normally, for a trip like this I would NEVER suggest packing 10 items – this sounds like it should be a 3 day trip. But when venturing into the face of the corporate unknown, you need options.
So let's envision our "Whatever's Clean 13" like this. On the left, a cluster of six items that are pretty dressy – your navy pantsuit, and things to wear with it. On the right, a cluster of six items in grey (which will go with navy perfectly), but which are a bit more relaxed in feel. And holding things together there at the bottom, a pair of trousers, or a skirt, that will work either direction.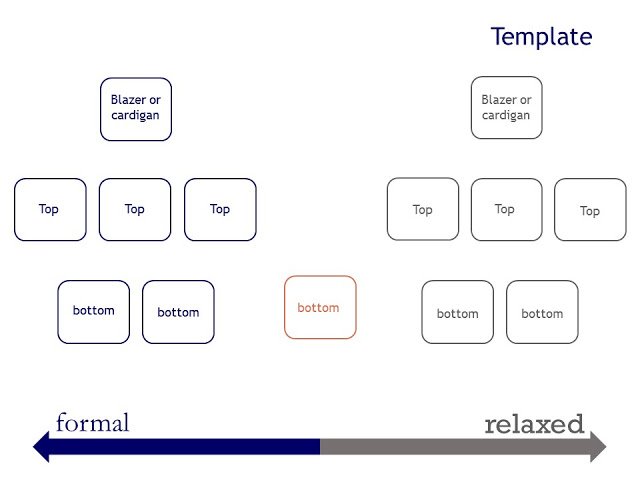 Your travel outfits plugs in like this: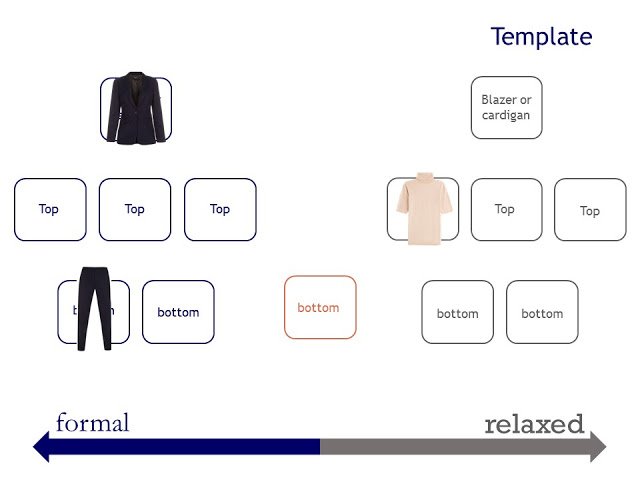 Yes, your blush top could be on either side of this equation, but I tossed it into the more relaxed side of things, just to show that it's possible to mix things from both sides.
This is the rest of your wardrobe for travel. Arguably, the hardest part of this wardrobe might be finding a skirt that you can wear with the blazer from your navy suit! The smartest thing to do would be to find a way to purchase all 3 pieces at the same time, from the same vendor. But in the absence of that, a change of texture will help "non-matching" things work together. This skirt is bouclé, which contrasts with your blazer without clashing.
And I chose a couple of short-sleeved sweaters to include here, because to me they span the "dressy/casual" divide really well. Under a blazer, they don't really make a statement. With contrasting trousers, they're more at ease and informal.
And I opted for tan trousers; men wear tan trousers with a navy blazer frequently, so it's a very accepted business ensemble. But if you're leaning away from "corporate dress", you can always just treat them like a pair of khakis!
Your template is complete: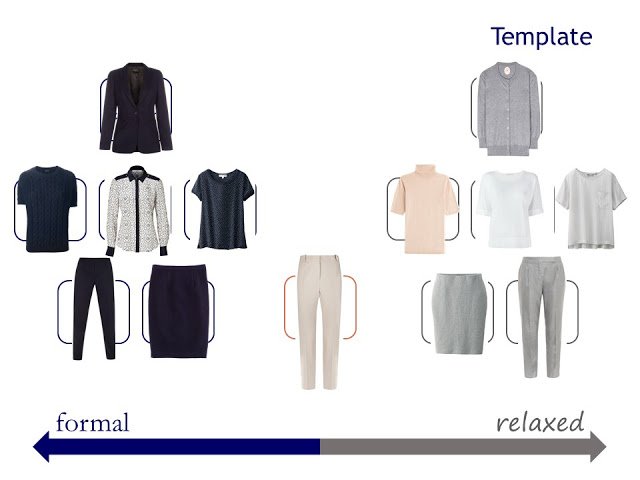 This is always a good time to toss a couple of seriously elegant accessories into your bag. If you're going to have to go toe-to-toe with a knucklehead CFO who breaks three widgets a week, you're going to want to have all of the psychological armor you can muster! (but just for spite, your clutch bag is from Target…)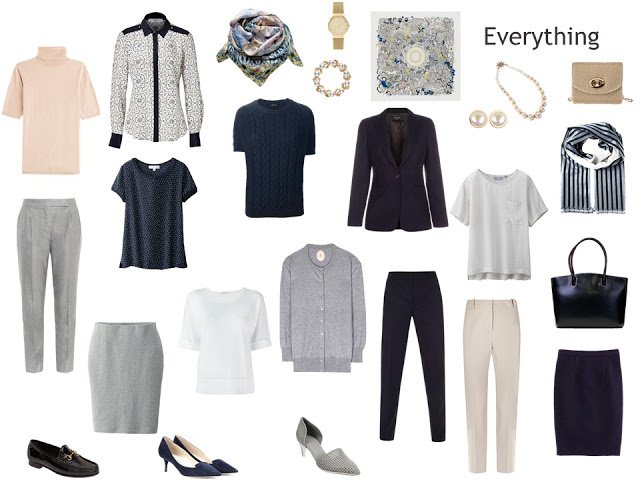 Now, you have lots of options!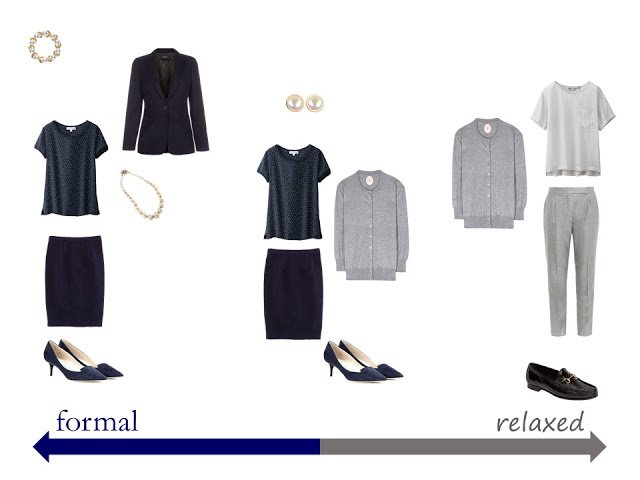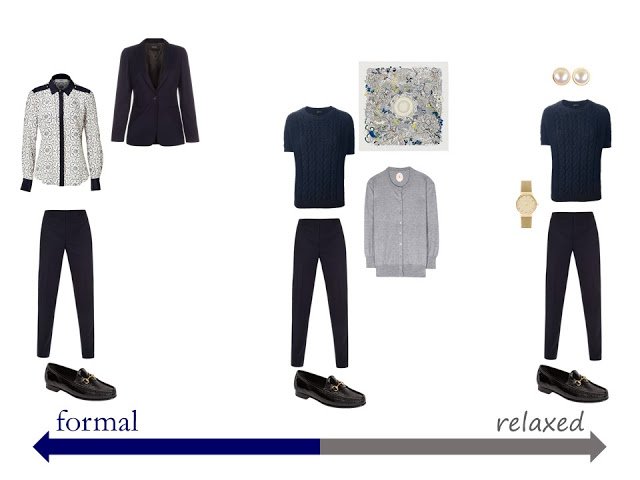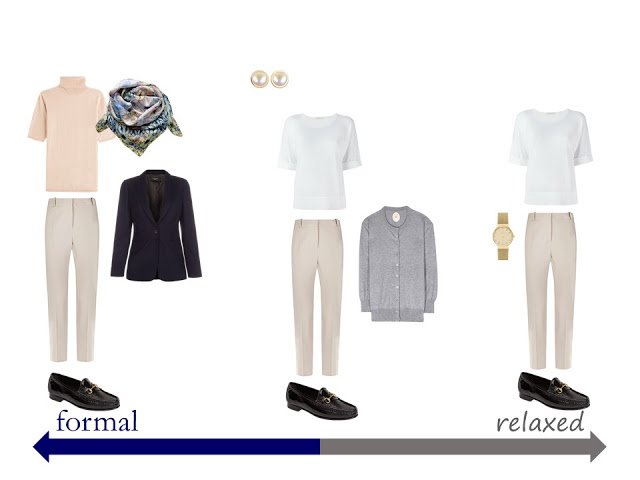 I used to LOVE business travel, and I miss it terribly, but I'm not going to pretend that it wasn't sometimes a pain in the neck!
love,
Janice
PS – For more wardrobe planning templates and the latest Pantone Color Planner check out the Planning Documents section of the website.