March 12, 2021
I couldn't resist revisiting this scarf; the colors and the stunning floral images really stuck in my mind! (and at this point in my life, anything that I can remember is a good thing…)
As we have done in the past, each outfit from the original post will be back here, but this time with accessories!
Also, as in the past, I will try to re-use a few accessories just to reinforce the fact that we don't have to have all-new (or different) accessories for each outfit. That's nutty, wasteful, and the road to confusion and over-consumption!
First up, I love the idea of accent socks, and these tie-dyed ones are the perfect color…
Some day I'm going to find socks of one of my favorite paintings, and it won't matter WHAT COLOR THEY ARE, I will wear them…
I love the idea of this bare top and swingy skirt, with some dressy accessories, and the cardigan tossed over shoulders…
This next outfit is simple, but dressy enough for a lot of occasions in life:
At the bottom of our heroine's column of black, YELLOW socks with a Klimt painting theme:
This next is a good outfit for business, dressed up just a touch with a whimsical brooch and floral earrings…
Why not wear orange earrings?
The sweater makes the outfit dressy all on its own, so you don't need much but low-key, classic accessories…
A simple black outfit, but with a wonderful scarf and earrings…
A mostly black outfit with just a touch of color could be worn almost anywhere…
Going out for lunch? What a glorious spring outfit:
Who doesn't like a pretty, jingly bracelet once in a while?
Imagine opening a suitcase to this assortment! Okay, six pairs of shoes might be a bit much, and maybe you wouldn't pack 4 handbags. But maybe you would!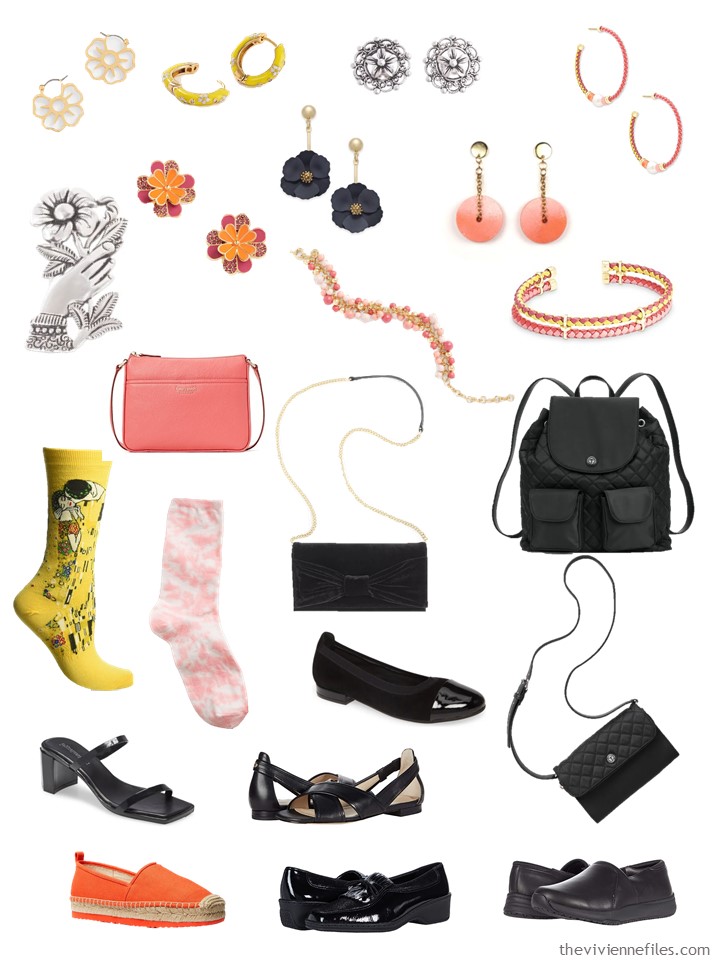 I love accessories… I really do!
love,
Janice
p.s. Five years ago we looked at accessories for a moderate Spring wardrobe in navy, coral and beige…