February 1, 2021
Ah, I'm so happy! I love these scarf-based wardrobes…
If you want to catch up on where we left off last month, click on this sentence to jump back there!
Since we are (for now) loosely following the Starting From Scratch wardrobe guidelines, this month brings us to a 2nd pair of pants and a shirt.
For most wardrobes, these pants will be chosen so that our heroines will each have a pair of jeans and another pair of pants that are somewhat dressier. The new shirt will be neutral if that's what they need, and accent if that's what's missing. A few more accessories, and any of us would be in good shape for an overnight trip with what's included so far.
This is our first scarf, and palette. The only possible issue I ever expect with this wardrobe is that the accent colors don't all go together. But since they're accent colors, that doesn't really matter…
Black jeans and a classic pink shirt (I own this shirt, and it really seriously doesn't need to be ironed!) – so straightforward. More flowers in her accessories, and a wonderful tote bag is all she will need:
You can see that – at the end of 2 months – there are 8 outfit possibilities here: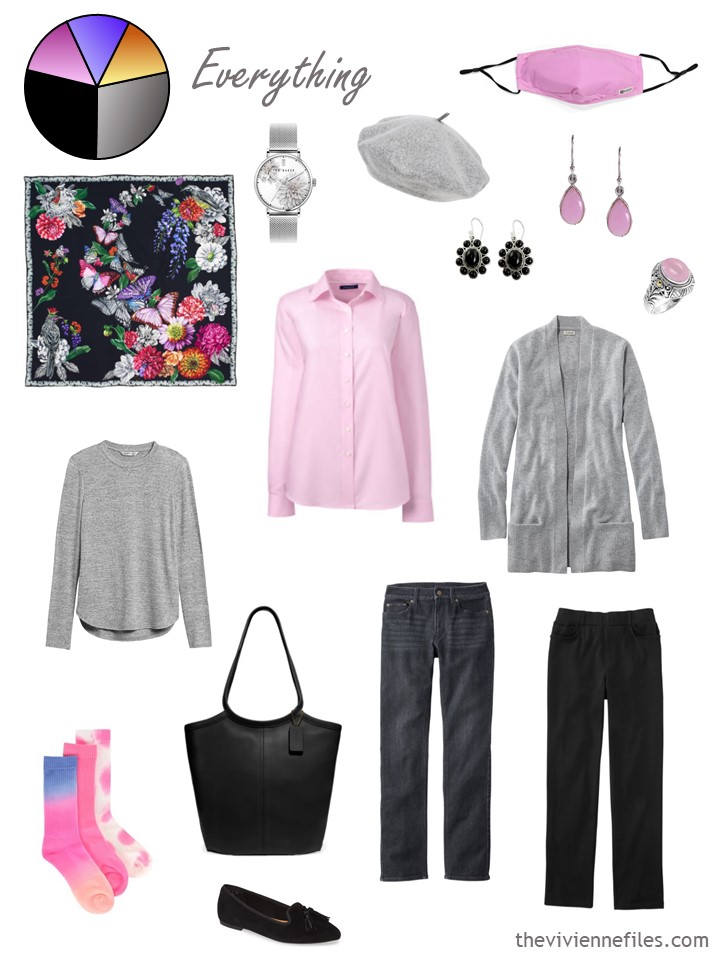 This next palette always feels like an early summer day to me… This should be an easy wardrobe to develop, since there are really no clashing colors here. 2 seasonless neutrals are a great base, too…
This heroine started out with a strong dose of yellow in her wardrobe, so I'm going to take things down a notch or 2 with a timeless white shirt and khakis. Navy leather goods, and lovely silver rose earrings are ideal with everything else she owns so far:
Again, you can see the possibilities: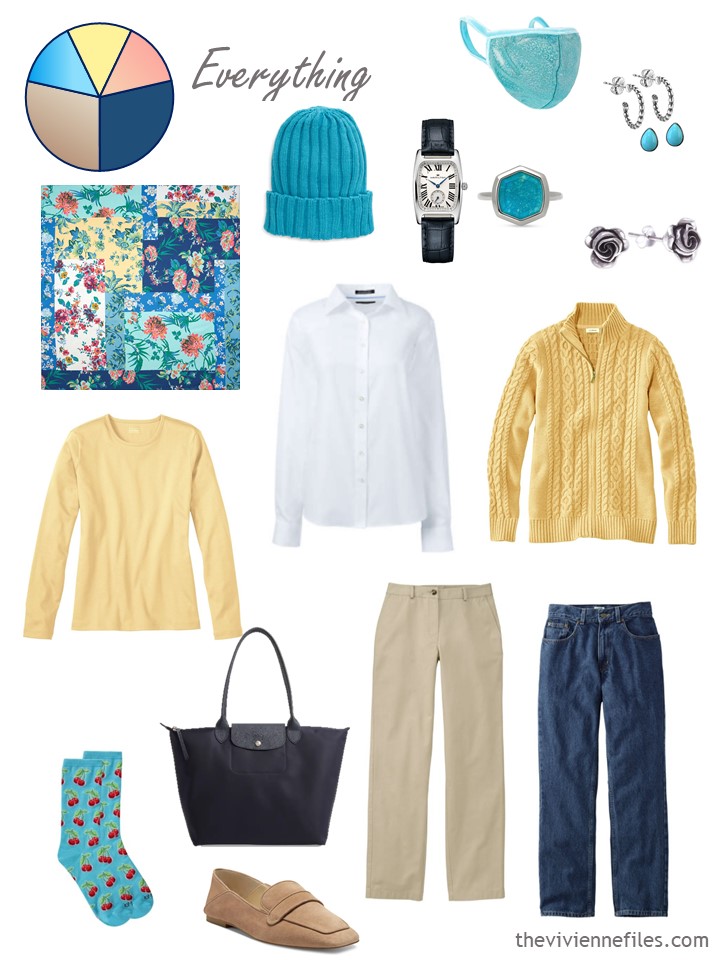 Ah… purple!
This heroine needed jeans, and why NOT a purple watch?
I could be delighted to have just this with me for an overnight trip..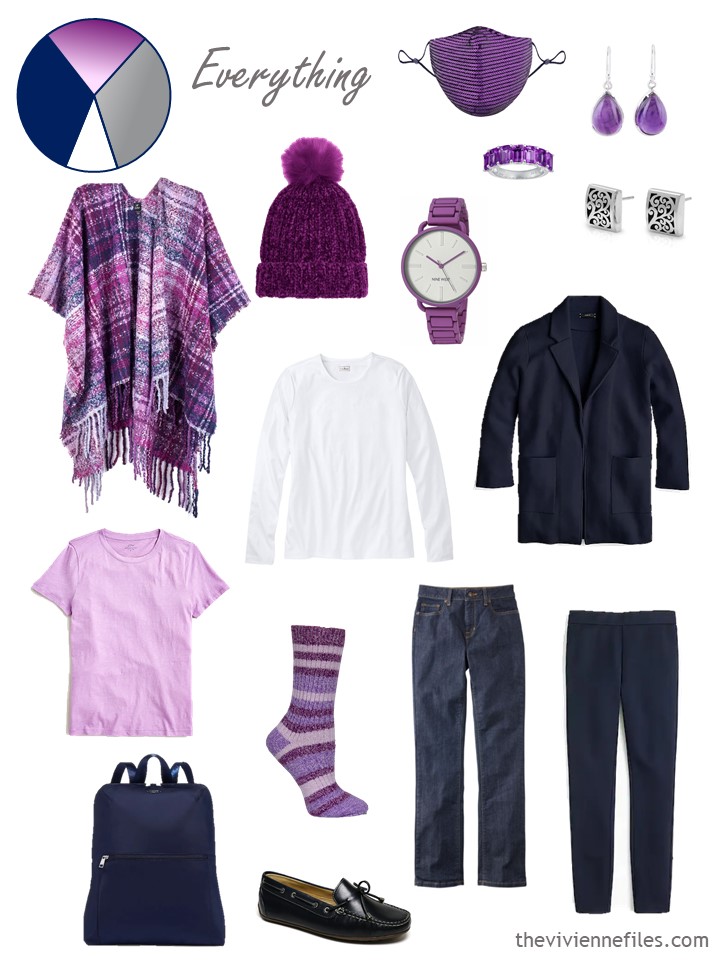 And warm, summery colors…
Here, a pair of pants to match the beige cardigan from last month, and a warm red top, are perfect additions to this growing wardrobe. I love a nice red handbag too…
This wardrobe is going to be great – our heroine already has a solid neutral column AND a "suit" of sorts…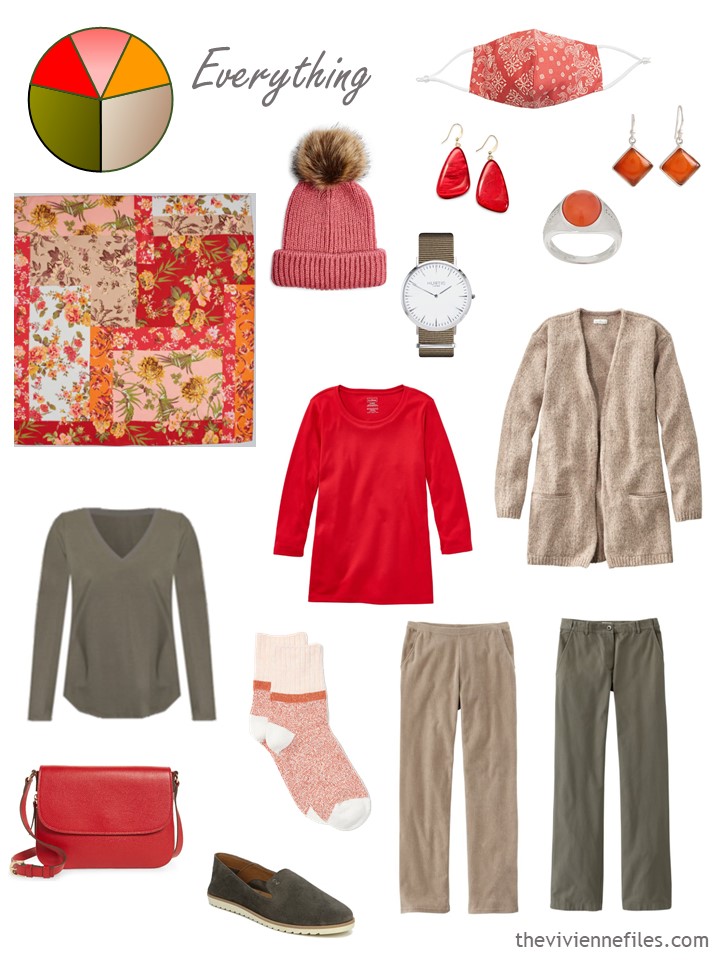 This next heroine is going to have a challenging time making this all work; I'm eager to see how this wardrobe evolves with 2 very different neutrals!
But sticking to the general plan, our heroine chooses grey pants and an accent tee shirt… We shall see!
So far, this looks like 2 rather different wardrobes co-existing. It will take some time to find the garments that "knit" the whole thing together… I think!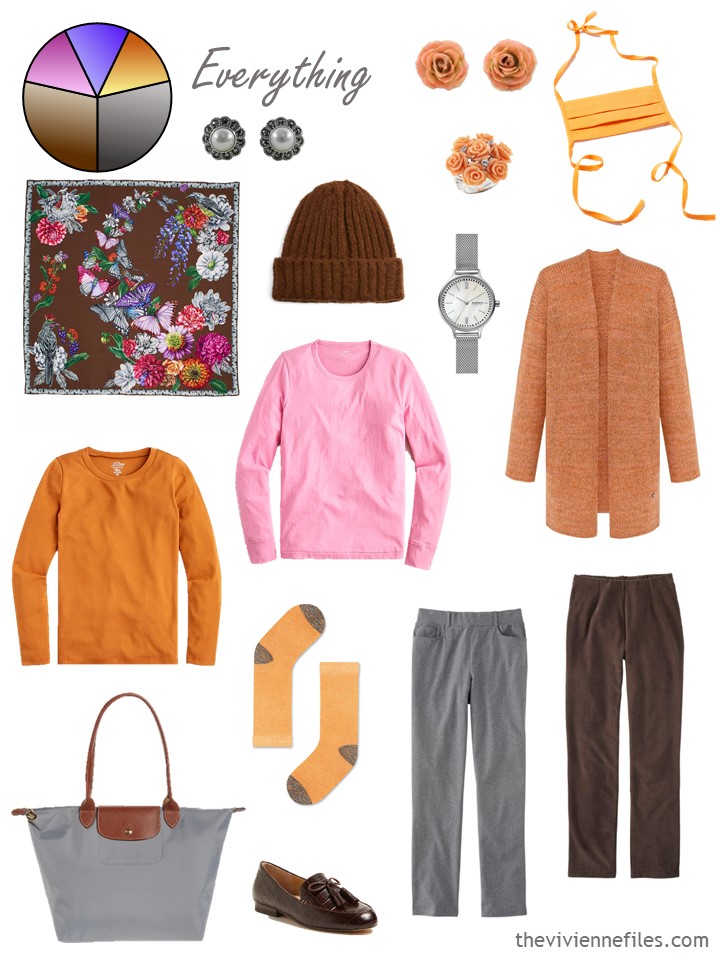 After wrestling with grey and brown together, this very restful scarf is welcome!
Neutral but not insanely dressy pants, and a timeless tee shirt….
This wardrobe is so… calming? Easy? I find it very appealing…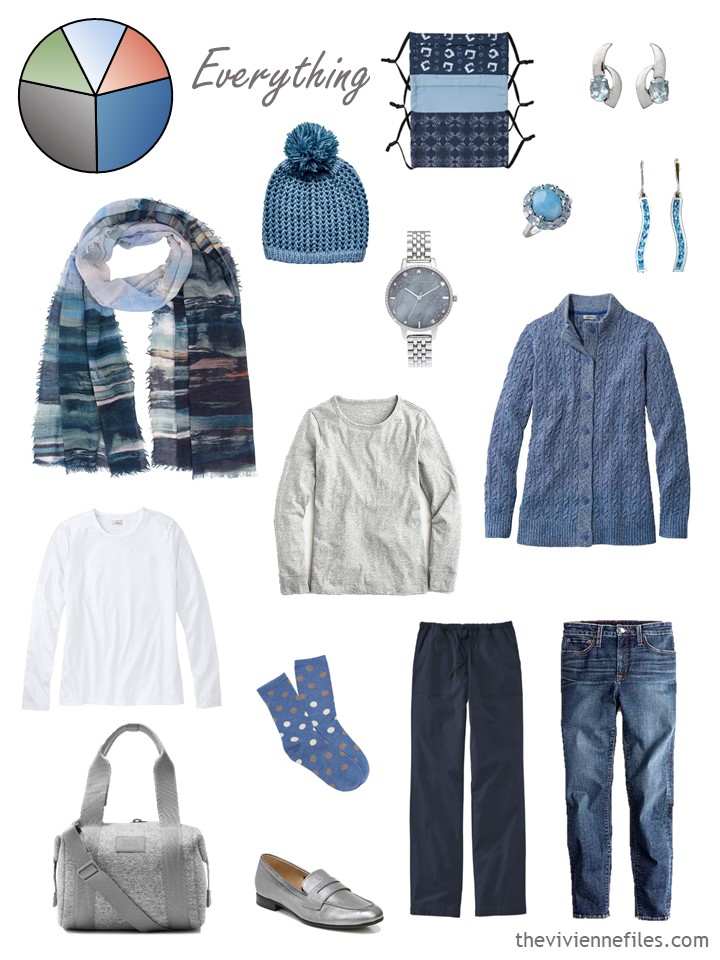 Has your favorite changed since last month? I'm pretty stuck on the first wardrobe – anything black and pink will interest me, but I could easily see myself in the purple ruana wardrobe, or the last one with lots of denim and sky and water colors…
love,
Janice
p.s. Five years ago, we were in the 2nd month of an Hermes scarf-based wardrobe building exercise… All of the dresses shown could still be worn without apology today – I love timeless garments!